Spankin' new and already a part of the lunch crowd madness at the CBD! Se7enth at Oakwood Premier OUE Singapore is all about great food, tantalising local flavour profiles and a welcoming ambience.
Last week, I was treated to a delightful course of dishes at Se7enth, a new restaurant perched on the seventh floor of Oakwood Premier OUE Singapore at OUE Downtown. Before you dismiss this place as 'too far' or 'probably ex', keep reading and allow me to change your mind.
The lunch crowd at the CBD is a dog-eat-dog world; if you get to the restaurant any later than a specific time, you're going to have to be the boss (for a long, long lunch). Or you're going to have to ta-pao back to your office and have a desk lunch. At Se7enth, you can return for a quiet dinner in the evenings, if you don't happen to be the boss who takes long lunches. The new lunch and dinner menu is fresh and ready to give your taste buds a treat!
What's Oakwood Premier OUE Singapore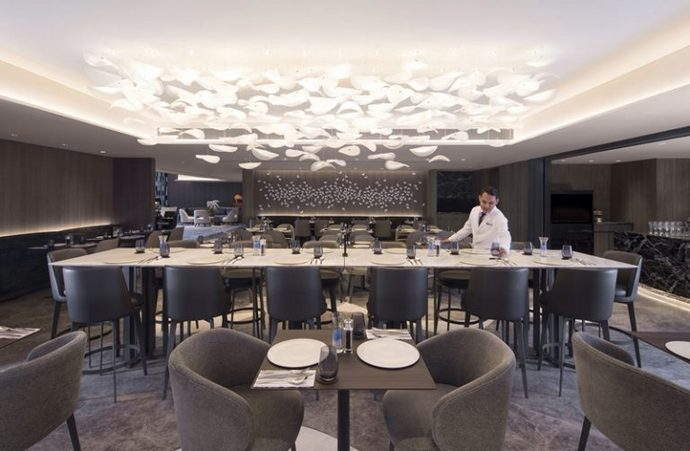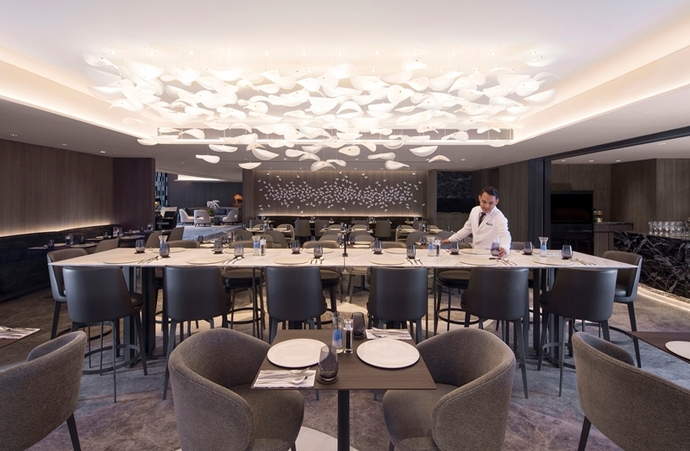 Oakwood Premier OUE Singapore is a luxury serviced apartment with a twist – they treat their guests the way hotels do.  There's a reception area for check-in, a restaurant (Se7enth) where guests can have breakfast and local and western meals off their latest menu, and even an outdoor pool deck where Aqua Spin classes are enjoyed.
However, the bar next to the pool, seating area and Se7enth restaurant are open to the public. Because they are kind enough not to deprive our souls of the city view and Oakwood Premier OUE Singapore's Downtown Mojitos.
The Food
The new menu has been crafted to keep Singapore's rich culinary roots (think Chilli Crab Pasta) while enticing diners with new creations (think Avocado Ice Cream paired with Wild Berry Compote for dessert).
We started off the dinner with a classic: Crispy Chicken Drumlets with Truffle Maple (a.k.a Fried Chicken). What's so great about this fried chicken, you ask? Super crispy and crunchy on the outside, tender and warm on the inside and drizzled generously with a sweet maple dressing that sings in honeyed tones against the boisterous bite of chicken skin.
I have always been quite curious about the inclusion of sweet in savoury dishes. However, I have never been confident enough to try it out. Heck, I don't even cook with BBQ sauce cos I worry that its sugar content might upset the balance of the recipe. Chef Dickson Fung did a fabulous job of drizzling thick, golden maple syrup on the crackly chicken drumlets. A great way to start off the meal!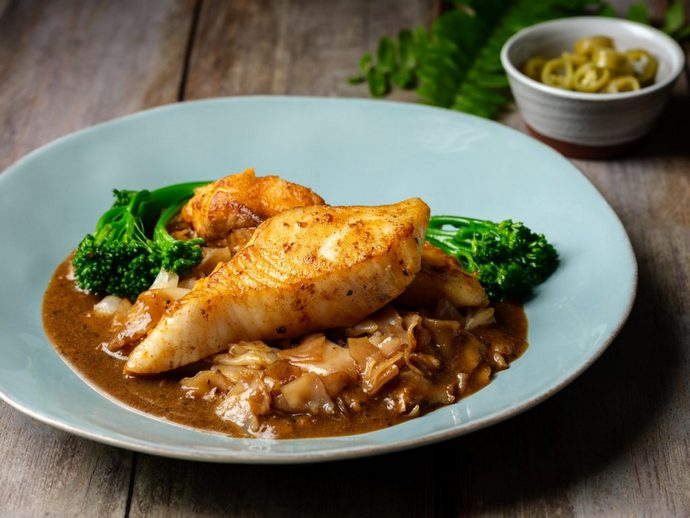 Then came the heavy hitters – The Cod Fish Hor Fun ($29++) and Soft Shell Chilli Crab Pasta. Seafood lovers can rejoice as both these dishes were quite scrumptious. The Cod Fish Hor Fun was a real presentation. The dark and highly viscous black pepper sauce was poured seductively over white, sauteed noodles and chunky codfish (and of course, I Instagrammed it).
The sauce was fully flavoured and quite heavy on the peppery side, making this dish stand out from other plates of Hor Fun (well, that and the juicy steaks of Cod Fish). Other than the tender fish, the dish had all the makings of an original Hor Fun. It'll take a Singaporean to understand why the Hor Fun was spicier than the Chilli Crab Pasta ($26++), despite its name.
Chilli Crab, for the uninitiated (though I am sure you know full well what I am talking about) is not exactly a spicy dish. The way Chilli Crab is done is more often sweet than spicy, where the subtle, dark sweetness of chillies is made obvious with a delicious medley of spices and seafood broth. When stewed together, you have a thick and luscious, bright red sauce over massive Sri Lankan Crabs. As enterprising Singaporeans, we have found many uses for this sauce, such as a dipping sauce for fries, or making pasta sauce out of it.
Se7enth kept as much to the original as possible by serving this dish with soft shell crabs that had been deep fried and placed on a heap of linguine, dressed generously in chilli crab sauce. The crispy crab provides a welcome texture contrast against the smooth and slippery pasta. This dish is truly for Chilli Crab lovers; Chef Fung managed to capture the essence of the classic dish with a modern twist.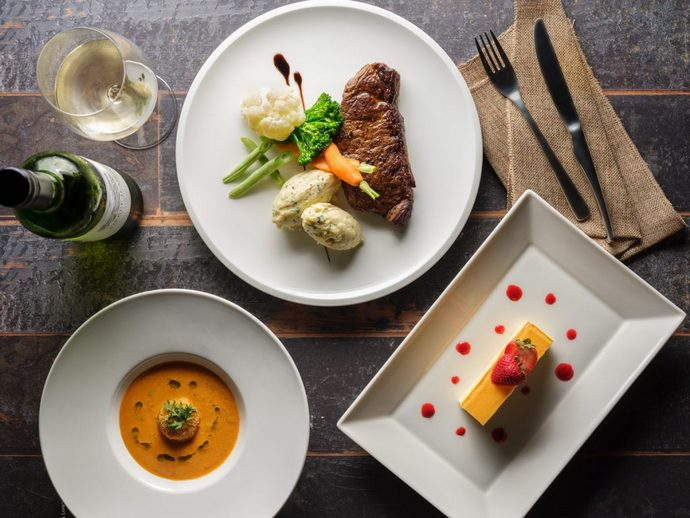 Se7enth is also a vegetarian-friendly restaurant. The Portobello Mushroom Burger is a burger that has all the meaty makings of portobello mushrooms and sauteed onions. I personally found that the burger could have used a thick and inviting coating of Gruyere, but that would have rendered this dish non-vegan. This comes with a heaping pile of warm, homemade fries and a side salad.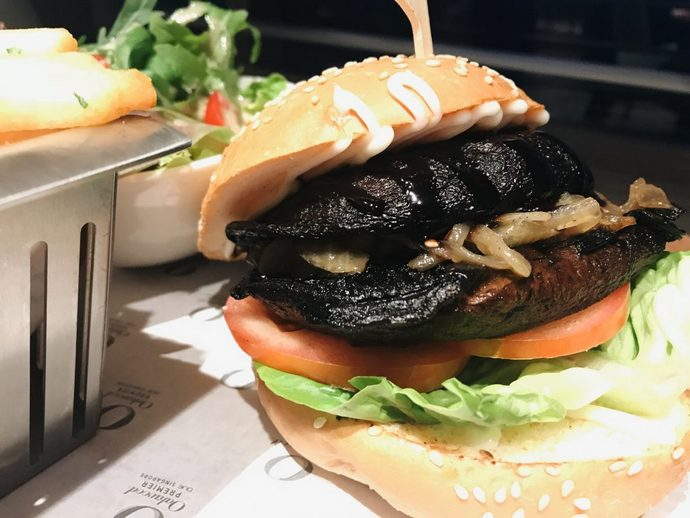 Now, the dessert! You know I am a huge fan of all things sweet, and thankfully Se7enth did not disappoint (though you would have guessed that based on dinner). The dessert I tried was another classic well loved by Singaporeans – Cheesecake. This cheesecake was baked, with a very soft interior, yielding and crust. Then came out a plate of sliced up waffles with a scoop each of Bitter Chocolate and Avocado Ice Cream. Yes, you read that correctly. The Avocado Ice cream I can only describe at the perfect ice cream for a) Avocado fanatics and b) people who'd like to give this unique ice cream a try (I belong to the latter).
I no longer work in the CBD (that was a veeeeeerry short stint), but I see myself going down for dinner with a group of my friends to Se7enth. Now you know its good when I want to bring my entire jing-bang down. Very few places have that impact on me; you know the food is good when you want to share it with everyone. The next time you want to have a working lunch, or a quiet evening dinner after work, give Se7enth a call to make a reservation. Then, drop me a line and tell me aaaaalll about it.
Happy eating!
Facebook: https://www.facebook.com/SE7ENTHsg/
For dining reservations and more information, please contact 6812 6050 or dining.opsg@oakwood.com.
Set menu items are subject to change without prior notice. All prices are subject to 10 % service charge and 7% GST, unless otherwise stated.
Opening hours:
Breakfast: 6.30 am to 10.30 am
Lunch: 12 noon to 2 pm
Mondays to Fridays – Set Lunch Only
Saturdays and Sundays – A la carte
Dinner: 6 pm to 10 pm
Address:
Oakwood Premier OUE Singapore, Level 7
6 Shenton Way, OUE Downtown 1, S 068809