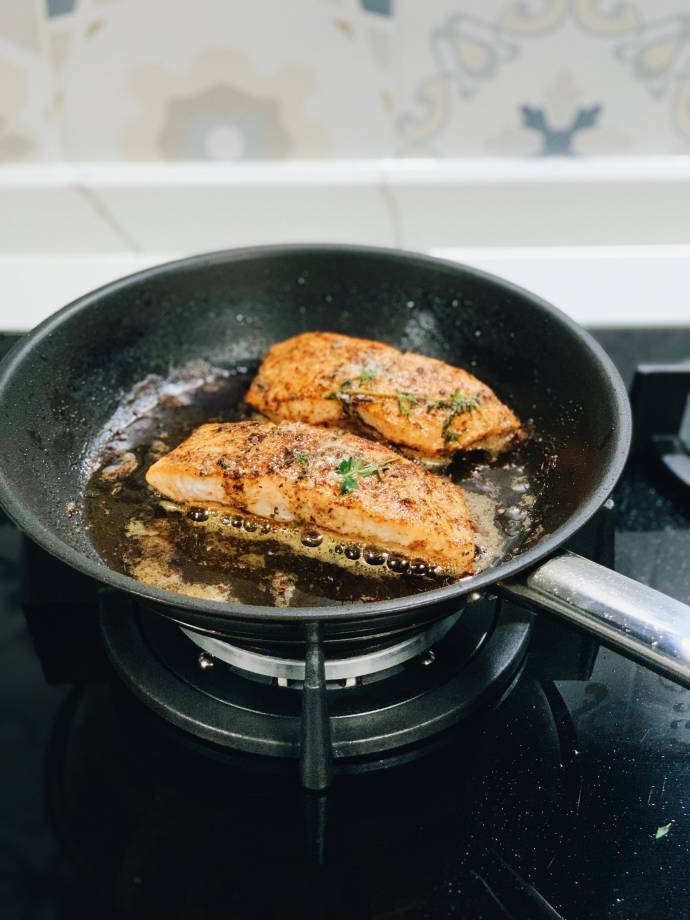 Salmon is such an easy fish to work with – it's full of flavour, heart-healthy fats and will cook very quickly! Here's a simple recipe for your weeknight dinner!
Salmon has always been a favourite fish of mine. And although there are many rules about how best to cook and eat this fish, I take pride in breaking them all and happily report that this fish is great in a traditional fish curry. But this post is not about fish curry, it's about salmon seared lovingly in olive oil and butter, with spices and rosemary. 
Where to buy salmon
If you're a purist and only like to use fresh foods, please be my guest; you can buy fresh fish for this recipe. On the other hand, if you're like me and looking for a quick fix to your fishy cravings, then go with frozen! There are many brands of frozen salmon in the market. I get mine from Fairprice Finest. It comes in a convenient pack of individually sealed 4 boneless fillets. I cut and defrost exactly what I need, and leave the rest in the freezer. 
Whether fresh or frozen, make sure the salmon you're using is at room temperature. This is important for optimal crispiness.
Do you like fish recipes? Here's one for Asam Pedas that had me singing in delight for weeks!
What you will need
This can be a very simple recipe, or a complicated one depending on what you've got sitting in your pantry. Essentially this recipe only requires store cupboard ingredients, and your creativity is limited to the seasonings you have available.
I have made this on a few occasions and each time I made it a little different. The recipe I have provided here is what I find to be most appealing with this fish. But I have also provided some variations in case you feel like experimenting. 
You'll need regular olive oil, butter, cajun, paprika and rosemary. So to break it down, there are 2 types of fats, 2 types of spice blends and one fresh green element. You can use this as a basic formula to play around with flavours.
Preparing the salmon to cook
No matter how you decide to flavour this fish though, don't forget the basics that you cannot skip: preparing your fish. Here are the important steps to prep the salmon fillets for cooking:
Pat down with a paper towel to remove access moisture, from all sides of salmon
Sprinkle with salt and pepper on both sides 
Rub in salt and pepper on both sides 
Once you've done this, the fish is ready for the stove.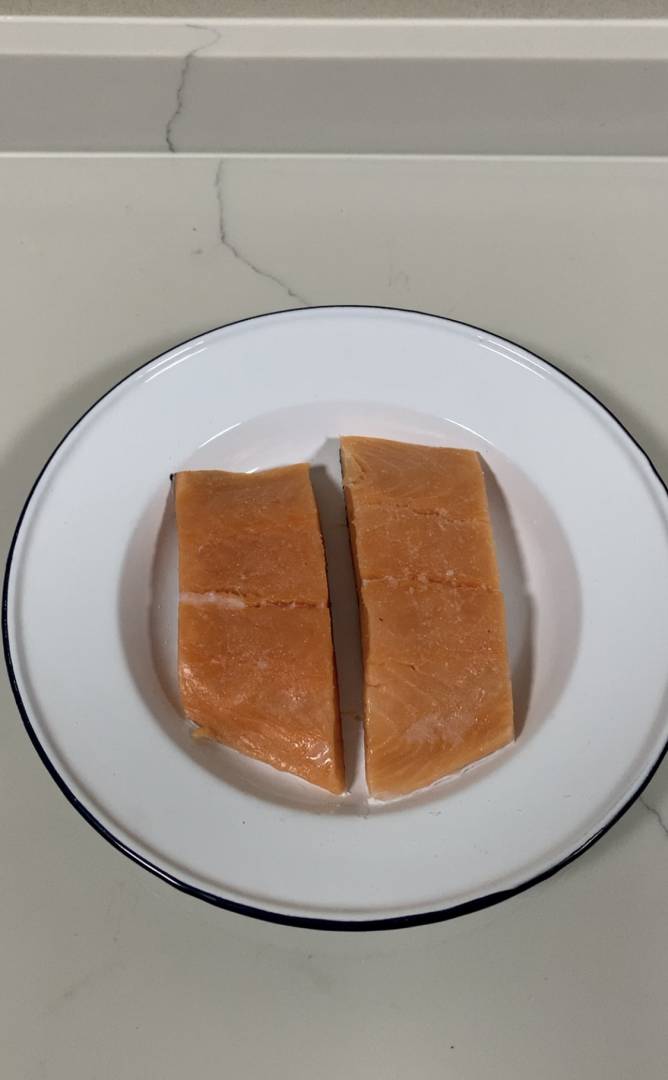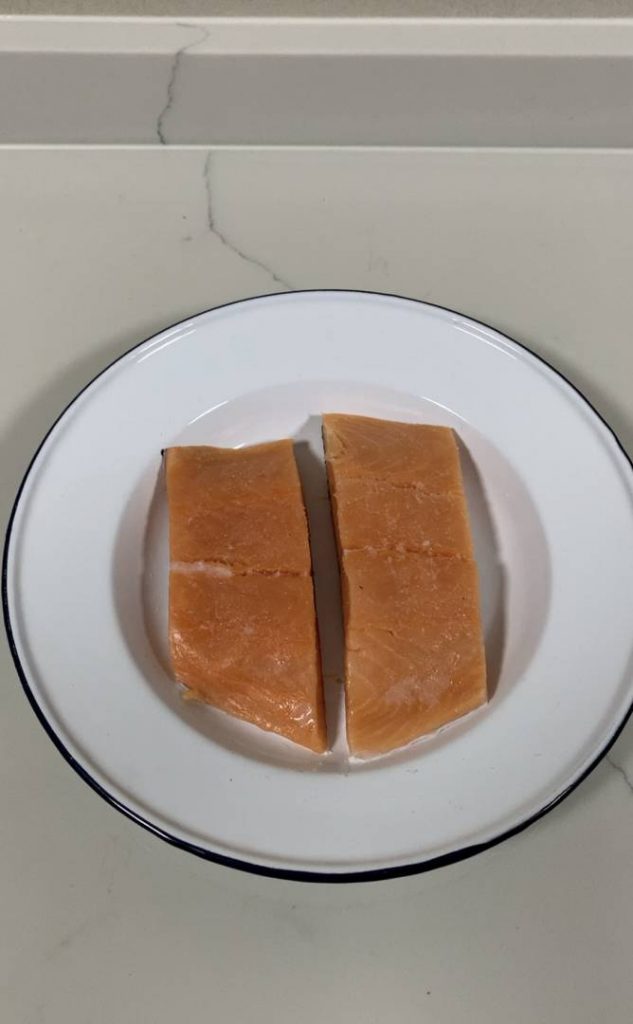 Cooking the salmon
It is true that many would prefer to eat salmon pink in the middle, which is slightly underdone. While I can eat it that way, I'd rather not. I prefer my salmon well done to the middle, so I leave it in the hot pan flesh side down for 4 mins instead of 2. 
There are rules about starting with the skin side down first – again I'm not apt at following rules so I cook with skin side up. This gives the flesh of the salmon a very sexy sear, which is what I'm after. I also don't really eat the salmon skin, and it gives me real pleasure to watch the fillet just curl up when I flip it.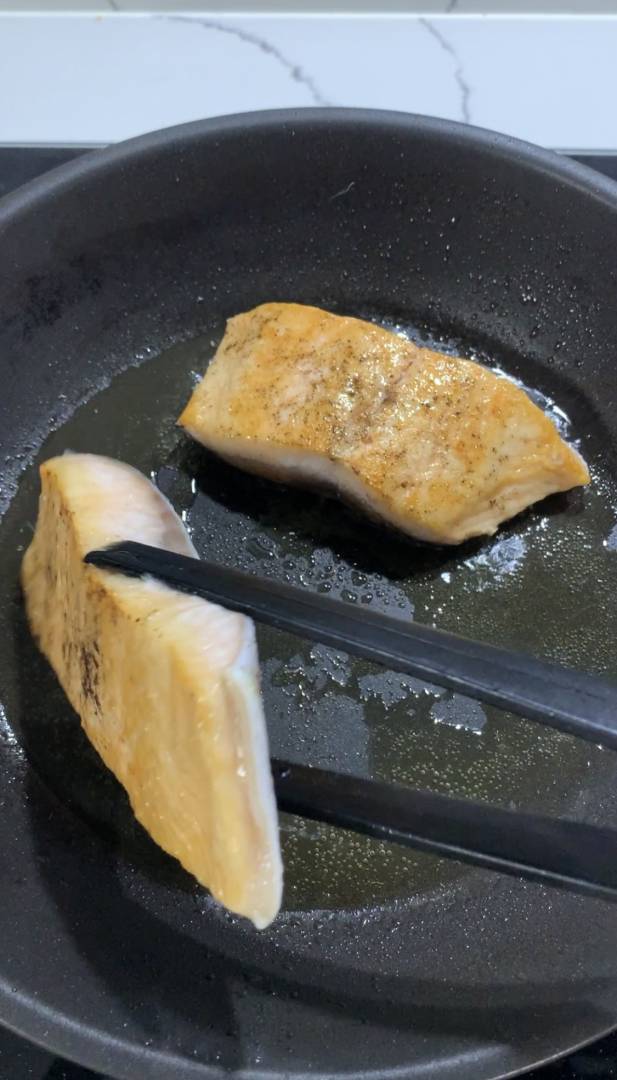 Plus, I add much of my flavours to the salmon after I've flipped the fillet over. Then I use a teaspoon to scoop the flavoured butter over the fish so that it develops a very lovely sheen. 
Seared Cajun Salmon (15-minute recipe!)
Course: Main
Cuisine: western
Difficulty: Easy
You'll need;
2 Salmon Fillets (100g to 120g)

Salt and pepper, to taste

1 Tbsp Olive Oil

1 Tbsp (about 15g) Butter

1 Tsp Cayenne Pepper

2 Tsp Cajun Seasoning 

½ Tsp Dried Oregano 

1 Tsp Chopped Rosemary Leaves (fresh)
You'll need to;
Pat dry the salmon with paper towels and ensure that they are at room temperature. Sprinkle salt and pepper on either side of the fish and rub in the seasonings well.
In a smallish skillet, heat up the olive oil over medium heat, then place the salmon fillets skin side down into the hot oil. Depending on how well you'd like it done, leave the fish like this for 4 to 6 mins.
Then, flip the fillets over so that they are skin side down. Then starts the fun part – add in the butter, followed by the cayenne, cajun, dried oregano and fresh rosemary. As this sizzles away, use a teaspoon to scoop out some of the butter and wash it over the seared flesh of the salmon. Do this as many times as it pleases you.
After a further 6 minutes from flipping the fillets over, the salmon is now ready to be plated sexily on a platter of greens (or carbs, I won't judge). Drizzle over the now browned butter, and dive in hungrily.
Notes
Make sure you use a hot, hot pan. This will help create a nice crust on the skin and the flesh of the salmon.