SI CHUAN DOU HUA RESTAURANT has been given a facelift! With a new interior and exciting new additions to their menu, the restaurant is all set to provide diners with an unforgettable experience. Here's what you can look forward to during the upcoming festive season at the restaurant.
SI CHUAN DOU HUA RESTAURANT is a classic establishment known for a heart-warming experience and a delectable selection of Chinese dishes. With the recent renovation, the eatery is now gleaming with fresh promise of an inviting interior and tantalising new menu.
Executive Cantonese Master Chef Leung Wing Chung has kept crowd favourites on the menu and introduced new dishes too, which will also no doubt become favourites very soon.
Exotic Garden with Black Truffle in Osmanthus Sauce 养丰源捞生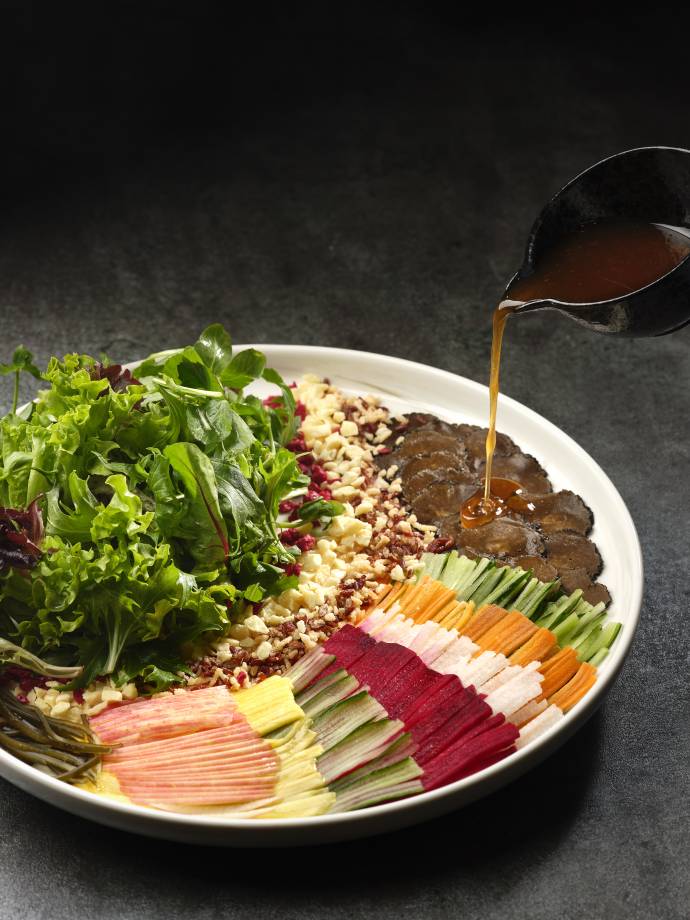 This Yu-sheng dish is truly a celebrity on the menu; it stays on the menu all year long and is popular with returning guests. The selection of vegetables in the dish include white radish, carrot, cucumber, beetroot, mango, beansprouts, and salad greens. This riotous array of colour is then adorned with truffle oil, black truffle sauce, osmanthus sauce, brown and white rice puffs, freeze-dried pineapple as well as raspberry bits, cordyceps, black truffle and homemade crispy soybean crumbs. I am a very big fan of everything truffle, and I thoroughly enjoyed this dish. The fresh vegetables make this a very light salad, with the soybean crumbs and freeze-dried fruits adding desirable crunch. 
Steamed Eel with Pumpkin in Homemade Soya Bean Crumb with Dried Scallop, Sakura Shrimps and Prawn Roe Sauce
I wouldn't order Eel on a menu, just not my thing. So you can imagine my surprise when I actually enjoyed this dish! The steamed eel has a fresh and meaty texture and is nestled so beautifully on a perfectly cut, thick disc of steamed pumpkin. This is then scattered with Dried Scallop, Sakura Shrimps and Prawn Roe Sauce. Oh my god, the medley of flavours singing a choir in my mouth; I would recommend this dish even to people who aren't fans of eel. The shrimp, scallop and prawn roe all add various dimensions of salty flavour to the eel and pumpkin. So when you take a bite into it as a whole, you can quite taste the sea (in a very, very good way).
Note: This dish will not be available during the CNY period, from 1 to 26 February 2021.
Stir-fried Sliced pork with leek in spicy sauce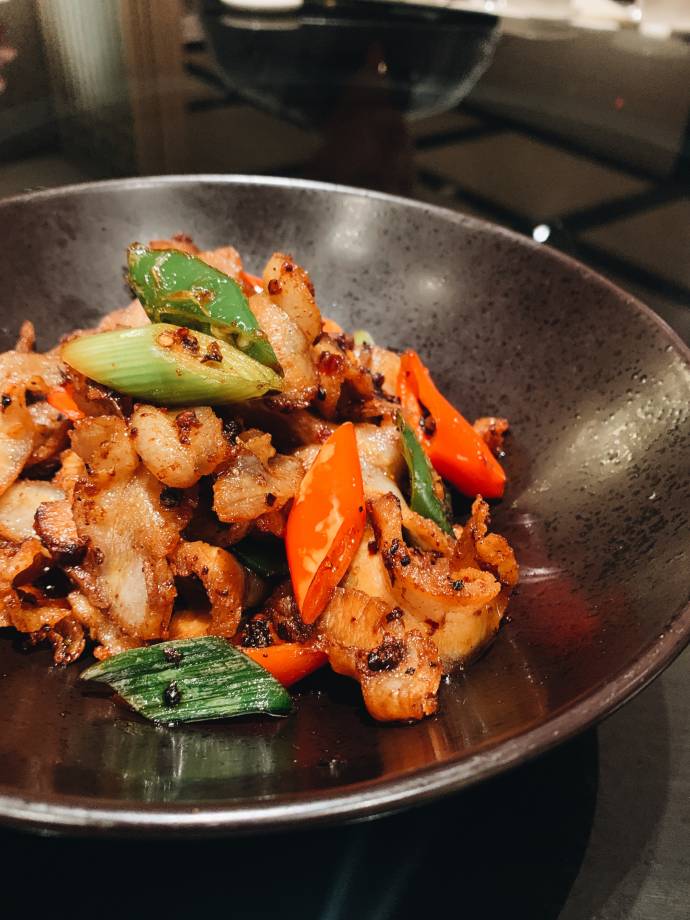 This is a bacon dish, first of all. But it's a bacon dish perfect for those who are ready to have bacon like they haven't before! The spicy sauce they use here is what plain, American bacon has needed all its existence, in my honest, Asian, opinion. The slices of pork are first boiled, then 'brought back to the wok' and tossed over high heat with an aromatic spicy sauce and meaty slices of leek. The double-cooked pork is both tender and crispy, a delightful way to enjoy what is essentially stir-fried Asian Bacon.
Signature Bean Curd Medley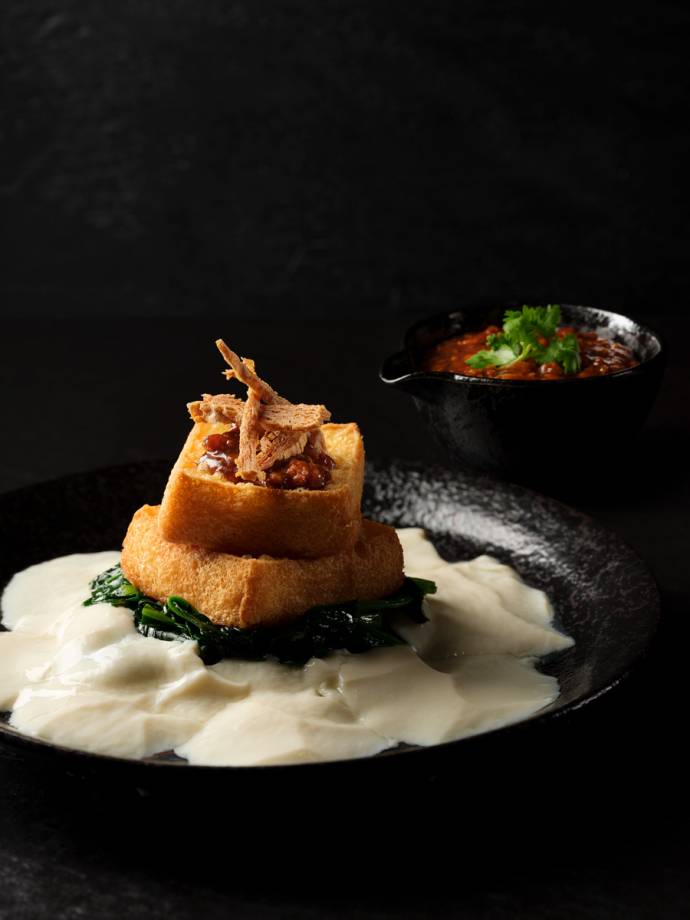 Eager foodies at the table informed me that this restaurant is very famous for its homemade Beancurd. It was then of course, very fitting, that they had this dish on the menu. Two cubes of Purple Rice Tofu are tiered on top of one another, resting on a bed of soft white beancurd. It's almost like there's a beancurd tower floating on a cloud. This dish is topped with a homemade meat sauce, that helps to lend salty, sweet and slightly spicy to the passive beancurd flavours.
Crispy Brown Rice with Two-Headed Abalone in Superior Stock
Anything with superior stock or broth is automatically something I would go for. Every chef has their own, complex (or perhaps not) formula to an aromatic, flavour-packing superior stock. This just means great taste, honestly. This dish is most dramatic, as the staff prepare it before your eyes. You get to feast through the sounds of the sizzling rice and tantalising aroma wafting towards you, even before you dig in! Scallops, prawns, Sakura Ebi, conpoy, preserved vegetables, cooked white rice, coriander and spring onion are all essential additions to the sizzling rice porridge, which is then adorned with slices of braised 2-headed abalone.
The meal at SI CHUAN DOU HUA RESTAURANT was truly unforgettable to me. Although I had never been to this place before, I can see why they have a loyal following. The food, ambience and service all leave a lasting impression, and have you wanting more!
SI CHUAN DOU HUA RESTAURANT AT PARKROYAL ON KITCHENER ROAD
PARKROYAL on Kitchener Road
+65 6428 3170
181 Kitchener Road
Singapore 208533