Travelling to Bangkok from Singapore? Here's what you need to know, and how much it'll cost you!
NOTE: This article is accurate at the time of publication. I will try to update this as new regulations are announced based on factors such as the Omicron variant. All prices provided below are in SGD.
Latest Update from Thai Government (as of 6 Apr 2022)
Thailand has once again re-instated the test-and-go scheme for visitors to Bangkok. The sandbox scheme has also been expanded to include Krabi and Koh Samui. Details below:
Travellers can now apply for the Thailand Pass on the Thailand Pass Website after 1 Feb 2022. Thailand Pass is still needed for entry into Thailand.
The updated test-and-go scheme for travellers arriving in Bangkok would entail the same 1-night quarantine in a dedicated SHA hotel with a PCR test (as described in the article below) and an additional self-administered ART test on day 5 of your trip. The test kit for this will be provided by the hotel in which you quarantine on your first night in Bangkok.
You will need to download the MorChana app on your mobile and update your Day-5 Covid-19 test result in this app.
When flying back to Singapore, you will only need to do a supervised self-administered ART test. Bring your locally collected test kit along with you, and make a Zoom appointment with a local clinic before you go.
More information can be found at this link.
Original Article starts from here:
Bangkok is my adopted homeland, in case you haven't witnessed my obsessive stalking of the city on Instagram. Everything about this city excites me – the food, its people, culture… there's just something electrifying on the streets of Bangkok that keeps me wanting to go back for more. So you can imagine then that the pandemic was hell for me.
My last trip to Bangkok was in July 2019. The pandemic hit in December that year, with lockdowns all over the world. Fast forward to the end of 2021 and I find myself (finally) planning another trip to Bangkok. However, travelling during the pandemic is very different compared to how it was in the past.
Here's a quick summary of what you'll need if you're flying to Bangkok:
Book a VTL return flight to Singapore
Book your SHA+ Quarantine Hotel for one night (inclusive of PCR test)
Buy AXA Thai Insurance 
Apply for Thailand Pass 
Book your pre-departure PCR Test in Singapore
And your Pre-departure ART Test in Bangkok
Book your on-arrival PCR Test in Singapore
Note: Remember to PRINT OUT everything, including your Thailand Pass QR code. Fully vaccinated individuals from Singapore will be qualified for the 'Test & Go' scheme proposed by the Thai government, which involves one night in quarantine.
VTL to Bangkok, Thailand – if you're from Singapore
What I didn't know was that the VTL flight only refers to the return flight. They don't have designated VTL flights to bring you to your destination of choice. A VTL literally means you can take a specific flight from your country of choice back to Singapore, and you won't have to quarantine in Singapore upon arrival.
Currently to Bangkok, these are the 2 VTL flights available: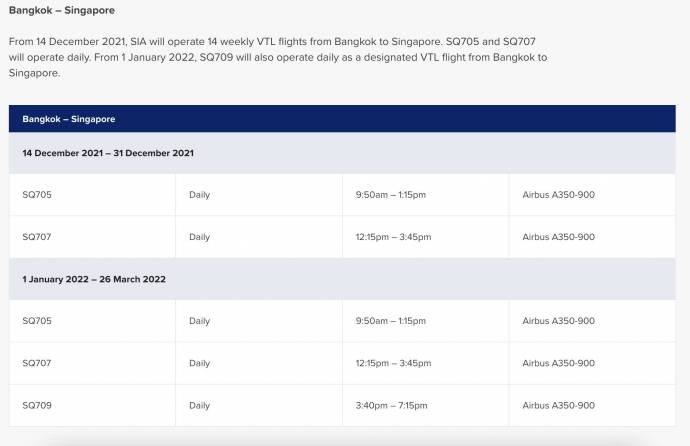 I took SIA as I feel it's the most reliable of the lot. Being stranded overseas during the pandemic is not sexy, and I didn't want to take the risk. Having said that, I did book my flight before the VTL was announced – at that point I would have had to quarantine in Singapore for 7 days after returning from Thailand. However, when they announced the VTL, I quickly called SIA to change my return flight to a VTL one (I called the very day the announcement was made). I had to pay an additional $30, but not the worse thing when considering the removal of quarantine upon return. You will have to be on hold for like 1.5 hours with SIA though – not fun.
Total cost for 1 Ticket to BKK – $319
Book your SHA+ Quarantine Hotel for one night in Bangkok (inclusive of PCR test)
Currently, Thailand requires international travellers to stay one night at a designated SHA+ quarantine hotel, while they await their on-arrival PCR test results. Fortunately for us, Agoda lists properties that offer a bundle deal for this purpose. Essentially, the bundle includes 1-night accommodation at the property, RT-PCR tests for 2 guests, 3 meals a day for the duration of your stay and airport pick-up for when you arrive in Bangkok.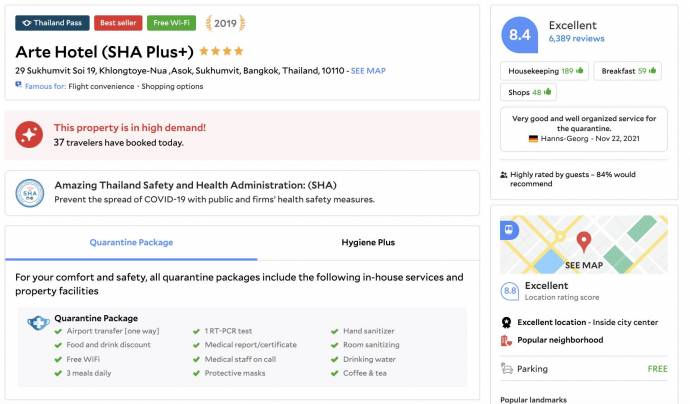 Unfortunately, this doesn't come cheap. I paid about $350 for my one-night accommodation at Arte Hotel, located in Sukhumvit. However, this is one of the cheapest I could find. Others can go up to $600 per night for pretty much the same thing, so book wisely. The good thing is, you can book your accommodation with free cancellation up to one day before arrival.
Timing is also important – at one point, Thailand was about to replace the one night quarantine with a simple ART test, but along came the Omicron variant to mess that up. So keep updated with the latest news on the Thai Embassy website.
When to get tested?
When your PCR test results come back negative, you are free to check out and travel around Thailand. Arte hotel has been easily contactable after my booking and forthcoming with information. They have 3 or 4 slots for PCR tests during the day and will book an appointment for you accordingly based on your time of arrival in Thailand. You can expect results to be out between 6 to 8 hours after your test.
Total cost for 1 night (inclusive of PCR tests) – $350
Buy AXA Thai Insurance
This is very important for your trip to Thailand. The guideline to enter Thailand states that they need you to have insurance that protects against Covid-19, with a value of up to USD 50,000. However, upon further investigation, I found that it is safest to buy the insurance from AXA Thailand, as this is highly recommended by the embassy. You can check out their rates here.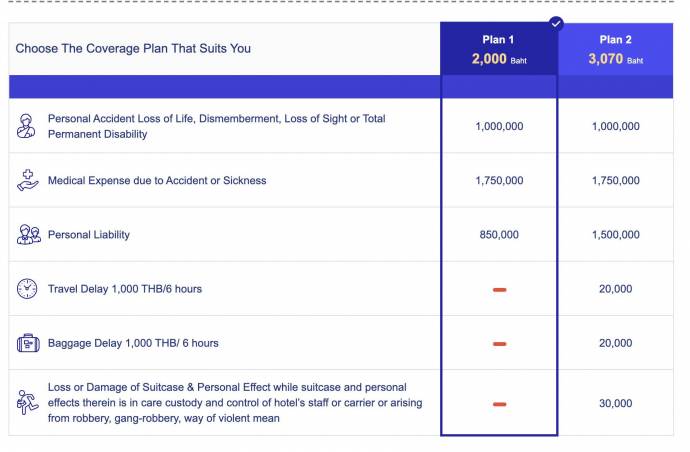 I took package B, as it provides more comprehensive coverage. Buying this insurance would also mean that you will be emailed a certificate that shows exactly how much you're insured for in the event of Covid-19 infection, which is what is needed for your Thailand Pass Application. The transaction is purely online and buying the insurance is a pretty painless process.
Total cost for insurance – $125 (THB 3070)
Apply for Thailand Pass
Now, this is your passport to Thailand. Ever since its reopening, Thailand has imposed the Thailand Pass in order to monitor the tourists' entry and departure. Applying for the Thailand Pass is completely FREE, but can be a little stressful. 
Firstly, here are some pointers to note
Buy AXA Insurance – it's the easiest way to get approval
Use Gmail address only, other email addresses are not accepted
Take screenshots of all your documents, OR save them as JPEGs – PDFs are not accepted
Only single page documents are accepted (due to the JPEG rule above)
Book your flights, quarantine hotel and insurance before applying
Do not be intimidated by the Thailand Pass, it's actually not as complicated as it seems. The instructions on the website are in English and can be quickly filled in if you have observed the pointers above. You can read more about applying for the Thailand pass here.
After application, you need to wait 3 to 7 days for them to approve your application. However, I would apply a good month before leaving, as mine took 15 days to be approved for no apparent reason. You can check the status of your application on the same website, or you can email their helpline to enquire about the application if you get anxious (like I did!). Once approved, you will get an email with a QR code, which you will have to print out before leaving Singapore.
Click here to apply for the Thailand Pass!
Total cost – FREE
Now your Thailand Pass application has been approved, and you're all set to go! What's next?
Looking for places to travel within Thailand? Check out my trip to Chiang Mai, or Kanchanaburi for inspiration!
PCR Tests Galore
Let me start by saying that some websites will require you to take an RT-PCR test. Do not be confused with the regular PCR test we have available in Singapore, they are pretty much the same thing.
Book your Pre-Departure Covid-19 PCR test
You can do this with any one of the qualified clinics in Singapore. You can find a list on the Singapore Safe Travel Website, linked here for your reference. The most important thing to note will be to make sure you book a pre-departure test, and that you get a certificate that says you're Fit to Fly. Your airline and Thai Immigration will require you to show this certificate, which will be provided to you via email.
I've done mine with Acumed clinic, close to where I stay. This cost me $150 including GST, and the Fit to Fly certificate.
Total Cost – $150
Pre-departure ART Test in Bangkok
Singapore requires travellers entering Singapore to have a negative PCR or ART test 48 hours before their flight back. Of course, I picked the lesser invasive of the two. I would advise booking your ART test in Bangkok with a reputable clinic before even arriving in Bangkok, just so you have peace of mind. Some clinics can be fully booked, and you definitely want to avoid a situation where you can't get a slot for an ART test.
I am doing my ART test at Samitivej Sukhumvit Hospital. It was easy to contact them – just email them your requests and provide them with your flight details! They will reply to you with a confirmation of your appointment. This ART test cost me THB 1,100, about SGD $50. You can book your appointment here.
Total Cost – $45 (THB 1100)
Book your on-arrival PCR Test in Singapore
This can be done via SIA – they will send you a link to get your booking done before you depart from Singapore. This test will be conducted right after you land in Singapore, after which you are expected to go home and wait for your results before you are allowed to leave your home. When your results come out negative, you are free to leave your house.
However, current laws state that you will have to do ART tests every day for 7 days after your arrival (thanks again, Omicron!). So do purchase your ART kits and keep them on standby. You will also be required to do a supervised ART test on days 3 and 7. This will mean you will have to head to a centre nearby where you will do the ART test while being closely monitored by a professional. 
Total Cost – $125
Total Cost
Based on everything listed above, here's a breakdown of how much I paid for each and all of the above:
VTL Flights – $319
Quarantine Accommodation + PCR Test (BKK) – $350
AXA Thai Insurance – $125
Pre-departure Covid Test (with F2F certificate) – $150
Pre-departure ART Test (BKK) – $45
On-arrival PCR Test (SG) – $125
Grand total – SGD $795
I did not include my flight costs in the above, and of course, this amount will reduce if you're sharing the quarantine accommodation with someone.
Essentially, these are the things you'll have to get done before even leaving the country. It sounds like a lot, but it might be our only way to travel at least for the next year to come. Do bear in mind that the above restrictions are specifically for Thailand and not other countries. I will also keep updating the information as news is released from the embassy.
Happy travels!