The Source Bulk Foods is an Australian grocer with a novel idea – you pay for what you need and nothing else. Intrigued? Read on!
The Source Bulk Foods has made landfall in Singapore and is spreading its wings fairly quickly across the island! Their first store on Cluny Court opened its doors to customers late last month and the response has been stellar. The management is planning to expand by opening 2 new stores by the end of the year. A large store with more products can be expected at Great World City, while the peeps who work at Raffles Place will be seeing a 'grab n go' concept of The Source Bulk Foods in the vicinity soon!
Who they are
The Source Bulk Foods sells the food you'd like to buy, ranging from nuts, dehydrated fruits, chocolates, nut butters to even Kombucha by weight. So you can buy however much you want or need. You can also bring your own jars and bags, or use their paper bags and glass jars. 
The brand ethos to reduce single-use plastic and food waste is paired with homely service provided by the knowledgeable staff! There are over 350 types of products that are carried in store. The folks here would prefer for you to try a small piece of what you'd like to buy before purchasing it, so that you don't have to commit to buying something (and then throw it away) if you don't like it. The products carried here cater to a number of diets, including paleo, vegan and gluten-free. While not all items are organic, they have a sizable number that are.  
What they sell
The Source Bulk Foods has a (very) wide range of products in the current store and that's actually not ALL the products they carry. Sarah, a full-time nutritionist who is also the Franchise Partner, says they take careful effort to select and sell products that are delicious, work great in recipes and have similar zero-waste ethos as they do.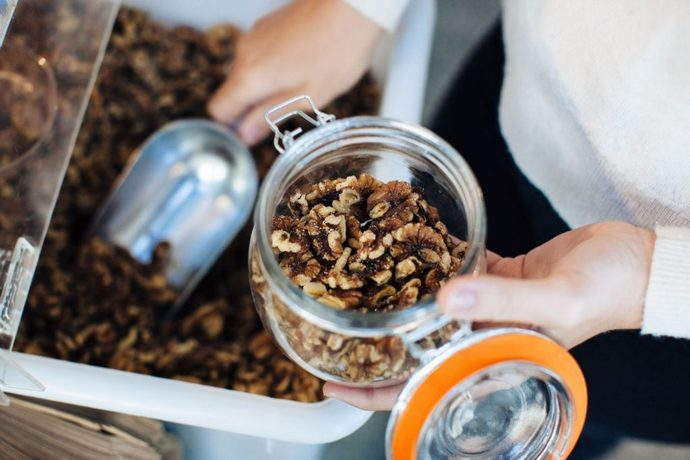 Many of the products here are pantry staples with clearly marked expiry dates. You can expect a wide range of baking and cooking flours, sugars and spices. Almost three-quarters of an entire wall in the store is dedicated to chocolate lovers! Think chocolate-covered strawberries, coconut chunks and even pumpkin seeds. They also have a range of white chocolate items with unique fillings or with none at all.
Fruit and Nut
If you're looking for freeze dried fruit, they have that, too! I tried their mango slices – this is literally a mango slice that has been freeze dried to a chewy, sweet-like state. Though I am not a fan of mango (!! I know, blasphemous), I did enjoy this. It's a great way to keep children occupied while parents shop, too!
Nut butters can be made (by you) fresh in their nut butter machine. Simply put in the desired amount of nuts you want and turn on the machine! The nuts are made (smooth, chunky, crunchy) with no additives or oil – just nuts, and nuts alone. Speaking of nuts, they have a large variety of those too! All ethically sourced, salted, unsalted, salted and toasted – aahh, you name it!
Singapore Exclusive
Exclusively in Singapore, The Source Bulk Foods carries Kombucha on tap! The fermented tea comes in three exciting flavours; Yuzu Lavender, Raspberry Passion fruit and Cucumber Melon. You will have a hard time choosing between the three, so I suggest you just buy all three. These are from local kombucha brewery, Wild Boocha. Each can be bought at $12.90 per litre. You can bring your own bottles, or use the glass jars they have. 
Minimising food waste and single use plastic is a serious issue of our times and many brands (including Nestle) are beginning to take this subject seriously. This pay-for-what-you-need model works great for us all, especially home cooks and bakers. I highly encourage you to bring your friends, family and relatives to The Source Bulk Foods at Cluny Court, where environmental responsibility meets great taste and quality! 

The Source Bulk Foods
Address 501 Bukit Timah Road, Cluny Court, #01-05A, Singapore 259760
Email clunycourt@thesourcebulkfoods.com.sg
Phone 6974 0943
Opening hours 8am – 8pm
Payment modes Cash, Visa, Mastercard, UnionPay, NETS, ApplePay
Website: https://thesourcebulkfoods.com.sg/