South Indian Fish Curry may sound obsessively specific, but there's a signature tang and spice to the fish curry from this region that cannot be found in the other fish curries across India. Here's an easy recipe.
I grew up with the intoxicating aroma of spices and tamarind wafting through the rooms. This curry was a very big part of my childhood. Fish Curry is a beloved Indian dish, with each part of India having its own signature version.
I have broadly termed this the South Indian Fish Curry, but it can vary according to the various areas of South India. Kerala has its own version, as does Chettinad or Andhra. This, if I was to zone in, is from Tamil Nadu. I know this version by heart and in my heart because my ancestors are from South India. 
Here's a recipe for a Vegan Chickpea Curry, if you're looking for a meat-free option!
I've used Barramundi here, as it's one of my favourite fish for this curry. The kind folks at Sasha's Fine Foods Singapore sponsored the fresh Barramundi I have used here. This is a locally farmed fish, full of Omega 3 goodness. Sasha's Fine Foods procures responsibly sourced ingredients and keeps it local where possible. The coconut oil I used in this recipe is also from Sasha's Fine Foods!
As part of our Nation's Birthday, Sasha's Fine Foods will be offers 10% off ALL Local products in this link. They also have a National Day Bundle, from 5 to 12 Aug.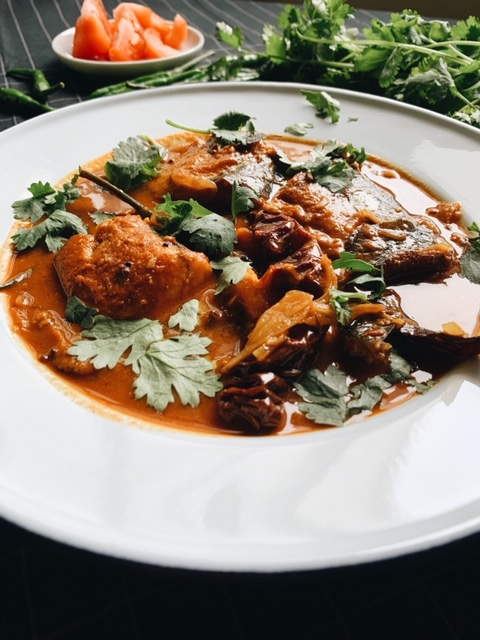 For the Fish
180g Sasha's Fine Foods Barramundi Fish Fillet, cut into chunks
½ Tbsp Chilli Powder
1 Tsp Turmeric Powder
¼ Tsp Salt
¼ Cup Vegetable Oil, or enough for shallow frying
For The Curry
2 Tbsp Coconut Oil
½ Tsp Mustard Seeds
½ Tsp Cumin Seeds
4 Dried Red Chillies
2 Medium Red Onions, peeled and sliced in thin crescents
4 Cloves Garlic, peeled and grated
4 Small Green Chillies
1 Sprig Curry Leaves
1 ½ Tbsp Fish Curry Powder
2 Tbsp Tamarind
½ Tsp Salt
1 Tomato, cut into wedges
500ml Water
Prepare the fish by marinating it in the chilli, turmeric powders and salt. Set aside for at least 1 hour. Fill a shallow skillet with enough oil for shallow frying and place over high heat. Slowly lower the marinated chunks of Barramundi into the hot oil, then fry for 3 mins on each side until fully cooked and golden. Start with skin-side down first. Once golden, place the fish chunks on a paper towel to drain while you get on with the curry.
In a bowl or jug, mix the water, tamarind paste, salt and curry powder. Set aside.
Pour the coconut oil into a pan or skillet and add mustard and cumin seeds. Place pan on medium heat. Wait for the mustard seeds to pop before adding in the sliced red onions and dried red chillies. Fry till the opaque red onions turn a translucent white. Then, add the green chillies and minced garlic.
Cook for 45 seconds before pouring in the tamarind and curry powder mixture. Wait for this to boil. The minute the first boil appears, carefully lower in the fried fish chunks and the tomatoes. You want to be very careful with the fish, as it will break easily if handled roughly.
Gently stir the fish in the curry, to ensure that the flavour of the curry gets absorbed into the fish while boiling. Cook for a further 5 minutes and remove from heat. The curry can be savoured with fresh bread or white rice. If you find the curry's consistency too thick for your liking, add water as you see fit.