Ho Fook Hei has a soy chicken so tender that it'll visit you in your dreams. Plus, they have a proprietary chilli sauce that is a sauce-lover's dream!
If you're into Soy Sauce Chicken, then this place is your everything. Along with a very tender, tantalising chicken cooked in wine and soy sauce, Ho Fook Hei also has wanton noodles, dreamy barbecue char siew, Cod in a tangy Nyonya Assam Sauce and drinks that'll help to cool down the body after the heatwave from the delicious food! While their menu is filled with delectable dishes, here are some that I tried and will go back for!
Speciality Rose Wine Soy Sauce Chicken
This is the reason why anyone should visit Ho Fook Hei. The sweetly perfumed, salty sauce (this is not so much ironic as it is poetic. You will see what I mean when you sink your teeth into the chicken) is made in-house and threads the chicken flesh so seductively. Even the breast meat is cooked to tender perfection – the secret to this being brining. All the chickens picked for this dish are brined overnight to ensure that they remain juicy after they are cooked. The sauce has a range of classic chinese herbs and spices, including cinnamon and star-anise. These spices also give the sauce a deep amber colour, which then sits as a shiny glaze on the chicken skin. The alcohol present here does not overpower the sauce; on the contrary, the sweetness in the sauce is from the perfumed wine.
($19 half / $35 whole for dine-in and takeaway)
Honey Glazed Black Barbecue Pork Belly
This Char Siew is more laced with fat than layered with it, if you know what I mean. I am not a fan of chewing on fat of any kind, so it was a relief when I saw that these char siew slices didn't have a layer of fat attached to the top. The dark and gleaming pork slices owe the magnificent, well-bodied flavour to the multiple bastings they endure while being roasted in the oven. Sweet and very slightly herb-y, this plate of meat goes great with the noodles or congee served here.
($13)
Steamed Fish in Signature Nyonya Assam Sauce
Nyonya assam sauce is known for its classic sweet and tangy flavours. The sweetness here is enhanced with chunks of chopped bell pepper which come with the sauce. Threadfin, Cod or Sea Bass is used in this dish. The delicately steamed fish is doused generously with the Assam Sauce. My suggestion is to choose cod fish, as it can carry the sauce very well. They also use very fresh fish here, so you can be assured of a good, meaty meal.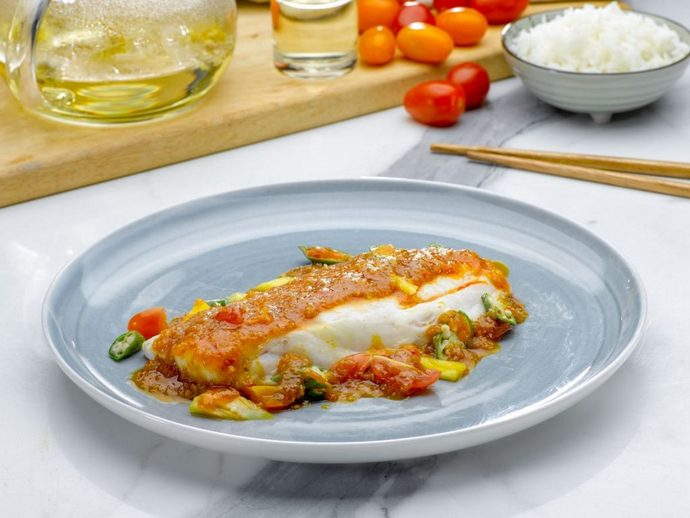 Ho Fook Hei has a couple of interesting drinks on their menu as well, to help calm the soul while you meet with their menu of exciting food. Options include the Chilled dried longan drink with Luo Han Guo. I tried the Signature homemade red apple and Hawthorne drink. This was tangy and refreshing at the same time, and comes in a very enticing orange colour.
Ho Fook Hei is run by the same people who brought us Joyden Seafood, a brand of restaurants known for their exquisite seafood and delectable tze-char style food. I am a huge fan of chicken rice – if you follow me on Instagram, then you'll see how much Chicken Rice I eat. If only I worked close to Ho Fook Hei; this would be a popular lunch spot.
Looking for chicken recipes? Check out my Pulled Chicken Mantou Slider recipe!
Address 1 Kim Seng Promenade, #01-141 Great World City, Singapore 237994
Tel (65) 6219 2262
Website www.joyden.com.sg
Operating Hours Open daily
Daily: 11.30am to 3.30pm and 5.00pm to 9.30pm