Spicy Nyonya Noodles is just what you need to cure the corona-coma! Made with a fiery chilli paste, tofu and prawns, these noods are perfect for a solitary meal, or a quick-fix weeknight dinner!
Making Spicy Nyonya Noodles requires some prepping, I will not lie. But it's about making a basic curry paste one weekend that can be used at other times, too! All you have to do is put a bunch of ingredients into the blender and pulverise everything. 
I used the Nyonya rempah from my Nyonya Chicken Curry to make this dish. When I made the paste for the curry, I had too much rempah for the amount of chicken I was using, so I decided to store some in the freezer for use at a later date. Defrosting the paste is not a challenge, in the event you forget to take out the rempah from the freezer earlier. Just have a bowl of room temperature water at the ready, and dunk you the ziplock back with the frozen rempah into the bowl. Wait for a maximum of 30 minutes, and you're ready to roll!
I picked the ingredients for these noodles from what I had in the fridge and freezer at the time of cooking. I have used frozen prawns, frozen green peas and a large cube of fresh tofu. I wanted to keep this recipe as simple as possible. With noodles, the lesser the ingredients the better the final dish will turn out. As a rule of thumb, always remember that you need a rather wet base to get things going when making noodles; otherwise the dish becomes too dry.
Noodles
I have used Thai Rice Noodles for this recipe, or Pad Thai noodles in other words. Feel free to use yellow Mee Goreng noodles, or even bee hoon for this recipe if you prefer. Again as with the add-ons in the noodles, I made this with what I had at my disposal in the kitchen. I rehydrated these noodles in hot water before adding them to the dish, no more than 4 minutes. If you're using Bee Hoon, then rehydrate them in tap water before cooking with them, do not use hot water. Bee Hoon is relatively thin, and tends to overcook if you use hot water during rehydration.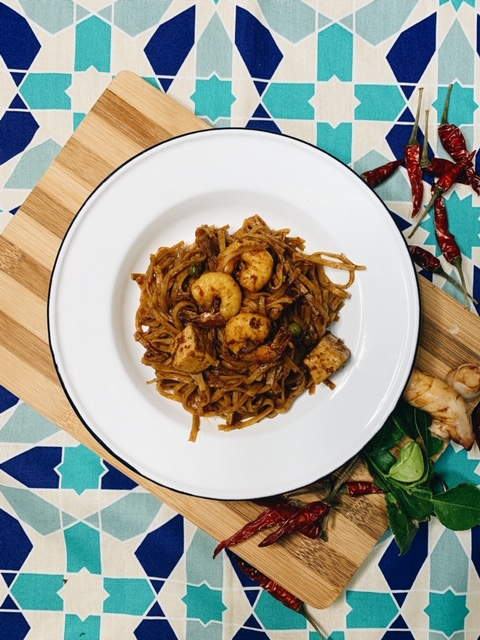 If you're not keen on using noodles at all, you can easily turn this into a Fried Rice recipe, too! Simply swap out the noodles for cooked rice. With fried rice, it's always nice to use rice that is slightly older, at least by a day, for the requisite dry yet flavourful finish. 
Spicy Nyonya Noodles Recipe
Course: Main
Cuisine: Peranakan
Difficulty: Easy
These noodles, inspired by fiery Peranakan flavours, has a bit of everything; heat, sweet and certainly, love.
You'll need;

2 Tbsp Vegetable Oil


5 Tbsp of Nyonya Curry Rempah


1 Tbsp Oyster Sauce


1 Tbsp Dark Soya Sauce


1 Tsp Sugar


2 Lime Leaves


150g Prawns, shelled and heads removed


100g Tofu, cut into cubes


150g to 200g Noodles of your choice
You'll need to;

Rehydrate the noodles for 4 minutes, or according to package directions. Drain and set aside.

In a large wok over medium heat, pour in the oil and wait for it to get hot. Then, add the spice paste, or rempah, and cook in the hot oil till the colour of the paste begins to darken. This process will take up to 5 minutes, and it's best to keep stirring the pan especially if you're not using a non-stick wok.

Then, add the lime leaves, oyster sauce, soya sauce and sugar. Stir to combine, then add the prawns and tofu. Stir once again to allow the prawns to be coated in the dark and spicy mixture. Cover and cook for 3 to 5 minutes, or until the prawns are fully cooked through.

Remove the lid and add the drained noodles to this mixture. Toss together to coat the noodles evenly. Serve warm.
Notes
You can leave out the sugar if you like, but it helps to balance the flavours in this dish. The sauces can be slightly salty.
While I have used Prawns, feel free to use a protein of your choice!