A Roasted Chicken to whet your appetite! This simple recipe can be whipped up after work, or prepared during the weekend and then cooked just before dinner on a weeknight.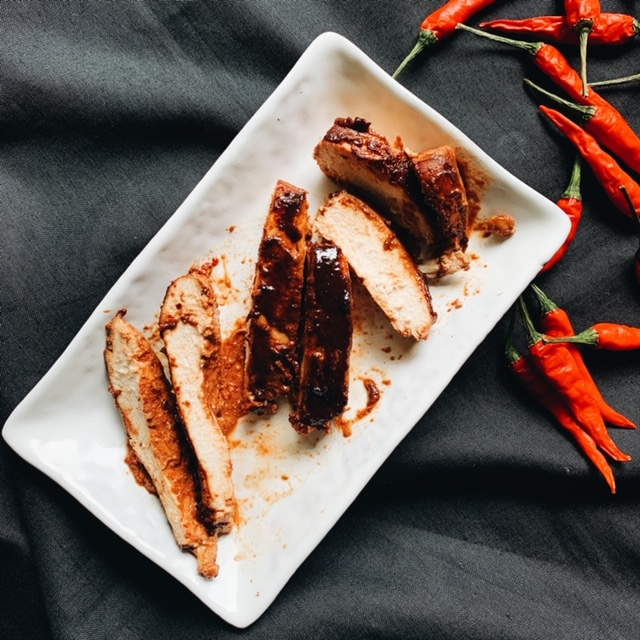 If you're a regular reader  of this blog, then you are fully aware of my obsession with chicken breast. While this recipe can be easily replicated with chicken thighs, I love how the yoghurt, chilli and honey help to tenderise the breast and make it so succulent in the oven. 
This is a rather spicy roasted chicken dish, so I would suggest going easy on the chilli/sambal if you're not into the heat. Essentially, this recipe has four main ingredients that work together to make a kick-ass marinade; chilli, honey, yogurt and soya sauce. This may sound like and unlikely combination, but trust me when I say it's gorgeous. The heat from the chilli, complex salty sweetness from the soy and the depth of flavour from the honey. This recipe is a pyramid of the major pillars of flavour: Sweet, Salty, Spicy and Sour(y?).
Here's an alternative recipe for Tamarind Chicken that is not as spicy as this one!
You can make this dish ahead by marinating the chicken in a zip lock bag and storing it in the freezer until you're ready to eat it. Take it out the night before and put the frozen chicken in the fridge to thaw overnight, then place in the oven once you're home from work. 
This goes great with curry, rasam, or fried rice even. The trick with making sure that the chicken doesn't try out in the oven is to wrap it with foil before it goes into the oven and allowing it to rest when you've removed the piping hot meat from the oven.
Ingredients
1 butterflied Chicken Breast, around 400 g
2 Tbsp Yoghurt
2 Tbsp Honey
2 Tbsp Ground Red Chilli (Sambal)
2 Tbsp Soy

Method
In a large bowl, combine all ingredients together and massage chicken well. If your planning to store the chicken in the freezer, then you can do this in a ziplock bag to reduce washing.
When ready to cook, preheat oven to 200 degrees celsius. Line a small baking tray with foil and place the darkly marinated chicken breast (or thighs) in the tray. Cover with foil and place in the oven for 20 minutes. Once removed, leave the chicken in it's try, covered for an additional 7 to 10 minutes. Then, serve warm with rice or curry.