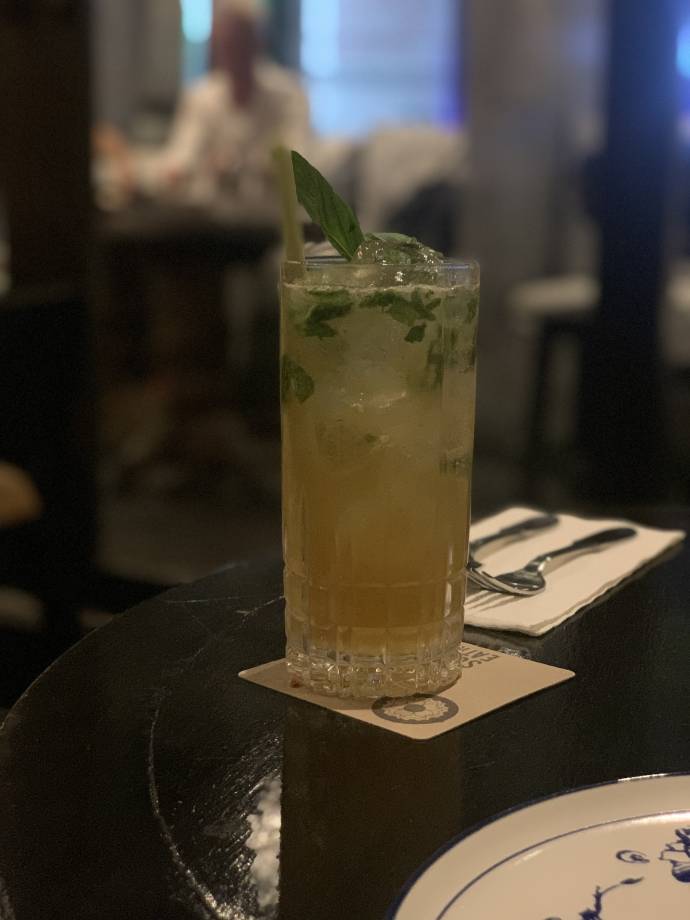 Supanniga is hot on everyone's lips! However, this Bangkok restaurant is not new; its delectable Thai dishes had captured hearts way before the pandemic.
Supanniga in Bangkok is another local restaurant that I feel will benefit greatly from having an outlet here in Singapore. Just like brands such as Baan Ying and Kub Kao Kub Pla, Supanniga serves up jaan after jaan (plate after plate for my non-Thai speakers) of enticing, spicy, mellow and well-balanced dishes that leave diners wanting more. 
Note: I went to the original Supanniga outlet in Thong lor. Reservations are recommended, you can make a reservation on Chope Thailand, or via their website.
The menu here is extensive with a combination of Thai food from different regions of the diverse country. All dishes here are cooked and prepared with the utmost care, the presentation is stellar. Price-wise, it's best to expect the same as when you dine out here in Singapore. While this may be considered pricey for Bangkok, the quality of the cuisine more than deserves the bill. The waiters here are trained to speak in English and are very knowledgable about the dishes served. They even have a cocktail menu to top off your delicious experience!
I of course didn't have everything on the menu, though I would have had I had my way. Here are the few things I've tried, and why you should try them too!
Son In Law Eggs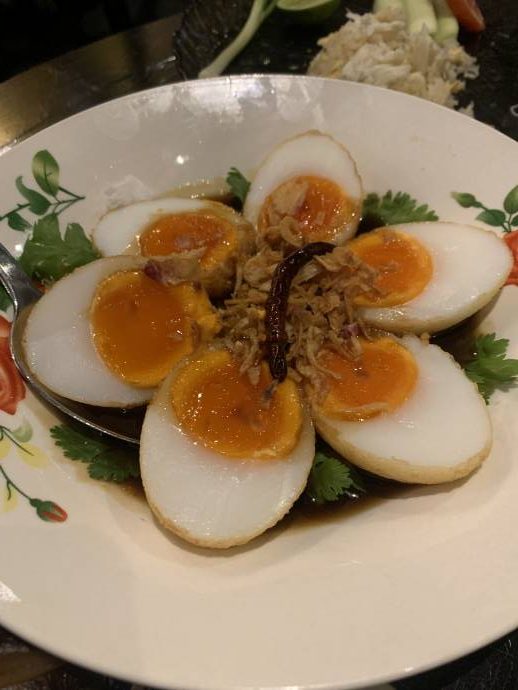 According to Atlas Obscura, this dish was created by an angry mother for her son-in-law when she heard that her daughter was not being treated right. She fried up a pair of eggs and sent them over, signifying that his pair will be next if he didn't start being nicer to his wife. 
Although this dish has very street food origins, it fits quite seamlessly into the restaurant's dressy menu. The eggs are first boiled, then sliced in half and topped with an appetising tamarind sauce and fried shallots for added crunch. The sauce is so good you'll want to dip everything in it. Plus the yolks are so soft and squidgy in the centre – done perfectly!
Oyster Sauce Vegetables
Whenever I go out to have a meal like this, I would look for a vegetable dish. It's a habit I carry from my childhood; that the meal has to be a balanced one. This was a pretty basic Thai Kailan cooked in oyster sauce with shiitake mushrooms. I liked that it was simple, and married well with the other dishes on the table. It was also slightly Chinese in nature – my guess is that it's from the rather large Thai-Chinese community.
Crab Fried Rice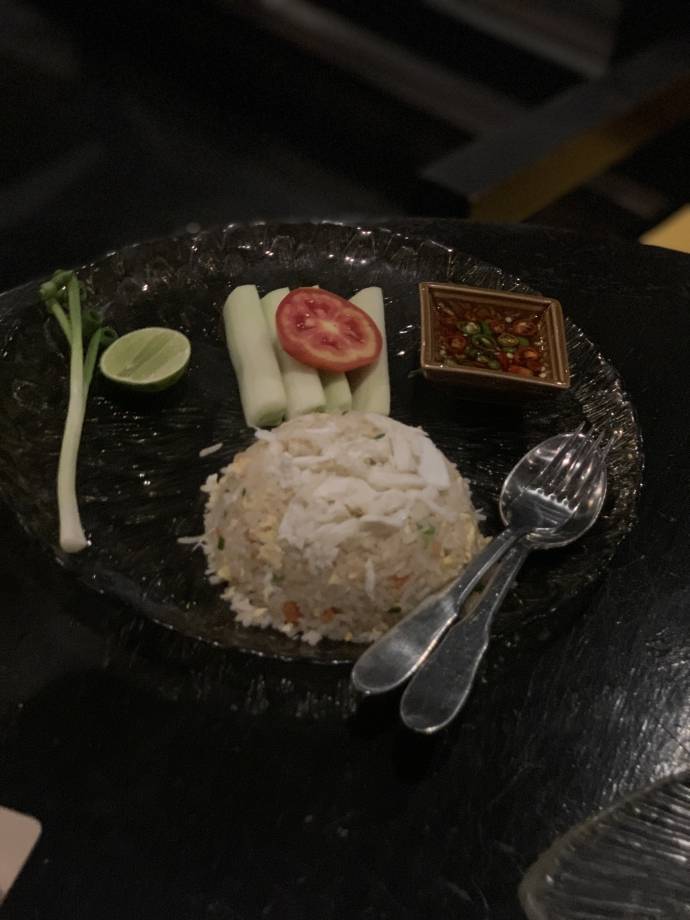 Okay, Supanniga is known for its crabmeat dishes. Their Hor Mok Crab Meat (deep-fried crab dumplings), Crab Meat Pad Prik Lueng (stir-fried crab) and Gaeng Crab Meat Bai Cha Plu (Crab Red Curry) are to die for. Each dish is filled with fat, juicy chunks of crab meat that you can bite into with extreme satisfaction (I do, at least!). 
However, these dishes (yes, all of them) were not available when I was there. I had to deal with this disappointment by ordering a plate of crab fried rice. This was an ordinary egg fried rice topped with shredded crab chunks. They do ordinary in an extraordinary way here (and in the rest of Bangkok), so this crab fried rice too was very tasty. It came with a side of chilli padi slices dredged in fish sauce, which added a nice punch to the dish. 
Red Curry Prawns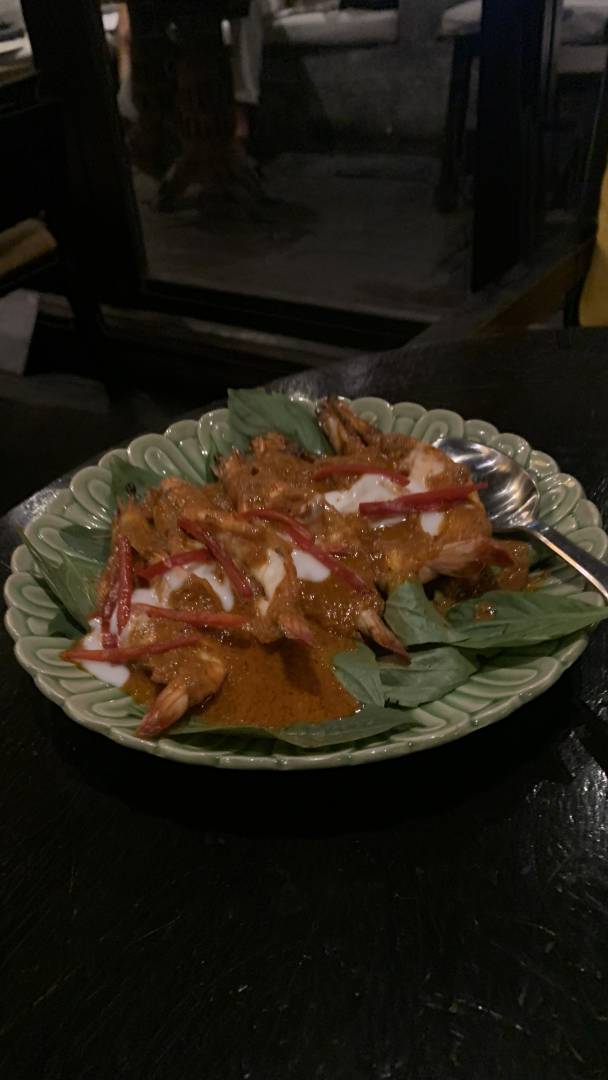 Okay now this one, had my soul singing in delight. You know how I love a good prawn dish, and boy or boy this jaan did not disappoint. These were very, very freshly caught and cooked freshwater prawns. The prawns, shells intact, were sliced lengthwise down making it very easy to fork out the tender meat from the shell. Then, a red curry reduction was poured over the prawns making this one hell of a delicious meal. The red curry was obviously made from scratch; the hypnotic perfume of herbs and spices from the curry was addictive. 
I would highly recommend this dish if you're visiting.
And for dessert…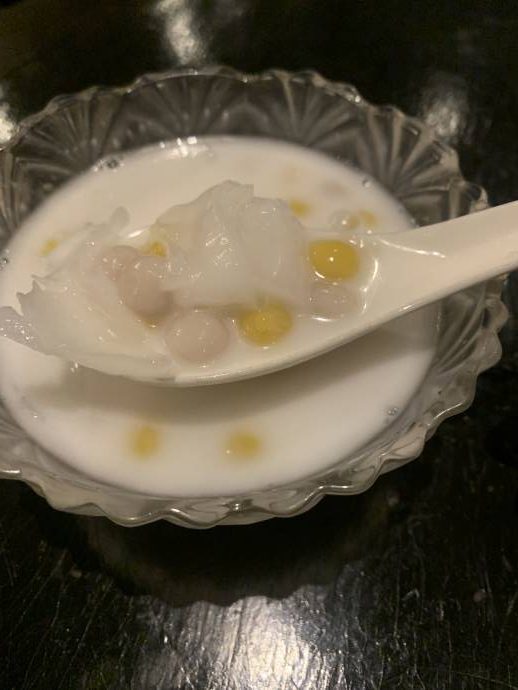 Buo Loy is a popular Thai dessert that's a lot easier to eat than to make (as with most Thai desserts!). It's a traditional kanom made with tapioca starch and water, or pandan juice, shaped into tiny little balls then boiled and steeped into a coconut milk syrup. When in Thailand (or with life in general), I don't stop at one dessert so I had another: Thai Tea Panna Cotta. Compared to the more traditional Buo Loy, this was a fusion that went very, very right. The Panna Cotta was firm buy yielded so seductively when I cut through it. It came to the table topped with evaporated milk and in that addictive Thai Milk Tea Orangy-brown colour. I mopped up the plate. 
Thai Mojito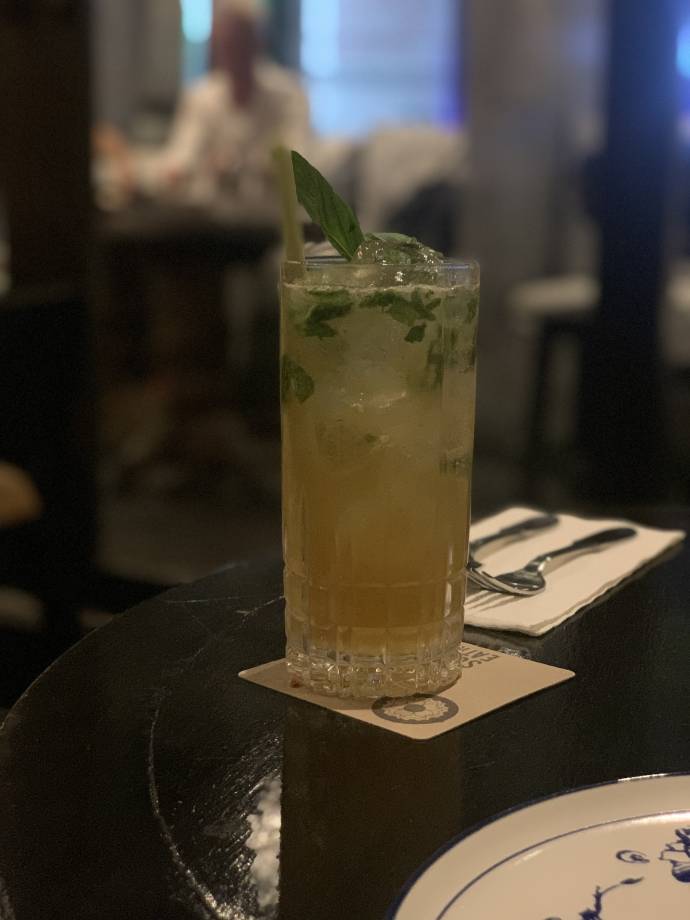 They had a range of cocktails on the menu, and I tried the MojiThai. In place of mint, the bar used sweet basil. It was unique and quite refreshing – though to be fair, a glass of ice is just as refreshing in the ridiculous Bangkok heat. 
With travel opening up and Bangkok dropping all restrictions on 1 June 2022 (no Thai Pass even!), make this a must-go-to place if you're visiting this city. You'll be back for more!