A baked salmon fillet is a celebration of life, and how well salmon responds to heat. This recipe combines this magic with sweet Thai chilli sauce!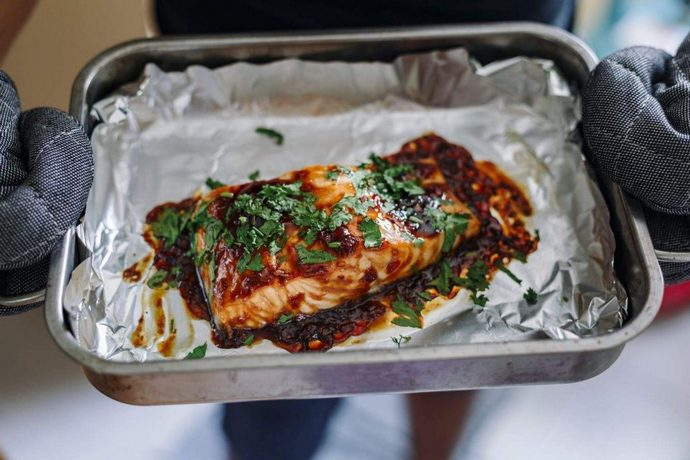 Thai Chilli Sauce can be very versatile, it boils down to how you want to use it. There are also many varieties of Thai sauces in the market, with different brands touting theirs to be the 'secret' recipe of something that you can just make at home, quite simply.
I have never thought of really cooking with sweet chilli sauce until this recipe – I am always using sweet chilli as a topping for my sandwiches, or as a side to dip my homemade nuggets. However, the sugar content in sweet chilli sauces can give your meat (or vegetables) a lovely golden sheen.
While this recipe uses salmon, you can choose to go with poultry, as meat can respond pretty well to sweet chilli sauce. However, be sure to use chicken thighs, as the breast can get dry in the oven. If you would like to use chicken breast, add a layer of fat (as in, oil) when you're marinating it with the sauce.
The soy sauce here acts as the salt agent, and goes a long way to salt the dish. Essentially, no salting is really needed as the sweet chilli sauce has everything you need or could ask for. However, the soy sauce adds a form of complex salty flavour that regular table salt cannot produce.
If you're a vegan or vegetarian and would like to do a different version of this dish, most vegetables carry sweet chilli sauce really well. I have tried this with carrots, cauliflowers and even brinjal (though, I grilled the latter) and it turned out fine. If you have any doubts, get in touch with me and I'd be happy to help you through!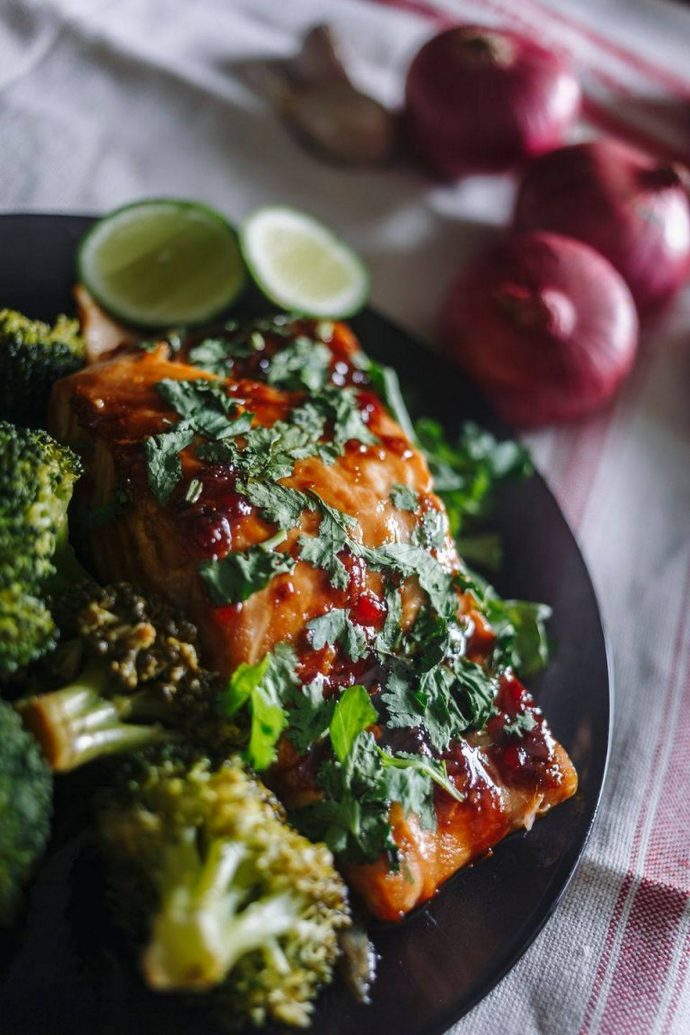 Sweet Chilli Baked Salmon Fillet
Ingredients
215g Salmon Fillet, skin on
2 Tbsp Sweet Chilli Sauce (Thai or otherwise)
1 Tsp Soy Sauce
1 Clove Garlic, peeled and minced
1 Stalk Coriander, chopped finely
Method
Preheat oven to 200 degrees celsius. Line a small baking pan with foil.
Place the washed fish fillet on the foil-lined pan, and pour on the chilli and soy sauce, followed by the minced garlic. Use your fingers to spread the sauce evenly over the fish.
Sprinkle on half of the chopped coriander, and roast in the oven for 8 to 10 minutes.
Remove and serve warm, after sprinkling the remaining coriander leaves.
https://thecraversguide.com/sweet-chilli-baked-salmon-fillet/
Copyright belongs to thecraversguide.com.