Taipei is a beautiful treasure, filled with nuggets of gold (delicious food) and silver (spectacular scenery) that I cannot get enough of.
I have been to countries where I don't speak the language, but Taipei was a different experience. The people were so welcoming, I felt as if I was at home even though everything around me was foreign. If you're travelling to Taipei, and would like to do a few day-trips from the city centre instead of travel from one state to another, this article is written for you. I only used Google and other web blogs as my reference to get around, so the experience was all the more rewarding.
Sights to See
Shifen Waterfall – Getting here by public transport is pretty straightforward, though time-consuming. It's best to plan your trip with google, if you're doing this on your own. The waterfall might be difficult to get to, but it's well worth the trip – spellbinding at every angle, the sounds of the freshwater crashing will stay with you for days!
Here's how I got there: Take a train from Ximen to Songshan Station. From Songshan Station take train (Tze-Chiang Limited Express 212 to Hualien or Fuxing Shuttle) to Ruifang Station and then transfer to another line to take another (Fuxing / Shuttle 4716 to Jingtong) train to Shifen Station. Walk to the waterfall. After waterfall come back to walk the streets of Shifen.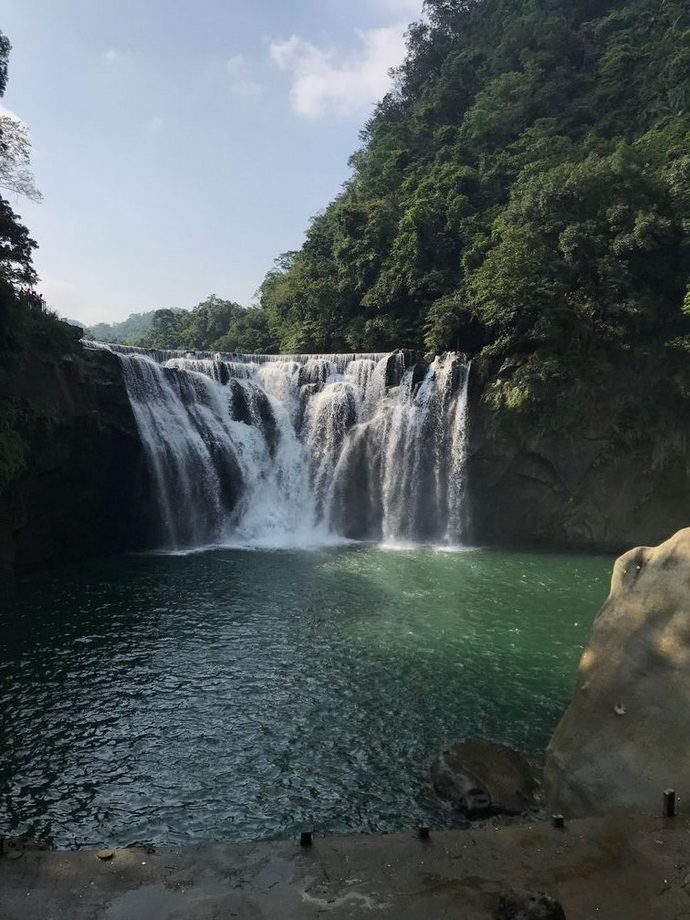 Jiufen Views – Juifen is the hilly side of Taiwan that's a must-see when there. In fact, I would like to make another trip to Taiwan so that I can stay in Juifen for at least a night or two. The weather gets really cold, and the views from here are breathtaking. Plus, there's a night market to boot! You can visit Jiufen the same day as the Shifen waterfall, you just need to transfer trains. Once you alight at Juifen Old Street Station, you can hop on board a public bus that'll take you to where you need to go!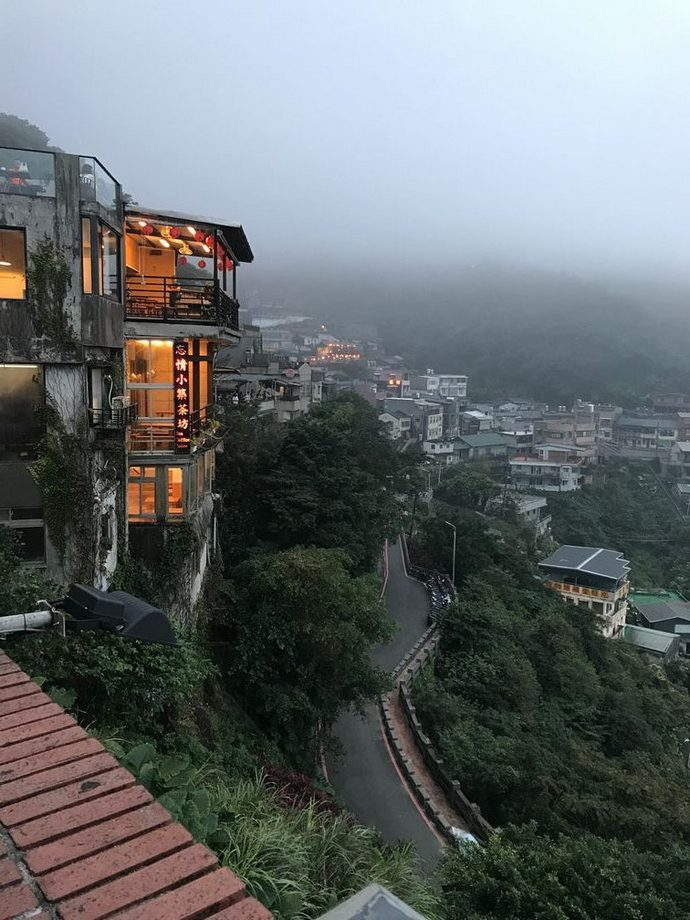 Wuji Tianyuan Temple – this temple was slightly out of the way, we had to take an Uber out to this place from Tamsui MRT Station. Wuji Tianyuan Temple is known for its Cherry Blossoms, which was our impetus to travel out to this place. Unfortunately, we went a few days (or weeks) too early – no pretty pink flowers awaited us. I wouldn't recommend a visit to this temple unless you're absolutely sure you want to see it – trying to get a cab ride back to the station was a nightmare.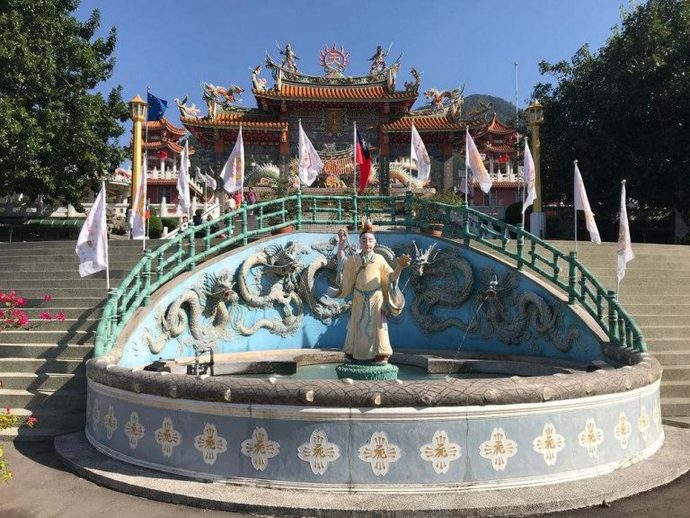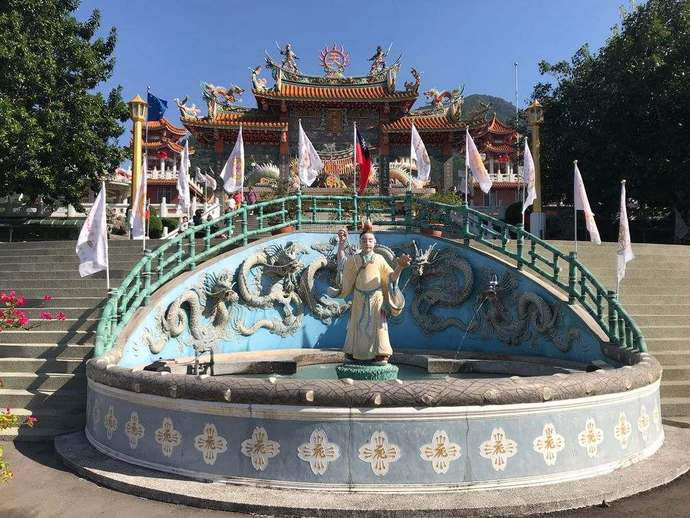 Beitou Hot Spring – Beitou is the area that houses many Hot Springs, ranging from the partially nude to the fully nude. If you're not a nudist at heart, you can still visit the public hot spring, where you can where your bathing suit before dipping into the spring waters. You can also go to the Hot Spring Museum, where a small area is cordoned off so that tourists can snap photos of steaming waters. This is a short distance from Xinbeitou MRT station by foot. You can also pop by the Beitou Library, which is the most scenic library ever IMO.
Elephant Mountain – I was hoping to shed some light on the 'elephant' behind this mountain, but I failed. No matter, I still traversed up this hill at 11am in the morning. It was quite the climb, as there were many steps. For a physically fit person, this is really a piece of cake. For me, I'd rather have a slice of cake. However, the view of Taipei 101 from the middle-peak of this is quite arresting, especially if you'd like to take photos. I took a photo simply to show everyone that I did the climb, so that the cheese tart I had after the climb was well worth it.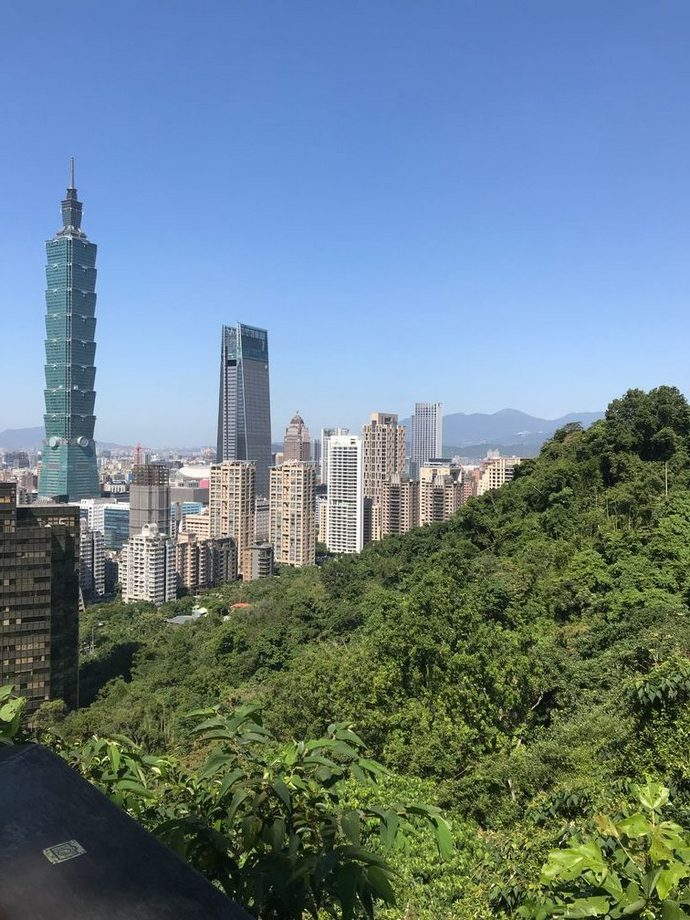 The Night Markets
Shilin Night Market – This night market is easily the fairest of them all, as it was recommended by almost everyone I spoke to. It's not hard to see why, considering the market spans a very large space in the Shilin area. If you're heading there to shop, you might not be so lucky. If you're looking to eat, however, you'll hit the jackpot.
Shilin is literally THE night market where food inventors test out their new creations. I saw that King Oyster Mushrooms were at every corner, fried, baked, grilled and even boiled with a luscious sauce to go with each. It's best to go with a group of people, who can then help you finish up the food. This way, you can buy one dish and split is 6 ways (assuming you're going with 6 people) so that you have more room for new dishes. The must try list here is ever-growing; I recommend the Aiyu Jelly Longan Drink, XXL Chicken (so sinfully good).
Ximending Night Market – This is not strictly a night market, though it certainly acts like one. Walking distance from Ximen MRT station, this array of shops include the mall-worthy, such as Uniqlo, and the street-side brandless goods that bargain-hunters like me just luuuurvvee. There was also the infamous Taipei Scallion pancakes, with a bevy of fantastic fillings ranging from the spicy tuna to the barbequed pork strips. Also try the unique Brown Sugar Tea (no milk in sight), with a jelly-like bird's nest base and in very many flavours.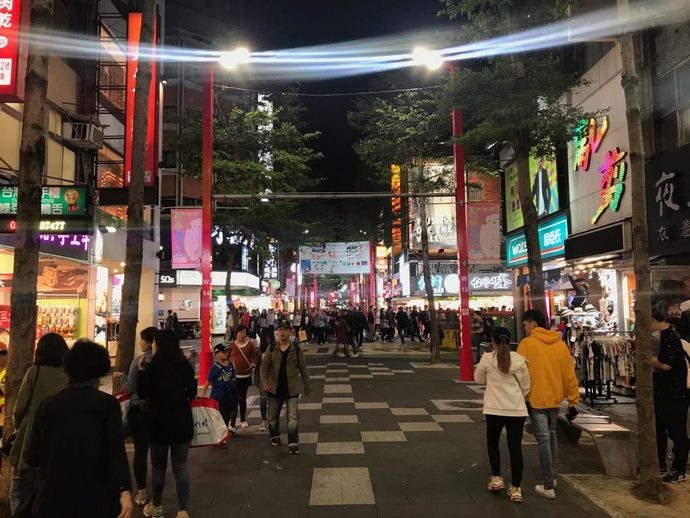 Food to Savour
Din Tai Fung – Taiwan is the birth place of this well-loved restaurant. So naturally, I had to go to the first-ever outlet. Did you know that Din Tai Fung started as a brand selling sesame oil, before the industry changed and the owner had to diversify into making dumplings? This outlet is located at Dong Men, which was a short train ride away from my hotel in Ximen.
The service here puts everything else you've seen to shame; my waitress even had the Japanese and American flags pinned to her uniform, to signify that she speaks Japanese and English. She even guided me on how best to enjoy the dim sum, and spoke in precise, clear English! The best time to visit would be at 3pm, in between the lunch and dinner crowd. We got a seat right away!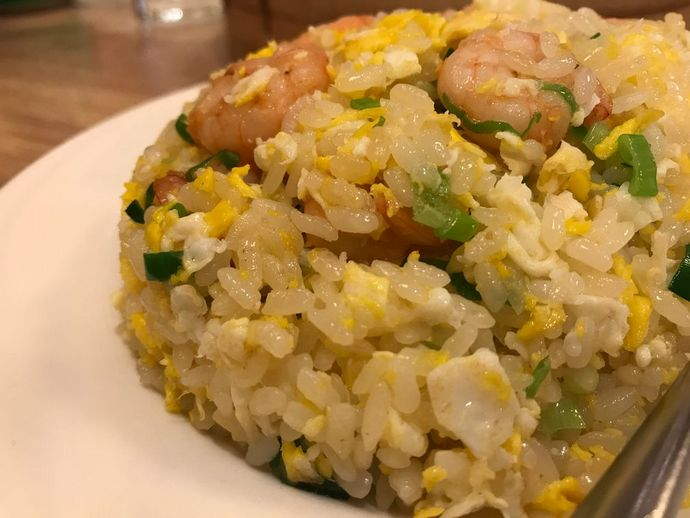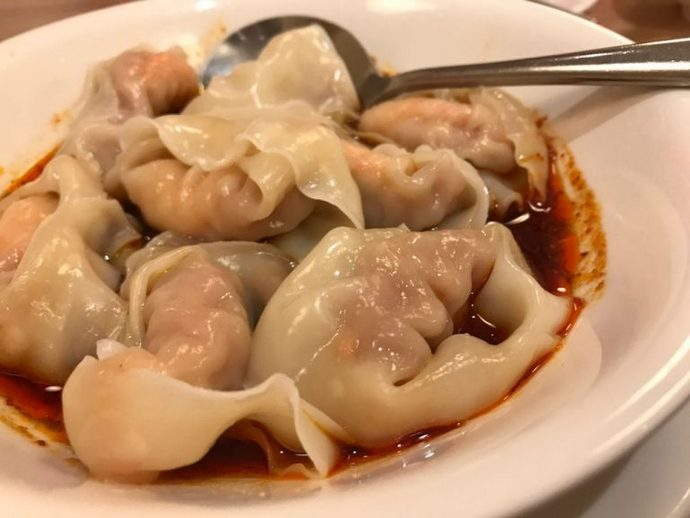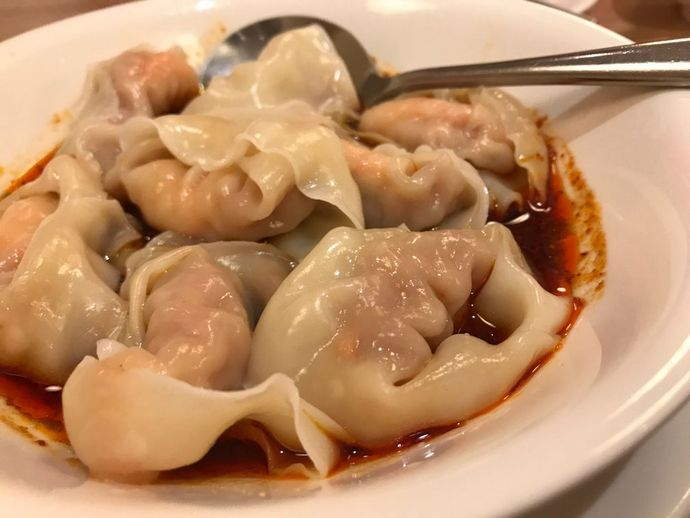 Scallion Pancakes – These are quite common in Taipei; you can find a different scallion pancake with egg stall just about everywhere.They come with a variety of fillings, ranging from the spicy tuna to a sweet, barbecued pork. Although referred to as Scallion Pancakes, this really did remind me of instant prata. Once the bread is cooked, they layer it with a thick omelette and douse it with a host of sauces. Full of all those things your dietitian will abhor, including excellent flavour.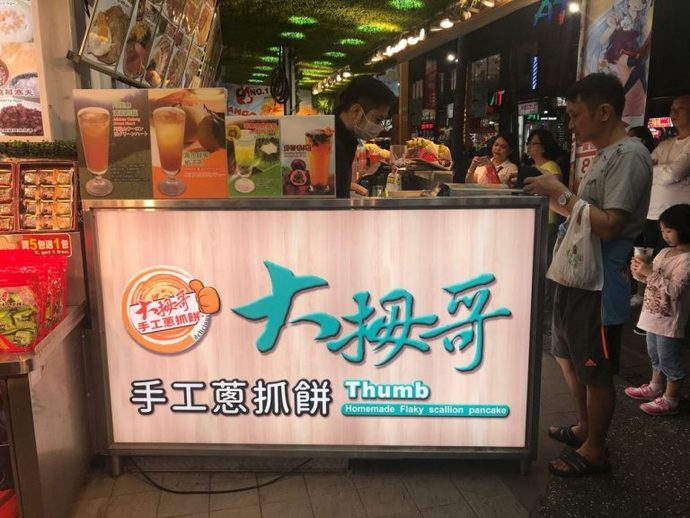 Bubble Tea – You cannot complete a trip to Taiwan without having at least 1 cup of bubble tea (50% sugar for me, thank you). All this fuss about bubble tea having loads of sugar – well, what doesn't? I tried the customary Tiger Sugar Bubble Tea which was really addictive (all the sugar, I'll bet). However, the brown sugar pearl milk tea trend is not patented by Tiger Sugar Bubble Tea – almost every bubble tea store had it, in varying degrees of sweetness. If you're not into the sickly sweet taste of bubble tea, I suggest trying the non-dairy options, or actual tea-based options. It is an experience not to be missed, food wise.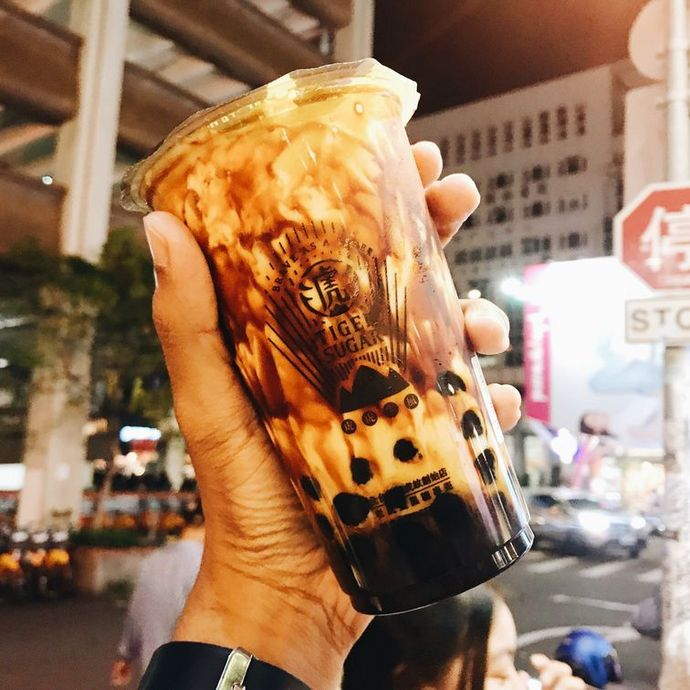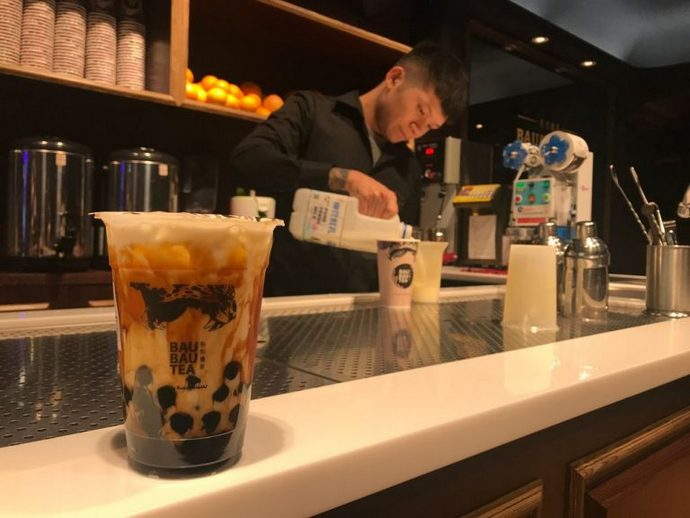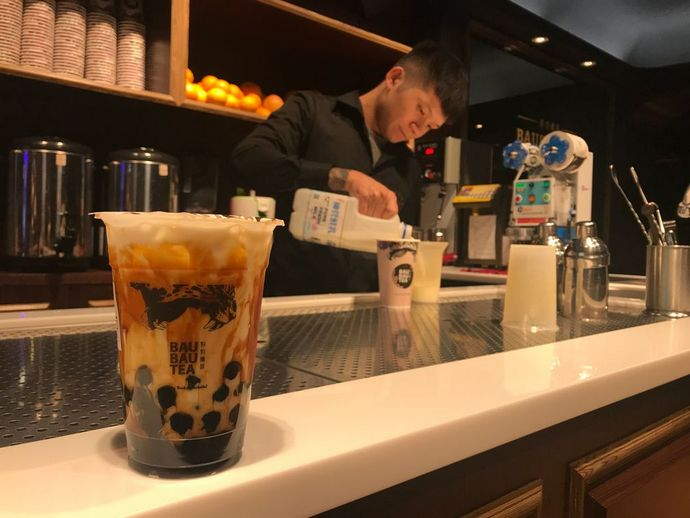 Xiao Long Bao – The infamous XLB is a breakfast dish in Taipei, and I had to have my share of it every other morning. Although a fan of XLB, I am not sure if I would necessarily rush back to have the ones at the street stores. I like a soft, tender and thin skin on my XLB, whereas the ones I had at places such as Yong He Soy Milk King was thick, and blotchy in places. The filling was juicy and flavourful, but I had to eat it without the skin after the first 2 dumplings. For the true experience, I would recommend heading to Din Tai Fung.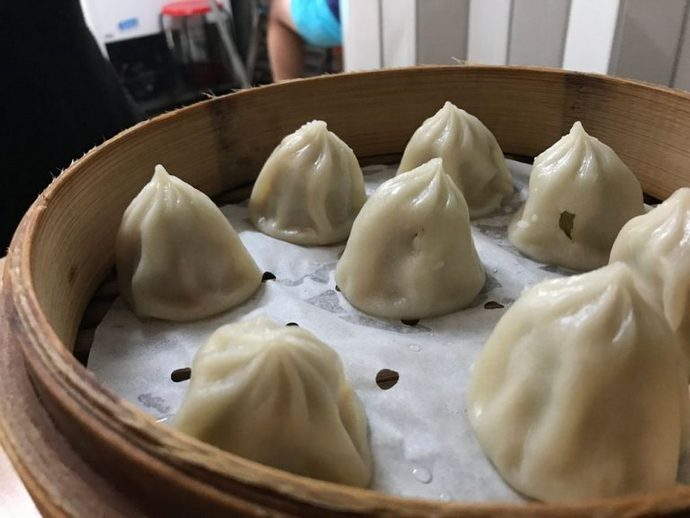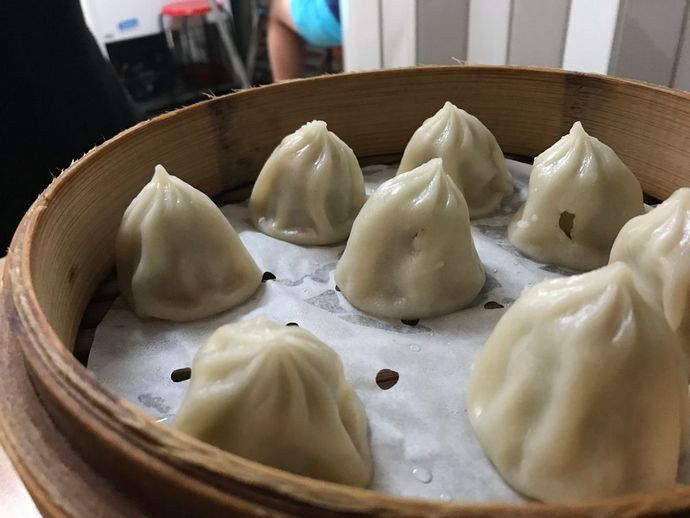 Mushrooms – Mushrooms seem to be the new trend in food, according to the night markets in Taipei. Given that it's the testing ground for food trends, I'd believe it. I had deep-fried King Oyster Mushrooms in the Juifen night market, completely drenched in a proprietary sauce. It was warm and comforting against the cold wind in the evening. Regular oyster mushrooms also received the deep-fry treatment at the Shilin night market. There is something about the meaty texture of oyster mushrooms that makes this a great fried item. Like fried chicken, but nothing like it at the same time.
Smelly Tofu – Smelly Tofu is a right of passage, I think. I was told by a friend that the tofu tastes like a dream and smells like a toilet. Much like how the Ang Mohs describe Durian. Perhaps I tried the wrong tofu, because it smelled and tasted like the toilet. However, please don't let my unpleasant experience deter you from trying it.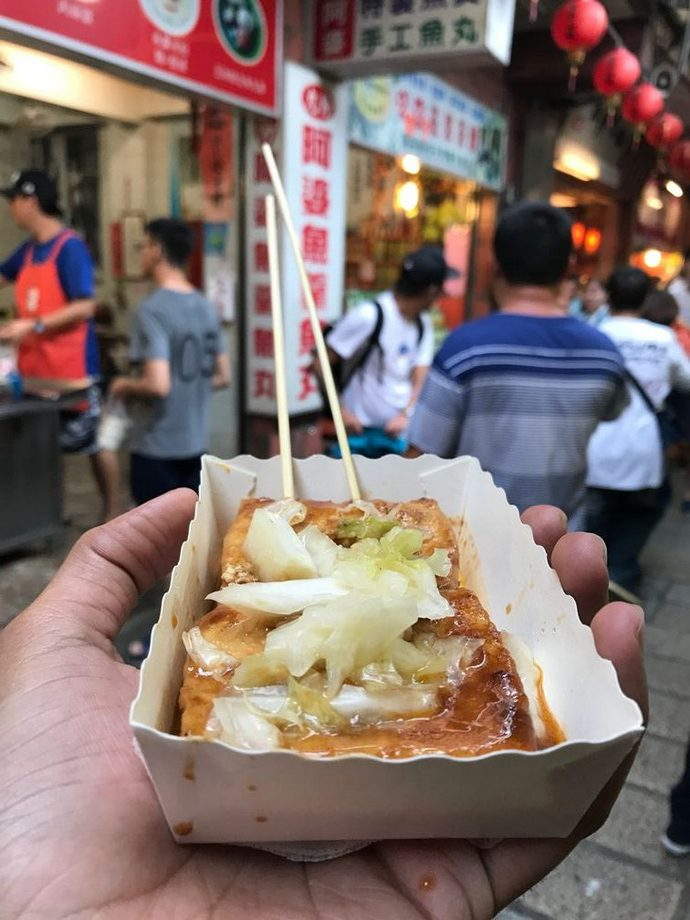 Taiwanese Flat Bread – This is quite popular, especially as a breakfast item. However, I found it at the Shilin night market as well, covered in black sesame seeds. Essentially, this is a plain bread made with flour, yeast and oil. While flat when making, it puffs up in the oven due to the rise introduced by yeast and sugar. It's a lovely street snack, and very filling. I had both the black sesame seed version and the scallion version.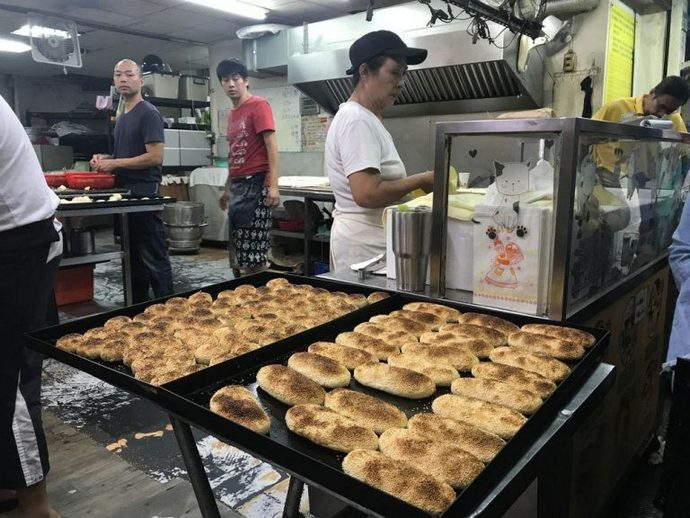 If you're looking to head to Taipei, I suggest going during their winter months. I went in October 2018, and the weather was cool and welcoming. Temperatures during the day peaked at 24 degrees, and dropped to 18 degrees in the evenings. It can go down to 16 degrees further into the night, so shoes become essential at some point in the day.
Did I miss something while touring Taipei? Please tell me – I for sure want to go again.