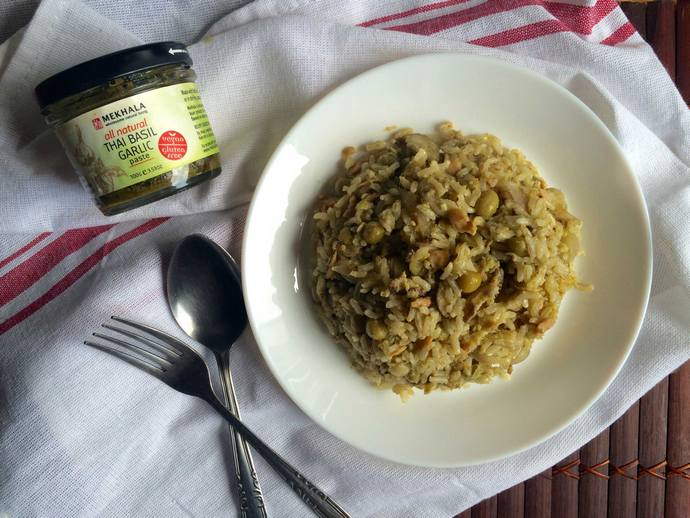 I have long been a fan of Thai food, though now I have fully accepted that this obsession is not unique or bespoke. The unbridled fraternisation with Thai food and ingredients in our everyday lives is a typical facet of a Singaporean's day. So, I assume you can imagine my joy when I first met the lovely ladies behind Mekhala in 2014, at Pasar Bella. They were running a store selling amazing products, and I was there promoting the print version of this website: Cravings!; For Food Lovers By Food Lovers.
Mekhala produces organic, vegan bottled stir through sauces, spice blends and ingredients to be used in everyday cooking. And most of their sauces require one simple method – just stir through! Life cannot get any simpler or better, you may think. They prove you wrong; the Thai inspired sauces (everything from red curry, green curry and my current favourite: Lemongrass Ginger) are as authentically Thai as you can possibly get in your kitchen, unless you're Thai yourself. Their sauces can be used as dips, marinades or actual ingredients that you use to sauté in the pan before adding your prawns or other meats and vegetables. Just remember one thing: don't overdo it. The sauces are perfect themselves and need no help to taste fabulous. Here's my little experiment with Mekhala's Thai Basil Garlic Sauce. It works just like a decent bottle of pesto, with a soft but sure Thai kick. I present to you my Thai Basil and Garlic Sauce Fried Rice. Let me tell you – the organic brown rice I used here took longer to cook than did this dish.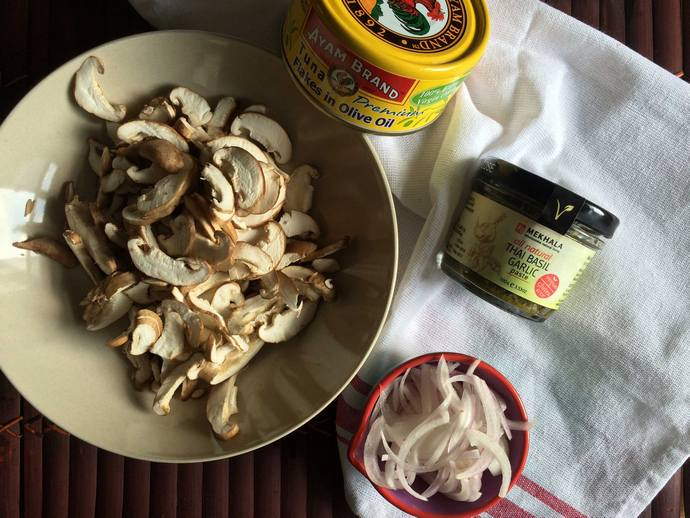 Thai Basil and Garlic Fried Rice with Mekhala
Ingredients
1+1 Tbsp Canola Oil
1 Onion, sliced thinly
150g Shitake Mushrooms, sliced thinly
1 Can Tuna in olive oil, oil reserved
1/2 Can Green Peas, drained
2 Eggs
1+2 Tbsp Fish Sauce (Nam Pla)
1.5 Cups Organic Brown Rice, cooked
Method
In a small bowl, Beat the eggs with a splash of water and 1 Tbsp of the Fish Sauce. In a hot wok, pour 1 tbsp of canola oil (or regular vegetable oil). When the oil is hot (you can see it dancing around in the heat), pour in the eggs and fry for 1 to 2 mins, until cooked. Remove and set aside.
Bring the pan back onto the heat and pour in the remaining canola oil. Follow through with the onion. When the onions are soft and translucent, add in the mushrooms. With the mushrooms, add in the reserved olive oil from the can of tuna. Sauté till mushrooms are soft, before adding the tuna, green peas, eggs, Mekhala Thai Basil Garlic Sauce and fish sauce. Sauce for 3 mins. During this time, do try not to drool into the pan (this is going to be tough).
Then, add the rice and stir through, coating each grain lusciously and generously with the sauce in the pan. While warm, transfer to a serving plate and dive in unapologetically.
https://thecraversguide.com/thai-basil-garlic-fried-rice-mekhala/
Copyright belongs to thecraversguide.com.