Thai Chicken Rice, better known as Khao Mok Gai, is an Indian-inspired dish from the Thai Muslim community. Here's a quick recipe!
Thai Chicken Rice is very well known around the world, but this is not quite the same dish as the one available in Pratunam! This is known as Turmeric Chicken Rice, or Nasi Khao Mok in the Malay community. This recipe is unique because it uses a combination of Thai traditional cooking methods with Indian curry powder and turmeric.
I first came across this recipe when Marion Grasby made this on Youtube! She's the OG when it comes to Thai and Asian Fusion food, and I knew I HAD to try this one. To start with, I am a huge fan of Briyani. If you're not familiar with Briyani, Google it now!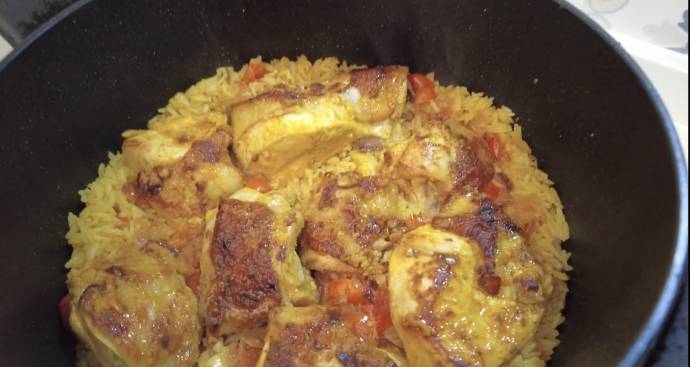 If you're looking for a more Indian version of this dish, here's a recipe for an easy Chicken Pulao. It's not technically a Briyani but it comes together rather quickly!
Briyani is a dish that pulls together many pungent and piquant dry ingredients, lots of coconut oil or ghee, and long-grained basmati rice, to make a fabulous meal in one pot. Usually, the meat component is prepared separately and then layered with half-cooked rice to make a 'dum'. This helps to perfume the rice with the delicate scents of the meat, making for a very delightful meal.
In this recipe, the spices, meat and rice are all cooked together in one large pot. This makes Khao Mok Gai both easy and tasty – think of it as a one-pot-wonder!
Here's a quick breakdown of what you need to do:
Marinate the chicken (overnight is possible and encouraged)
Pan-fry the chicken to get a burnt skin
Start with cooking the base (onions, then rice)
Add the chicken back into the pot
Cover and cook!
The chicken
This is called Khao Mok Gai for a reason, the Gai here means chicken. I have not seen this dish made with fish before, but I should think it's possible! However, the fish would cook a lot faster than chicken meat so perhaps it would mean having to add the seared fish pieces into the cooked rice instead of the raw rice.
I bought chicken from NTUC – they have this pack of 1.2kg chicken already pre-cut into 12 pieces. I find this extremely convenient! However, if you'd like the chicken cut into smaller pieces, go right ahead. Bear in mind that small pieces cook faster so don't leave them in the pan too long.
The Marinade
The marinade here is what makes this chicken so tender, juicy and flavourful. It's a healthy combination of Thai and Indian ingredients! You start with pounding together a trinity of ingredients, this is crucial to making the chicken taste as well as it does! Coriander roots, Garlic and Ginger make help give the chicken a punchy taste. I like to pound the coriander roots to make fine shreds or hairs, which then become really delicious burnt bits.
After this, the bulk of the marinade is yoghurt, curry powder and turmeric. Yoghurt helps to tenderise the meat, resulting in a soft and yielding final product. You start cooking the chicken right after you've marinated it, but do leave it for at least 4 hours if you can spare the time. Doing this additional step will really help the chicken pieces absorb the marinade, making the thighs and drumsticks so much tastier.
Thai Chicken Rice
Course: Main
Cuisine: Thai
You'll need;
3 Coriander Roots

5 Cloves Garlic, peeled

2 – 3 cm Ginger, peeled and chopped

125ml Yoghurt (I used Alvas from Sheng Siong)

1 Tbsp Curry Powder

1 Tsp Turmeric Powder

2 Tbsp Fish Sauce

12 Pcs Chicken, from a 1.2kg bird

2 – 3 Tbsp Vegetable Oil

2 medium Onions, peeled and chopped

3 medium Tomatoes, cored and chopped

500g Thai Jasmine Rice

750ml Chicken Stock

60g Fried Shallots (I used store-bought)

3 Cardomom Pods, crushed slightly

1 Large Dried Bay Leaf

1 Cinnamon Stick
You'll need to;
With a mortar and pestle, pound the coriander roots, garlic and ginger to a rough pulp. In a large bowl (which will house the chicken later), add the pounded mixture with the yoghurt, curry powder, turmeric, fish sauce and chicken. Mix everything together, cover with cling film and set aside. 
When ready to cook, pour the vegetable oil into a large saucepan (see tips below). Gently wipe off the excess marinade from the chicken pieces, and lower each piece into the oil, skin side down. Save the remaining marinade, you'll need it later.
Fry the chicken for a good 4 to 6 mins, then flip the pieces over and continue cooking for a further 5 mins. You want to get an almost burnt, burnished skin on each side. Once done, remove the chicken pieces and set them aside.
Then using a slotted spatula, remove any burnt bits from the oil in the pan and discard, salvaging as much juicy chicken fat as possible. Fire up the saucepan again, and once the residual chicken fat heats up, add the chopped onions and saute till tender. When the bits of onion reach a soft and translucent stage, add the chopped tomatoes. Cook the tomatoes down for about 1 min, then add the remaining marinade that you swiped off the chicken earlier. Stir everything together and cook for 2 mins.
To this, add the whole spices, fried shallots and rice. Coat everything together with the sexy sauce in the pan, then pour in the chicken stock. Stir everything through and push into the water any outlying grains of rice. Gently place the chicken pieces into the pan, on top of the rice. The pieces will be partly concealed in the stock, this is fine.
Cover the pot and bring to a boil – the minute it does, reduce the heat to the barest simmer and cook for 15 mins until the rice is fully cooked through. The chicken pieces will be done at this point as well.
Fluff up the rice, then bring the entire pot to the dinner table. Dinner is served!
Recipe Video