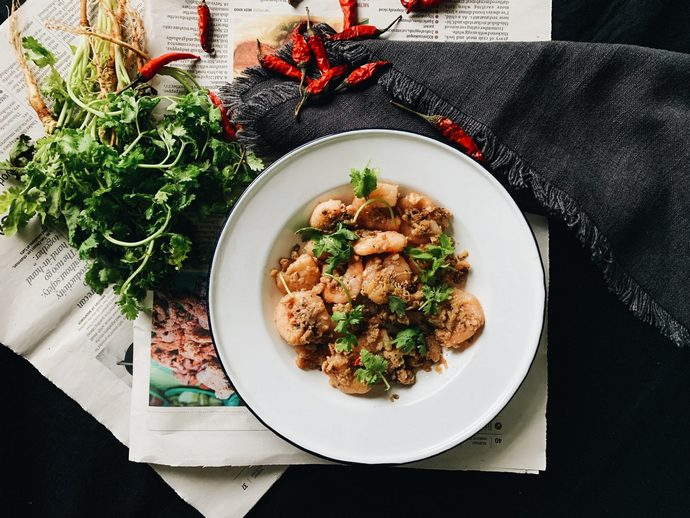 Jump to Recipe
The Thais love their garlic and prawns; you can find these in many dishes! This dish is a perfect, meaty side to a main course of rice and vegetables.
The Garlic here is not Thai, and neither are the prawns. But when these two ingredients are put together with some pounded coriander root, black pepper and lots of love, they somehow become Thai.
If you're new to this blog, please let me initiate you to my obsession with Thai Food – I love most things Thai, including Green Curry, Thai Basil Minced Chicken, Tom Yam and of course, Bangkok. Maybe it's the Singaporean in me that simply cannot get enough of Thailand, but I could live there quite happily.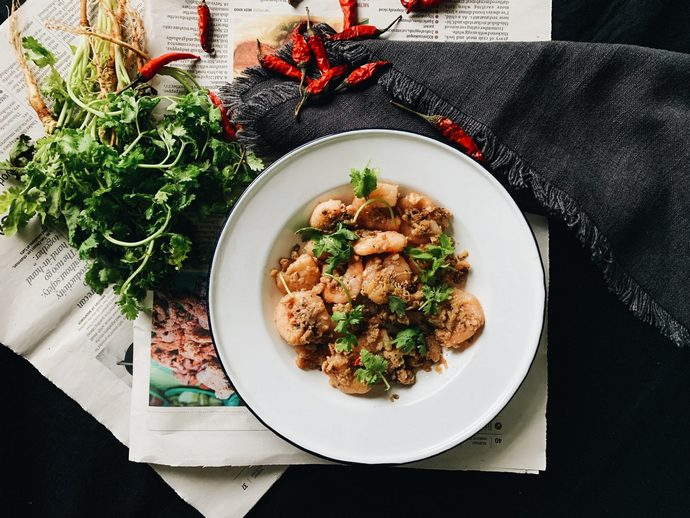 Coriander Root
Coriander root is commonly used in Thai cuisine, even though it's something we are ready to throw away. Coriander is one of those elusive ingredients; there are some people who hate it to the core while others that can't live without it. I know you didn't ask but I belong to the latter. I like to throw a little coriander in everything, even in hummus!
The coriander root here is essential, I am afraid, to give the garlic a boost. If you are not a fan of coriander or know someone who isn't, worry not! The final dish does not taste of coriander at all!
Garlic
You can add garlic here to your heart's content. I mean, it's a garlic-ky dish after all! In this recipe, I have pounded the garlic with the coriander root. However, you can choose to finely chop the garlic instead. This will mean that you have chewy, golden brown bits of garlic in your final dish. Not to say pounding the garlic won't do the trick, of course!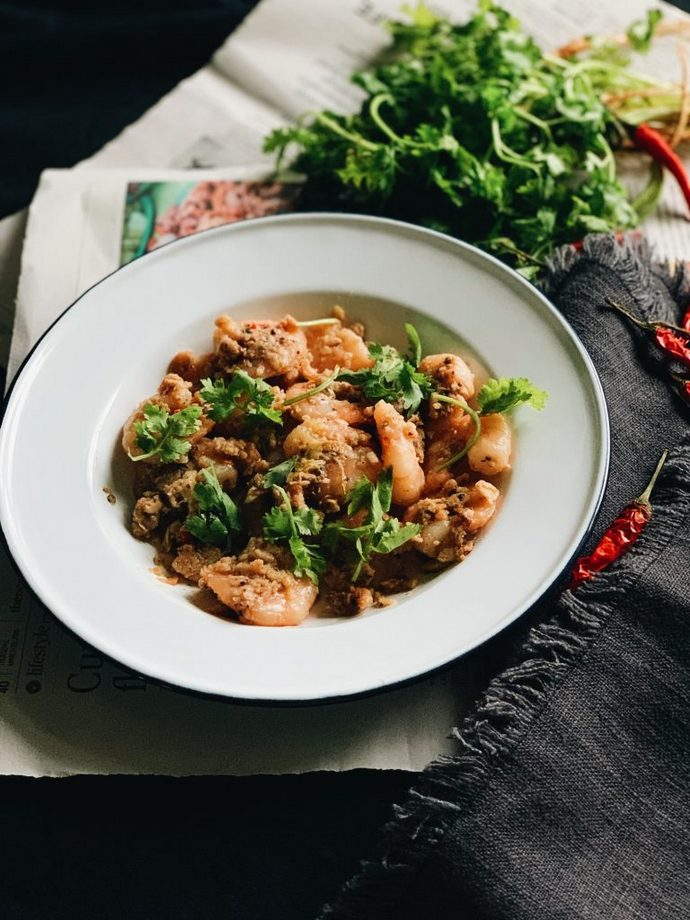 The Prawns
As always, I have used frozen prawns here as I still haven't found the time to buy a kilo of prawns and get around to peeling it. Call me lazy, I will embrace it while I chomp away on these prawns. If you're looking to breathe plump life into frozen prawns (as alive as they can get, maybe?), then soak them in warm water mixed with one tablespoon of white vinegar.
Thai Garlic and Coriander Prawns
Course: Sides
Cuisine: Thai
Difficulty: Easy
The Thais love their garlic and prawns; you can find these in many dishes! This dish is a perfect, meaty side to a main course of rice and vegetables.
You'll need;
400g Prawns, peeled and washed

1 Tbsp Corn Flour

1 Tsp Black Peppercorns

3 Coriander Roots

6 – 8 Cloves Garlic, peeled

2 Chilli Padi

Fish Sauce

2 Tbsp Oil
You'll need to;
Drain the prawns and add the corn flour to them. Toss everything together and set aside.
In a pestle, combine the peppercorns, coriander roots, garlic and chilli padi. Pound everything together until you get a paste.
In a skillet, heat the oil over medium flame. Once the oil is hot, add the pounded garlic paste. Fry until it starts to give off a lovely fragrance; about 2 mins. Then, add the prawns and cook till the prawns turn pink. If you need to, cover the pan to speed up the process.
Serve warm once the prawns are cooked thoroughly. Sprinkle coriander liberally on top of the prawns, they go great together!