Thai red curry is like a dream in a bowl. Spicy, slightly tangy, brimming with delicious vegetables and meat… aah! Here's a version with meatballs.
Are you a fan of Thai food? HAHA, yes that was a trick question. I surprise no one when I say I am obsessed with Thai food. It warms my soul as only the food of home can. While Red Curry is not new to this blog, Red Curry with meatballs certainly is. My favourite thing about this curry in a hurry is that everything comes in packets, from the curry paste to the meatballs. I admit, I added sliced onion because I was craving fried onions soaked in curry. But you can skip this if you're not onion-obsessed like me.
Bearing in mind that this is a shorter route to achieving a delicious curry for dinner, I have included a recipe to make a curry paste from scratch (if you're game to try it). This is a pork meatball curry, but if you're looking to make this vegan or vegetarian, I've provided suitable substitutes as well. So grab your apron and let's get cooking!
Choice of protein
The creamy and fragrant sauce of Thai red curry pairs particularly well with tender and juicy meats, such as chicken, beef, pork, or lamb. Seafood, such as shrimp, scallops, or mussels, is also a great choice, as it adds a fresh and delicate flavour to the dish. Whichever protein you choose, be sure to cook it until it's tender and fully cooked, so it can soak up all the flavours of the curry. With so many protein options to choose from, there's no wrong way to enjoy a Thai red curry with meatballs.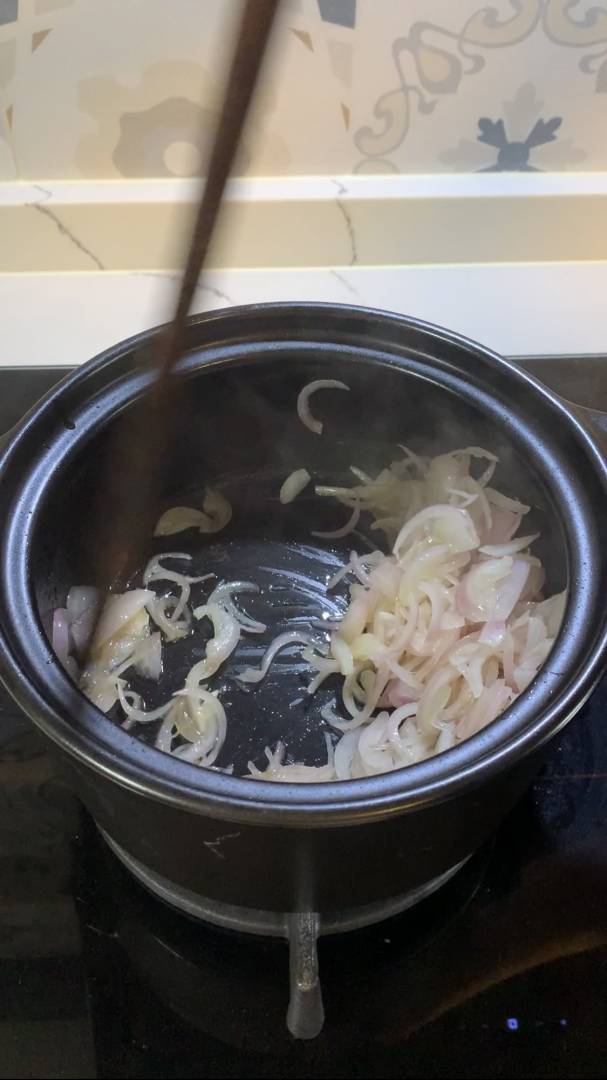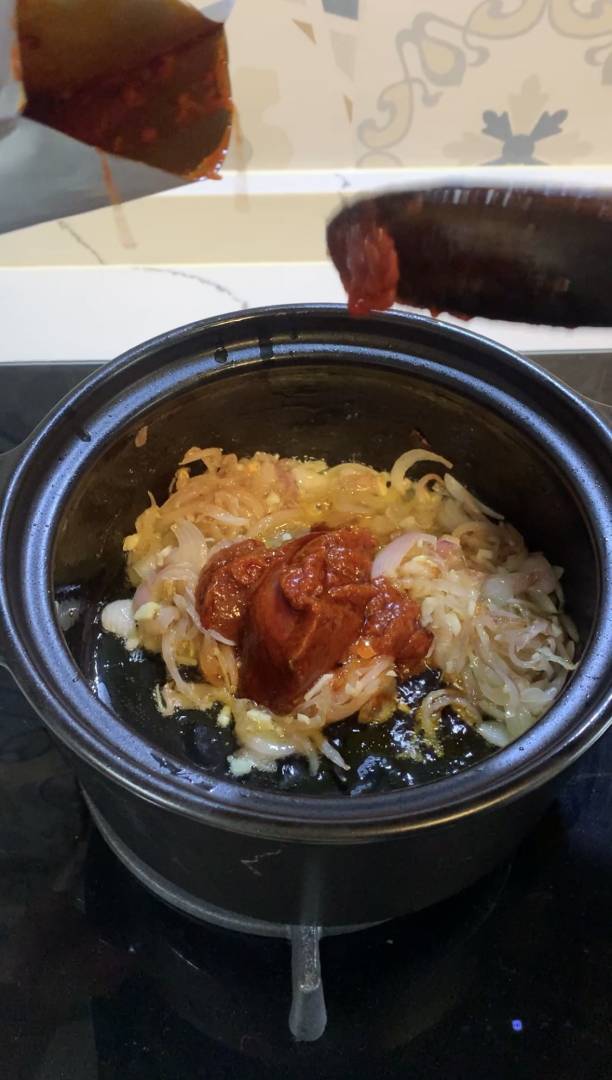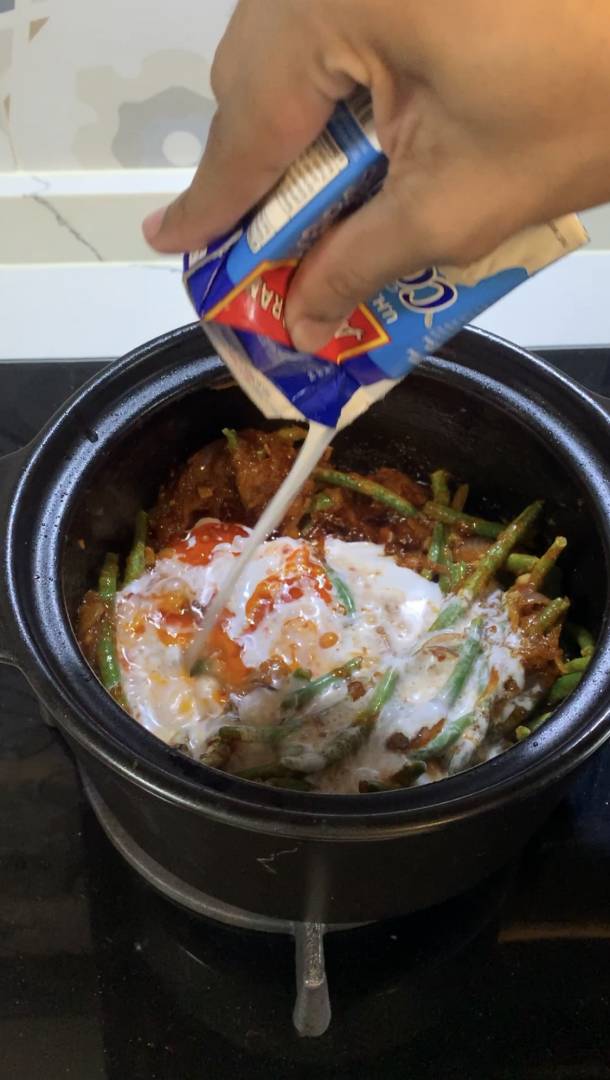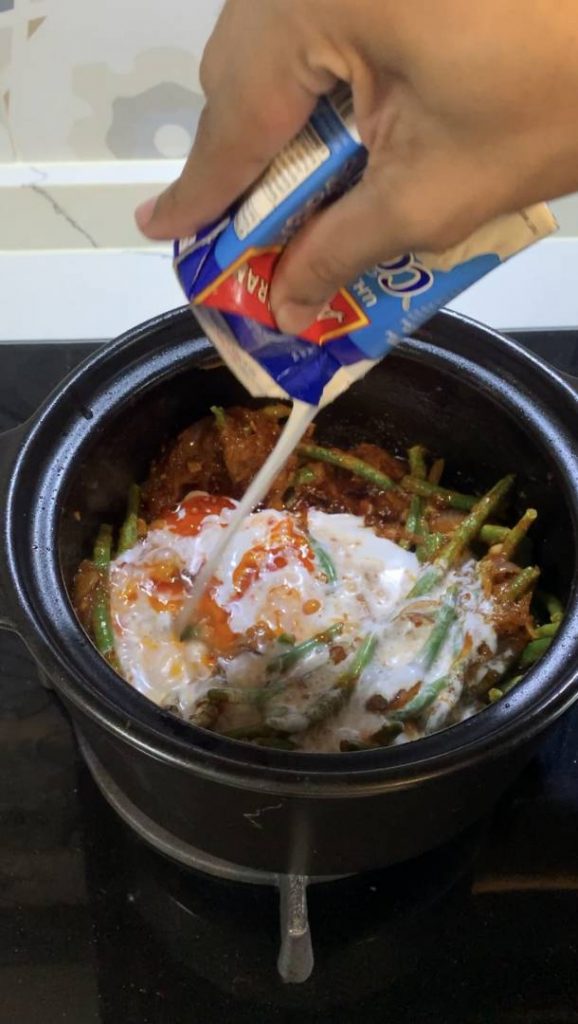 Make it vegan
For vegetarians or those who prefer plant-based options, tofu, tempeh, or a variety of vegetables such as eggplant, pumpkin, or cauliflower can be used as a protein source. Here are some ideas for substituting the meatballs:
Tofu or tempeh: You can use firm or extra-firm tofu or tempeh as a substitute for meatballs. Simply crumble or chop the tofu or tempeh and add it to the curry towards the end of cooking, allowing it to soak up the flavours of the sauce. Crumbling this protein will make the curry thicker.
Chickpeas: Cooked chickpeas can also be used as a protein source in a vegan or vegetarian Thai red curry. They add a nutty flavour and a hearty texture to the dish. Simply drain a can of chickpeas, wash them slightly, drain them again and dump them into the curry!
Vegetables: You can also use a variety of vegetables to add substance and flavour to the curry. For example, chopped eggplant, pumpkin, sweet potato, or cauliflower can be added to the curry and simmered until tender.
To make the curry vegan or vegetarian, you'll also need to use a vegan-friendly curry paste (check the label for fish sauce or shrimp paste) and use coconut milk instead of fresh cream. Simply omit the meatballs and substitute them with your protein of choice, and you'll have a delicious and satisfying vegan or vegetarian Thai red curry.
As promised, here's a recipe for a Thai red curry paste made from scratch:
Ingredients:
10-12 dried red chillies, soaked in hot water for 10 minutes
1 shallot, roughly chopped
4 cloves garlic, roughly chopped
1 thumb-sized piece of galangal, peeled and chopped
1 stalk lemongrass, tough outer layers removed, chopped
1 tsp ground coriander
1 tsp ground cumin
1/2 tsp ground cinnamon
1/2 tsp ground cloves
1/2 tsp ground cardamom
1 tsp shrimp paste (omit for vegetarian/vegan version)
1 tbsp vegetable oil
Instructions:
Drain the soaked red chillies and remove the stems. If you prefer a milder curry, remove the seeds as well.
In a blender or food processor, combine the soaked red chillies, shallot, garlic, galangal, lemongrass, ground coriander, ground cumin, ground cinnamon, ground cloves, and ground cardamom. Blend until a smooth paste forms.
Heat the vegetable oil in a pan over medium heat. Add the curry paste and shrimp paste (if using) and fry for 2-3 minutes, stirring constantly, until fragrant.
Use the red curry paste immediately in your favourite Thai red curry recipe, or store it in an airtight container in the fridge for up to 1 week.
Note: This recipe makes a spicy curry paste. If you prefer a milder curry, reduce the dried red chillies. Makes enough paste for a curry to serve 4.
Ready to get cracking? Let's go:
Thai Red Curry with meatballs
Thai red curry is like a dream in a bowl. Spicy, slightly tangy, brimming with delicious vegetables and meat… aah! Here's a version with meatballs.
You'll need;
2 tbsp olive oil

2 red onions, peeled, cored and chopped

3 cloves garlic, peeled and chopped

130g French beans, cut how you wish (I used frozen ones)

1 package Dancing Chef Red Curry Paste

200ml coconut milk

200ml water (I swirl out the empty coconut milk carton for this)

12 Johnsonville Frozen Meatballs, prepared beforehand (follow package instructions)
You'll need to;
Heat a heavy-based pan over medium heat, then add the oil. Once the oil heats up (this will be pretty quick), add the sliced onions and cook till soft, around 2 to 3 minutes. When the onions are soft, translucent and sweet, add the garlic and cook quickly for about 1 minute.
To this, add the French beans, followed by the curry paste. Stir everything together, don't be alarmed by the splattering. This is a good thing.
After cooking through for about a minute, add the coconut milk, and water. Stir everything together, it should start simmering very quickly. Add the meatballs, and let it cook for another minute or two until everything comes together. Turn off the heat, cover the pot, and leave it till you're ready to eat. Serve over rice
Recipe Video