If Thai cuisine chain restaurants aren't serving anything that mimics the street side food while you are in Bangkok, we recommend the Thai Tantric at Orchard Towers – this might be able to satisfy your Thai food cravings till the next time you are in +66! Yes, we know the location isn't the best (some might be a tad uncomfortable here even during the day!) but hey, anything for great food right? Some bloggers even cited this place as one of the most authentic Thai food places they've ever been.
If you are more of an ambience person, then this isn't the best place. Food wise… let's just say we would go back for more! The Tom Yum fish soup, red (There's the choice of clear, but we like things wickedly  spicy – interpret what you will!) Probably, the mandatory dish anyone ought to order at any Thai restaurant, the level of spice for the red soup was enough to keep us wanting more – half sniffling while drinking it. This is how Tom Yum soup ought to be!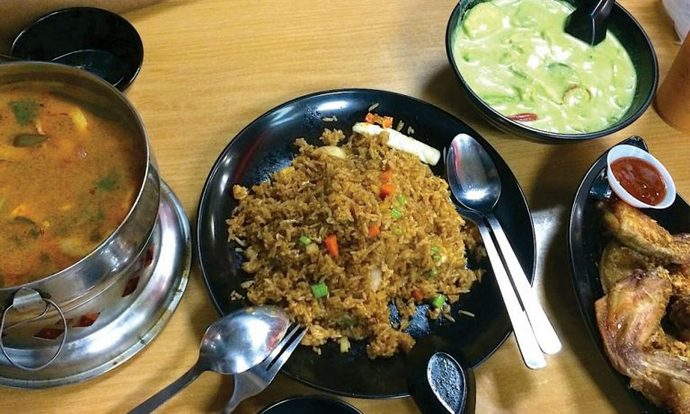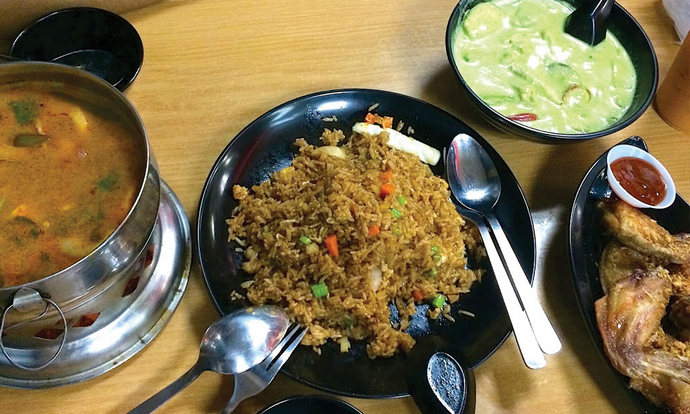 Green curry chicken is another classic Thai dish you must try here. The gravy was rather thick as compared to the usual watery ones and flavoured with spices, this would go real well with plain rice. A must order for green curry fans! The Tom Yum fried rice, had surprising fragrant twist  – we reckon you will go back for seconds, too.  The Garlic Fried Chicken was pretty good, however lacking the garlic punch we were expecting. The Thai Iced Milk Tea was not watered down, with the right amount of milk, too. Almost like our local teh-peng but with a Thai twist!
Overall, it is a place that serves pretty darn good Thai cuisine! Prices are pretty reasonable as well, and it may look a tad shabby but it is in town after all. We are sure Thai Tantric will not leave you disappointed with the food they serve. Must order dishes are the Tom Yum fried rice, Red Soup as well as the Thai Iced Milk Tea! The Green Curry is delicious, but it can be a bit too much towards the end – if you are going with a bigger group getting this dish will be perfect.
#03-23 Orchard Towers,  400 Orchard Road,  11-3pm, 6pm-3am