Tom Yum Soup is the one dish that can help break the ice in any conversation; that's how popular it is! Here's an easy recipe for Thai Tom Yum with fish!
Tom Yum Soup is one of those dishes that came out of Thailand that is loved by almost everyone in the Asian region. Its spicy, tangy and delicately sweet flavours have made many grown men sputter and cry.
Another popular dish that came out of Thailand? Thai Basil Minced Chicken!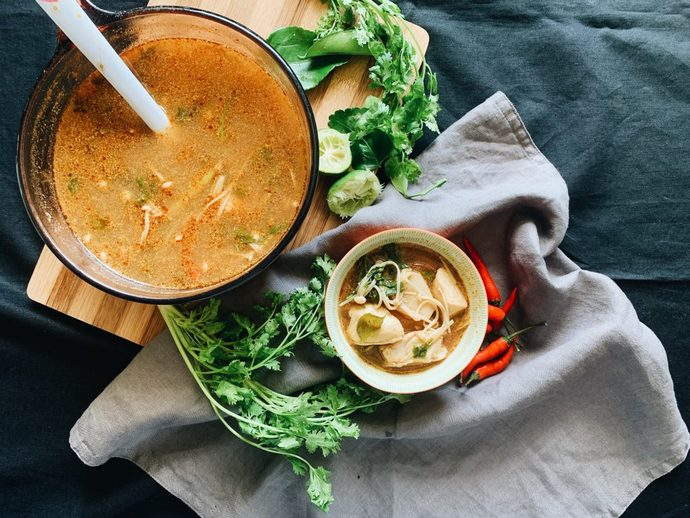 Water or Stock
I have had many hits and misses with Tom Yum, even though it's a pretty easy dish in principle. This is simply because I have never been able to pin down the right amount of water needed to get the balance of this soup just right. Too much water and things get diluted, too little and you won't know where to stop when you start adding.
I have used water in this soup, because I didn't have stock at the ready. My mum made this shortly after with prawn stock. If you'd like to make this with stock, there are a few ways of going about it! You can use a stock cube or concentrate; add just the right amount to the water before bringing it to a boil. You can also use ready-made stock available in supermarkets. Alternatively, you can boil some prawn shells, if you have them, with the stipulated amount of water and then sieve out the shells. This will give you a rich tasting Tom Yum. However, a seafood stock works best here, especially if your choice of protein is prawn or fish.
Chilli Jam
This is the milky version of Tom Yum, but it still needs the chilli jam, or Nam Prik Pao, to get things going. This is not necessarily a spicy jam, it can be quite sweet and spicy at the same time. You can make Nam Prik Pao on your own, there are some fabulous recipes online. I bought mine from a Thai provision shop near my place. It comes in a small jar, and the brand is Maepranom.
If you can't get your hands on the chilli jam, you can substitute it with regular Tom Yum paste. This is more readily available in supermarkets. However, it will alter the final taste of the dish a tad, as store-bought pastes usually have most of the ingredients already added in them. It's not a matter of life or death, it'll just taste slightly different. Depending on the brand of paste you buy, however, your Tom Yum will still turn out quite fabulous.
Thai Tom Yum Soup Recipe
Course: Main
Cuisine: Thai
Difficulty: Easy

Tom Yum Soup is the one dish that can help break the ice in any conversation; that's how popular it is! Here's an easy recipe for Thai Tom Yum with fish!
You'll need;

1 Litre Water


1 Stalk Lemongrass, bruised and chopped


1-inch Galangal, chopped


4 Lime Leaves


100g Straw Mushrooms


1 Medium Tomato, cut into wedges


6 Red Chilli Padi, smashed with a pestle and mortar


450g Fish meat, chopped


4 Tbsp Nam Prik Pao, or Chilli Paste


4 Tbsp Evaporated Milk


4 Tbsp Fish Sauce


1 Tsp Sugar


3 Limes, juiced
You'll need to;

This could not be easier! In a large pot, bring the water, lemon grass, galangal and lime leaves to a rolling boil. Let the flavours infuse, for about 3 to 4 minutes before you add other ingredients.

Add the mushrooms, tomato wedges, chilli padi and fish. Stir to mix, then add the nam prik pao and fish. Stir everything together and allow the mixture to come back to a boil; this will take perhaps 5 minutes at most, by which time the fish should be cooked through. 


Remove the pan from heat and let it sit for 5 minutes. Then, add the fish sauce, sugar and lime juice (see notes). Stir together till the sugar dissolves, then serve. Tom Yum Soup is best when served piping hot.
Notes
Never let lime juice boil. It turns the whole soup bitter. Only add it after the soup has been removed from the heat.
You can use more Chilli Padi if you'd like a spicier soup.
If you can't get chilli jam, use your favourite brand of Tom Yum paste.
I have used Nile Pre Cut Fish in this. You can use prawns, squid or even chicken if you like. Tom Yum is not usually made with red meat, so I wouldn't recommend it.