4K cafe is located in X2 Vibe, Sukhumvit. Pronounced Cross Two, X2 Vibe is a boutique hotel located in the On Nut area of Bangkok, about 10 minutes away from On Nut BTS station. 4K cafe, pronounced Fork Cafe, is the dining establishment located within the swanky hotel, with delicious fusion offerings for those who'd like a (successful) Western take on Thai Food.
"Food is not rational. Food is culture, habit, craving and identity." – Jonathan Safran Foer
I always believe that food is a way to a person or society's culture, roots and habits. So when I see fusion food, I approach it with caution – you never know if it'll go right or wrong, and when it goes wrong it can be terribly so. But my leap of faith with 4K cafe was not in vain! In fact, I am actually contemplating making some of these dishes at home, though I'm quite sure I won't be able to achieve the same depth of flavour. But that's an argument for another day – here are some of the delicious dishes from 4K cafe that stole my heart (and gave me creative ideas!).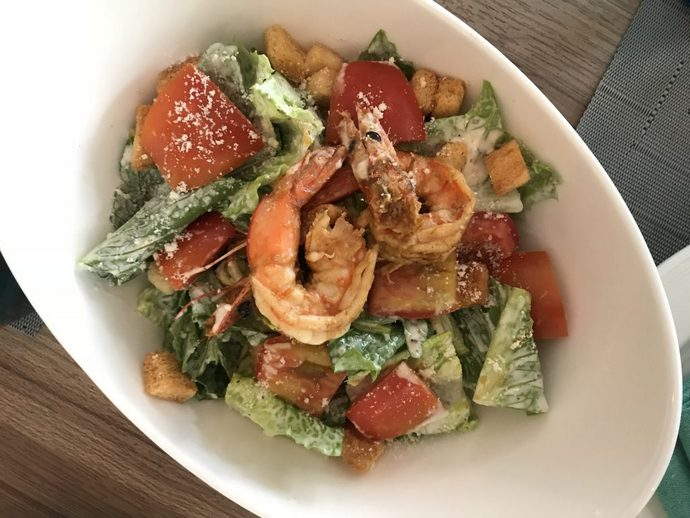 Two dishes from the start stood above the fray for me: the Caesar Salad Shrimp and X2 Asian wrap, which is a classic X2 dish. The Caesar salad was on point – the right greens, the crispy croutons and a smooth and luscious dressing. The fusion in this dish happens with the prawns, which had been pan-fried to perfect plump-ness after going through a spicy Tom Yum marinade. The prawns were served atop the salad, looking devilishly red and sticking out against the green and white backdrop. Turns out the spicy butteriness of the prawns is the special kick this salad needed, to sing a beautiful song on your tongue.
The X2 Asian Wrap was quite exquisite, too! This is essentially minced basil chicken, that has been presented in the form of a wrap instead of with rice. Surprisingly light, the minced chicken was perfectly saucy and meaty, with no hard lumps of unground soft bones (which you can get with minced chicken dishes sometimes), and well spiced with traditional Thai flavours. Though this wrap is found on the starter menu, I urge you to have this as a main – it is very filling and you wouldn't want to share it.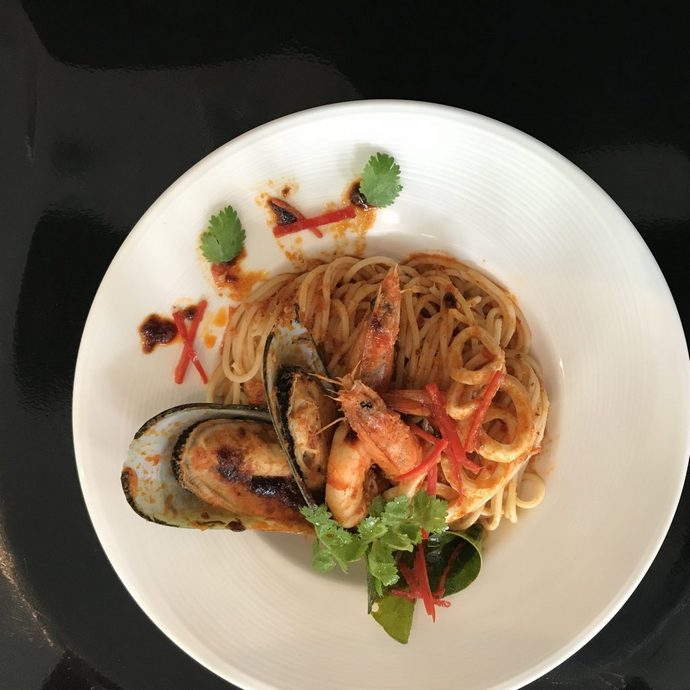 We all know Tom Yum Spaghetti, coming from Singapore anyway. There is bound to be one or two places that serve pretty awesome Tom Yum Spaghetti, a fusion that is quite luscious when there's cream involved. The Tom Yum Spaghetti at 4K cafe, however, had no cream but plenty of flavour. According to restaurant manager Thibault, the Tom Yum paste is made in-house, then reduced over medium-heat until it becomes are deep red, rich and spicy paste, which is then used as the base to toss the seafood and pasta through. The thick paste disintegrates and clings onto the strands of pasta, dying this dish a luscious red colour. The seafood is also fresh and juicy, making this dish a real winner.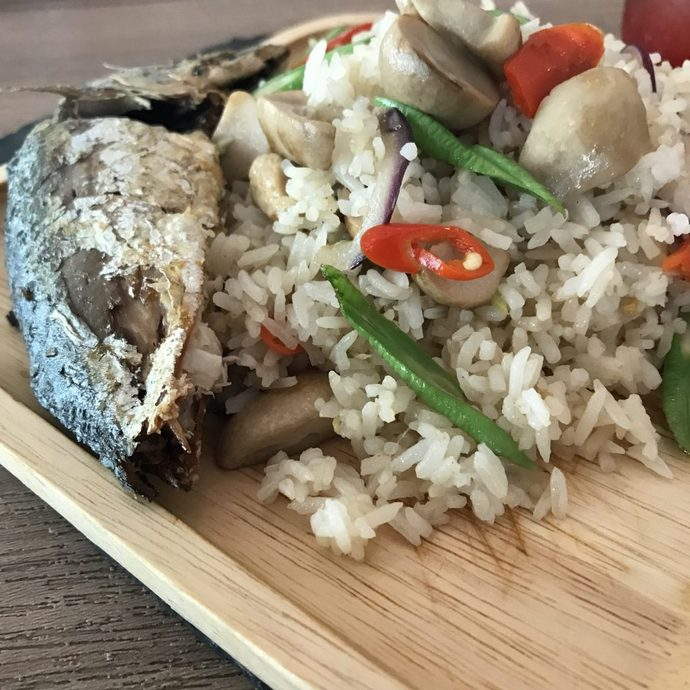 You may have heard Kao Pla Too Prik Sod, and you'll be a step ahead of me for that. I must admit that I had to google the meaning of this dish when I saw it on the tasting menu, and it appeared that this dish – a traditional Thai fried rice with a fried meat on the side, was done with chicken! At 4K cafe, this dish was done with fish instead, and boy oh boy was the fish fried to crispy perfection – I was expecting the fish to be fishy (nothing personal against fried fish, just have had enough experience with fried fish, thank you very much) but this dish had no fishy smell anywhere – a testament to the very fresh fish used.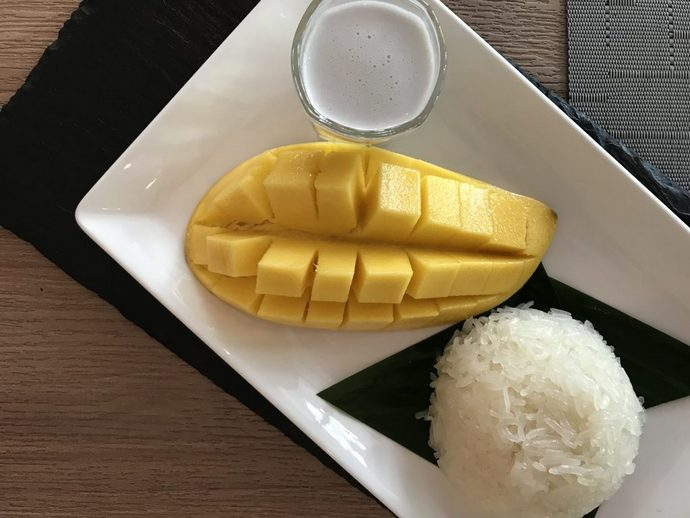 And of course, I must talk about my dessert, the classic Mango with Sticky Rice. Every lover of Thai food knows that this is the best way to end a spicy meal in the land of smiles, and they wouldn't be wrong. I will not insult your taste buds by telling you how fresh and tangy the mango was, or how sticky and well cooked the rice was, or how the warm coconut milk over the dish felt like angels screaming 'We love you, Krishy!'. You know what Mango Sticky Rice can do to a person, I am sure.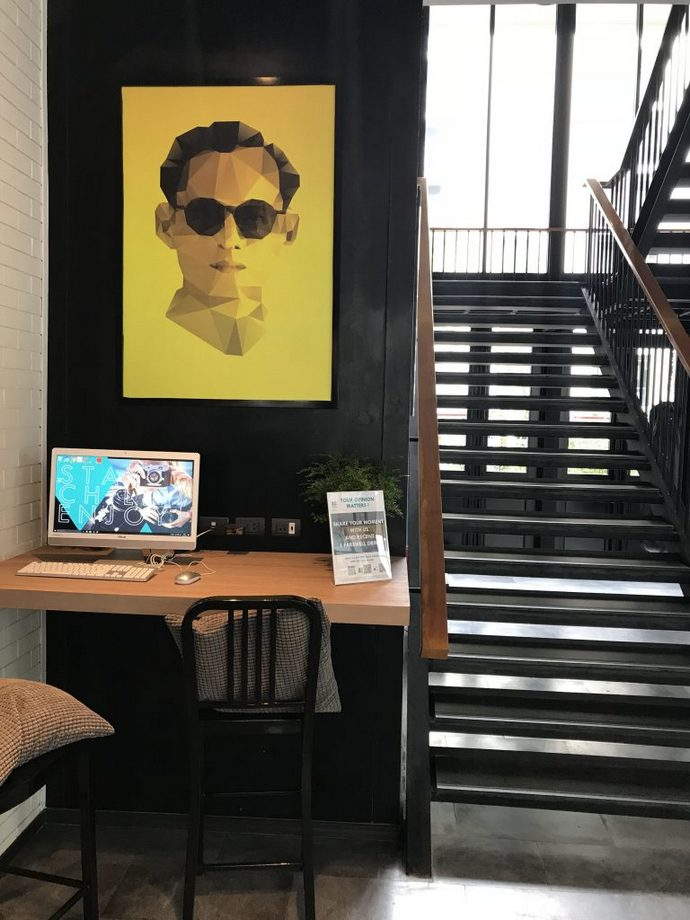 Hotel cafes can be a hit and miss sometimes, I have had my fair share of misses in the past so I'm always quite sceptical. 4K cafe at X2 Vibe Sukhumvit had placed all my reservations to rest. While slightly off the central area where most tourists hang out, On Nut is up and coming to be the next tourist hype, with a fresh mall being constructed just down the road from the property.  If you're absolutely in love with the buzz of Bangkok and want to return every other month, may I suggest paying a visit to 4K cafe?
4K Cafe
X2 Vibe Sukhumvit, Bangkok, Thailand
10 Sukhumvit 52 Alley, Khlong Toei, Phra Khanong, Krung Thep Maha Nakhon 10260, Thailand
Closest BTS: On Nut Station, a 10 minute walk away.
Disclaimer: This was a tasting sponsored by 4K Cafe for thecraversguide.com. While I appreciate tastings, I am also very honest with the opinions I post up on this website for you, my readers. Hence, please be assured that this review is not contrived as a compliment to the dishes or the restaurant for a free meal, as I don't believe in making bad food sound good. Thank you! Now enjoy feasting the dishes with your eyes 🙂 Krishy.