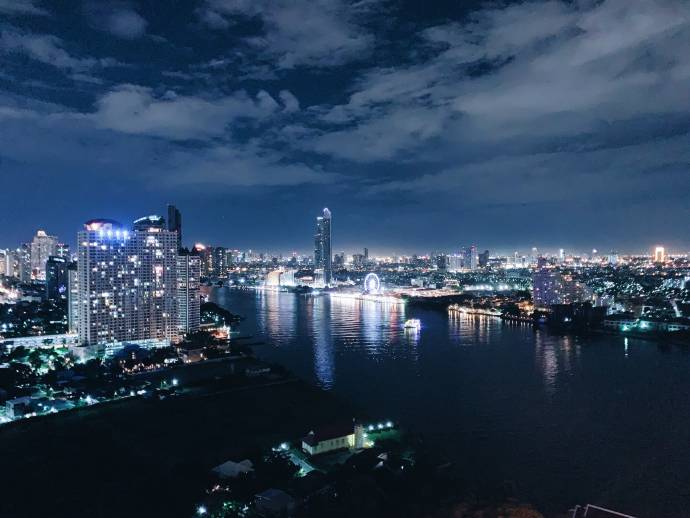 Thailand is at the top of many must-visit lists in the vacation deprived island-state of Singapore. Here are some reasons why I love Thailand so!
I try to make a trip to Thailand once every year, if not twice. My last trip was in July 2019, where I took a detour from my usual Bangkok exploration and checked out Khao Yai. The time before that, I did a day-trip to Kanchanaburi, and the time before that I took a domestic flight to Chiang Mai. Every time I visit Thailand, there's something new for me to explore, do and learn.
I've therefore put a short account on the various things I did in Thailand since I set foot therein 2014. You can use this as a reference for when you visit Bangkok, whenever the borders allow. We do not know when that'll be, and we don't even know if some of these shops will still remain open. But one can hope!
The Food
Aaahh the food! One of the main reasons people travel to Bangkok is savour their classic cuisine; a mixture of salty, spicy and sour. This flavour combination is referred to as 'yam', and is used as the name for one of our favourite culinary exports from Thailand: Tom Yam.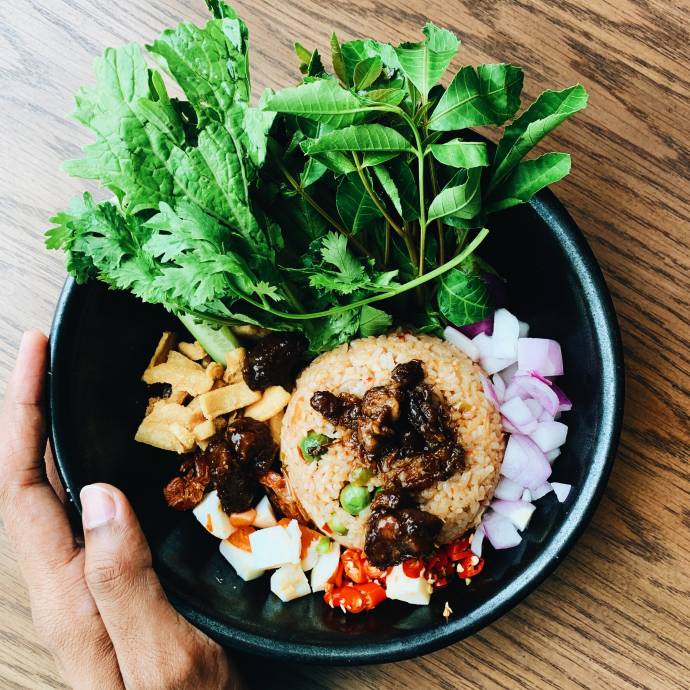 Bangkok offers a variety of food options, from traditional to modern, pricey to street. To deal with my Thaicoma, I have been watching videos by Mark Weins in Bangkok and salivating at the very many food options available. Having said this, there are some places I return to periodically while in Thailand, such as Terminal 21. T21 is a mall that's linked to Asok BTS station. It has a food court on the top floor that caters to a wide crowd because of its friendly price-point. You can get a handsome plate of Pad Thai for less than 60 baht! If you're not into the food court scene, you can check out Baan Ying or Kub Kao Kub Pla that serves the best Shrimp Paste Fried Rice (pictured above) in a mall.
Searching for something slightly on the upper end of the restaurant scale? Try Mango Tree. This restaurant is a culinary heavyweight, with many outlets all over Thailand and the world. I went to the very first outlet that ever opened, along the back alleys of Silom. The food here is really quite exquisite, paired with excellent service and entertainers who perform while you feast.
Street Food
However, if the comfort of air conditioning is not for you, look to the streets! Street food in Thailand is a culture of its own. In fact, a 2014 move by the government to try and ban street food stalls created an uproar not just among locals, but the international foodie community too!
I'd highly recommend Lek Seafood, and the slightly posher looking Alphabet Cafe & Bar across. Both these places have some of the best Tom Yum I've had during my trips to Bangkok, though Lek's is not easy to catch. They have odd opening hours and you're more likely to hit this place after hours at around 11 pm for a pick-me-up than at lunch. Also try Nong Rhim Klong, a delicious street food corner in Bangkok that has a really fiery Tom Yum. Although, this place is more known for their crabmeat soft eggs than their bowl of Tom Yum.
The Culture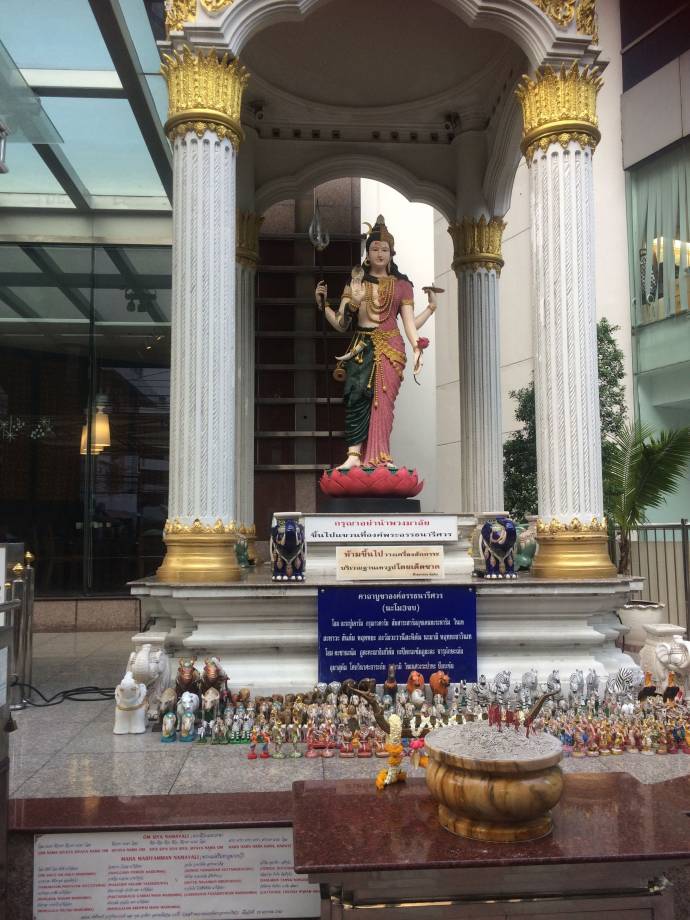 Thai culture is very unique to its people, although their main religion of Buddhism can be found in many other parts of Asia and the world. Thai Buddhism and religious beliefs sometimes crossover with Hindu deities, such as Shiva, Durga, Kali or Ganesha. However, many temples visited by tourists in Bangkok are usually dedicated to various forms of the Buddha. Although popular ones are Wat Arun and Wat Pho, I'd highly recommend visiting Wat Benchamabophit. Also known as the Thai marble temple. This temple is one of the most stunning and peaceful ones I've come across in Bangkok and has a relatively quiet surrounding too. This is probably because Wat Benchamabophit is not accessible by train, you'll have to take a local bus or grab a taxi to reach there. I promise you, though, the views are so worth it!
If you're one that's not too spooked by ghost tales that are actually based on reality, you can try checking out the temple dedicated to Mae Nak. Mae Nak made international headlines after the movie Nang Nak, which tells the story of a young lady who dies during childbirth while her husband is away fighting a war. She turns into a powerful spirit, and her spirit is still revered as a goddess along the Phra Kanong river in Bangkok. Locals visit her shrine to wish for their lottery tickets to be the winning one, although she is especially known to grant a reprieve for boys who want to be exempted from the Thai national service. She's not known to grant wishes for children, though.
The Thailand Ancient City is a must-visit if you're into architecture. This mega-space has been transformed by a wealthy business mogul to include several recreations of ancient Thai architectural marvels, including many fully functional temples. Visitors can hop onto a tram ride or explore on foot (though I would NOT recommend this, due to the sheer size of this place).
Day Trips
If you want to get out of Thailand for a bit and explore around Bangkok, try day trips! Kanchanaburi, Khao Yai, Ayuthuya and Hua Hin are all popular options.
Ayutthya & Kanchanaburi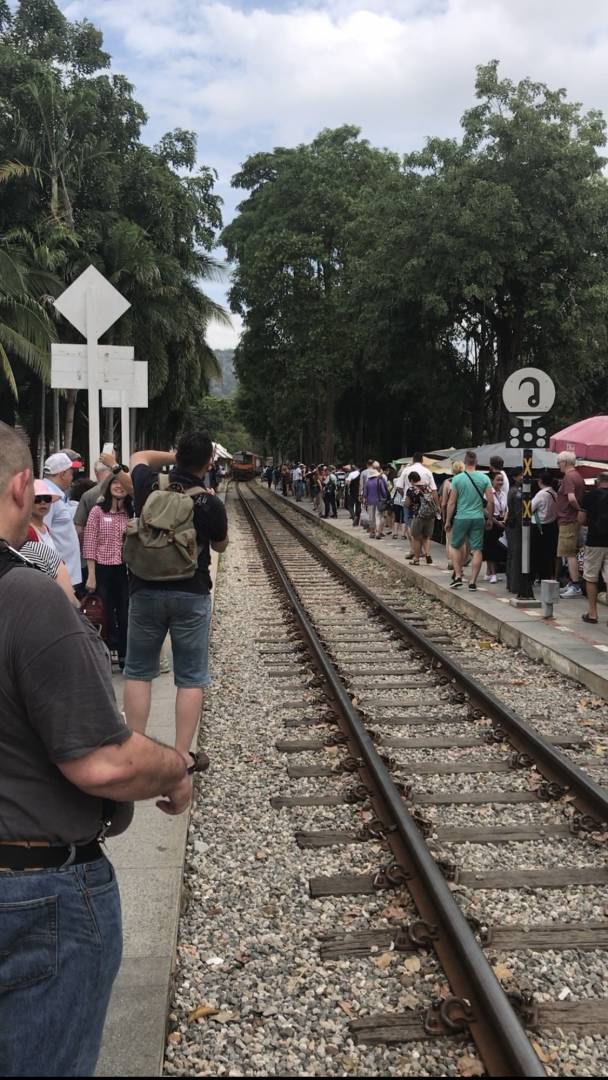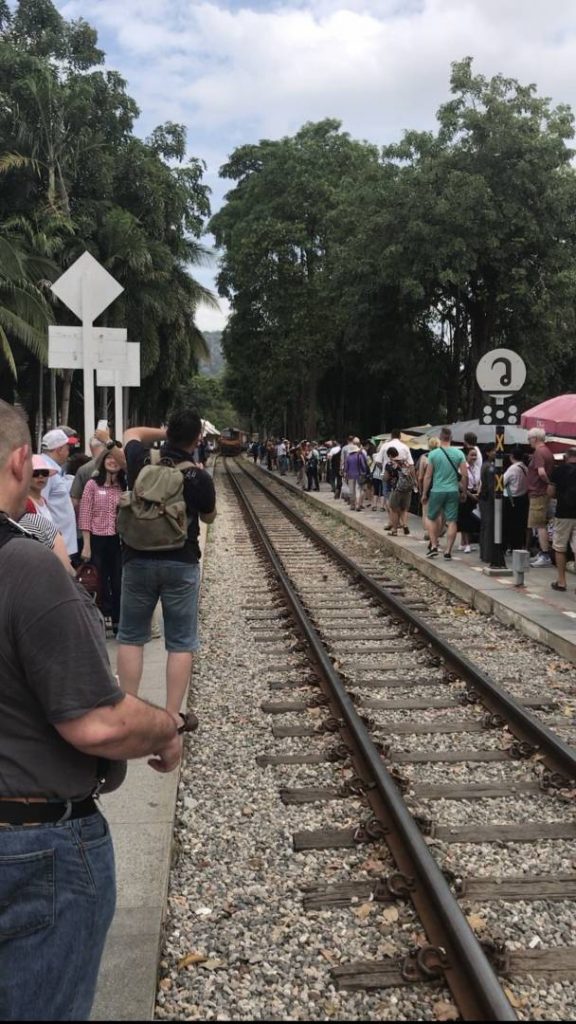 Visit these two locales for history and culture, Ayutthya is the ancient capital of Siam. Ayutthya was a resplendent city until razed to the ground by the Burmese in the 1700s. Subsequently, the capital was moved to Mahanakhon; present day Bangkok. Expect to find temples and ancient ruins, along with both local and international tourists. Kanchanaburi trips are usually also called the Death Railway trips, because of the railway that was constructed by over 600k POWs during the Japanese occupation. It's quite a solemn visit, especially when you're in the museum that's fashioned after a shed. However, it's recommended to learn a little about how Thailand was involved in both British Colonisation and the Japanese occupation.
Khao Yai & Hua Hin
These locations are for nature-lovers! Khao Yai is literally a very, very large National Park, with resorts, fabulous restaurants that harvest ingredients from their own farms, and resort-style hotels. I'd recommend spending no more than 2 days here. Unless you really enjoy walking around shrubs and bushes and seeing waterfalls. It might be worth mentioning that Khai Yai has it's very own winery call PB Wine Valley. I did a Wine tour via Klook, it was quite extraordinary to learn how wine can actually be made in the tropics. Of course in full disclosure, the wine wasn't that great but they do have the best grape juice I've ever tasted. Hua Hin is purely for beach lovers, if you're into the whole beach resort/alcohol/party scene.
Where to stay
Bangkok has its excellent share of both pricey and affordable accommodation, along with hostels if where you stay doesn't matter to you. AirBnB is also a viable option, as Bangkok has many high-rise condos that allow for this. So to put it squarely, it's all about location! For premium accommodation, check out Capella Bangkok or Avani+; both boast beautiful views of the Chao Phraya river and unparalleled service standards. The beds are as comfortable as clouds, and food in and around the area is stellar. However, since both these properties are along the river, getting to your rooms would involve a boat ride along or across the river. Depending on your level of exhaustion and patience, this could either excite you or put you off.
Accommodation within the city centre includes options such as Salil Soi 11, Citadines Soi 8, Haven't Met – these are all options that are both wallet-friendly and come with basic amenities such a comfortable bed and hot water. The locations are extremely convenient and easy to get to, especially if you're getting around Bangkok via public transportation. Other hotels I've stayed in (and loved) include Beat Hotel, X2 Vibe Sukhumvit and Westin Grande. I would not recommend staying at Narai Hotel (Silom) or I Residence Hotel (Silom). Both these hotels are reasonably priced, but very old properties.
I want to cover places to shop next. BUT, I want to give shopping in Bangkok its own space in my blog, because that's a world of pleasure that demands this space. I hope you found the content above interesting! Reach out to me if you want me to feature other places in Bangkok, or just talk about your experiences in Thailand!