Thailand travel is hot on everyone's to-do list this year, as the world is slowly opening up to travellers again! As a country of many wonders, and thankfully is opening up again! Here are 9 unique destinations to check out in Thailand!
Bangkok
I am obsessed with Bangkok, so it's only fitting that I start this list in the heart of Thailand. I fell in love with this city when I first visited in 2014, and make yearly trips back since then. Bangkok is a city that never sleeps – there's always something going on! There's always a fresh new restaurant, cafe, art exhibit, performance, trend… you name it! 
This city is both traditional and modern at the same time. State of the art public transportation is set amidst temples that have stood their ground for centuries. A modern population that still believes in the laws of Karma, while finding new ways to accept societal deviations.
In Bangkok, you can look forward to dining in Michelin star restaurants. Even street food stalls have a star or two. Shopping is of course a must here, though they have an increasingly vibrant culture scene in Bangkok these days. Stay glued to bk.asia to keep your finger on the pulse of all the action in the city! 
Kanchanaburi
Kanchanaburi is a neighbouring province to Bangkok! It's worth taking at least a day trip here, though staying a couple of nights is also a popular option. Kanchanaburi offers history buffs a true paradise, where they can learn about Thailand's role in the Japanese Occupation. This is the site of the Death Railway, a monumental railway that saw not just the exhausting efforts of Japanese POWs but their blood too. Kanchanaburi is also known for its spectacular food and scenic surroundings. If you're into cave diving, you can find plenty here!
Koh Chang
Located in Trat Province, Koh Chang is the local Krabi. I say this because most of the tourists here seemed local, rather than foreign when I visited. This island is a 6-hour drive away from Bangkok. There are many coach services that bring you straight to your hotel or resort within the island, and pick you up when you're ready to head back. 
If you're more adventurous, you can get a bus to the nearest jetty. Then take a ferry across from Trat province to reach your destination. However, there are no taxis/tuk-tuks in Koh Chang. I would recommend arranging for a hotel transfer if you're considering this option. 
Having been to this island, however, I would recommend visiting only for the island vibes, not for the water activities. I did a simple 5-island hopping tour which turned out to be quite disappointing. 
Hat Yai
This is the south of Thailand, where the food is so spicy it can burn your tongue. And even if you make it through the meal, the next morning can be trying. Hat Yai is known for many monumental temples, spicy Thai food, and very good shopping at open and large markets. Due to its proximity to Malaysia, Hat Yai's cuisine is a lovely blend of Malay and Thai ingredients.
I would recommend the Khlong Hae Floating Market, although this is a highly touristy destination so beware of people trying to take you for a ride with exorbitant prices. Recently, a couple I follow on YouTube (hey Flora and Note!) did a fun activity in Khao Sok national park which involved a very inviting bird's eye view of the sprawling park. Here's the video:
Isaan 
I will start by saying that I've never been to E-sarn, so my recommendations are purely based on what I've read on Google and seen on youtube. Isaan, or Isan, is different from Bangkok and its neighbouring provinces in many ways, from food to fashion and even music. Time Magazine writes that if there was ever a Thai Civil War, Issan would be the first to throw its hat in the ring.
The province has seen development in recent years, from a sleepy rice-harvesting village setting to a city with malls and popular coffee shops dotting the streets. Visitors can expect a slow pace of life here, with food that has heavy influences from both Cambodia and Laos. In fact, Angkor Wat in Cambodia essentially ends in Isaan, with many temples still existing to this day in this region.
Chiang Mai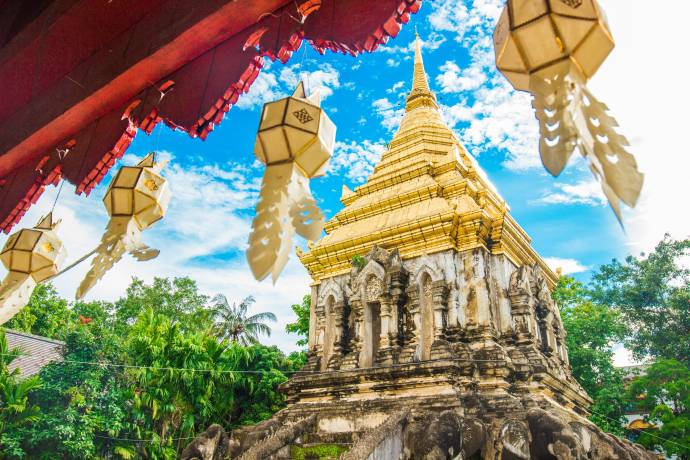 Chiang Mai is Thailand's answer to Bali! It's got hip cafes selling smoothies and shakes for the health-conscious and quaint hole-in-the-wall stalls selling river prawn tom yum and rich, velvety northern-Thailand curries. And yet along some streets, you'll find restaurants that are costly but provide a lovely ambience.
Stay in the middle of it all, in the Nimman area. There is a decent selection of 4 and 5-star hotels with infinity pools and spas for relaxation, such as Eastin Hotel. There's even a mall called 'Maya Mall' which anyone in Chiang Mai knows. This is good too if you're staying in this area, you can use this as a landmark for your hotel in the event that your tuk-tuk driver cannot find the way back.
Chiang Mai is not connected via trains like Bangkok, you'll have to rely on tuk-tuks and taxis to get around. Nimman has a nice little hipster area serving up delicious food and coffee right next to Eastin Hotel, and you can get around the area on foot looking for more quaint discoveries of food and lifestyle (massage parlours and manicures, anyone?).
Chiang Rai
Chiang Rai is popular for its stunning white temple, known as Wat Rong Khun. When you see this temple, you'll know exactly why it's so popular; the serene and intricate architecture is both spellbinding and eerie at the same time. The pathway to the main temple is a large and long bridge that stretches over a 'river' of hands/bodies, signifying the hellish suffering of those who have sinned.
Creepiness aside, this temple is certainly worth a visit and is about 4 hours away from Chiang Mai. There are many companies that organise tours for travellers who wish to do a day tour from Chiang Mai out to Chiang Rai. Along with the white temple, travellers will also be able to witness the picturesque natural landscape of Thailand, such as the mountains and hot springs. While you're at it, don't forget to pop by the Royal Winter Palace, meant for the Thai monarchy to retreat to during certain times of the year.
Krabi
Ahhhhhh Krabi! This is Phuket's less crowded sister, which means the island is better preserved than Phuket. Krabi's main draw is the beach and water activities, such as island hopping and snorkelling. You can book a tour to do this from many travel agents along the streets in Ao Nang, or you can book it from the hotel too.
If you're looking for land-bound activities, then you'll want to book a tour to the Tiger Cave Temple, where tigers are said to have lived alongside a monk! This is a substantial drive away from Ao Nang, so prepare snacks.
Krabi doesn't offer many massage parlours, but there are plenty of hole-in-the-wall food places for you to choose from while there, particularly around Ao Nang. These places offer food at rather shockingly reasonable prices – even the alcohol is wallet-friendly!
Ayutthaya
I end this list with Ayutthaya, the ancient capital of Thailand. Aythuthuya is Thailand's version of Angkor Wat, where visitors can find a complex array of partly functioning temples that date back to 1767 when it was razed to the ground by Burmese warriors. While they destroyed many parts of the city, some temples still stand strong and are constantly undergoing restoration works.
You can get a rare glimpse into the life of the ancient Thais when visiting this city; I would recommend arranging for a day tour while staying in Bangkok. Ayutthaya is about 3 hours away by car, and you are bound to get tired of the temples after a couple of hours.
Thailand is a city that holds many treasures, around history, culture, art, politics and food. In short, there's a little something for everyone, depending on where you're visiting. If you ask me, I could personally live in Bangkok.