The Blue Ginger has opened its doors in Great World City, and has set tongues wagging in delight!
Update as at 21 April 2020:
The Blue Ginger at Great World has just launched its online ordering platform at https://theblueginger.oddle.me/ with islandwide delivery at a flat fee of $5 with a minimum order of just $50. Now, consumers around Singapore can easily order The Blue Ginger's authentic and comforting Peranakan cuisine and even pre-plan their meals for the week ahead as advance orders of up to a week is available. 
Review:
The Blue Ginger is not a new brand; it's been dishing out Peranakan dishes since 25 years ago at its flagship store in Tanjong Pagar. With that many years of experience and 3 Michelin Bib Gourmand awards under their belt, The Blue Ginger is no stranger to tantalising Peranakan fare.
If you've been to their restaurant in Tanjong Pagar, then you'll be quite pleasantly surprised by the modern Peranakan vibe at their new outlet in Great World City. The dishes served here are also slightly different from those available at Tanjong Pagar; including a range of set meals for the lunch crowd. I was fortunate enough to try the food here twice, once on my own and once with my media friends.
Want to try making a Peranakan Chicken Curry? Here's a recipe that's simple and churns out a lip-smacking pot of rich, creamy and punchy chicken curry!
Kerabu Kacang Botol
Not something I tried before, but definitely a dish I want to try making at home. Kerabu essentially means 'toss' in Malay. This tossed salad consists of blanched wing-beans, dried shrimp, shallots and toasted grated coconut. These bold flavours are laced with a spunky chilli dressing that brings the dish together. The winged beans have juuusst the right crunch to them, and the halved prawns in the dish are sweet and soft compared to the robust dried shrimp and coarse coconut crunches. I had to help myself to this again. And again.
Pork Ribs Assam
Babi Assam is a popular Nyonya dish, made with pork belly. This classic gets a facelift at The Blue Ginger. Pork Ribs are braised for hours in a signature peranakan rempah, then cooked to perfection till the meat falls off the bone. The portion is quite large as well, so I would recommend sharing this. The assam, or tamarind, doesn't just add flavour, but helps to tenderise the meat, too! The finished dish is a soft and yielding pulled pork that can be eaten with rice. The marinade for Pork Ribs Assam is a fine balance between sour, sweet and spicy; a balance that diners can experience in every bite.
Ayam Panggang Blue Ginger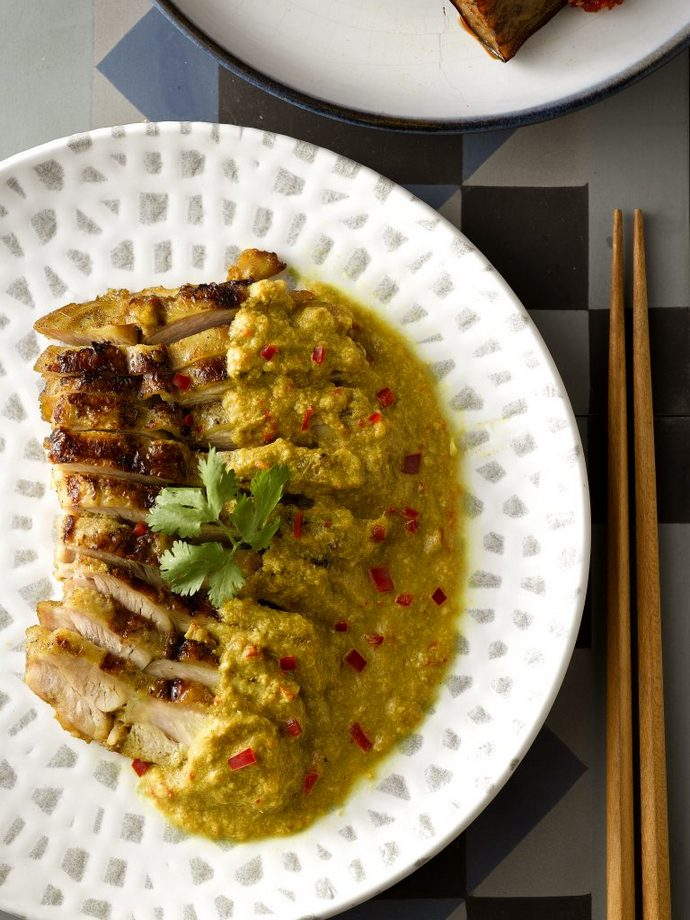 Ayam Panggang is a rather popular Malay dish that gets the Blue Ginger treatment here. Tender, juicy chicken thigh is first marinated with a medley of classic herbs and spices, then grilled and topped with another heady sauce that will set your head spinning. I remember taking extra slices (it's conveniently served) and dousing each slice with a generous helping of bright yellow sauce. The key ingredient here is turmeric, and fresh turmeric by the looks of it. Not only does turmeric lend dishes a signature sunshine colour, it's packed with flavour and anti-bacterial properties to boost your immunity! The meat was very tender and quite well done, especially so coming from someone who doesn't take too much thigh meat. While the sauce looks lethal, it doesn't sting like you would expect it to.
Goreng Cili Terong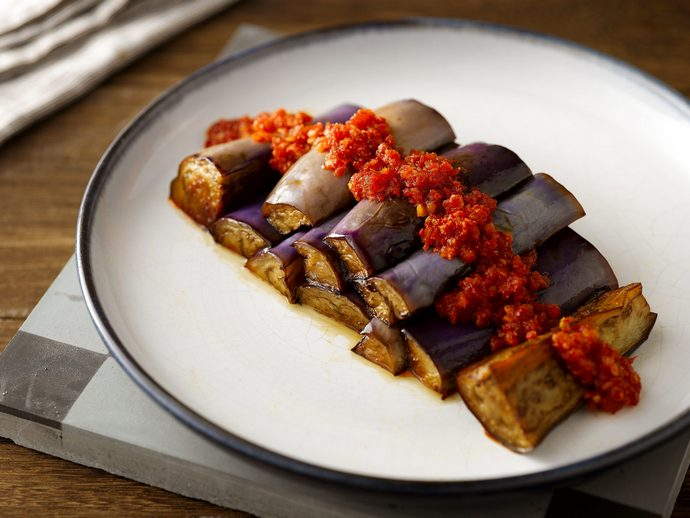 Anything fried is to be celebrated with love and chilli, as is this dish. Terong, or eggplant, is cut into chunks, deep-fried, drizzled daintily with soya-sauce and then topped with a homemade cili goreng, or roasted chilli paste. It doesn't just sound amazing, it tastes great too! The eggplant and an extravagantly soft interior, with the chilli contrasting sharply against the salty soya.
This dish is so handsome because of its simplicity. No fancy ingredients, or cooking methods. A simple concept of putting three items together and creating a flavour-bomb. If you're like me and have to order a vegetable dish for the table to ease the meat-guilt, then this would be it.
Nyonya Noodles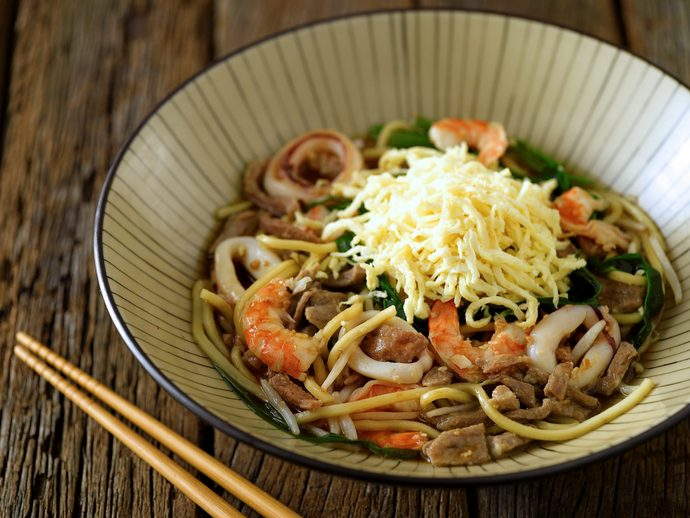 This dish is only available at this outlet. It's a single-dish item, meaning it can be happily devoured by one. It's perfect for people who don't like to share (like me), although the portion is so huge you will want to share it.
The best way to describe this dish is to think of it as a Nyoya take on Hokkien Mee. A smooth and slippery yellow-noodle dish that comes to the table piping hot and peppered with prawns. The gravy is minimal, just enough to wet the noodles to slurp-worthy consistency. The chilli that they give on the side (free-flow after a basic price, btw) is imperative in bringing this dish home.
I may not be Peranakan myself, but I have a very soft spot for the food of the people. Essentially, every other Peranakan dish is prepared with a rempah, or spice paste. The spice paste is made by blending a host of ingredients such as candlenut, lemongrass, chilli, galangal, garlic… the list can go on just like my love for this rather rich cuisine.
If you're in the vicinity, I suggest going down to The Blue Ginger to get your Peranakan fix.