The Salted Plum has a new outlet at Suntec city with food that is toooo good! Breakfasts, rush-hour lunches and leisurely dinners are served Taiwanese style, full of flavour!
The Salted Plum, Suntec City. Singaporeans travel to Taiwan to experience the ease of eating. An experience that I myself had the pleasure of undergoing: you can read all about my time in Taiwan here. The food at Taiwan was something quite spectacular. Every meal felt like an indulgence: Bubble Teas were sickeningly sweet, all forms of vegetables were battered and deep-fried, pork was roasted with liberal helpings of devilishly delicious brown sauce. It's the sort of indulgence our society craves, given the 'healthy food and healthy eating' movement pioneered by the government since rising waistlines became a cause for concern (theirs, not mine. I like a full-fat cheesecake and will have it regardless of what I am told about weight-gain, as should you).
It was this sinful indulgence that I felt while at The Salted Plum's new outlet at Suntec City (at reasonable prices, too!). This outlet, located in the basement one level down from the brand's Pasta Supremo, was designed to reflect the interior of traditional modernist Taiwan restaurant. Think kitschy interior and fantastic food and you have yourself a meal to remember. I was there to taste the food and tell you all about it, so here are some highlights of the dishes that you should try.
Lu Rou 2.0
Tender, moist and just irresistible is this Taiwanese and The Salted Plum classic: Lou Rou 2.0. This popular braised pork belly dish is upgraded at this outlet with a proprietary sauce that combines ingredients such as five-spice powder, cinnamon, ginger, peppercorns, light and dark soy sauce among others. You can literally taste the flavours of the braising liquid deep in the ridges of the pork's fatty belly. Apologies for the graphic description but if you like eating this, then you know you're in for a treat!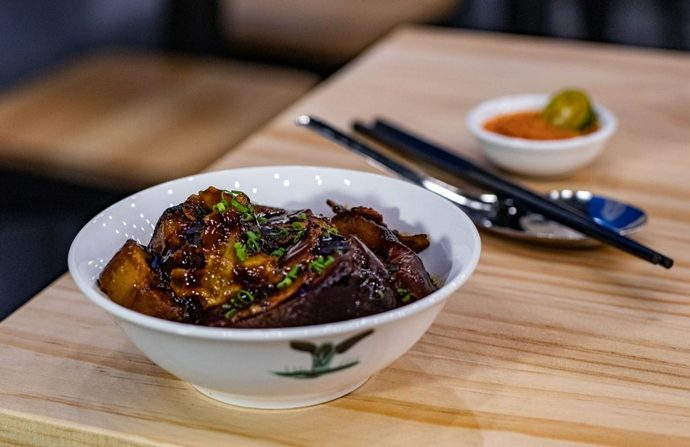 Salmon Fresh AF
Salmon is a tricky fish to prepare, in my opinion. So it's not usually worth talking about unless it's done as good as it is here. The outside is cooked to a pale, pastel pink while the centre of the fish is still pink and ever so slightly kissed by the heat that helped to sear the skin to a crispy delight. Served with a signature seaweed mayo, this fish is a must-have when eating here. This dish is exclusive to the Suntec City outlet. 
Joey's Lala
Okay so I know I have said before that I do not like Lala very much. And I mean it, I don't like it very much. With the way the Lala meets both garlic and chilli padi here, I wouldn't mind (which I didn't) having second helpings (which I did). The clams are cooked in an Asian Pesto made in-house. With local ingredients such as sweet soy sauce and rendered pork fat, this dish is just a super shiok way to enjoy clams.
Long Bean
This will be my choice for the token vegetable dish that needs to be at every lunch/dinner table. Long beans are stir fried with crispy tofu, then adorned in a chunky peanut sauce and topped with crispy pork croutons, made from pork fat no doubt. The Salted Plum somehow manages to make a rather innocent vegetable dish like this delicious and sinful.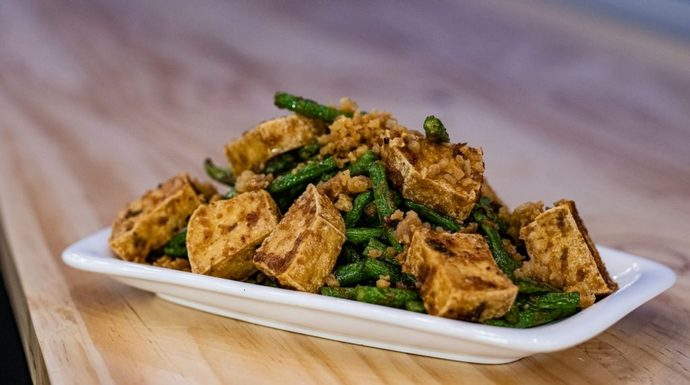 Burnt Chilli Chicken
This is something that I can keep eating again and again, regardless of how much my tongue is on fire. A simple stir-fry done with plenty of gusto, this dish brings together the best of cooking in one dish: Chilli and burnt meat. There's something to be said about chicken that is cooked tenderly yet with slightly charred edges. Now, imagine the char being intensified by a fiery chilli marinade, with some bits of red still clinging on to the chicken. Yes, perfection. Now, eat this with rice, or on its own. I won't judge.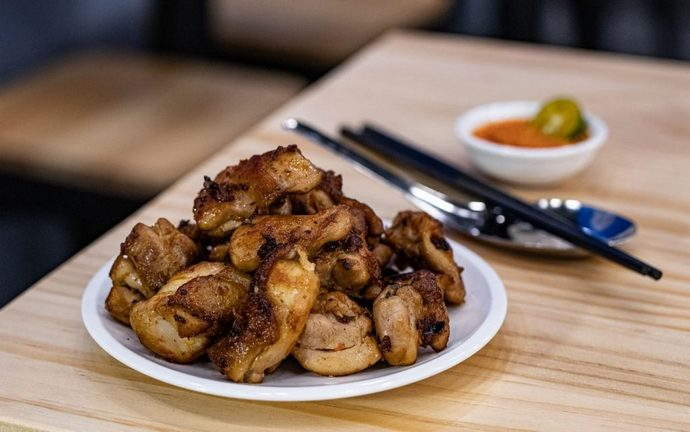 Fried Oyster Mushroom
This was the dish that they put next to me on the table and I kept picking at throughout dinner. Subtle at first, then a little boldly. By the time we were done with the tasting I had mopped up everything. Not even sorry. This dish is quintessentially Taiwanese I feel – I had so much fried mushroom while in Taipei it was ridiculous (well, not really). The oyster mushrooms had been deep-fried to a crispy finish and tossed around with in-house spices no doubt. This dish is highly addictive and easier to eat than truffle fries. I urge you to order a (large) plate of this and have it on the site while you attack the main dishes.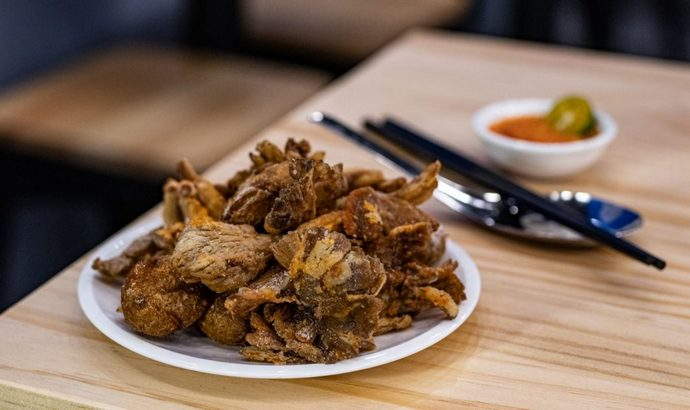 Red Tea Jelly Dessert
The Bubble Tea mania is everywhere now, with The Salted Plum having their own unique take on this popular sweet drink. Cubes of red tea jelly sit in lusciously viscous whipping cream, topped with a generous helping of pearls. I am not a fan of bubble tea, but this sinful indulgence felt fantastic once I had worked my way through the heavily savoury main course. 
The Salted Plum is not a new brand, but this outlet at Suntec City is certainly worth a visit. They have lunch sets for those working around the area, but I would go for dinner. At dinner, you have more time to leisurely work through the food over conversations. The seats aren't quite designed to have you sit and luxuriate though. Deets below:
The Salted Plum
Address 3 Temasek Boulevard #B1-122A Suntec City Mall Singapore 038983
(65) 6721 9398
8.30am-9pm daily
* Breakfast: 8.30am-11:30am
*Lunch: 11:30pm-2:30pm
*Tea time: 2:30-6pm (only drinks and dessert)
*Dinner: 6-8:30pm
Payment modes Cash, NETS, Visa, Mastercard, AMEX