Malacca is a food-lover's true paradise, with tempting food in every corner of the quaint Malaysian state! This is the land where Gula Melaka originated and yes, it really is very, very good!
I posted this article a few years ago, which is the last time I visited Malacca and then found time to write about it. Malacca hasn't changed much since then – some of the shops I went to the last time are still there! However, I found new joy in some old shops, and I had 3 bowls of chendol in 2 days. No, that is not excessive, it's necessary. Here's an updated version of my 2014 Malacca article.
Places to Eat
Chendol should be Malacca's national dish – actually I'm not sure if it already is! Malacca is where Gula Melaka (palm sugar) had its start. This thick, sticky and sweet syrup is used to sweeten Chendol, the most famous dessert in Malacca! The heat was so bad, I found myself just craaaaving a bowl of iced chendol (or 3) to combat it. Yes, I am aware that you can have just water, but when in Rome, people.
East West Rendezvous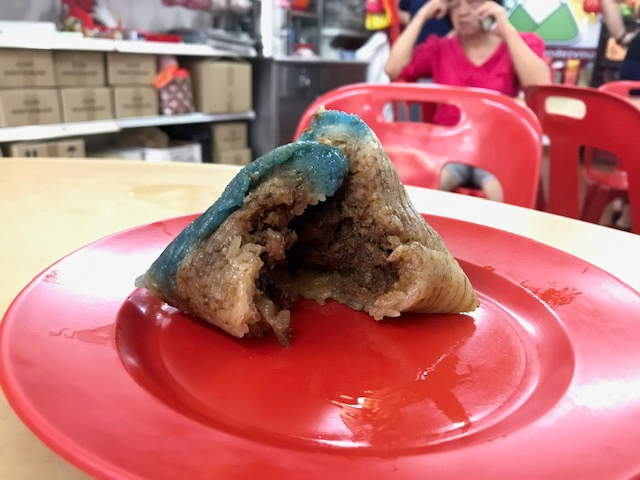 I had Chendol in three different stores over the course of my 2 days there. The first one was from East and West Rendezvous, where I also had my very first Nyonya Ba Chang. Ba Chang is literally a rice dumpling. The one here had been stuffed with spiced minced pork and then steamed. While it wasn't served warm, the dumpling was very flavourful. The top of the dumpling was dyed blue with dye extracted from the Blue Pea Flower (which was sold everywhere in Malacca). The pork filling wasn't minced, it was chopped and well cooked with various chinese spices such as Star Anise, Cloves and Nutmeg. Slightly sweet and earthy, the Ba Chang here was a treat for the eyes and the palate.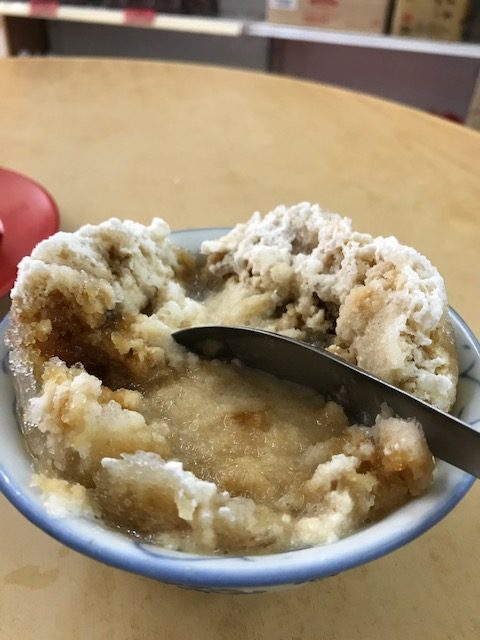 The chendol here wasn't as impressive, although according to Google it was the second best chendol in Malacca. It was relatively tasty, but I personally would have liked to see an extra lashing or two of Gula Melaka syrup and a tad bit more coconut milk. The red beans and green jelly were on point, though.
Nyonya Makko
This restaurant is located close to Hattan/Estadia, where my coach dropped me off. Nyonya Makko is similar to Nancy's Kitchen in that the food has a heavy Peranakan influence. The setting here is nothing fancy, similar to what you would expect out of a chinese tze char place.
The food was exceptional, especially the Sayur Lodeh (RM9). I know, it's an odd dish to get excited about, but it was seriously good! The coconut milk used in this dish didn't come out of a manufactured carton, but was squeezed by hand. You can literally taste the freshness when eating this dish. I also had the Nyonya Chicken Rendang (RM14), which is very different from the Malay Rendang. This dish had a gravy with an intensely smokey taste. No doubt cooked over charcoal, the chicken was flavourful and tender, literally falling off the bones.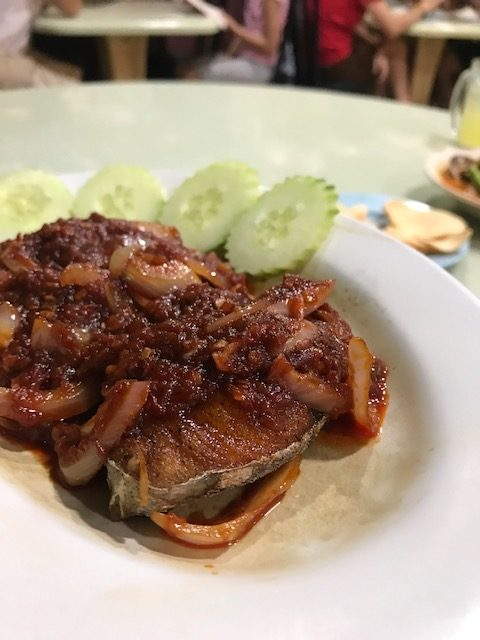 Another dish worth trying is the Ikan with Sambal Tumis. This dish was RM 30, which is pricey for 2 fillets of fish. To be fair though, they did state that seafood will be sold based on seasonal prices. The Sambal Tumis was dolloped generously over the crispy, fried fish. The sambal was spicy, I will not sugar-coat that fact. If you're not into spicy food, then this might not be for you. I however, completely enjoyed the mad bite from the sambal while eating it with my rice. For dessert, I had the chendol (what else). The Gula Melaka syrup used here was the best in my opinion. Rich, sweet and with a full-bodied, almost honey-like aftertaste. They also used the same home-made coconut milk for the chendol, which was God-sent. However, the green jelly bits got really hard in the chendol, because of the ice. Not ideal, though I didn't mind the texture personally.
Low Yong Moh
This is a Dim Sum restaurant, best visited in the morning as I am told they sell out – fast. I am all for Dim Sum breakfasts and was pleasantly surprised at the variety of steamed dumplings available here. It can be quite overwhelming if you aren't prepared. Once you find your seat, the servers will promptly present you with almost all their steamed Dim Sums on one side and the fried ones on another side. You are free to pick the ones you fancy from the trays, and will only pay for the ones you eat.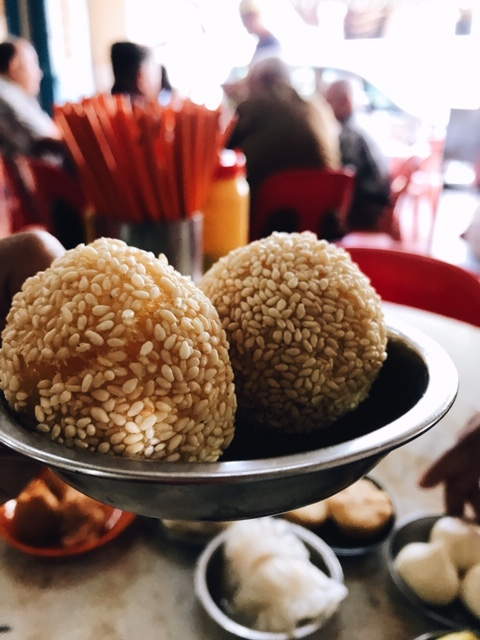 All the eats here come in bite-sized portions. This makes it easy to feel like you can have more than you should. I had a variety of steamed items and the fried Sesame Balls. These were deep fried, filled with a sweet peanut butter which was homemade no doubt. The skin of the balls was thick and not oily or soggy, making this a perfect, deep-fried treat. Also try the salted-egg yolk bao, which was sooooooo scrumptious! Most baos get less-tasty once cooled; these remained so plump and delicious, and had SO much of that golden yellow filling – it was sunshine to my soul!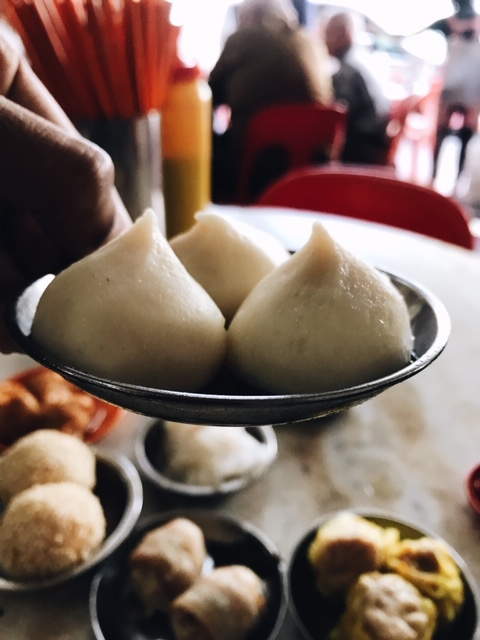 Another one I feel compelled to mention here is the Otah filled fishball treat. These come in a cute, fat tear-drop shape. It's hard to resist this savoury treat (served in threes'). While the white flesh is mostly tasteless, the centre is filled with shredded fish meat that's been marinated lovingly in classic Otah spices.
Sri Kaveri Catering
Is it strange that I hunt for Indian food in Malaysia? This street stall does egg thosai so well, I cannot describe how much I enjoyed it when I was here in 2014. This time, I had the egg thosai again and had to write about it. The egg was so well spread on the thosai, as opposed to concentrated only on one side of the pancake. The thosai was also crispy at the edges and soft and fluffy in the middle. Pair this with their tangy fish curry and you're in heaven. The spicy chicken curry is pretty good, too!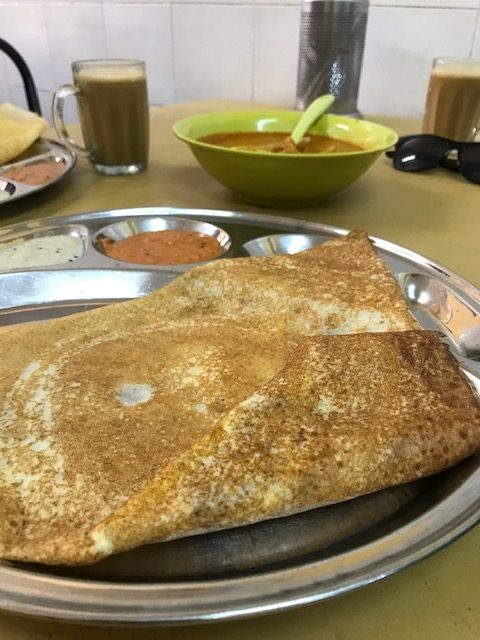 They also serve Bru here, which is my favourite brand of Indian coffee. However, I personally felt that the coffee here could have been better. Other than the thosai, get the prata if you're up for it. Both egg and plain pratas here are really soft and pliable, and very easy to eat.
Nancy's Kitchen
Everyone who's been to Malacca will know Nancy's Kitchen – but it's still worth a mention here as I only discovered it 2 years ago. Nancy's Kitchen is a popular Peranakan restaurant in Malacca and Nancy herself will be standing behind the till. The food is made with Nyonya pride; think seriously spicy sambal and seriously rich chendol. If you're in town and can only afford one Nyonya place, then this will have to be it. I have been here twice before and both times have been more than satisfying. I've even recommended this place to a couple of my friends and they thoroughly enjoyed the food here too!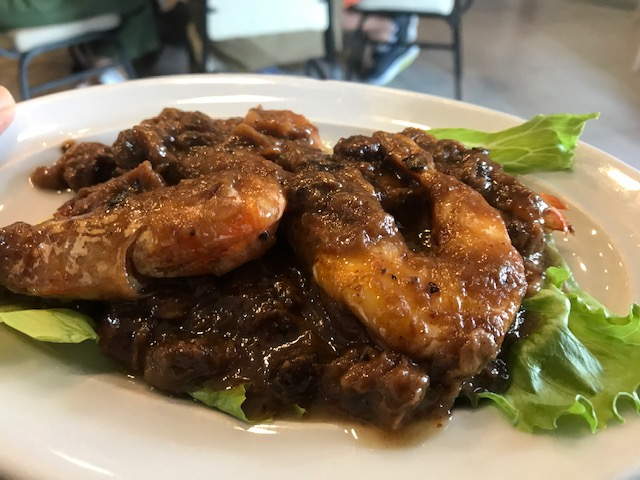 Try the Assam (Tamarind Prawns) here. Plump prawns are halved and cooked in their shells in a tenderising gravy made with tamarind pulp. You can see the tamarind seeds in the gravy, be sure not to bite into one. The sour tamarind helps to make the prawns so juicy and imbues so much flavour into the white, fresh meat. Also try the Sambal Belacan Fried Egg.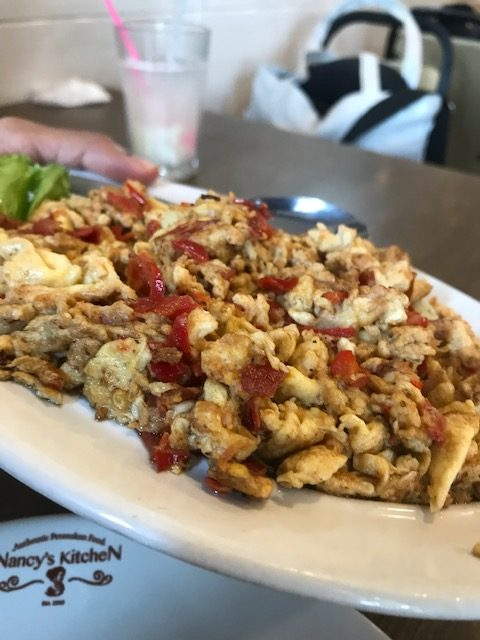 This simple dish was made with sambal belachan, eggs and peeled prawns (not the tiny kind, mind you). You can expect this dish to be slightly spicy; the Peranakans do not kid around with their chilli. The other dishes were richly-flavoured, so I ordered the fish ball soup to go with them. The fish ball soup had homemade fish balls! Fresh, plump and very tempting to bite into; basically these had all the makings of a well-made fish ball.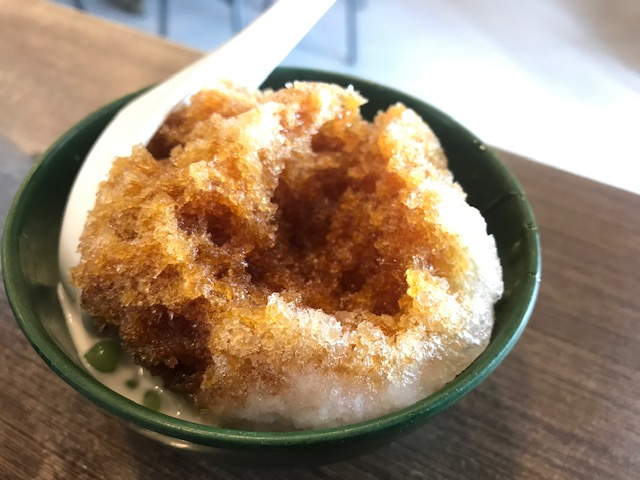 And of course for dessert, have the chendol. The bowl of chendol here is smaller than the restaurants above, but so full of coconut-y goodness that one bowl will not be enough. Try to stop yourself, though! There's plenty of chendol to be had in the land of Gula Melaka.
Backlane Coffee
Malacca is not immune to the cafe culture – there are plenty of cafes to choose from just within the Joker Street area! Most of them have pretty decent coffee and cakes, but I didn't have time to try them all. Backlane Coffee is located at the back lane (ohhhhh!) of Jonker Walk. It's not easy to find, but they do have a scrumptious deconstructed tiramisu and pretty strong wifi. Also try their Rose Latte and their cold-pressed juices (called slow juices).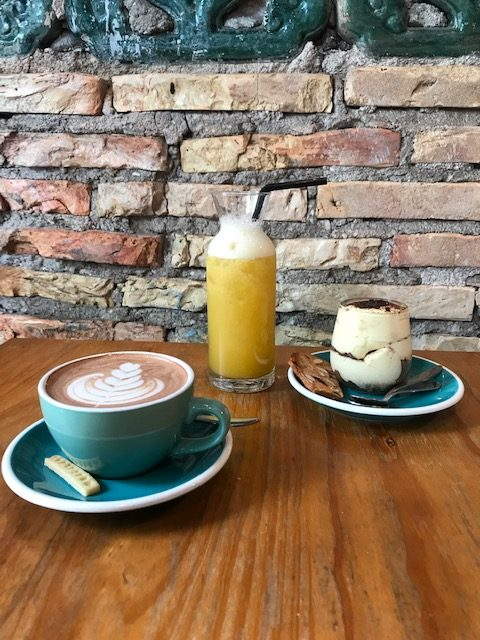 I created this simple format article so that I can keep adding to it as I go along, because I foresee a trip to Malacca in the near future. And when I make that trip, I will be checking out new places (that are on the list for sure) and adding them on to this article. Thanks for reading, and let me know if there are any other makan places I should check out when I head to Malacca next!