A simple pasta recipe that can be made ahead of time, too!
Pasta is a delicious and easy weeknight dinner dish. When cooking pasta, you hardly need a recipe to put things together. With so many bottled sauces available in the market, it's easy to boil some spaghetti till al dente, then heat up some bottled sauce and stir it through the cooked pasta.
Bottled Sauces
But, what if we take things one step further? I understand this goes against the point of bottled sauces – no prep necessary. But stay with me here. Bottled sauces can carry different ingredients perfectly, including tuna and mushrooms.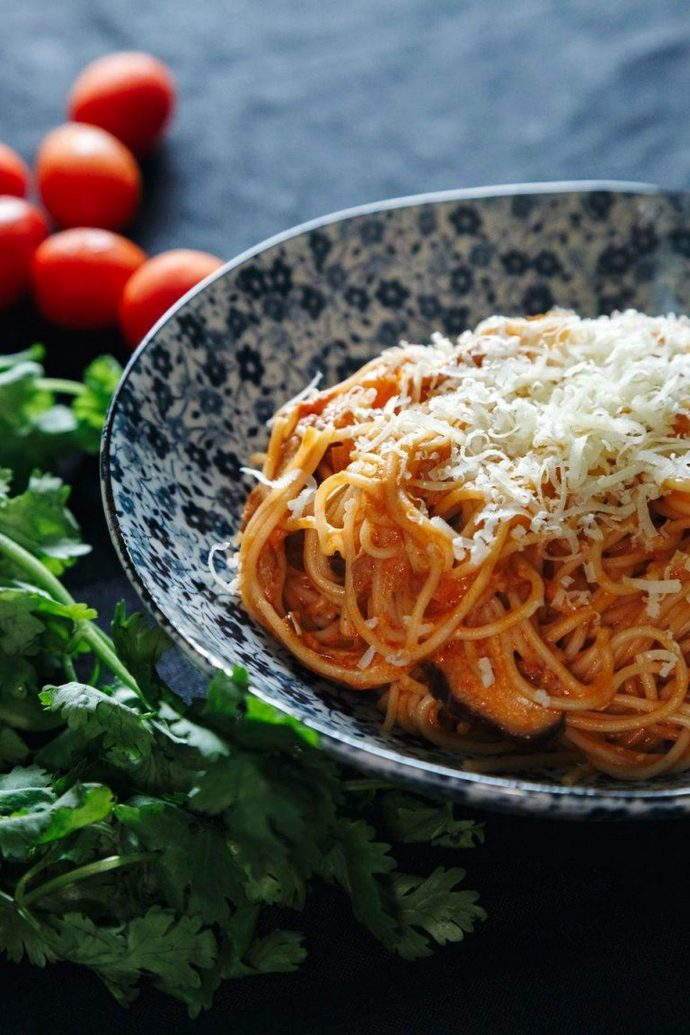 Moreover, bottled sauces tend to be a tad bland on their own and need help most of the time. Trust me on this one, I've experimented with quite a few on many lazy evenings. And almost always, I find myself needing to add a little something extra to get the final dish to taste just how I wanted it. It could be a spoonful of tamarind, squeeze of lime, or a good smattering of salt to pull things together.
In this recipe, I've used 365 Pasta Sauce, a brand originating from Germany. I discovered this brand through their mayonnaise, which is made with real egg and doesn't look bleached-white like the stuff of other brands. Plus, its a lot more reasonably priced. So when I saw that they make pasta sauces too, I jumped at the opportunity to try the basic tomato sauce.
Make Ahead
This is a great make-ahead recipe, so long as you chill the sauce without adding the coconut milk. When ready to eat for dinner on a weeknight, you need to cook the pasta, drain it, and add it to a bubbling pot of this sauce combined with the coconut milk.
The coconut milk adds a much needed creamy quality to the dish, turning the sauce a lovely shade of pink which is a bonus.
Tomato and Coconut Cream Pasta Recipe
Ingredients
350g Angel Hair Pasta
2 Tbsp Olive Oil
1 Medium Onion, peeled, cored and thinly sliced
2 Cloves Garlic, minced
150g Shiitake Mushrooms, stems removed and sliced thinly
350g 365 Tomato Pasta Sauce
1 Can Tuna, flakes in olive oil
200 ml Coconut Milk (I used Ayam Brand)
Method
Cook the pasta according to package instructions, and reserve some of the starchy pasta cooking water. Drain the cooked pasta and toss it in some olive oil. Set aside.
In a large skillet over medium heat, heat the olive oil and add the onions first, followed 3 minutes later by the garlic. Cook until fragrant, and make sure not to let the minced garlic burn. Add the mushrooms and cook until soft and reduced in size, about 4 minutes. Add the tomato sauce and stir through.
When you see the merest of simmers, add the tuna. Stir and ensure that the fish is well distributed throughout the sauce. If you find the sauce too thick at this stage, you can add some of the reserved pasta water to loosen it.
If you intend to store the sauce for later use, you can stop cooking at this stage, allow the sauce to cool down and transfer it into a bottle or jar. The sauce can keep, undisturbed, in the fridge for 6 to 7 days. When ready to use, remove the sauce from the jar and continue with the next step below.
Finally, take the sauce off the heat and add the coconut milk. Stir through until the sauce turns into the merest of reddish-pinks, before adding the cooked pasta. The sauce will coat the slick strands of blonde pasta, with bits of tuna flakes clinging to the pasta.
Serve with plenty of grated parmesan, and gobble down while warm.
https://thecraversguide.com/tomato-and-coconut-cream-pasta-recipe/
Copyright belongs to thecraversguide.com.
Images shot by Howly Pek