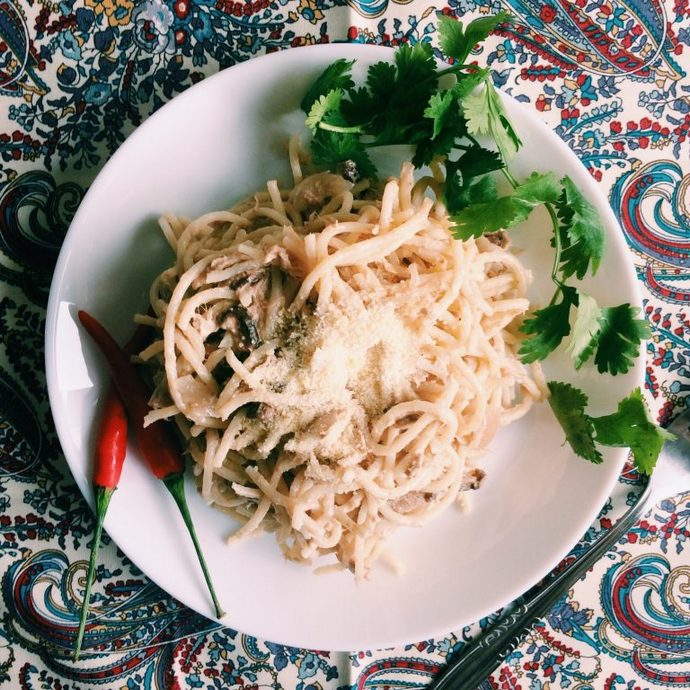 Some recipes come and go, others stay forever, That's precisely what this recipe is to me. I first made this pasta when I was 14, without a recipe. While today it doesn't quite feel like all that, back then it was a huge deal to me. Many recipes I wrote over the years, I find myself going back to tweak, except this one. The tuna, cream and pasta combination is as classic as Champagne or a little black dress and will never go out of style or comfort. I hadn't made this in a while, so when I had the opportunity to make it the other day (even though I was down in the thick of flu), I jumped on it.
I did make a slight deviation this time around, though. Instead of lemon juice, I added in balsamic vinegar. And I combined yoghurt with cream, as well. All these were born more out of necessity than out of a desire to experiment with new ingredients. Its always best to experiment with what you have at home – if you don't have one thing that try substituting with another, the result might stay longer with you than the original recipe you started off with. Also, this was the influence of a balsamic vinegar and mushroom pasta I made once when there was a need for a vegetarian pasta meal. While it turned out great, I do like meat with my pasta, particularly tuna that can cling onto the lovely golden strands of pasta.
I am a huge fan of canned Ayam Brand tuna and vacuum packed shiitake mushrooms. But of course, feel free to substitute to whatever mushrooms you feel comfortable with; just remember that these mushrooms act as the flavour bed for the balsamic vinegar. If you find this recipe to be too sour, as some do, then go ahead and sweeten it with a teaspoon of sugar. But remember not to go overboard, as the salt content in the pasta will also enhance the sweetness in the sugar if you're adding it.
I was sick and grossed out because I was sick, but this pasta brought back all the lovely memories of being a teenager and inventing my own pasta recipe for the first time. And having everyone around me love it! I pass this recipe on to you in the hopes that you'll form similar lovely memories with the recipe, too!
Ingredients
1 - 2 Tbsp Canola Oil
200g Spaghetti
1 Medium red onion, sliced thinly
200g shitake mushrooms, stem removed and sliced
1 can Ayam Brand Tuna, flakes in extra virgin olive oil
3 Tbsp Balsamic Vinegar
3 Tbsp Plain yoghurt
1 Can Cowhead or Nestle Cream
Salt to taste
Method
In a deep pot, cook the pasta according to package instructions. Reserve some of the pasta water before draining and setting aside.
In a saucepan, heat up the oil and sauté the onion slices till they become translucent. Then, add the mushrooms and the extra virgin olive oil from the can of tuna. Sauce the mushrooms until they are cooked halfway through, about 3 mins. Then, add the balsamic vinegar and continue to fry the mushrooms until they absorb all the liquid.
Then, add the Tuna and sauté for 3 mins, before adding the yoghurt and cream. Store to combine and salt to taste. Then, add the drained spaghetti and stir through, till the sauce coats all of the pasta. Serve warm with fresh Parmesan.
https://thecraversguide.com/tuna-cream-pasta/
Copyright belongs to thecraversguide.com.