Being "stranded" at sea has never been this amazing. Trust us when we say this resort is nothing like anything you've seen before. It is featured on established media channels like CNN, BBC, Fox News, CN Traveler & etc., The Manta Resort is the wet dream for ocean lovers (without getting yourself literally wet!) and The Underwater Room is exactly where all the magic happens.
As with the name, you will be submerged under the waves of Pemba Island, archipelago of Zanzibar, while watching the shoals of exotic marine life glide by, while encapsulated in a turquoise-lit bubble. Oh, and not leaving out stargazing in the middle of the ocean!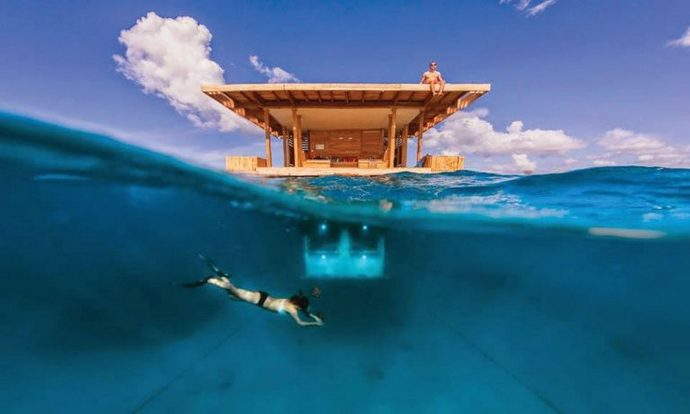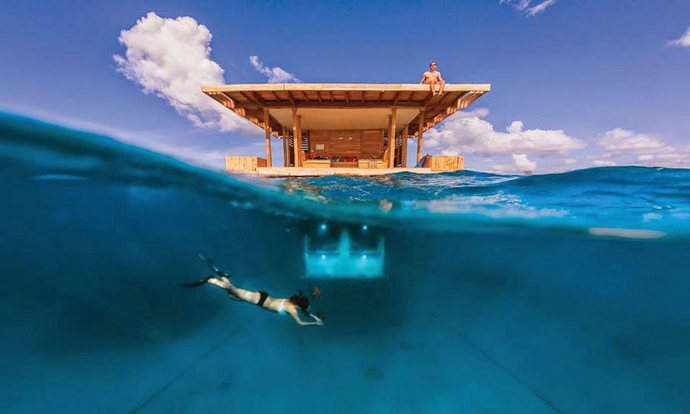 Not to worry, you are not really left to fend for yourselves on an island! It is essentially a three-storey floating structure, where you will be taken to via a wooden boat. Necessities such as refreshments and a mobile phone with assistant contacts will be provided along with a kayak and snorkeling tools.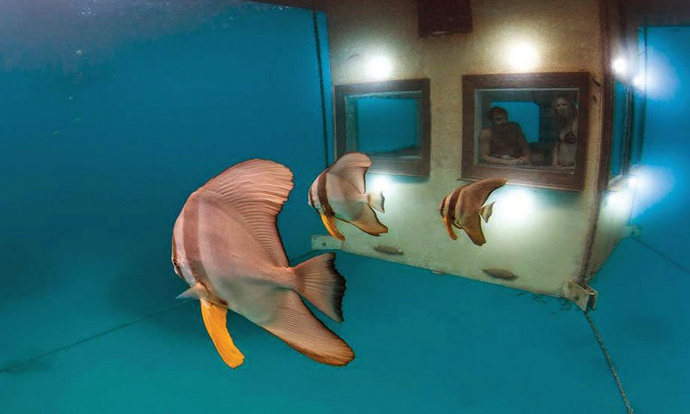 Upon arrival on landing deck, there are bath facilities and a sundeck for your sunbathing and stargazing pleasure. Moving down, this room is the centre of attnetion. Don't expect lavish interiors because it will only compete with the all around glass display of the azure waters, accompanied with bat and trumpet fishes occasionally peeking in! When night falls, the underwater spotlights located beneath these windows bring about shyer creatures like the squid, which looks as if it is glowing. Coral life have already started breeding around, who knows what else you might be able to see while under the sea!
The nearest international airport is the Zanzibar International Airport, from where you can proceed to the ChakeChake Airport, then Pemba Island.  All other activities, click here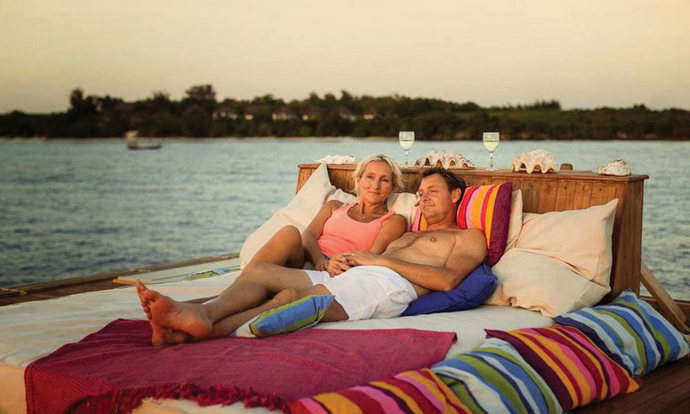 Rates
Double $ 750 per person/room/night, sharing ($ 1500 /room/night)
Single $ 900 room/night
Address
The Manta Resort
Box 32 | Wete, Pemba Island, Tanzania
Phone (The resort reception) : +255 776 718 852
Phone (Sweden) : +46 704 92 66 18
Online contacts here
Website: http://www.themantaresort.com/