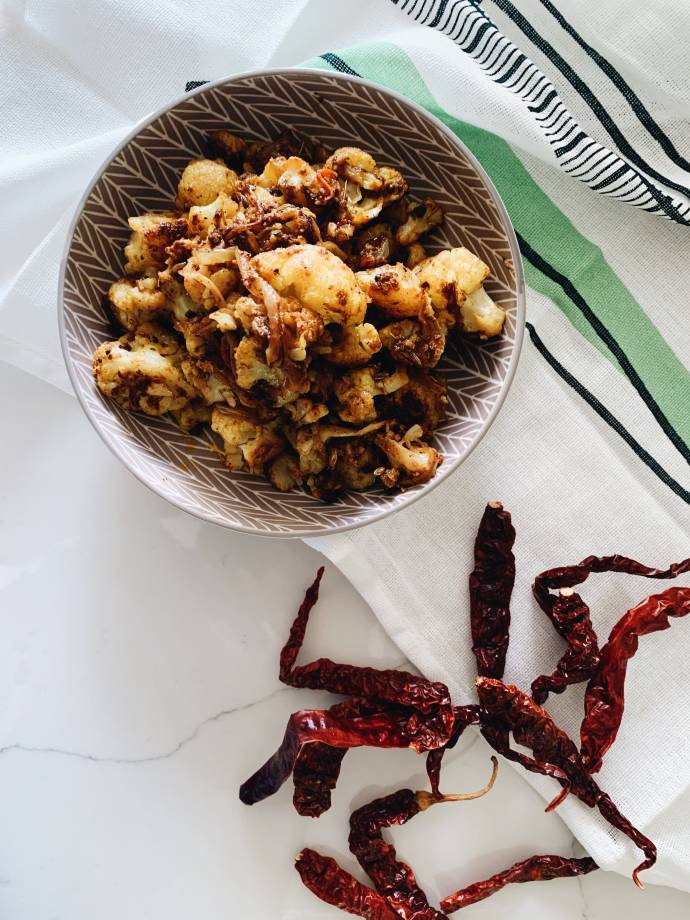 Vegan Cauliflower Ghee Roast is a dish that shows the best of what veganism has to offer, combined with aromatic Indian spices and sinfully tasty ghee.
Vegan Cauliflower Ghee Roast was a creation in my kitchen that was borne out of the need to do something different. I have heard of Prawn Ghee Roast before, but I didn't want anything that had meat in it. Not to say that I follow a vegan or vegetarian lifestyle, but I do have some days where I want to have something without meat!
Cruciferous Vegetables
Cauliflower forms an essential part of the cruciferous vegetable family. These are typically vegetables that have a hard and usually indigestible stem that's discarded before cooking. Having said that, however, the zero food waste movement has some really spectacular recipes involving broccoli stems.
If you're not a cauliflower person, try broccoli. The bristles in broccoli florets char a little faster than cauliflower, providing a nice burned edge to this recipe.
Spices
I have used a propriety spice blend in this recipe, one that I plan to market soon! In the meantime, you can use a range of substitutions to achieve a similar taste to the completed dish! Garam Masala is one of the easiest to get for this recipe, other than biryani masala. Alternatively, you can use a combination of various dried spices, including coriander and cumin, turmeric and chilli powder. The heat in this dish can be easily adjusted based on how spicy you'd like it to be; you'll just have to moderate the amount of chilli powder used.
The 'Roast' Element
The 'roast' here refers to frying the raw cauliflower florets in hot ghee until they are semi-cooked and quite charred. I find that the charred edges keep the vegetable from going mushy when cooked with the spices. However, you can't go away from using ghee for this recipe; otherwise, you'll have a cauliflower masala, not a Cauliflower Ghee Roast.
Vegan Cauliflower Ghee Roast Recipe
Course: Sides
Cuisine: Indian
Difficulty: Easy
You'll need;
125 ml Ghee

1 kg Cauliflower, florets only

1 Tbsp Olive Oil

1 Tsp Mustard Seeds

1 Tsp Fenugreek Seeds


1 Red Onion, peeled and sliced

1-inch Ginger, chopped finely

3 Cloves Garlic, chopped finely

2 Chilli Padis, thinly sliced

1 Tbsp Tamarind Paste

3 Tbsp Masala Powder (Briyani, Fish, Meat or Garam)

2 Tbsp Water

Salt to taste

1 Tsp Turmeric
You'll need to;
Start by 'roasting' the cauliflower. Heat the ghee in a large skillet over medium to high heat. Once the ghee has melted into a hot puddle of fat, add the cauliflower florets. Let the florets fry and burn a little in the hot ghee, forming a hard and charred crust on some sides of the florets. Once semi-cooked and charred well, removed the florets from the pan and transfer to a waiting bowl. Be careful to leave some of the ghee in the skillet.
To this, add the olive oil and lower the heat to medium flame. Add the seeds and wait for them to pop. Then, add the onions and fry till they soften. To this, add the ginger, garlic and chillies. Continue to fry till the chillies cook, then add the tamarind, masala powder and water. Cook till the water and tamarind for a thick paste. This is also when you can salt the dish, and add turmeric too.
Then, add the ghee roasted cauliflower and give it a good stir, to ensure that the florets are well coated in the spice paste. Cook till the cauliflower florets are tender, then serve warm with a smattering of coriander.