A vegan chickpea curry even meat lovers will enjoy? I say it's very possible! Read on to find out how!
Vegan and chickpea recipes are not foreign to this blog. I've been long in love with chickpeas and curry, and have made multiple versions of this curry. And just like each version, this one is slightly different.
Here's why you need to make this curry: 
It's quick and easy
It's highly customisable – add in whatever veggies you like!
It's packed with flavour
It can make you look like a pro in the kitchen!
Imagine a medley of hearty chickpeas, earthy mushrooms, fresh green peas and a symphony of spices dancing in a luscious coconut milk gravy. This curry is a tribute to nature's bounty, offering a perfect balance of textures and flavours that will leave your taste buds cheering for an encore.
Whether you're a seasoned vegan explorer or just curious about dipping your toes into the world of plant-based delights, this curry has something special for everyone.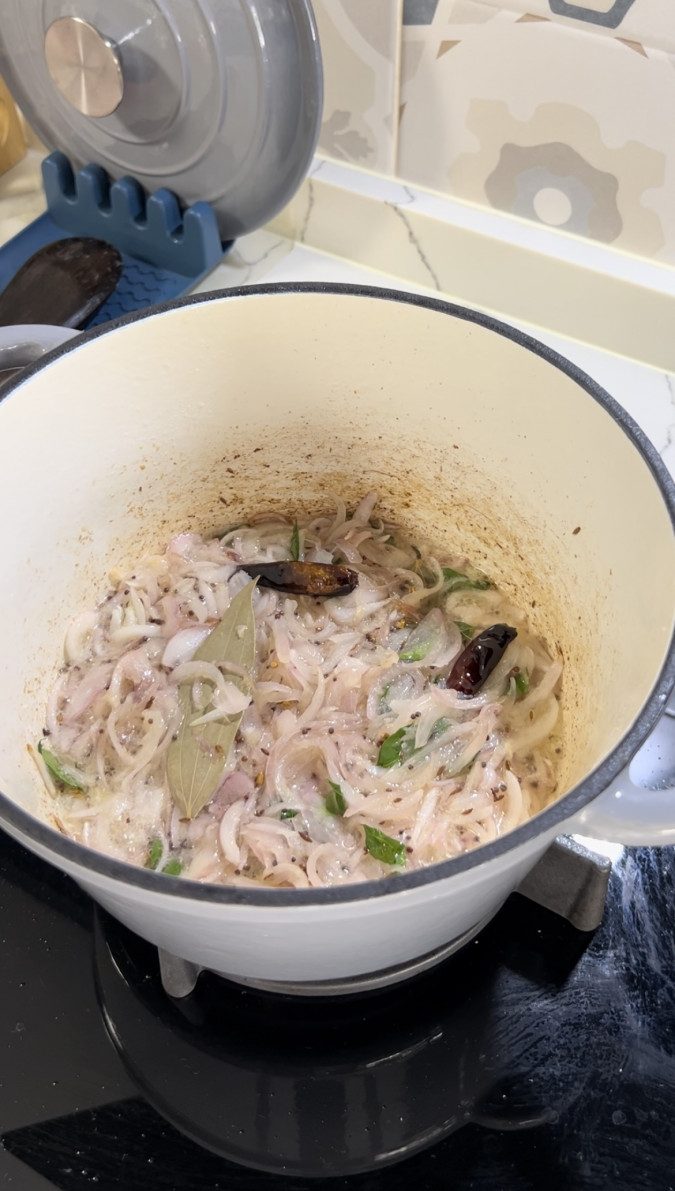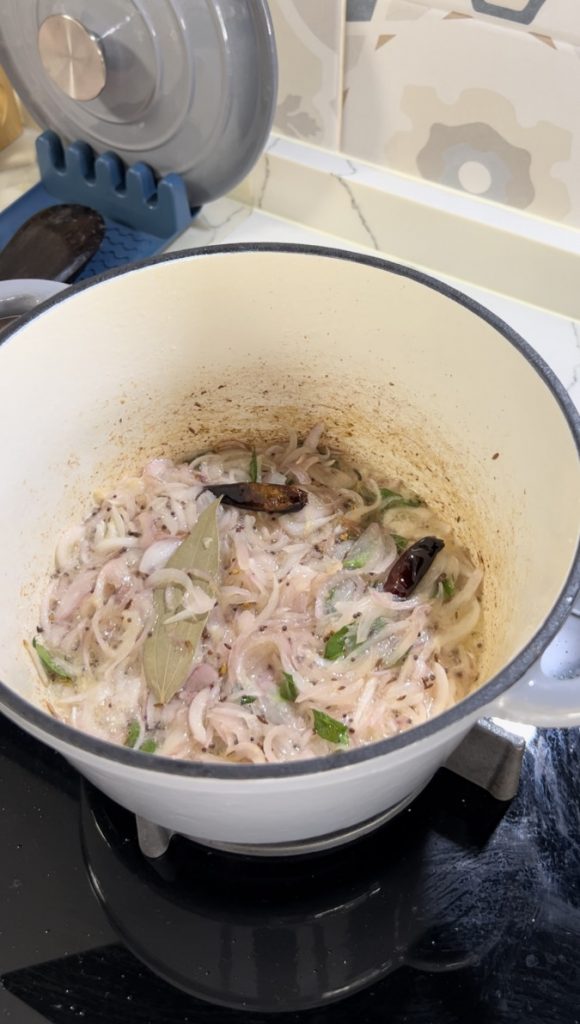 Curry Powders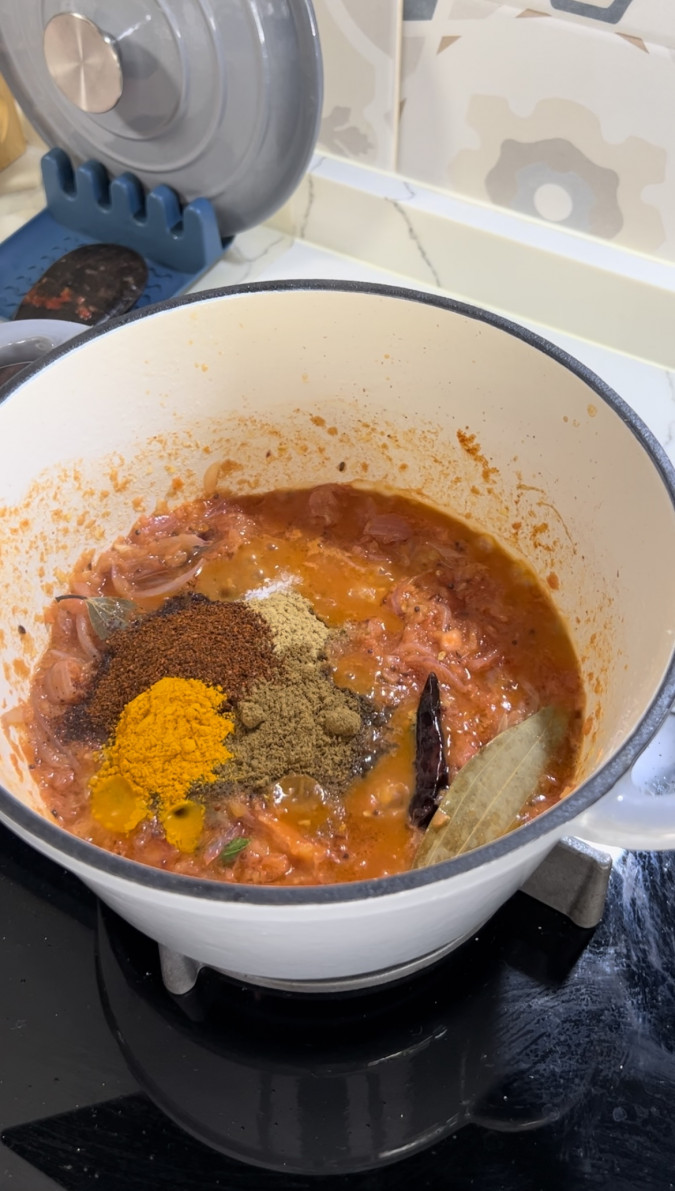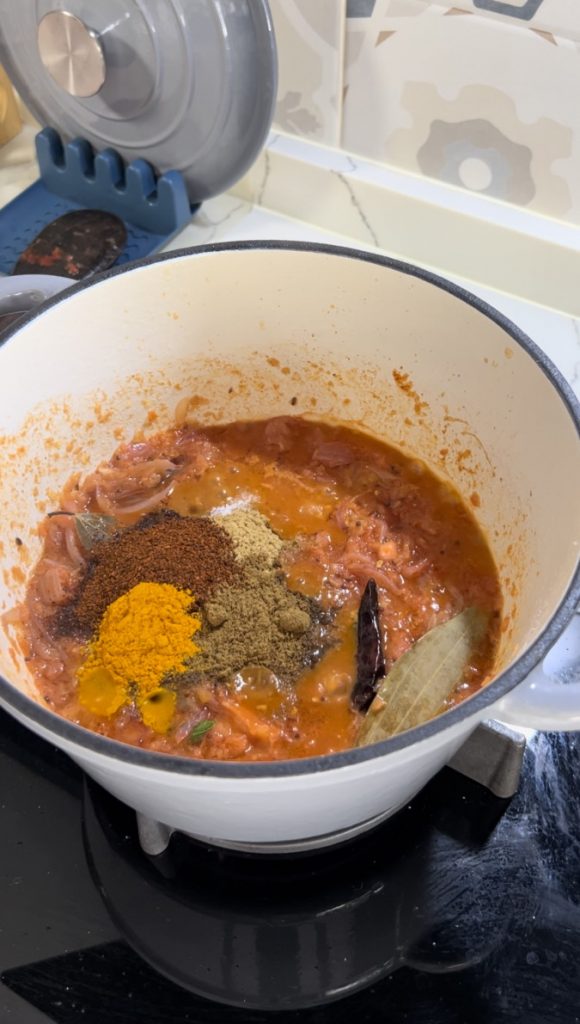 So generally for curries, I'd use meat or chicken curry powder. In shops, you can usually find curry powders meant for meat such as chicken and mutton, and for seafood such as fish or prawns. While convenient, this can be limited. For example, I personally find that the spices that work in a chicken curry may not always complement a mutton dish. I mean, it would in a way, but it can also be better in many other ways.
If you prefer to use a ready-made spice powder for this, i would recommend using seafood or fish curry masala – it goes great with the tomato base of this gravy. I have used a combination of chilli, turmeric, coriander and cumin seed powders here as part of the curry. Most ready-made curry blends have various quantities of these individual spices anyway, but it's like getting salted vs unsalted butter for baked goods. I'd rather control the volume of the spice powders in my food!
Looking for other vegan recipes? Try this Vegetable Kurma!
Tomatoes in Chickpea Curry
I love using tomatoes in seafood and vegetarian curries for two primary reasons: they add a much-needed tang in many instances, and they help the curry become thick and luscious. You can choose to chop up your tomatoes when adding them to the curry. I prefer to blend them, though. It's quick doesn't require too much effort, and gives the best results!
Having said that, the batch of tomatoes I used here lacked their signature tangy punch. To circumvent this, I added tomato puree and a teaspoon of tamarind paste – worked like a charm!
Ready to get cooking? Gather your ingredients, don your apron, and let's dive into a curry creation that's as satisfying to make as it is to devour.
Substitutions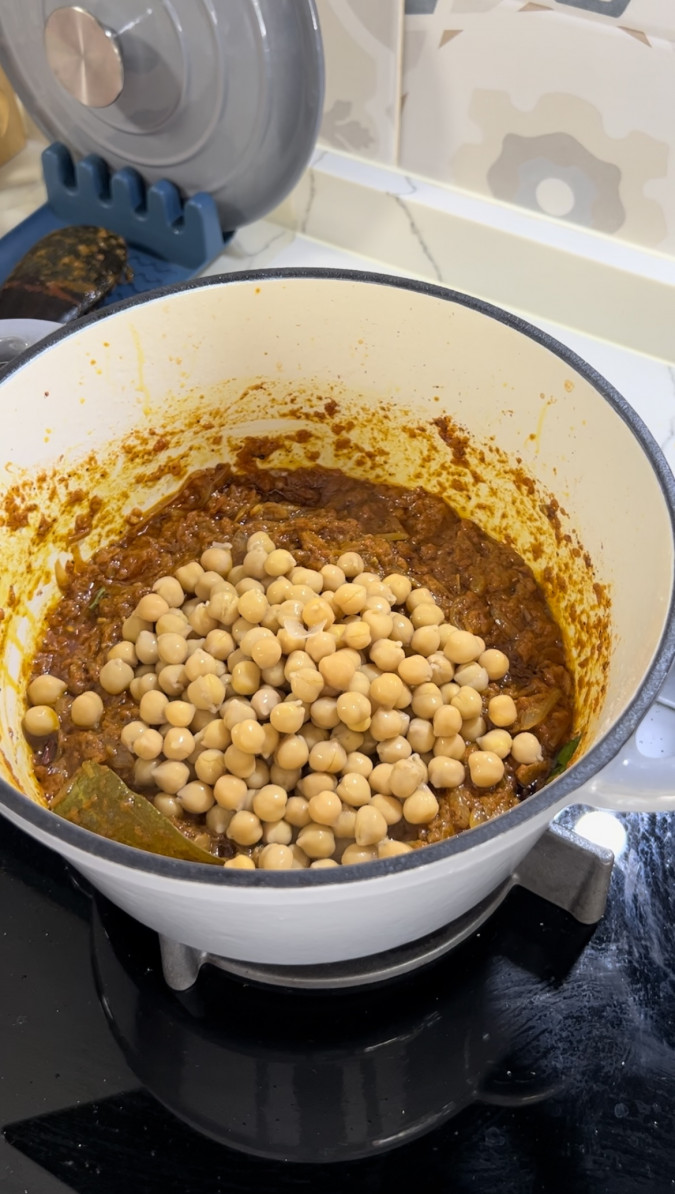 Not a fan of chickpeas? Use the same curry base and replace the protein with you choice of vegetables – you can use cauliflower, carrot, just green peas – go wild! 
Vegan Chickpea Curry
Course: Main
Cuisine: Indian
Difficulty: Easy
A vegan chickpea curry even meat lovers will enjoy? I say it's very possible! Read on to find out how!
You'll need;
2 tbsp vegetable oil

1 tsp mustard seeds

1 tsp cumin seeds

½ tsp fenugreek seeds

3 large onions, peeled and sliced (you can use fewer if you're not onion-obsessed)

2 dried bay leaves

2 sprigs curry leaves

3-4 dried chillies

1½ tsp ginger garlic paste (see notes)

3 tomatoes, chopped and blended into a paste

70g tomato puree

1½  tbsp coriander seed powder

1½ tbsp cumin seed powder

2 tbsp chilli powder (less if you don't live dangerously)

1 tsp turmeric powder

Salt to taste

1 can chickpeas, drained and rinsed

400g white button mushrooms, sliced (i bought the pre-sliced ones from NTUC)

 350ml water (or enough to fully submerge the vegetables)

100g green peas (this, too, is up to you)

150ml coconut milk (more if you like the curry to be creamier)
You'll need to;
Heat oil in a large saucepan, preferably heavy-based. Add the mustard, cumin and fenugreek seeds – they will start popping in a minute. Add the sliced onions and saute till translucent.
Add bay leaves, curry leaves, dried chillies and ginger garlic paste. Continue to cook for another 1.5 minutes, then add the blended tomatoes followed by the tomato puree. Stir everything together till well combined, then add the coriander, cumin, chilli and turmeric powders. Follow this with the salt, and stir everything together.
At this stage, you can add the water first then the chickpeas and mushrooms, or do it the other way around. I added the vege first—throw in the chickpeas and mushrooms, then stir to coat it evenly. Then, add the water, cover and simmer for around 3 to 5 minutes.
Then, add the green peas, followed by the coconut milk and stir through. The curry is pretty much done at this point, as the residual heat will cook the green peas quickly. Remove from heat.
Add a lavish lashing of chopped coriander (leave out if coriander tastes like soap to you, I know a few people…) then let the pot of curry rest for about 20 minutes. Serve over warm rice.
Notes
No ginger garlic paste? Replace with 3 cloves of chopped garlic and a thumb-sized piece of chopped ginger.
No coconut milk? Use fresh cream instead. Do not use fresh milk; the viscosity of milk will not give you the same results here.
You can replace the vegetables here with fresh cauliflower, broccoli, carrots – anything you desire!