Chickpeas in Orange Juice is an easy recipe, perfect for the weeknight where everything is bland you're looking to make something unique and different.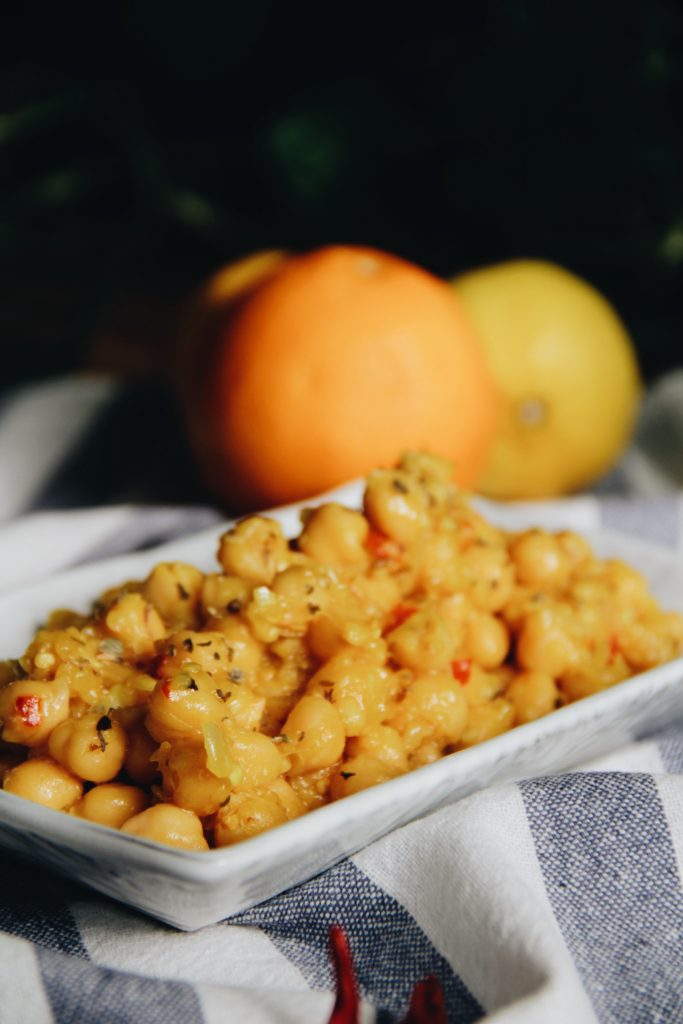 I know this recipe takes away from my usual ones. But this was more than just something that was born of what I had at home. I was feeding a necessity to use up the ingredients and also a curiosity to see what would happen. Turns out, the results were more than pleasing!
Chickpeas are the perfect vegetarian or vegan protein substitute. You can make hummus, burger patties, curry – you name it! I made this as a side and had it with chicken curry. I know you're wondering – what the hell is an orange doing in there? Hear me out. The humble orange is sweet and tangy, which can be great with the chickpeas. It helps to tenderise the chickpeas, making them just mushy and lending its mellow perfume to the protein. This dish will truly be unlike anything else you have tasted before.
I have used can chickpeas here, you can use the more traditional dried ones if you prefer. If you're still worried about the taste of orange overpowering your chickpeas, worry not – the chillies help to add spice to the mellow tang of the OJ, making this one fiery dish. You can have this on its own with rice, or a loaf of bread.
Chickpeas in Orange Juice
Ingredients
1 to 2 Tbsp Oil
1 Onion, peeled and chopped
3 Cloves Garlic, peeled and chopped
2 Pcs Chilli Padi, stems removed and chopped
1 Tsp Dried Thyme Leaves
½ Tsp Turmeric
Salt to taste
1 Can Chickpeas, drained
1 Orange, juiced
Method
Before starting this recipe, you can choose to place the chilli padi and peeled onion and garlic cloves in a chopper to do the chopping for you. That's what I've done with mine, anyway.
In a skillet, pour in the oil, then add the chopped onions, garlic and chillies. Then, turn on the heat. You're doing this so that the chopped mixture doesn't burn with the oil, but gently heats up and becomes soft and mushy.
When the mixture begins to brown, add the thyme leaves, turmeric and salt. Stir to mix, before adding the chickpeas. Stir the chickpeas in the onion mixture to ensure that the bits of cooked onion and garlic coat the chickpeas.
Then, pour in the orange juice, cover and cook for 5 minutes. When you remove the lid, most of the juice would have disappeared.
Serve warm with rice, laced with coriander or mint leaves.
https://thecraversguide.com/vegan-chickpeas-orange-juice/
Copyright belongs to thecraversguide.com.