A vegan vegetable kurma that can make your heart sing, even if you're a die-hard meat-lover! Here's how you can throw this simple dish together.
Jump to Recipe
A vegetable kurma is naturally vegan, but it's not always advertised as such. In Indian cuisine, kurma or korma is commonplace in both north and south Indian cooking. Some families reserve making this curry for special occasions or celebrations, such as birthdays or holy days. This could be because this dish requires a bit of effort. I made this on a regular Tuesday because I was craving it so badly.
This Vegan Vegetable Kurma is:
Rich, but without coconut milk
Contains frozen vegetables and still tastes awesome
Great for keeping in the freezer
Happy to be diluted, as it thickens easily
Full of nutritious ingredients
Frozen Vegetables
Yes, this vegetable kurma used frozen vegetables. I know this will get people talking… " is it really THAT hard to get some vegetables and chop them up? Sounds very lazy plus frozen vegetables are just not that good."
My simple answer to this is: Yes, it is indeed THAT hard to chop vegetables and no, frozen vegetables can actually taste very, very good when you handle them right. I am a big fan of frozen Brussel Sprouts, spinach or this bag of frozen vegetables that come chopped and ready to be dropped into the pan. This combination includes broccoli, cauliflower and carrots, all chopped into bite-sized pieces. I found this life-saving combination at NTUC on sale: 500g for $3.95. OF COURSE, I bought it.
You can use fresh vegetables here, by all means. You can peel the carrots, chop the cauliflower into small pieces and use 500g of vegetables here as you choose. You can even use a different combination of vegetables, including mushrooms, snow peas, potatoes (very commonplace in Kurma curries) as you like. Just bear in mind that these vegetables have different cooking times, so you might want to drop them into the curry at various points when making it. For example, if you're using spinach, then drop it during the last 3 mins of cooking, this will ensure that the greens don't overcook. If you're using potatoes, then best to add them in first as they take a long while to cook.
Nut Paste
This is what makes this Vegan curry… Well, vegan. Kurma or korma, as it's known in some regions, uses a natural thickening agent in the form of ground-up nuts and coconut. The volume of this varies depending on the region this dish is being cooked. However, fresh desiccated coconut and some form of nut (either almond or more commonly, cashew) is usually used as part of the dish.
Cashew nut milk is extremely rich, due to the nut itself being quite fatty. Combine this with coconut and you get a smooth, delicious paste that helps to make the vegetable soup (that's what it will look like when you're making this) gravy-like. It also helps to blend in the various spices you add to this curry, such as coriander and cumin seed powders.
It's important to roast the nuts and shredded coconut in hot oil before grinding it to a smooth paste. The heat will activate the ingredients, releasing the oils (and flavour) within. Some may find this blend cloyingly fatty – myself included. To circumvent this and retain the smooth texture this mixture can bring, I propose adding other flavouring agents when roasting the nuts and coconut, such as onions and garlic. Chilli is optional here, you can make this completely mild if you prefer. I like things spicy in life, and in the kitchen. Hence, I prescribe using chilli padi (Thai bird's eye chilli). If this is not for you, please use a regular red chilli, or more if you like. Remove the seeds if spice is not your thing; you'll still get a lovely orange hue when you add the chillies.
Other Vegan Recipes
All this talk about cashew nut milk and coconut got you thinking about what else you can cook that's meat-free and delicious?
Vegan Vegetable Kurma
To make the paste, start with sauteing the roughly chopped onions and other spices, then add in the nuts and shredded coconut. I have used a lot of nuts here because I wanted a very thick and rich gravy. My thought is and was this: if you make too much of the paste, you can always freeze it for another day when you want to make this curry. That way, you skip the initial stage of having to grind up the roasted ingredients.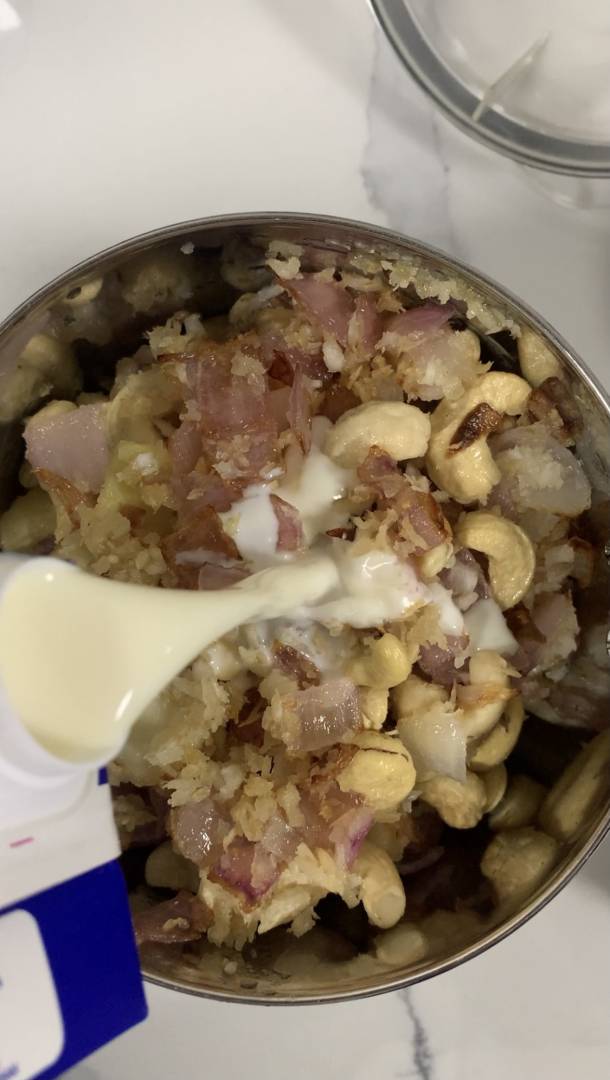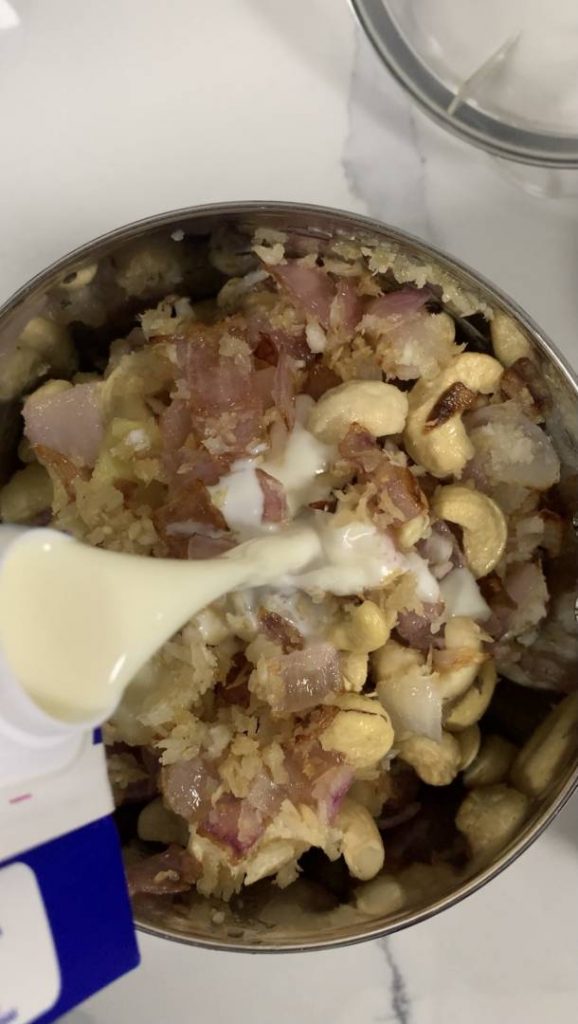 You'll need to cut up two batches of onions, garlic and ginger for this recipe. The first batch can be chopped roughly – this will get blended. The second batch you can be more precise with, as this will be sauteed in the pan before you add the vegetables in.
Prepare your whole spices, such as bay leaves, and spice powders, in advance. Salting this dish, as with others, is a matter of preference. Taste as you go and choose what suits you best!
Vegan Vegetable Kurma
Course: Main
Cuisine: Indian
You'll need;
Paste for Base

2 Tbsp Coconut Oil

2 Medium Onions, roughly chopped

2-inch piece of Ginger, roughly chopped

3 Garlic Cloves, roughly chopped

100g Cashew nuts (or more if you prefer)

50g Shredded Coconut

2 Tbsp Milk

For the Curry

 2 Tbsp Coconut Oil

1 Bay leaf

1 Piece Mace

2-3 Dried Chillies

1 Cinnamon Stick

3 Cardomom Pods

1 Large Onion, peeled and thinly sliced

1 Medium Potato, peeled and chopped

500g of Chopped Vegetables of your choice

1 Heaped Tsp Coriander

1 Heaped Tsp cumin

½ tsp Turmeric Powder

2 Tsp Chilli Powder

1 Litre Water, more if you'd like to dilute the gravy further

Salt to taste
You'll need to;
Make the paste
In a large pot (preferably the one in which you'll be cooking the curry), heat the oil, then add the onions, ginger and garlic. If you're using chilli padi, you can add it in now. Saute the ingredients till the onions begin to loosen up, then add the cashews and shredded coconut. Roast the ingredients on the heat till they start to smell fragrant; the onions should be translucent and the nuts will be slightly golden.
Transfer the ingredients from the pan to the blender, and add the milk. Blend until you get a smooth paste. Set this aside and start with the curry.
Make the Curry
In the same large pot you used earlier, add the oil, followed by the bay leaf, mace, dried chillies, cinnamon and cardamom pods. Roast them in the heat and once they start to sputter, add the sliced onion. Cook till the onions soften.
Then, add the vegetables and saute for 1 min. As the vegetables begin to heat through, add ½ of the blended cashew paste and stir carefully. Then, add the coriander, cumin, turmeric and chilli powders, along with salt. Stir all the ingredients thoroughly and pour in the litre of water. Put on a lid and let the vegetables cook for about 7 to 10 mins.
Remove the lid and check to see if the vegetables are cooked. They should be about ¾ done, at which point you can add the remaining cashew nut paste. This will thicken the gravy nicely – allow the mixture to boil for a further 2 mins.
Remove from heat and serve warm with rice. You're done! 
Notes
Add more water if you feel like the mixture needs it, or if you'd like your curry a little lighter
This curry will thicken as it cools – the quick fix to this would be to reheat it with a bit of water to loosen up the gravy
This curry can be frozen if you prefer, although I would advise against freezing it if there are potatoes in the mix – cooked potatoes are just a nasty mush once they've been defrosted
Use any vegetables you please and adjust the cooking time accordingly.