Vegetarian Dumplings are a dream, both to make and to eat. Here's how you make them, with a crispy bottom!
Although I have never made dumplings before, I never underestimated the work that goes into making them. Dumplings are like little sacks of happiness, usually filled with minced meat, spices and vegetables. You've probably heard of Xiao Long Baos, the most famous type of dumplings.
The video:
Let me be awfully truthful – this is not that. I am a meat-eater, but I do find that there's pleasure to be gleaned from vegetarian food. So this Chinese New Year, I decided to take a vegetarian route and make some vegan-friendly dumplings.
Dumpling Skin
I did not make the dumpling skin from scratch, because the idea of making dough just upsets me. THis is not to say that I don't make dough, I do when I have to and avoid it when I can. I bought a stack of semi-fresh dumpling skins from NTUC, at $1.50 for 200g. Be my guest if you'd like to make the skin from scratch, the filling in this recipe can remain the same.
To fold the dumplings, I did a simple pouch where I fold in the edges from both sides. You can do this, by first sealing the middle, then working from each side in. They also have a variety of other ways to fold a dumpling, which you can check out by following this link.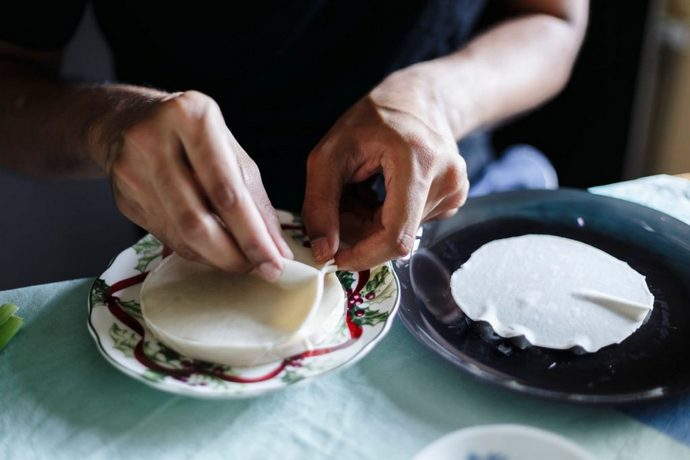 The Filling
While I have chosen a vegetarian filling, you can always go with a meat one if you like. There are many meat alternatives, usually using pork, chicken or a combination of both. However, you must make sure that you're filling is dry – this helps to avoid a soggy dumpling.
This recipe takes advantage of the colours in nature, with striking orange and purple. You can use regular green cabbage, radishes in place of carrots, or even cauliflower rice. The only thing to watch out for is the weight measure – I've used a total of 600g shredded vegetables, you'll want to make sure yours comes up to that, too.
Making dumplings can be frustrating at times, and here's my advice to pull through this – remain calm. Take your time to do it, do not rush it even one bit. Have the water near you, and fold the dumplings gently. This can also be a fun group activity – where everyone can fold a dumpling, too!
Ingredients
Filling
2 Tbsp Oil
2 Cloves Garlic, peeled and minced
1 Inch piece Ginger, peeled and minced
300g Carrots, peeled and shredded
300g Purple Cabbage, peeled and shredded
2 Scallions, thinly sliced
2 Tsp Sesame Oil
2 Tsp Chinese Wine
1 Tsp Sugar
1 Tsp Soya Sauce
¼ Cup Vegetable Oil
Ready-made dumpling wrappers
2 Tbsp Vegetable Oil
2 Tbsp Water
Method
To make the filling, pour the oil into a non-stick skillet and place over medium-high heat. Once hot, add the minced ginger and garlic, and the sliced scallion. Saute on the heat until fragrant, about 30 seconds, before adding the shredded vegetables.
Cook until the cabbage becomes less crunchy, but still retains its vibrant purple colour. Once removed the the heat, add the sesame oil, chinese wine, sugar, soy sauce and ¼ cup of vegetable oil. Stir to mix well. The heat from the vegetables will release the alluring scent of sesame oil - don't say I didn't warn you.
Now for the dumplings. Remove each dumpling wrapper carefully from the stack, and hold it out on your palm. Place 2 teaspoons of the filling into the middle of the dumpling and run the edges of the dumpling with water from your index finger. Fold to desired shape (more information on this in intro section).
Place each dumpling on a baking sheet, until ready to cook.
To cook the dumplings, heat the 2 tablespoons of oil in a large skillet, and add the dumplings, one at a time. When the dumplings begin to have a crispy, fried base, add 2 tablespoons water into the pan and cover immediately. It will sizzle like hell - don't let this deter you.
2 minutes later, remove the lid and check on your dumplings. The steam would have cooked the dumplings' skin. Remove the dumplings from the heat and serve them warm with soy sauce.
https://thecraversguide.com/vegetarian-dumplings/
Copyright belongs to thecraversguide.com.