W Singapore – Sentosa Cove offers up personalised dining delights for the month of September!
W Singapore – Sentosa Cove has been known for its incredible hospitality, awesome pool and delectable food! This September, you can build your burgers and set your Thai food cravings free at this hip hotel, with their fabulous new promotions.
The Burger Lab @ SKIRT
For one exclusive week in September, 19th to 23rd, diners are given the mouth-watering opportunity to build their own burgers at SKIRT, W's homestay restaurant in Sentosa Cove. The process involved 5 different steps which can lead to, according to the restaurant, 20,000 different flavour profiles. Now, that's a lot of flavours to assess and try in just a week, so we'd better get cracking. Guests start by choosing a bun base, ranging from charcoal to even a Sambal Brioche Roll (gluten-free options are available). The patty options include Tempura Crab, Pulled Pork, a combination of Soft Shell Crab and Beef. Then come the never-ending list of add ons, where you can find the usual caramelised onions alongside more luxurious options such as foie gras. Oh, and are you a fan of sweet potato fries? They have a Grilled Portobello Sweet Potato Fries option on their menu, among others, for groups. If you ask me, I'd order that even if I was dining alone –  how can you not?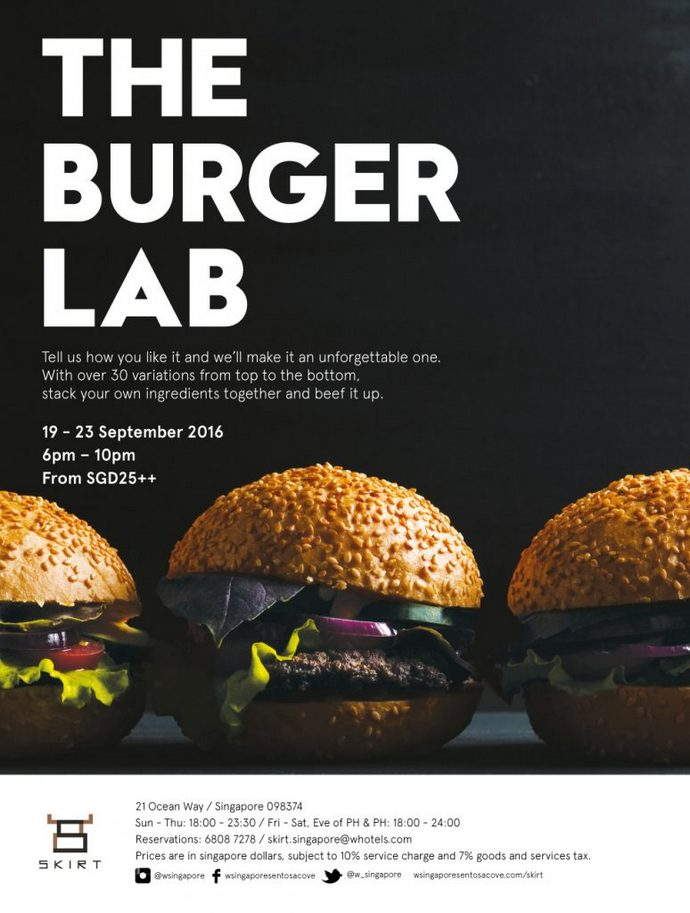 Sawadee-Grub @ the kitchen table
Yes, you guessed it! For the period of 19 – 29 September, a specially prepared Thai menu will be available from Mondays to Thursdays for guests looking to experience a little bit of Thailand right at our sunny shores (or should I say the tantalising docks of Sentosa?). Curated with the classic Thai items in mind, diners can expect the likes of Tom Yum Gai and Pineapple Fried Rice as staples in the spread. Other items include an array of different curries that will be served daily during this promotion, from the very popular Thai Red Curry to the milder Green Curry.
The Thai fresh mango salad with beef is also available as a refreshing starter, along with a BBQ area devoted to Thai grilled pork neck and ribs. And of course, what is a Thai meal if you can't end it without Mango Sticky Rice? In totality, diners can look forward to a true and authentic representation of the kind of food that bites back. If you're not travelling to Thailand anytime soon (like me, for example. I just returned from Thailand last month and already miss it), this is just the perfect place to experience the land of smiles.
September seems pretty alive in W Singapore – Sentosa Cove, and you have to be a part of it. Get going today!