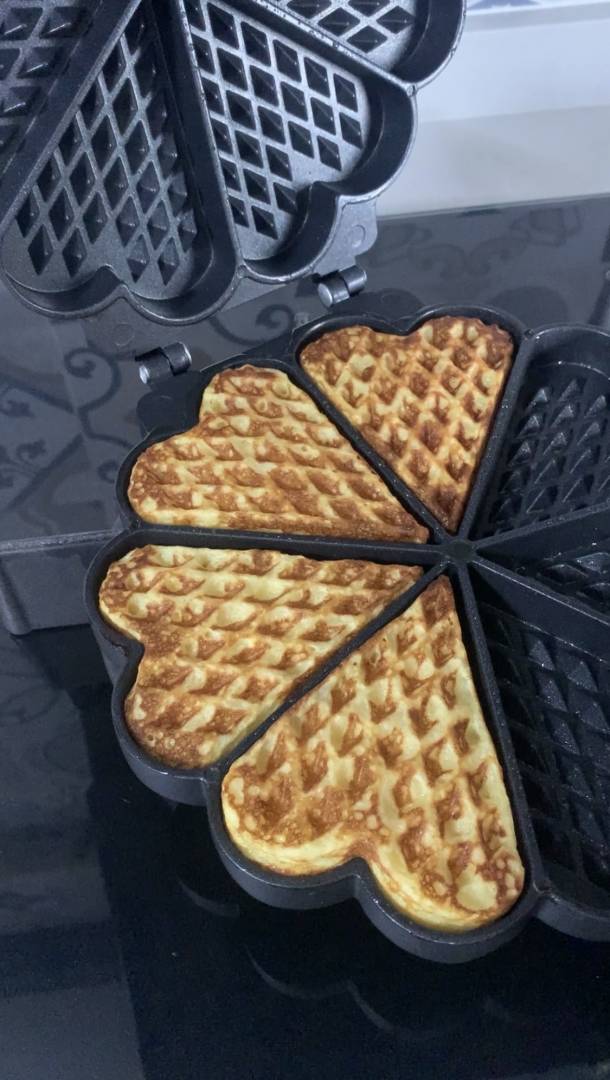 Waffles are everything! This easy waffles recipe makes light, fluffy waffles that can also be frozen. Here's how! 
Waffles that are
Light
Airy
Easy to make
Delicious
Perfect after thawing
Waffles are the kind of treat everyone deserves on a slow weekend morning, especially when it's raining. OK, I fully acknowledge that the weather has nothing to do with eating waffles, you can have these complex pancakes (yes, this is what they are) any time of the day. I personally like making these on the weekend, when I can potter about the kitchen and make this while sipping on my coffee.
Egg Whites in Waffles
This is a pretty straightforward recipe, with the fussiest part being separating the eggs. I'll admit that this is not one of my favourite tasks in the kitchen. If even a single drop of yolk falls into the whites, it's game over. Usually in recipes like this, separating the whites from the yolks and whipping them up to firm peaks is crucial to get light, airy and fluffy waffles (or cakes). The added air bubbles from whipping up egg whites get trapped in the batter when you (gently) fold the egg whites in. This helps to lighten the waffle batter considerably.
However, it's important to note that handling the aerated batter must be light – a heavy hand will knock out the air that we try so hard to incorporate with the egg whites. The trick here is to not fold until every last bit of egg white is gone. I find that it's okay to stop folding in the whites when you see a few lumps or streaks of whipped egg whites in the batter. Stopping here will make sure you don't overdo it when combining the egg whites into the batter.
What you'll need to make the waffle batter
Like most easy muffins, this batter is also a wet into dry mixture, with the addition of folding in the egg whites at the last stage before cooking the batter.
For the Wet
Milk (lots of it) 
Egg Yolks 
Vanilla 
Melted Butter 
For the Dry
Flour 
Baking Powder (for the fluff) 
Sugar
Finally: Whipped egg whites
Butter vs Oil
This recipe can be done with oil in place of melted butter if you're in a pinch. I usually melt the butter and set it aside even before I start the waffles recipe. Using oil will reduce the time you spend doing this, but you might get different results. Using butter makes for richer waffles that are soft, while oil can help produce slightly crisp waffles. Also, the type of oil you use is extremely important – try to stick with something flavourless like sunflower oil – olive oil is a NO-NO.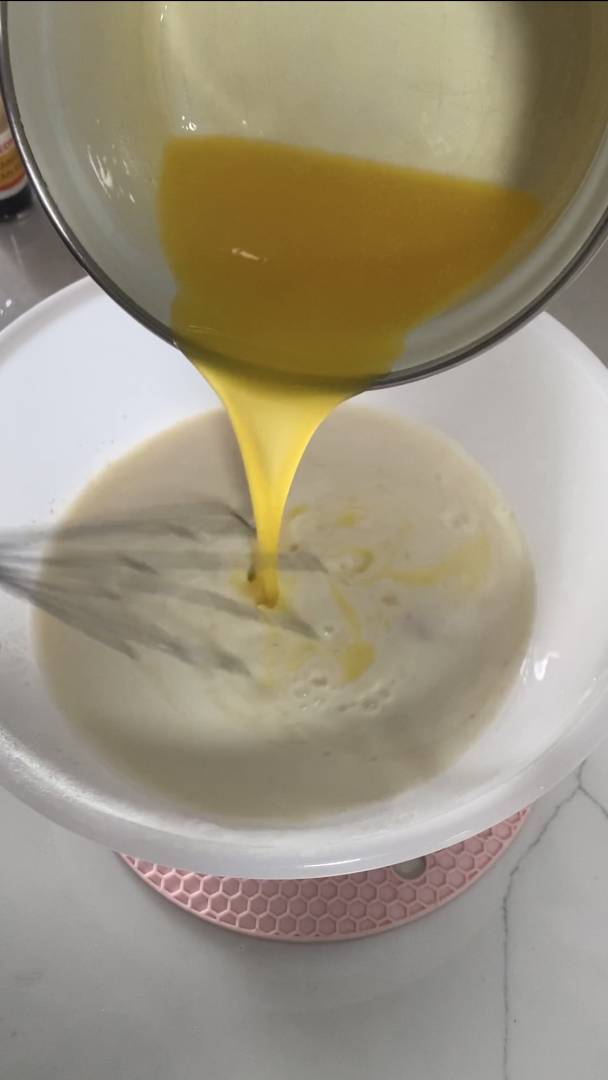 Waffle Iron
I have used a manual waffle maker here. That is to say, I use this iron over a conventional stove. To do this, I use a grease spray to spray both sides of the waffle iron then heat it up for a good 2 mins over a high flame, before going in with the waffle batter. I prefer this, as I get to control the doneness of my waffles.
If you own a waffle iron, buy all means and use it! This recipe is perfect for electric waffle makers too, which is what makes it so good. However, beware of how much batter you fill into each mould before making. I would recommend going with a smaller amount of batter at first, then observing the outcome before adding more batter in the next round. This batter contains baking powder, so you would need to make space for the batter to expand as it cooks. 
Waffles Recipe
Course: Breakfast
Difficulty: Easy
You'll need;
450ml full-fat milk

225g plain flour

2 tsp baking powder

3 tbsp caster sugar

3 large eggs (separated)

125g butter, melted (salted or unsalted is fine)

1 tsp vanilla
You'll need to;
Place the egg whites in a clean bowl of an electric mixer.
In a regular mixing bowl, combine the eggs, milk, butter and vanilla. Whisk this and set it aside.
Whip the egg whites till you get stiff peaks, about 3 to 4 mins depending on the speed of your machine. While the egg whites are getting a good beating, sift the flour and baking powder into another large mixing bowl. Add the sugar and stir everything together.
Then, add the wet ingredients into the dry, whisking while you're at it. At this point, your egg whites should have firm peaks. Fold the egg whites into the batter, in 2 batches.
Stop folding when you get a rather lumpy batter (see above, under Egg Whites).
Preheat your waffle iron after spraying it with a non-stick spray, or brushing on a layer of oil. Once both sides are heated (if you're using a manual waffle iron as I did), start doling out your batter into the waffle iron. You'll want to fill each waffle shape to about three-quarters of the way up. Give the batter some space to expand.
Once filled, snap on the lid, and leave it to cook over low heat for about 2 mins before flipping it over. Cook it for a further 3 to 4 minutes, then slowly remove the lid.
You'll have soft and fluffy waffles, nice and warm. Drizzle them with Gula Melaka Syrup (or Maple Syrup, you do you) and dig in hungrily. 
Recipe Video
Notes
The melted butter will solidify slightly when you pour it into the cold milk (if your milk is cold). This is perfectly fine, chill.