Johor Bahru, the popular weekend haunt for Singaporeans, is a gift that keeps on giving. Here are some new haunts to explore!
Going to JB has become quite the norm for me, especially on long weekends, and I know I am not alone. Johor Bahru has so much to offer with a new surprise at every turn! This trip, I stayed at Taman Abad and discovered a number of new places to hang out and eat. Do the words 'Mala Fish Fillet' mean anything to you? Yup, I thought so. Keep reading.
Lavender, the BreadTalk of JB
Many of you might be familiar with Lavender, a bakery offering an extensive selection of patisserie. I am fully guilty of standing in the snaking queues to pay for freshly baked delights. Some of my favourites include the CD Bun, and the Chocolate Sands Cake (a chocolate sponge cake with a layer of cream in the middle, that crumbles into delicious sand when you bite into it).
Thus far, I had only been visiting the bakery at City Square. So you can imagine my surprise when I found a cafe and restaurant by the same brand. Located at Jalan Jaya, Lavender is a bakery in the front, a cafe at the back, with a restaurant occupying the second floor. The coffee here was immaculate – I was pleasantly surprised at the quality and service. The good thing about the cafe is that everything is baked fresh. The not-so-good thing is that all products have relatively short shelf-lives, as they are baked with no preservatives. Unless you're driving in, I suggest having just the pastries and resisting temptation otherwise.
Cafe de Flore
While the Lavender cafe specialises in coffee and is more western by nature (more of the sort you can find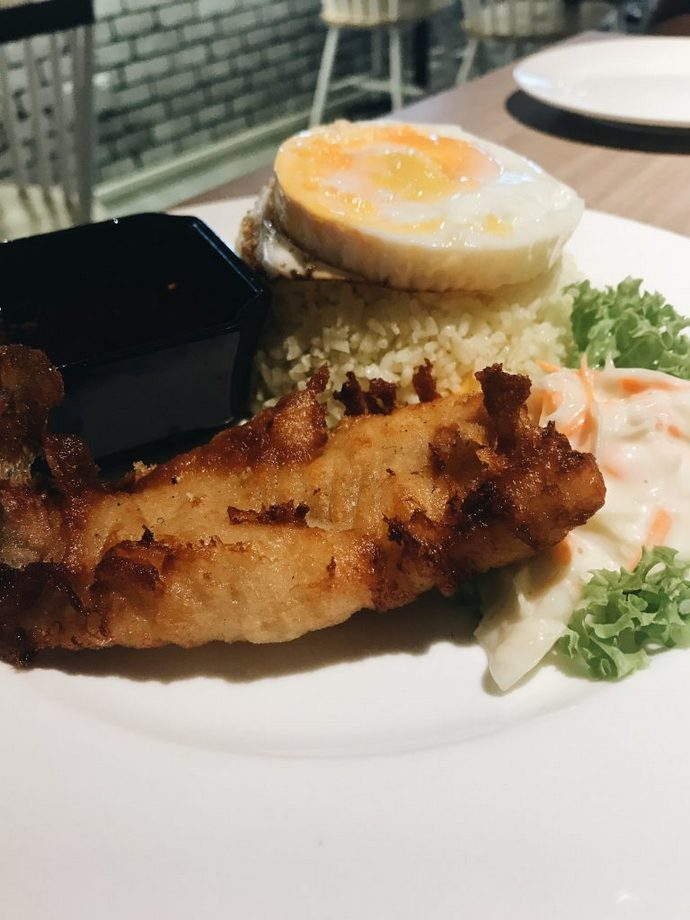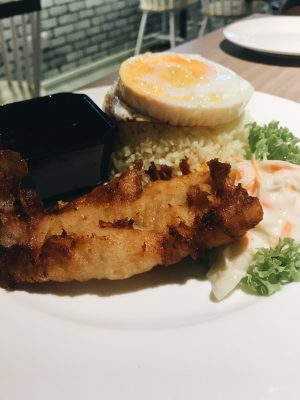 at Jalan Dhoby), Cafe De Flore is an altogether different story. Here, expect to see a more varied menu of Chinese, Malaysian and Western Cuisine. Feeling peckish, I ordered the Mala Fried Fish Fillet with rice. In full disclosure, I have become somewhat of a Mala Enthusiast, since my introduction to this numbing (literally) peppercorn earlier this year at Hai Di Lao.
The Mala here was served as a rich sauce alongside a crispy, battered fried fish – requiring the diner to pour over the sauce sinfully before eating the fish. The sauce was very oily, but I dismissed this as part of the package (also, I love chilli oil). The sauce was every bit the mala I had hoped for, spicy with the nice numbing kick right at the end. The fish was also crispy and delicious, the perfect partner to the yellow rice.
The cafe was designed with a green wall on one side, housing all kinds of fauna (hence the name, I suppose). This eatery is right at the corner of the road and is quite large, with both indoor and outdoor seating. Just be aware that the outside area is where smokers congregate, in the event that second-hand smoke upsets you.
Naughty Nuri's at the Warung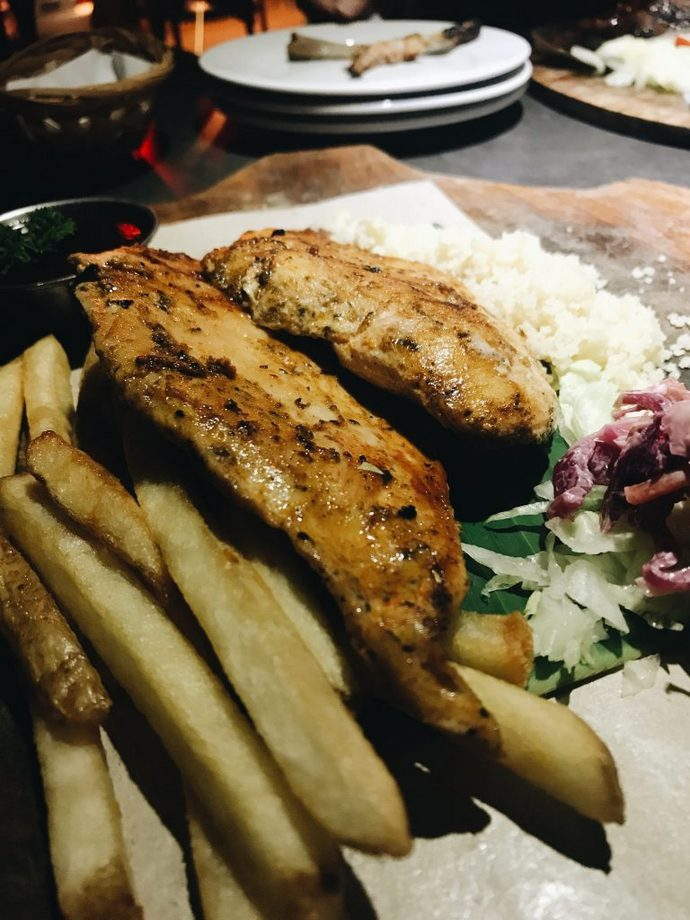 Naughty Nuri's, the popular pork rib eatery from Bali, has a cute little outlet here in Jb, too! You now don't have to spend on expensive flight tickets and breathtaking villa to dine at Naughty Nuri's (not that I will complain about a trip to Bali).
Naughty Nuri's is known not just for their wonderful ribs and potent drinks, but also for a vibe that's specific to Bali – the beach vibe. The vibe here is exactly the same, with red painted walls, uncomfortable seats and LED lights. The waiters do a dance when you order a cocktail, which I found quite entertaining (as an observer, of course. I would be mortified if I had to sit and watch them to the dance for me).
The Pork Ribs were as succulent and juicy as I remember them being in Bali. Roasted delicately with a special seasoning, then doused in a signature BBQ sauce, the meat slid off the bones willingly. They also give you a black sauce, which is slightly tangy, slightly sweet and spicy AF to dip the meat into. I found the sauce more useful for the Cajun Spiced Grilled Chicken I had ordered, which came with a side salad (nay) and spiced couscous (yay!). I have said this before – I am a huge fan of chicken breast. And it unnerves me when it is not cooked right. Chicken breast has a bad rep for getting really dry once cooked. What people don't realise is that it just needs to be cooked right, so that all the juices say INSIDE the meat and don't run out. Normally, I advise keeping the cooked chicken covered for a short bit after it comes off the grill or oven so that the juices that seep out are absorbed back into the tender white flesh.
Popiah for Breakfast
The next day, I was on a hunt for a scrumptious local breakfast. While JB has lots to offer the Brunch crowd, thanks to the myriad of cafes along Jalan Dhoby, there's a corner store kedai kopi that serves to-die-for popiah. And in complete honesty, I don't really like Popiah. But I would eat this one, and quite greedily at that. I could write it out, or make you watch the video below:
My early 20s is when I discovered the joys of JB, a little later in life. I started coming here often, just around the same time the cafes starting mushrooming up everywhere and JB was developing its hipster culture. Today, every weekend sees many Singaporeans running off to JB to either shop, stay or make full use of the services available (Mani and Pedi, anyone?).
The next time you're in Jb and want to explore a new neighbourhood, check out Jalan Jaya. It's very self-sufficient, and you won't be bored, and it will feed the curious foodie in you generously.