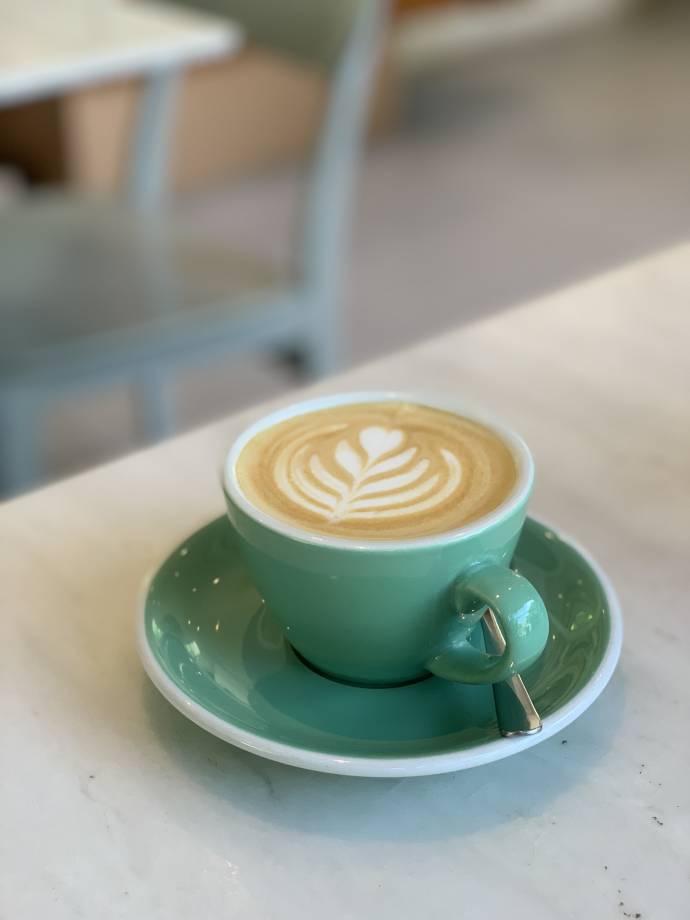 Updated on 3 June 2022 with brand new restaurants!
Bangkok has spankin' new restaurants that have emerged, and others that have weathered the storm of the pandemic quite well. Here's a list of food places to look out for during your trip to BKK!
Aaaahhh Bangkok. I always say I could live in this vibrant city, and I do mean it. But for now, I will settle with what the universe can offer me – frequent visits (barring whatever surprise the pandemic might have for us). Honestly, with this trip, it was a matter of timing. There was a small window of opportunity between Thailand Pass Applications and the Singapore -Thailand VTL that made this trip possible. To read more about what you'll have to do in order to make a trip to Bangkok or Thailand, read this!
Since I was visiting after almost 2 years, I was seeking medication for Thaicoma I had developed. And I found salvation, and my salivation to be truthful, in local food. I did have western fare – the Thai cafes serve up a mean big breakfast. But for the most part, I had Thai food on varying budgets. Here are the places to look out for when you hit the streets of Bangkok!
I did another similar list of places to eat in BKK, from my trip in 2019! You can find that article here.
How to read this guide: The Fancy Meter
I've rated the eateries below on my very own, patented, Fancy Meter. It's a simple scale, where 1 would mean least fancy (AKA street stall or market) and 5 would mean most fancy (think restaurants with air-conditioning and kind waiters who speak English). This is not a reflection of how good the food is, though. This is mainly because if I did not enjoy the food, I would not feature the restaurant.
Jey Fai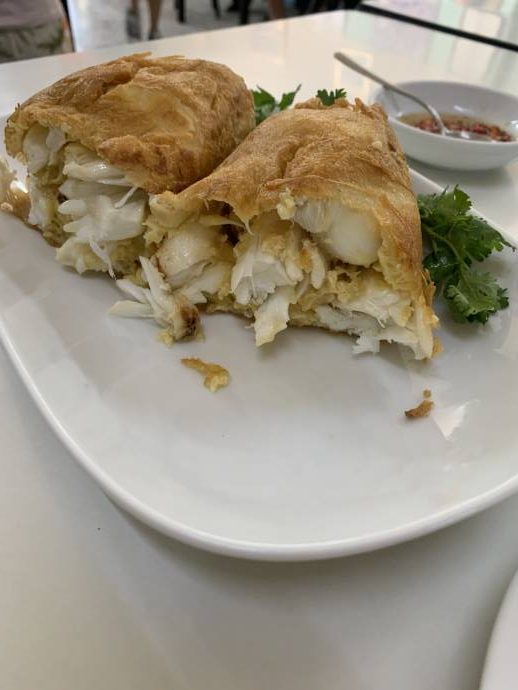 This street-food stall turned international sensation is of course on the top of my list. And yes, I did see Jey Fai standing over the hot wok and cooking away much like in the Netflix documentary. Here's a fun fact: Jey Fai is not even her real name – it literally means 'the sister with the mole'!
The food here did not disappoint, though I must say it is on the pricier side. I was told by my local friends that she did not change the prices – it's been the same throughout the years. One crab omelette is about $40 SGD, although it does come chock-full of crabmeat. I had the Tom Yum as well – my first during this trip. Here's my tip: ask for a spicy version. This one had plenty of flavour but was missing the heat.
You will have to book in advance, and then show your email confirmation when you arrive. Here's the email address, in case you plan to go: jayfaibangkok@gmail.com
Fancy Meter: 2.5/5 – sit down street food
Patpong Streetfood morning market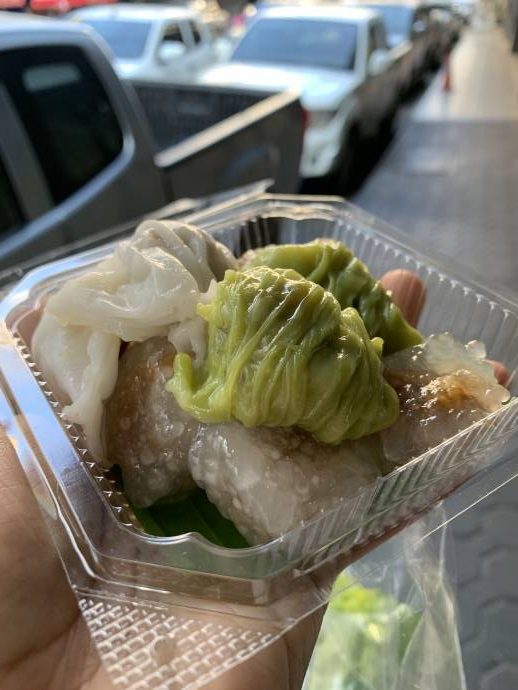 I discovered this morning market during my obsessive prowling of YouTube videos on all things Bangkok. Although this market looked A LOT fuller and busier when it was featured, I must say I totally enjoyed the vibe here. This is in Patpong, which is a red-light district of Bangkok. However, you can be rest assured that there will be no red light activity whatsoever at 7 am in the morning – which is when you should visit this place.
Try the Patongo, which is similar to our ee-char-kuey but shorter, cuter and served with condensed milk. Also, try their Pandan Custard cakes, Sakoo Sai Moo (sago covered pork) and Khao Kriyub Phak Moh. This is a steamed dumpling, filled with sweetened minced pork and shredded radish.
Fancy Meter – 1.5/5 – street food
House of Sathorn
House of Sathorn is actually owned by W hotel, which is located right next to this iconic house. In a sea of high-rise buildings, this house has been a perfectly preserved traditional Thai landmark built in the 1800s. Having changed hands many times, this house is currently rented to the W Hotel group, which then transformed into a trendy restaurant.
I had the Steel Cut Papaya Salad – this was extremely spicy for me, even though we highlighted to the wait staff that we'd like it 'less spicy'. Proceed with caution for this dish! We also had the prawns in tamarind sauce, and a very traditional Pad See Ew. The Pad See Ew was very good and not at all spicy, which worked great to be paired with the fiery papaya salad. The prawns were gigantic and carried the complex tang of tamarind very well. I daresay this dish would not have worked with regular prawns – only gargantuan river prawns will do the trick.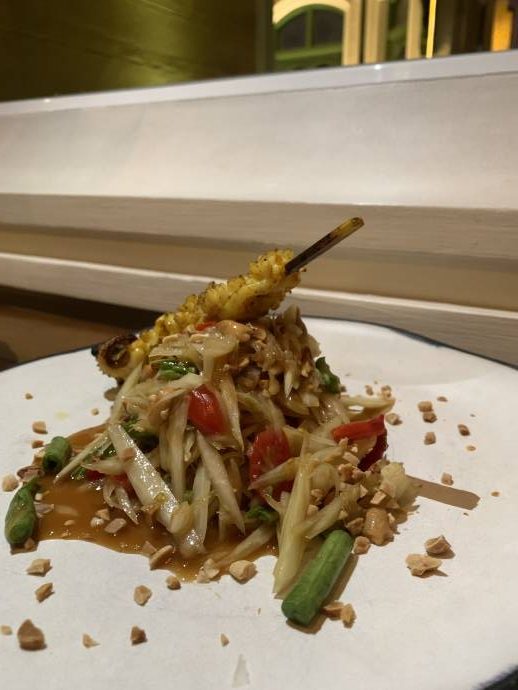 Book in advance via their website. They serve alcoholic beverages, and the staff are extremely professional and nice. You can learn a bit about the history of the place, too!
Fancy Meter – 5/5 – Fancy and Fabulous AF
Honeyful Cafe
This beautiful cafe was located very near to where I was staying; Skyview Hotel Bangkok. They are unique because they use honey to sweeten everything from coffee to ice cream and French toast – all of which I ordered after I had checked in and was in dire need of coffee. I had the honeyful toast, which is a buttery thick fried toast soaked in floral honey.
If you like what you taste, you can purchase the honey from the shelf as well! The kind owner will talk you through the various types of honey they have, and the origin of each.
Connect with them on their website or Instagram! You can find them in Bangkok, close to Phrom Phong BTS Station. Here's the reference!
Fancy Meter – 4/5
Bru Cafe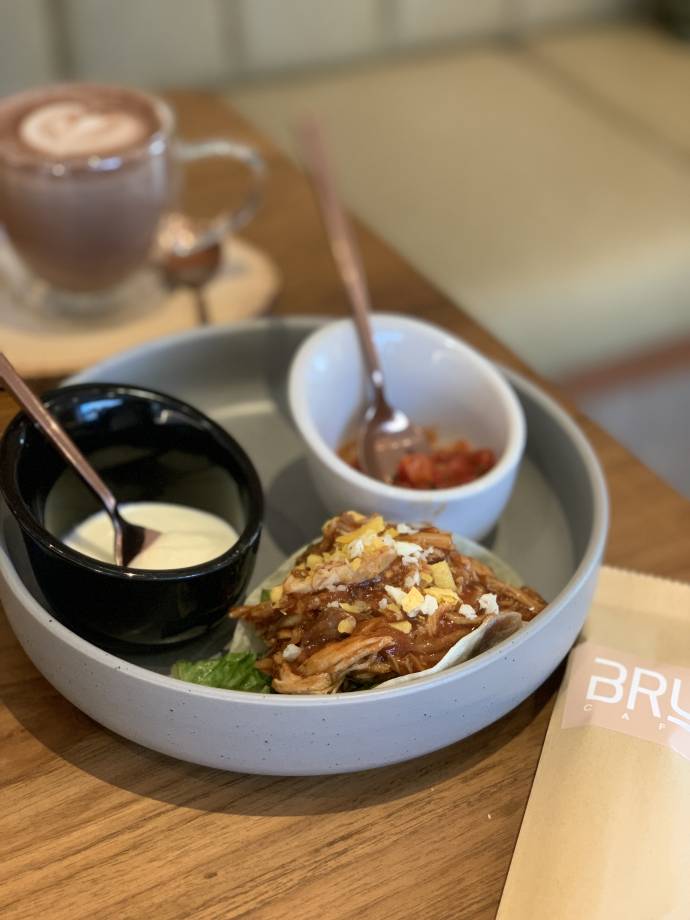 So ya'll know about my obsession with this Indian coffee named 'Bru', right? Although this cafe did not serve up a hot cup of Bru, they did have a very good cup of coffee to go with their breakfast bruschetta, Bru Big Breakfast and Pulled Pork Tortilla. The bruschetta was a vegetarian-friendly option, where the bread was so crispy and almost cracker-like and the topping on each was balanced with well-rounded flavours.
Although this cafe is in the Phrom Phong area, it was a bit of a walk (like 20 mins). I wouldn't propose doing this before coffee, though it is an adventure indeed!
Find them here, and follow them here!
Fancy Meter – 3/5
Baan Khun Mae
I go to MBK for clothes and now, apparently, food too! This restaurant is located where the old Pizza Company stood inside MBK shopping centre, right at National Stadium BTS.
I had the Chicken Fried Rice, Pad Thai and for dessert, water chestnut in a coconut milk broth. Every single dish was good – the fried rice had the right amount of meat, rice and wok hei needed to make it a perfect Thai fried rice. The meat was breast, too! This was perfect because I was craving Thai fried rice this entire trip!
The water chestnut in coconut milk broth is really the Red Ruby we so dearly love here in Singapore. However, the rubies are more orange than red (so… topaz/garnet?). This had no impact on the taste, and as a professional and obsessive eater of Red Ruby Desserts, I can say that this was aroy maak!
Here's their website!
Fancy Meter – 4.5/5
Yok Sod Bpai Teoy
This is probably the smallest establishment on this list, but boy does it have a huge impact. I have been following them on Instagram for almost a year now, and every little pandan creation they serve makes my heart flutter. So you can imagine my joy when I got to sink my teeth into piped morsels of Piakpoon Kati. This is a traditional Thai pudding topped with coconut milk and toasted sesame seeds. It was what sweet dreams are made of.
You can find them in a number of locations, though the one I went to was at Siam Paragon.
Fancy Meter – 3/5 – Kiosk in a high-end mall
Toby's on Sukhumvit 38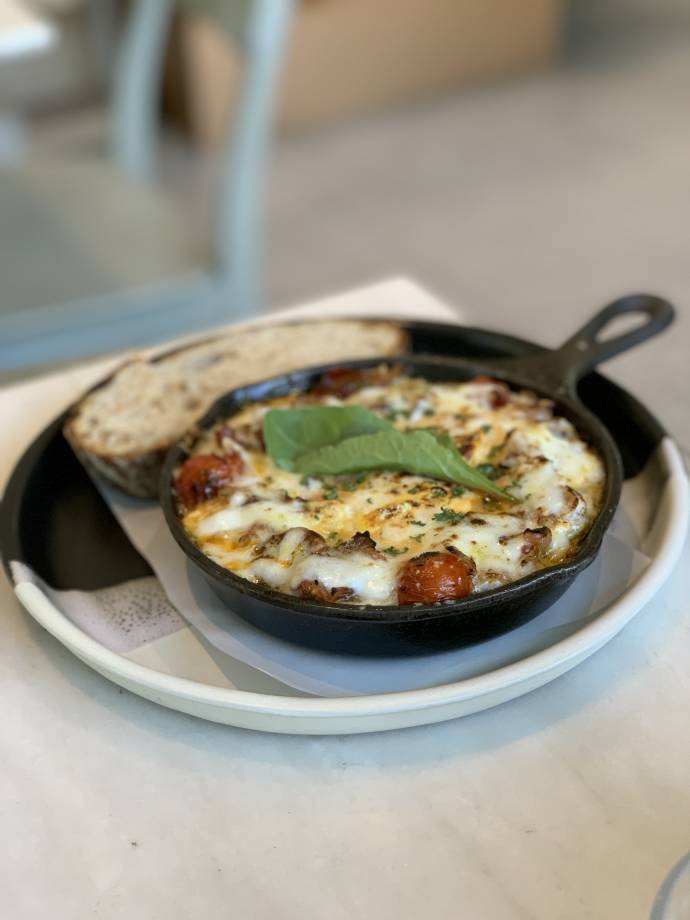 This is a cafe I found around the Ekkamai area. It's a little far out from the BTS station, and requires a bit of leg work to get to – you can take a grab over if you're not into the walk from the BTS station.
They have an expat popular menu of Shakshuka, eggs with sourdough and other delightful dishes. I found the coffee here to be particularly pleasing – I downed 2 mugs full of their latte. Highly recommended for a modern breakfast in the corners of busy Bangkok.
Fancy Meter – 4/5
Vela Rooftop Bar
A very local place – I found ONE foreigner here, other than me. I discovered Vela via Instagram, and it's located on the outskirts of the city centre, right by a BTS station. Although modelled as a bar, this place served up really good meals with both indoor and outdoor seating areas. The outdoors are purely magical, with strings of fairy lights giving off a very NYC vibe. The indoor features live music with very talented musicians!
Try the Marinated Pork Ribs – a huge portion with deep Thai flavours. I had the pan-fried salmon with a Thai curry reduction – the salmon was done just the way I like it! They have pretty neat drinks too, their signature cocktail (the Vela) carries fruity notes with a floral aftertaste.
It's difficult to reserve your spot here, and they are usually quite packed (even on Monday nights) so I would recommend contacting them via Whatsapp or calling them after you've gotten your Thai number. Here's their Facebook page with all the details!
Fancy Meter – 4.5/5 (I really loved this place)
Roast – Em Quartier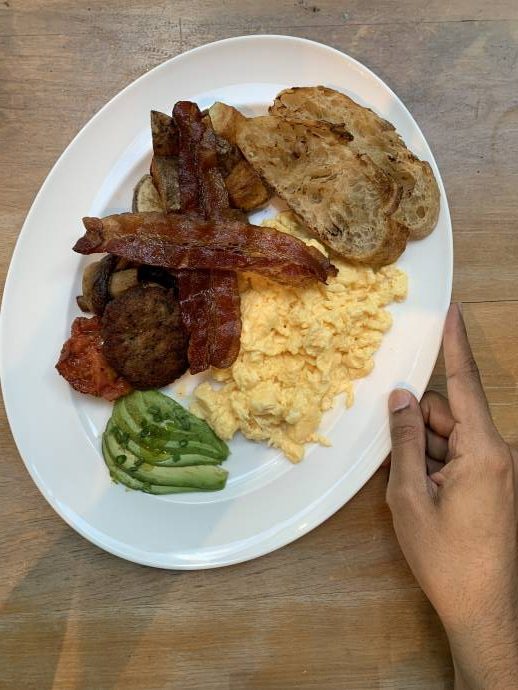 Roast is located inside EmQuartier Mall, which is connected to Phrom Phong BTS station. Because they are located in a mall, you can only access this place after 10. They have a very handsome menu and really cool vibes!
I tried their classic breakfast with bacon and eggs, and their ricotta pancakes. Every single thing I had here was extremely delicious and very filling so order cautiously. You can follow their Instagram and check out their website to see where their other outlets are!
Fancy Meter – 4/5 (But like, for a cafe)
South Tiger – EmQuartier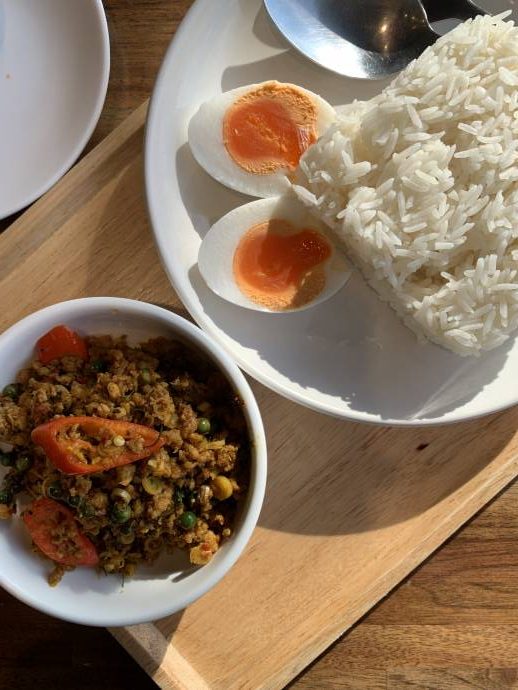 Featuring Thai food from the South (think Hat Yai and Surat Thani), South Tiger is perfect for those looking for a truly spicy foodie experience. They stay true to their southern inspirations here – some of the dishes on the menu were quite unrecognisable.
I tried the Kua Kling and immediately fell in love with it. It was extremely spicy and I had much difficulty eating it but boy did I finish it up! The heat is not just from chillies, but a medley of earthy ingredients such as galangal, lemongrass, dried chillies and tiny peppercorns.
They do have mellower options such as a very mild-looking Green Curry Chicken, though even that comes with a hint of heat you can taste in every mouthful. I found the food here to be very satisfying! I dined during off-peak hours, you can find more information on their Facebook Page.
Fancy Meter – 4.5/5
Thong Sweet – Emquartier
Thong is derived from 'Thong Guimar', the creative inventor behind many Thai sweet delicacies. This dessert shop has a small but rich menu of innovative Thai sweets. After my rather hot meal at South Tiger, I opted for an icy coconut milk dessert – essentially Thai cendol. Loved the pandan strands floating in cold coconut milk – helped my tongue stop burning!
This place doesn't really have a website, but you can reach them via EmQuartier Mall – just ask for Thong Sweet at the mall concierge.
Mustard The Scone Shop Sukhumvit 24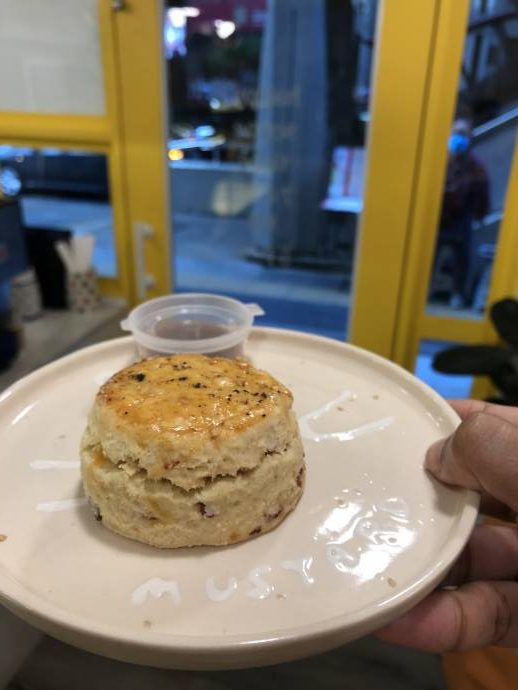 I cannot resist a good scone with a cup of tea. Except here, I had scones with coffee ('cos it was that time of the day!). This is a very small scone/tea join right at the foot of Phrom Phong BTS Station. They sell a small variety of scones, all freshly baked, accompanied by iced or hot tea. They have a latte machine too, in case you're a caffeine addict like me.
I had the sweet cranberry scone, and salty/savoury bacon and cheese scones too. Both were very good, especially with jam and salted caramel sauce. They have erratic opening hours though, so it's best to check if they are open on Google Maps or on their Facebook Page. This is not much of a dine-in place either, they have just 3 seats and a bar.
Fancy Meter – 3/5
KHAO Ekkamai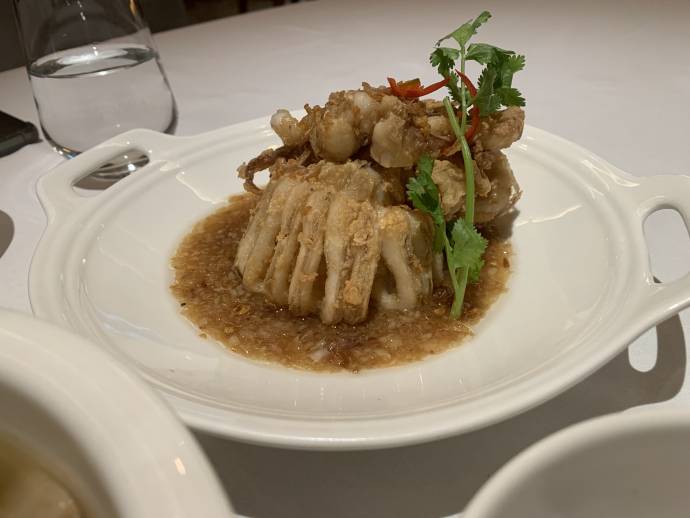 'Khao' stands for rice in Thai. This restaurant is located in one of the inner sois of the Ekkamai area and requires a taxi or tuk-tuk to reach. You could walk but it's more than a 20-minute walk from the train station.
The food here is a combination of various regional cuisines, including Esarn, Chiang Mai and Hat Yai. They also have a decent selection of alcoholic beverages. The waiters are very knowledgeable about which dishes carry flavours suited to your taste, so do ask them to recommend some items. I had the omelette, prawns with wild ginger soup, deep-fried squid with garlic and seasonal stir-fried vegetables with fish sauce and Thai garlic.
For a restaurant with such an extensive menu, they have a smaller selection of desserts than I would have expected. Regardless, Kanom Leb Mue Nang with sesame ice cream was very, very good. I don't like sesame very much unless it comes deep fried in something and I can't taste it very much. The kanom leb mue nang, or ladies fingers, are soft jellies made with tapioca and rice flour in different colours. This is served with a sprinkling of peanut sugar. However, this is not sweet at all – the ice cream carries all the sugar so it makes a perfect pairing.
You can book a table via their website, which links to chope. You can also check out their menu here.
Fancy Meter – 5/5
Praram 9 Kaiyan
This was a rare find and a solid gem. You see, Bangkok is indeed the mall capital of the world – they have so many malls within just one district yet every mall is so full. One such new mall in the Pratunam area is The Market Bangkok, right next to Big C shopping centre. Although many units in this mall are still unoccupied, I managed to find this sweet little restaurant at a corner in the back of the mall.
This is a very local joint; even the menus aren't in English. They only have a short description of each dish in English which came in very handy. The staff are not very friendly either, so don't expect smiles and welcome that other restaurants so willingly offer to foreigners.
This restaurant was easily the cheapest meal I had in the whole of Bangkok, even though it's located in a mall. I tried their Corn Salad (which is really Som Tum but made with corn kernels instead). This was a very, very spicy number. I also liked that they used Peanut Brittle in place of actual peanuts. And they don't warn you either so you'd want to order some milky drink to go with your food.
You could actually just walk into this place, though do check out their menu first on their website.
Fancy Meter – 3.5/5
[NEW] Supanniga Bangkok, Thailand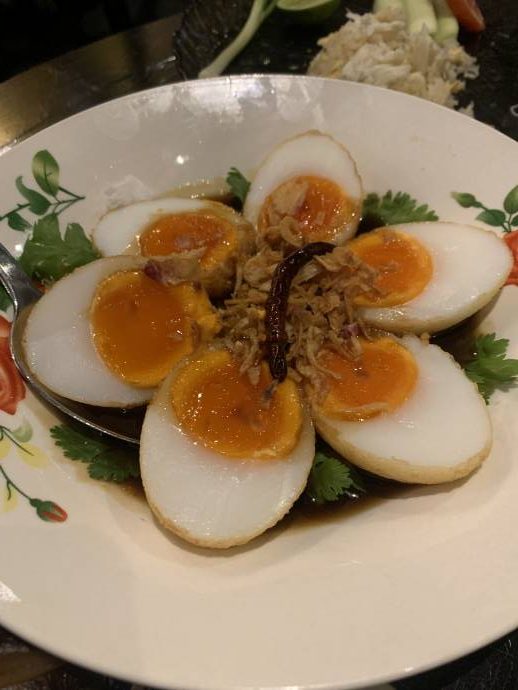 Supanniga in Bangkok is another local restaurant that I feel will benefit greatly from having an outlet here in Singapore. All dishes here are cooked and prepared with the utmost care, even the presentation is stellar. Price-wise, it's best to expect the same as when you dine out here in Singapore. While this may be considered pricey for Bangkok, the quality of the cuisine more than deserves the bill.
Try the Son-In-Law Eggs – boiled, fried then sliced in half and topped with an appetising tamarind sauce and fried shallots for added crunch. The Crab Fried Rice was very tasty. It came with a side of chilli padi slices dredged in fish sauce, which added a nice punch to the dish.
Red Curry Prawns – These were very, very freshly caught and cooked freshwater prawns. The prawns, shells intact, were sliced lengthwise down making it very easy to fork out the tender meat from the shell. Then, a red curry reduction was poured over the the prawns making this one hell of a delicious meal.
Read the full review here, including what I had for dessert.
[NEW] Go Ang Pratunam Chicken Rice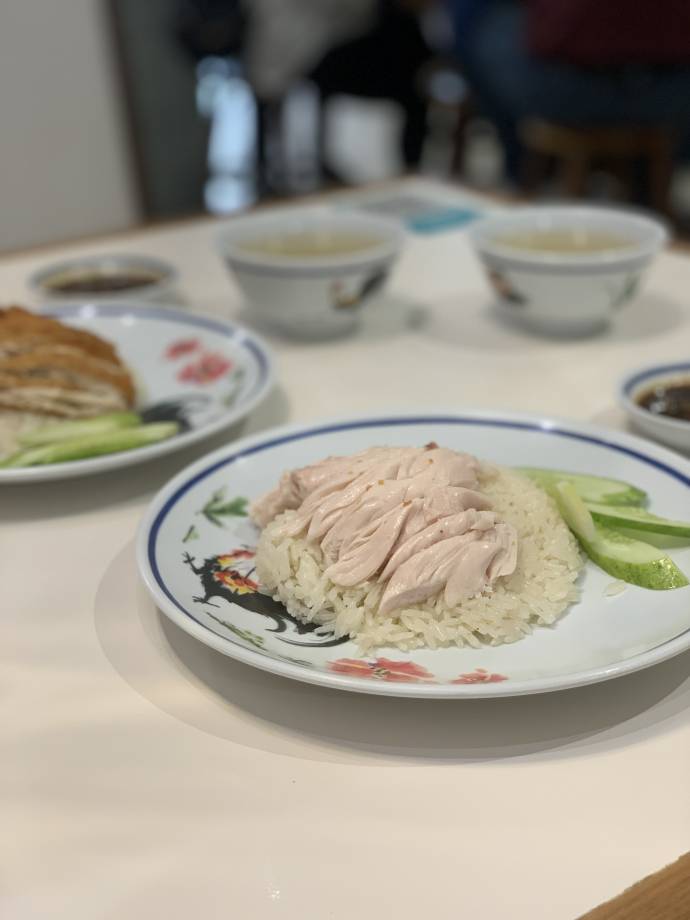 Go Ang Pratunam is now a brand name, not just merely Thai chicken rice. This place needs no introduction, though there's something special about trying the dishes from the very first Chicken Rice Shop in Bangkok – in Pratunam itself! Get here early to avoid crowds, and try the classic Chicken Rice. Each plate of chicken rice came with a very fragrant bowl of soup – the soup I loved very, very much.
The fried chicken was surprisingly juicy for chicken that's been breaded and fried – but there was a 1:1 ratio of meat to crunch. Meaning to say, there wasn't much meat. For dessert, try the Ginko Nut in Cold Milk. I loved the cold, slightly sweetened milk and juicy gingko nuts that had a bitter bite to them.
[NEW] Thipsamai
Thipsamai is hardly a new place to check out, but here's why this place is iconic: Pad Thai. The Pad Thai here has been popular as a late-night supper option for those who are slightly inebriated and in need of a quick fix. Located right next to Jay Fai, this street food classic dish is served now in a variety of options, from River Prawns to King Prawns to even vegetarian options.
Covid has impacted this eatery slightly differently in that they are no longer open in the afternoons for dine-in. They offer takeaway, however, in very nicely packed containers where the prawns are plump, pink and very fresh. You can also tailor your order to not include beansprouts, which is a requirement for me. The takeaway noodles actually remain fresh even after an hour of travel back to the hotel and are definitely still tasty.
I would recommend going here the same day as Jay Fai, but you'll have to do some heavy eating.
Fancy Meter – 3.5/5
[NEW] Mark Wein's Phet Mark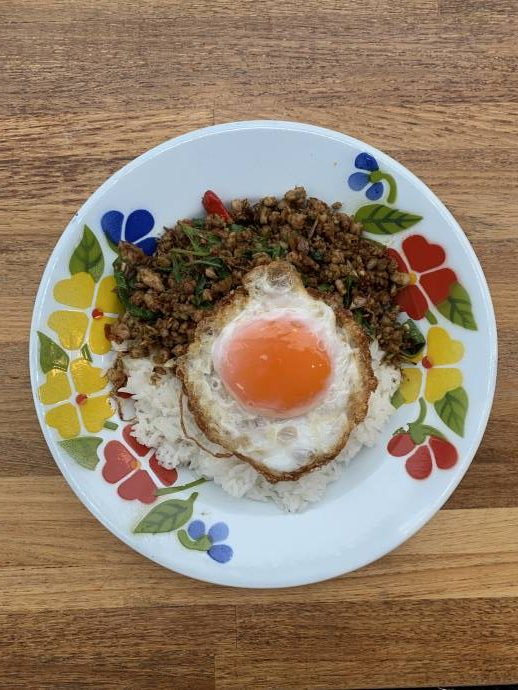 This place is owned by YouTube legend Mark Weins! He doesn't promote it a whole lot on his channel, and I found Phet Mark through other youtube videos of people in Bangkok. This place is hardly fancy, with one long table and stools and a bar table against the store window.
There's only one item on the menu – Thai Pad Krapow! They have seafood, pork and a vegetarian version of this iconic Thai dish. What's unique is the spice levels offered to diners – there's the least spicy (1) and most spicy (5). I got a level 3 – it wasn't spicy at first but the heat builds up as you eat it, so I was quite thankful in the end for playing it safe.
The takeaway option is more popular here than dining in, as seats are limited. However, I would recommend checking this place out when you're in the city. The krapow is tasty but it's the spice levels that make this experience so worth it!.
You can get here via BTS Skytrain – simply take the train to Ekkamai station, and walk over!
Fancy Meter – 2.5/5
[NEW] Holey Artisan Bakery
I found this place after scouring the map for a bakery that sold freshly baked sourdough bread. Located in the Japanese area of Sukhumvit, this cafe opens its doors at 7 am daily for all who desire a fresh sourdough sandwich.
In addition to selling whole sourdough loaves, you can also order breakfast, lunch or an early dinner from their rather extensive menu. I had the Thai Green Curry Chicken Panini sandwich for breakfast, along with a coffee (of course!). Every morsel of this sandwich made me very happy, though I couldn't finish it. However, I saved the second half of my sandwich to have in the evening – and it survived!
Getting here is a bit of a walk, though if you're heading here for breakfast then you'll certainly enjoy the walk. The roads are usually quite empty, with many of the stores still closed. The nearest BTS station is Phrom Phong, though technically you could walk from Asok BTS Station too!
Fancy Meter – 4.5/5
Safety First
There you have it! All the beautiful places that I experienced in Bangkok towards the end of 2021. Given the multitude of new variants and how each variant has a more destructive personality than the last, it's best we proceed with caution when it comes to travelling.
Stay updated on the current restrictions for travel in Thailand, and do stay safe when you travel.
Happy New Year!