Old Chang Kee's New Flagship Store along MacKenzie road (across Rex Cinemas, Little India) is more than just the biggest Old Chang Kee outlet to date. It's a historical marker that symbolises the humble beginnings of a well-loved brand, and an inspiration to any aspiring entrepreneur.
Old Chang Kee is a staple brand in Singapore – I have had many informal tea and coffee sessions with my family on Sundays, over a selection of Old Chang Kee goodies. Spanning the range of the classic curry puff, known as the 'Curry O', Old Chang Kee is one of the 2 places where I really learnt to enjoy a sardine curry puff (Sardine O). Recently, they launched a limited edition Nasi Lemak curry puff (such is the market value of curry puff in Singapore, where a limited edition version actually begets customer spend) which merged the very popular local (or Malaysian; food purists please don't come after me) dish with a timeless classic.
Where it all began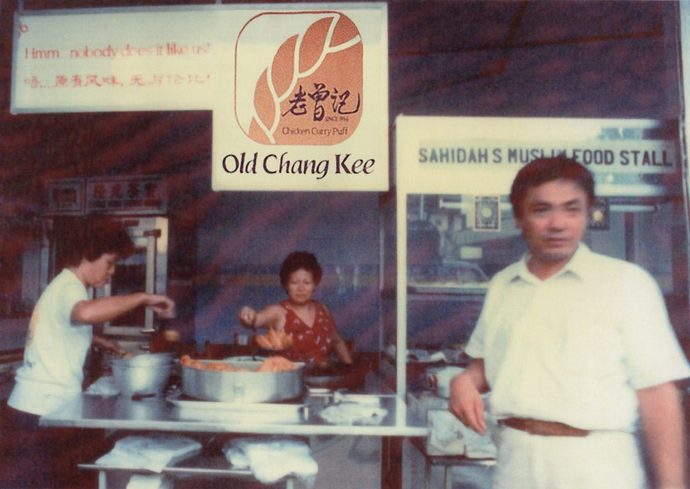 Of all the things that I heard during the press launch for this, the one thing that stood out was the element of history behind this storefront. Back in 1986, Mr Han's first curry puff store was at this very corner of MacKenzie road. He stood there (dressed to the tee, as I saw from the black-and-white photos hanging on a wall of the eatery), selling his curry puffs on a small scale. There wasn't enough space for him to stand behind the pot of oil used to fry the curry puffs, so he stood in front of it by the road-side and serviced customers looking for a snack. Such were the humble beginnings of this household brand, now loved and cherished by many across the island.
An extensive menu
While the corner where Mr Han stood iconically to sell his curry puffs has been restored now to be a modern-day storefront bearing semblance to its 1980s predecessor, the interior of the coffee shop interior has been filled with tables and chairs to await hungry customers who want to indulge in other classic Singaporean delicacies besides the curry puff and sotong balls on-a-stick, such as a Dry Laksa Goreng, Chicken Curry or Chicken Stew with bread, Hainanese Chap Chye and Nasi Lemak with Dry Curry Chicken.
Dry Laksa Goreng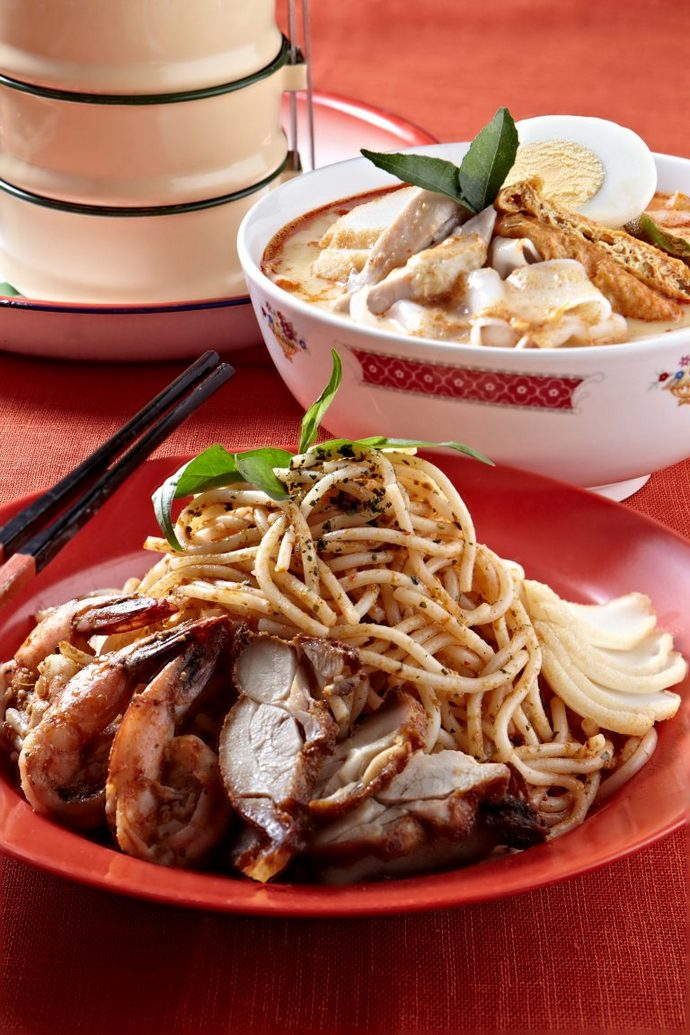 Most of the press in Singapore are smitten with the 'Flower Bread', because of how pretty it looks no doubt. But I could not get enough of the Dry Laksa Goreng. It had all the promise of a typical Singaporean Laksa, and then some. The rempah for the laksa had been reduced to a thick paste (thicker and drier than what you get from the bottle, which tells me that this flavoursome paste was probably made in-house), then used as a skimpy but reassuring dressing for the noodles. With prawns and fish cakes (and no cockles, sorry to disappoint), this dish was a dream. If you're thinking that this was probably just too dry to be palatable, I dare you to try it. You'll be eating both your opinion and the delicious noodles.
Find out how Laksa is loved by foodies around the Asian Region!
Flower Bread with Curry Chicken and/or Chicken Stew
The flower bread with chicken curry immediately reminds you of the 'Golden Pillow', another Singaporean favourite. This is slightly different – the puffy, light-as-air and soft-as-cotton bread is baked in-house, where the curry is also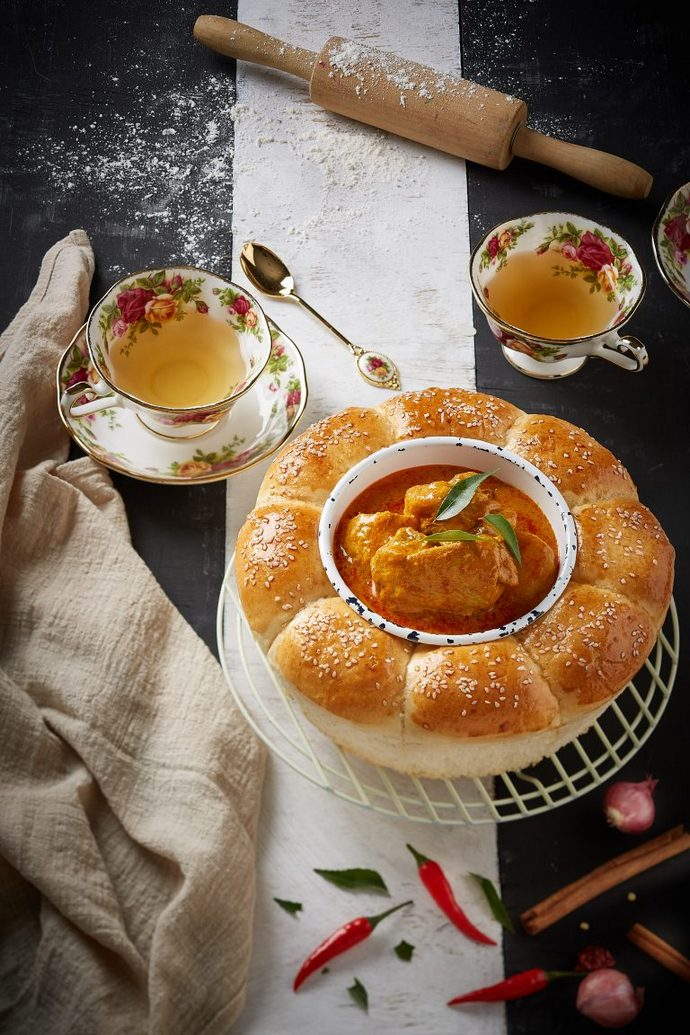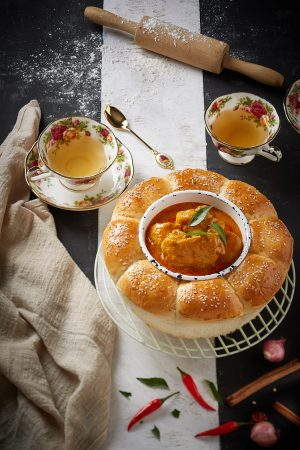 made from scratch. The curry comes in a bowl surrounded by the bread, making this a very pretty picture. The concept? Dip the bread in the curry. You can't go wrong with a combination like this, where the chicken curry was full of spices and fat, juicy pieces of chicken.
Nasi Lemak with Dry Curry Chicken
Nasi Lemak has seen many adaptations this year – from becoming a curry puff to a burger and starting a war on the blogger-sphere between Singapore and Malaysia. But like all modern day adaptations, there's nothing quite like the original. This nasi lemak was lightly cooked, with the rice evenly plumped and fragrant with the scent of santan kelapa, or coconut milk. The chilli was on point, where the heat hits you after you start chewing. No fried fish is served with this, but they have a dry curry chicken. I wasn't complaining though. By the time this was served I was just too happy with the good food (and that it was a Friday, but that's another story).
Going back for more
The visit to Old Chang Kee's new flagship outlet was a fruitful one for me – I caught up with old blogger friends, made new ones and had one helluva meal. I also found a new place for my family and I to go for tea. Instead of us having to buy Old Chang Kee goodies back to my grandma's place for an afternoon of chatter, I'm driving them all straight to this flagship store. Will you join me?