All Aboard! 
From zip-lining over the ocean to dining at swanky (international) restaurants and dancing the night away at Zouk, Genting Dream Cruise is full of surprises! I had the pleasure of experiencing their 5N Cruise to Port Klang (KL), Penang and Phuket and had so much fun that my heart crashed when we docked back in Singapore.
I have to stay first off that I have never been on a cruise before. And I am deathly afraid of the water. A cruise had always sounded like a nightmare to me, but the invite at the end of 2017 was a calling to face (one of) my fears. I cannot be happier that I did. Here's what going on board Genting Dream Cruise on a 5 night trip is like. You'll see at the end of the post why it's worth every penny of that $1,500++ you spend, and the 5 Days leave you'll be taking.
Accommodation
Checking in was a breeze! You get your room key after scanning your passport. Boarding comes right after scanning your luggage and going through the necessary immigration checks. The first day, check in is at 3 pm. I stayed in a Balcony Stateroom. The balcony rooms on every cruise ship are a dream I would imagine, and this was no less impressive.
The room was very spacious for a cruise ship. There was a decent queen bed and a pull-out bed which I used as a couch. They even provide bathrobes and fuzzy slippers, especially essential when you step out onto the balcony. The balcony space is just right, with stunning views all around.
The room has all amenities, including a 32-inch tv that has even the Disney channel. Hot water kettle, tea, coffee, fridge, a high powered hair dryer, shower gel and stuff (that smelled amazing) and an in-room locker are provided to ensure that ppl staying here have the full luxury service of being on board a cruise ship. The showers had glass partitions and plenty of hot water, which was simply great.
They have a few tiers of rooms, from the simple (windowless) rooms to the luxurious suites. Suite guests have free wifi and an exclusive wine list in their package, along with a private pool and hot tub deck and private access to an exclusive restaurant. Here, the food is simply out of this world – guests choose from either an Asian menu or Western menu. The lobsters are simply magnificent. Although guests who aren't staying at the suites might miss out on this, they will be spoilt for choice thanks to the many restaurants available!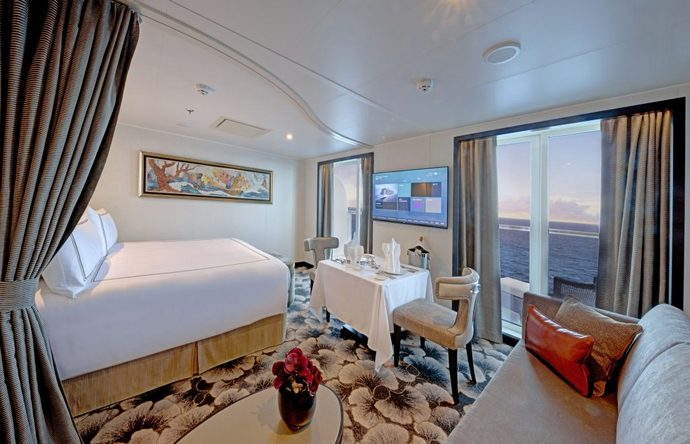 Dining
The standard package normally includes breakfast, lunch, dinner and tea (late morning and early evening) at three inclusive restaurants. However, Genting Dream Cruise offers over 35 different dining establishments for guests to enjoy a variety of options while on board the ship. Every restaurant has a unique twist to it and the interiors reflect the soul of the food.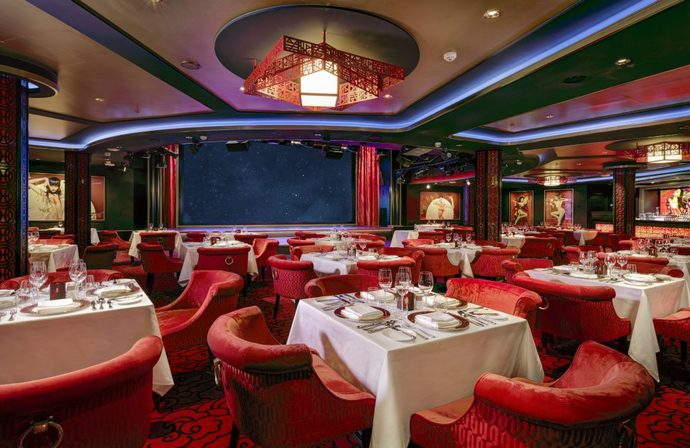 In Silk Road, everything from the furniture to the walls are done in a deep, rich red to reflect the classy, fine-dining vibe of the restaurant. The Dream Dining Upper and Lower Decks (both inclusive) serve Chinese and Western fair respectively. The menu changes every day, and you can take a look at the menu before going in.
The inclusive restaurants scan your key-card when you enter the restaurant, allowing you to dine once. If you exit and enter again, you will be charged $15 for the second meal.
The Lobby Cafe and Breadbox are great for when you're looking for a snack or something light during tea time. Umi Uma is a Japanese sushi/teppanyaki establishment where the chefs put up an impressive show on the griddle. Genting Dream also has the best salted-egg yolk crispy fish skin. You might think I'm exaggerating, but I really, truly am not.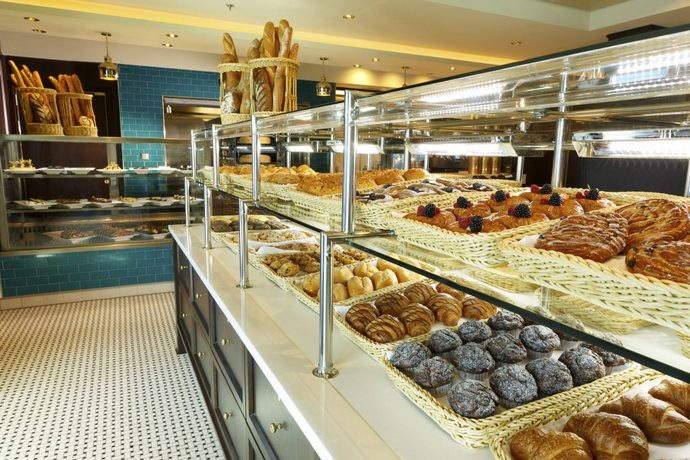 At Blue Lagoon, an exclusive restaurant, the Hokkien Mee, Spicy Fish Soup and Salted Egg Yolk Crispy Fish Skin are the bomb. The dishes come at affordable prices – sort of like what you'd pay for the dishes in Singapore food courts.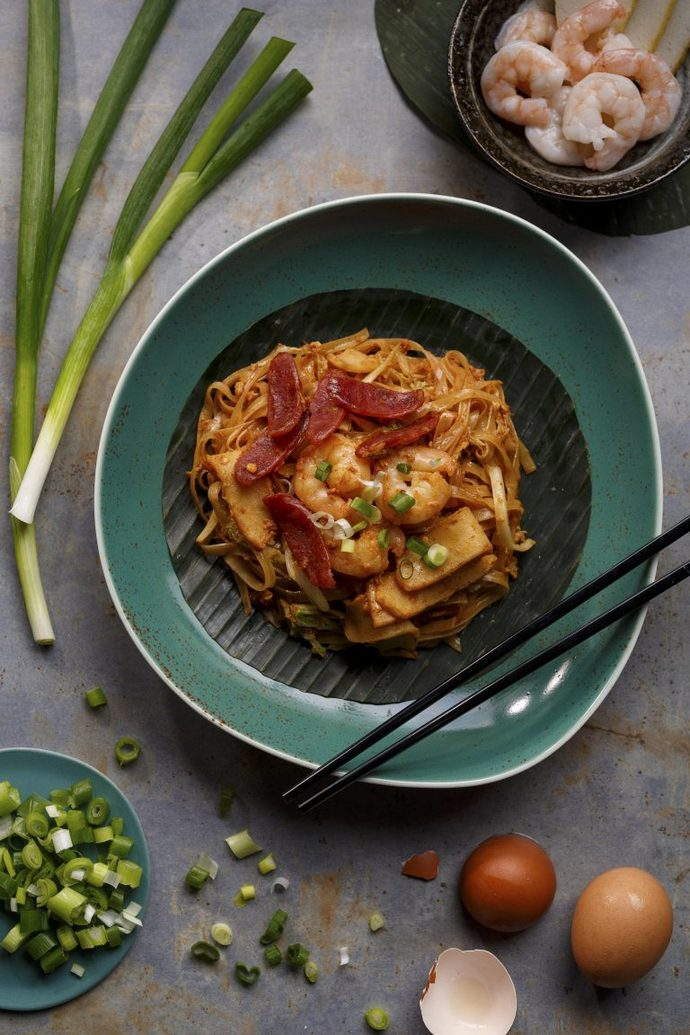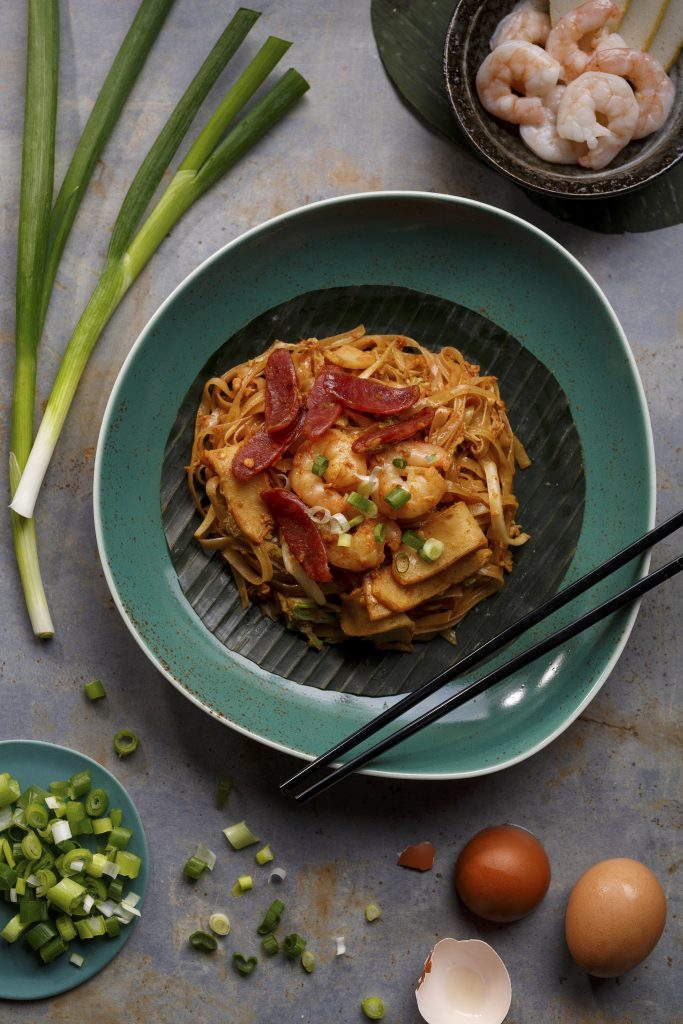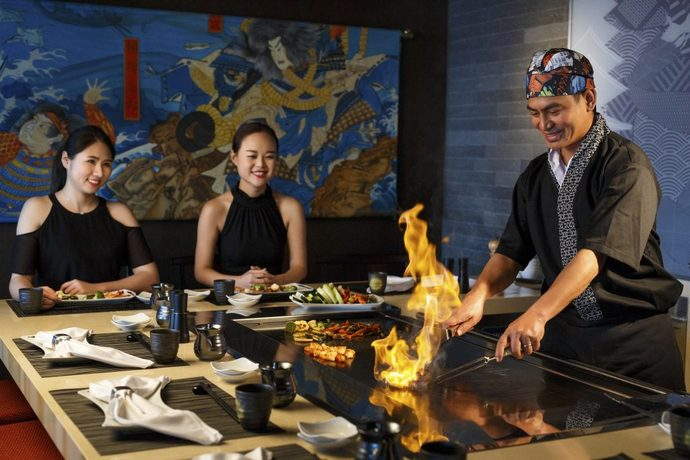 They also have an outdoor Hot Pot restaurant, that's built along the outdoor deck. This means that diners get impressive views of the azure waters while dining. There's also a Gelateria along the outdoor deck, so you can gladly enjoy a scoop (or four) of chocolate gelato. If you're health conscious, Genting Dream has something for you too! Crystal Life Cuisine serves fresh juices and healthy alternatives to the food elsewhere on the ship. Crystal Life Cuisine is located where the gym, spa and hair salon are.
Relaxation
Relaxing is the ultimate goal of going onboard the Genting Dream Cruise. Just for this, I recommend doing a 5N cruise package. There are 2 spas here, one on deck 15 (Crystal Life Spa) and another on Deck 5 (the Asian alternative). The spas offer a full suite of services from Aromatherapy massages (SGD 130 onwards for 60 mins) to Hair and Scalp Care packages (SGD 150 for 90 mins).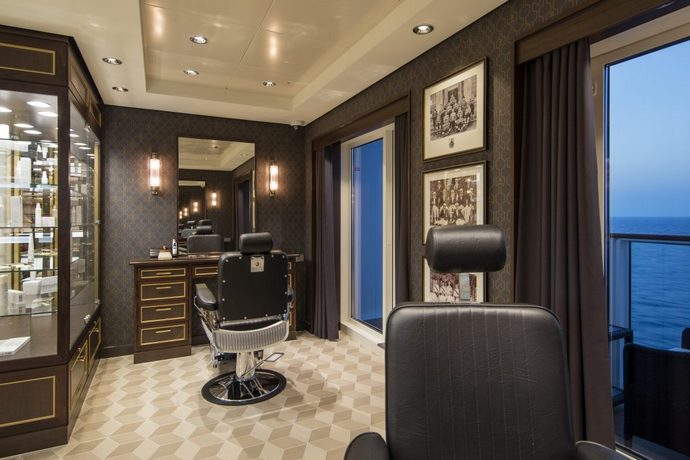 There are two Salons: Le Salon and The Gentlemen's Barber. Having your hair treated while on a cruise is the ultimate luxurious feeling you can experience. A Spa menu can be found tucked away next to your bed, be sure to make a booking in advance.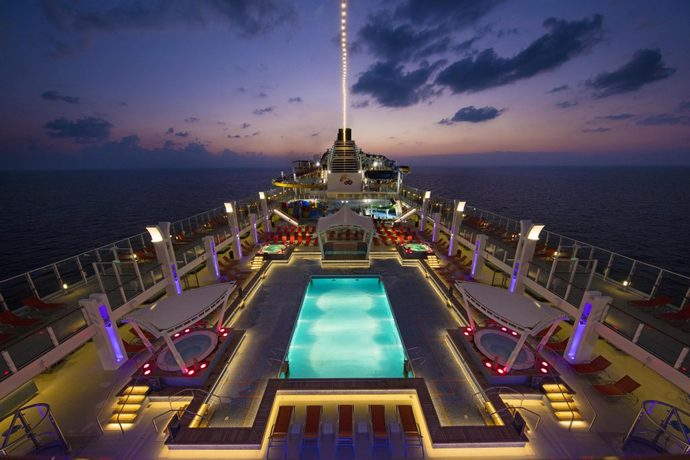 I cannot stress this enough: you need to know how to relax. If you're on board the ship and do not know how to just be, I've got two words for you: learn fast. Sitting around the ship and watching the blue waters that can stretch as far as the eye can see can get boring if you're not into that. I sat by my balcony on most evenings and nights (during the day, it gets uncomfortably hot out in the balcony. Thank God the rooms are very comfy and well air-conditioned). Bring a book or magazines to keep you company, and simply be!
Worry not, though. If you're still convinced that relaxing is not for you, there are so many things to keep you very, very busy while the ship is sailing. Heck, they even had activities while the ship docked at a destination!
Entertainment
Depending on what you're looking for, Genting Dream Cruise offers everything from a thumping nightclub to a zip-line over the water to keep your adrenaline racing. If you're into sports, this ship is your dream! They have gigantic water slides, a rock climbing wall, a jogger's track around the deck, and 2 rope courses on both sides of the tail-end of the ship (otherwise known as the 'aft' of the ship).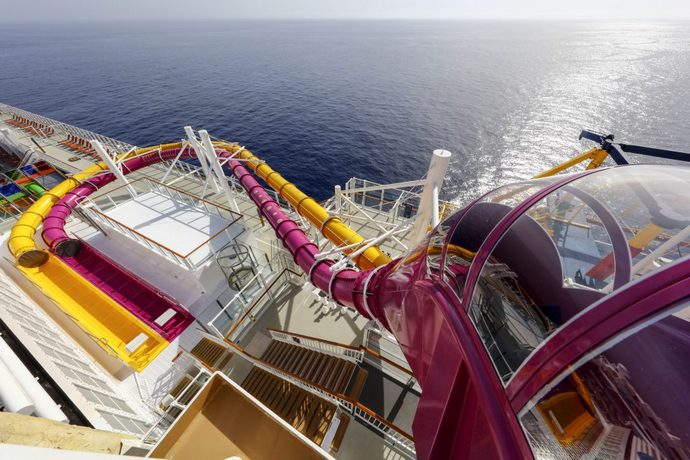 This is in addition to the hot-tubs, pools, aerobic and yoga classes. The outdoor deck (Deck 16) is always thumping with music and is extremely lively, regardless the time of the day. There's even a Mermaid known as Kat (an icon of the ship) who will give talks and lessons to kids!
If you prefer not to sweat up a storm with sporty activities, you can stay in the comfort of the air-con in the ship to catch live shows in the evenings, movies, and live performances throughout the day at different parts of the ship. These live performances are by talented artists who sing a medley of songs from both the Mandarin and English genres, suitable for all ages. And, these performances usually take place next to cafes or bars, should you want a pick-me-up.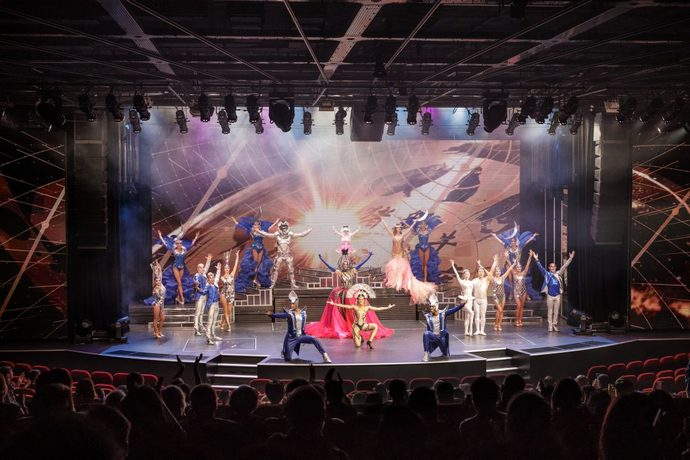 Aside from watching shows, they also have a bowling alley (which is very swanky, believe me), an arcade, and several slot machines lining the walkways should you be keen to gamble. When the sun goes down, though, Zouk comes alive! Experience the zouk-out for yourself at Deck 16, where you can find hard party-goers dressed to the tee and partying the night away.
Resident DJs spin records of all kinds to keep the crowd going well into the night. If you are worried about the thumping music disturbing your sleep – worry not. Once you seal your balcony door shut, you can hear nothing except the sound of the water beneath you.
Land Tours
Upon docking, guests can choose to either go on a 'free & easy' tour or a scheduled one. If you're planning on doing a tour organized by the ship, then be sure to book this in advance. These comprehensive tours (which can include lunch) come at a small price.
My tour itinerary at both KL and Penang included a chocolate shop (where they show you how to make chocolate), international landmarks such as the KL tower and historical insight such as a tour of a typical Peranakan House. Phuket was a Free & Easy trip, but there were options for island-hopping and snorkelling tours as well.
Check out: I bought some ingredients from Phuket and made a three ingredient fried rice. Get the recipe now!
Good to know
The Dream Daily – this handy newsletter is delivered to your room every morning and is extremely useful. All the activities in the ship and restaurants available are listed on your dream daily. You can also find essential instructions on settling your bill or tendering to a smaller boat, from this newsletter.
Ship Currency & Time – As long as your cruise ship departs from Singapore, the ship follows Singapore timing and uses the local currency. This is especially important if you travel to Bali or Phuket, as you have to keep to the right time so as to not miss your tour or the boarding time.
Money changers – If you don't have enough cash on you during the trip, worry not. Genting Dream Cruise accepts most credit cards, and it's easy to go cashless. There's also a currency exchange available at the reception should you need local currency.
Security Briefing – This mandatory briefing is essential for everyone to know what happens in the unlikely event of an emergency. In your check-in room key-card, your emergency gathering-area will be stated. You need to follow the directions given over the loudspeakers and report to your briefing location.
Dream Cruise App – Download this app – it'll be your personal assistant during your cruise. Everything from purchasing wifi to voting for your favourite performances can be done via this app.
Wifi – If you're a suite guest, wifi will be provided as part of your package. Otherwise, you have to pay for the wifi (maximum of $150 for 5 nights). They have a 24-hour Wifi package too if you need it for only one day.
Missed your ship timing? – Although this hardly happens, it is possible to miss your embarkation time when in a different city. After a certain time, your belongings and passport (travel documents) will be unloaded from the ship and left with the harbour immigration officials. The onus is on you to retrieve your documents and catch the ship again at the next point of disembarkation. But seriously guys, the ship won't (and shouldn't have to) wait for you. Be responsible and keep watch for the time.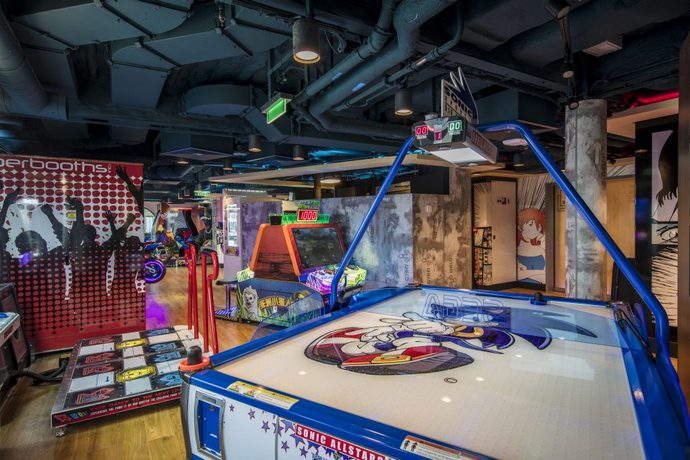 A dream come true
As someone who is deathly afraid of the water, I never imagined that I would enjoy a cruise. 2017 surprised me with a cruise trip for 5 nights that not only did I enjoy, but was heartbroken to leave. I had such an amazing time with the activities, food, and travel element that the cruise ship can bring to you.
While I know many of you would think that the price for a cruise is really high, do the math. If you're taking a trip on your own, you'll have to cover flight and accommodation, plus tour costs and you only get to see one or two cities, at most. Think about everything that you're getting a cruise ship… Yup. There's no comparison. Book your tickets with Genting Dream Cruise now! Their Chinese New Year Packages are worth every cent.