Portobello Mushrooms Baked with plenty of garlic and a spicy hit of curry, along with plenty of butter. Lip-smackingly good!
Baked Portobello Mushrooms should be a buzz-phrase on Google because they can be done in so many different ways! This recipe is:
Extremely easy
Easily adaptable to varying mushrooms
Perfect for a weeknight
Completely vegetarian
Adaptable to the vegan diet
Can be made meat-friendly, too!
Portobello Mushrooms
I've had a love affair with rich, opulent portobello mushrooms since I was a kid and saw Nigella Lawson cooking with them. Let me paint you my Saturday mornings when I was about 11 or 12 years old. I'd be up in the morning before anyone else at home, and one of my first activities after the morning essentials would be to switch on the TV and watch Nigella on the local Channel 5. She was somewhat of an inspiration for me, she told a story (a very compelling one) with food. I aspired to be just like her, to tell a story with the food I am cooking.
Portobello mushrooms are always meatier than shiitake or button mushrooms and make a great burger patty in many instances. In fact, you can use the baked mushroom here as a burger patty should you wish to; all you need are some burger buns, lettuce, cheese and your favourite condiments to complete the stack!
You can try making this with other types of mushrooms of course, but the yield will not quite be the same. You can use whole shiitake mushrooms (stems removed), then have the resulting dish as a side or add it to your green salad. All edible mushrooms contain varying amounts of protein and fibre, B-group vitamins and antioxidants. The composition of these benefits vary with each variety, but they can serve the human body well.
One thing to remember when dealing, or cooking with, mushrooms is that they absorb liquid like the natural sponges they are. Even when cooking with mushrooms in a hot wok, they drink up all the oil you give them.
Cleaning and prepping mushrooms
I have to say, I can be very lazy when it comes to cleaning mushrooms (as I am when it comes to many other things in life). Guilty I am of just stemming and throwing my mushrooms into whatever I am making! Here's the thing: mushrooms cannot be washed when you're prepping them. If you do, you'll have a soggy, wet mess as mushrooms absorb however much liquid you give them. I mean, you will have clean mushrooms but they will also be soft and squidgy, and might not absorb the flavours from your cooking very well.
To circumvent this, you have to stem the mushrooms, then brush them with a fine-bristled brush. This will remove any sand or grime that's on the surface of the mushrooms. Having said that, I normally just dust off any sand (usually, there's none) with a cloth or my fingers and start cutting. I suppose I will take advantage of the fact that the produce we buy is already clean!
Vegan/Vegetarian
I'll have to say this is not a vegan recipe, although it can be considered vegetarian. To make it vegan, you can consider replacing the melted butter here with olive oil, or even coconut oil. Bear in mind that coconut oil has a rather strong flavour, so you might want to go cautiously. Olive oil has a deep peppery tone, which can complement the darkness of portobello mushrooms beautifully. However, don't take my word for it; go ahead and try it! Add ingredients that you think will go well with this. I treat the mushrooms here much like I do chicken breast; you can cook in many different ways with many different herbs and spices to see what goes with what.
You can even do a red wine version of baked portobello mushrooms; just soak the mushrooms in red wine, then roast them the way I did! If you're not into a boozy version, but want to still have it natural; roast the mushrooms with a slight drizzle of olive oil and a good helping of sea-salt flakes. You'll be surprised at how much liquid comes out of the mushrooms!
Are you looking for other vegan/vegetarian recipes? Check out the ones below:
Making this dish
Honestly, this recipe could not get any easier. You need to combine all the ingredients in a mixing bowl, then spoon/brush/pour it over the stemmed mushrooms. Arranging them in a foil-lined tray is crucial to preventing sticky blotches on your beautiful roasting pan.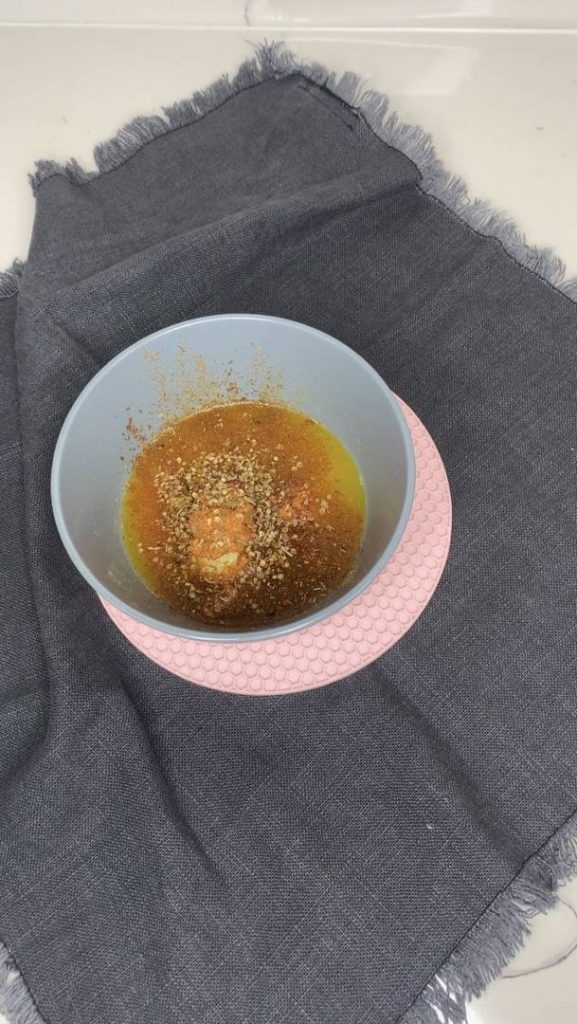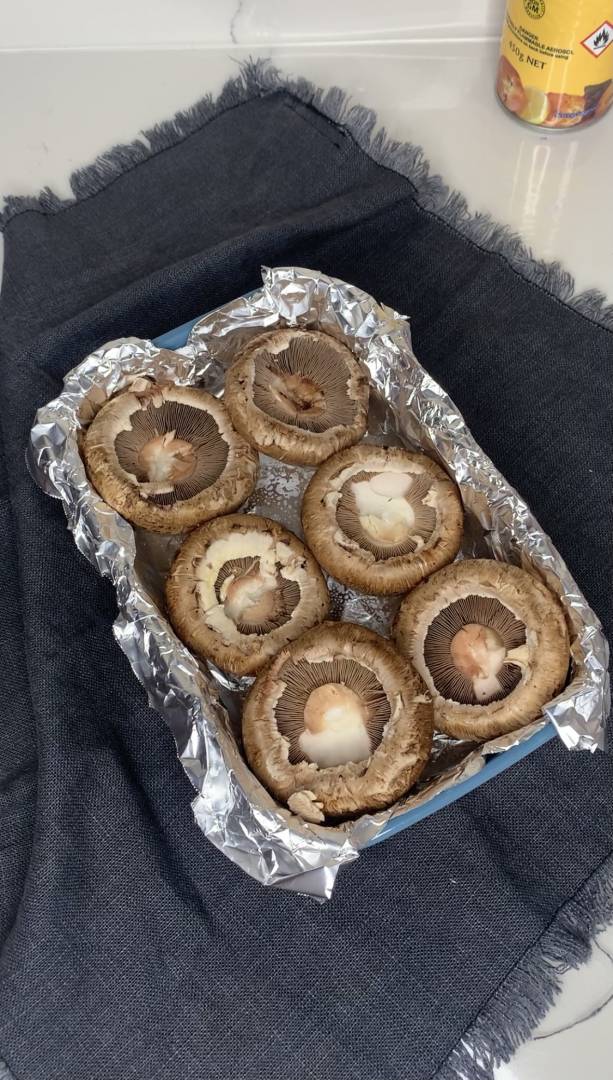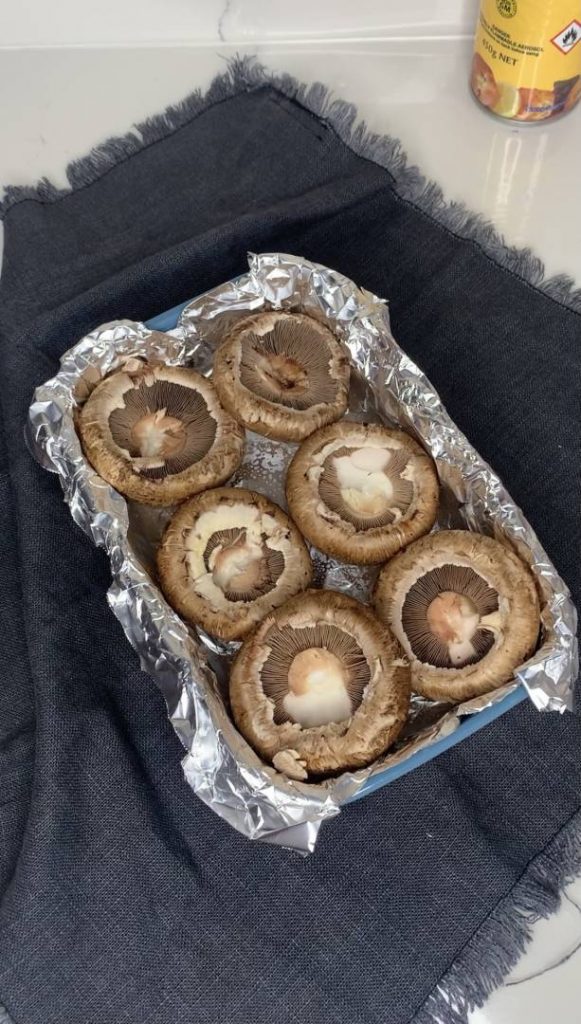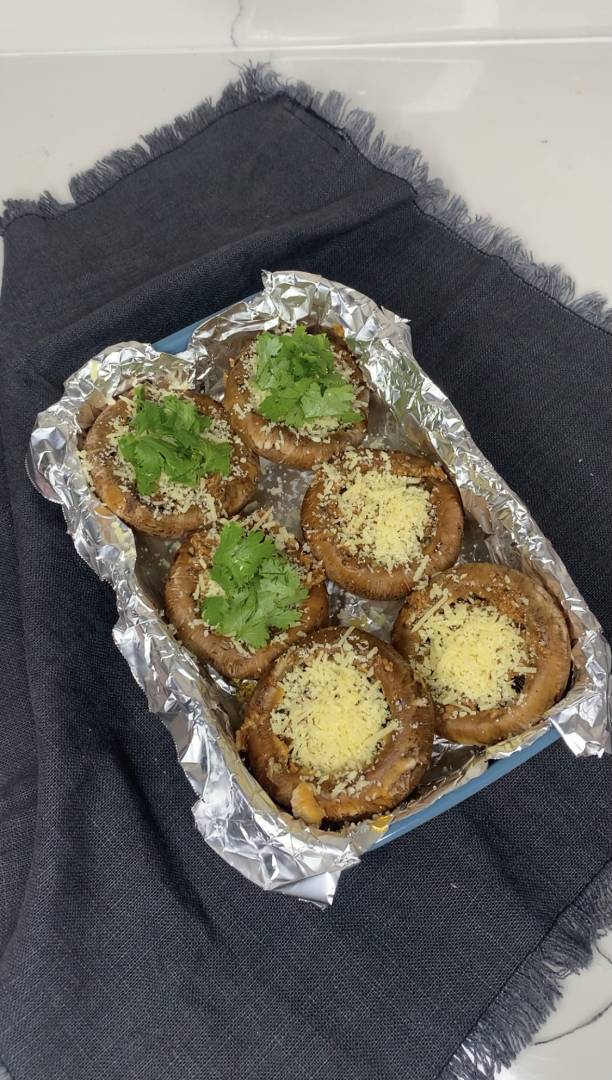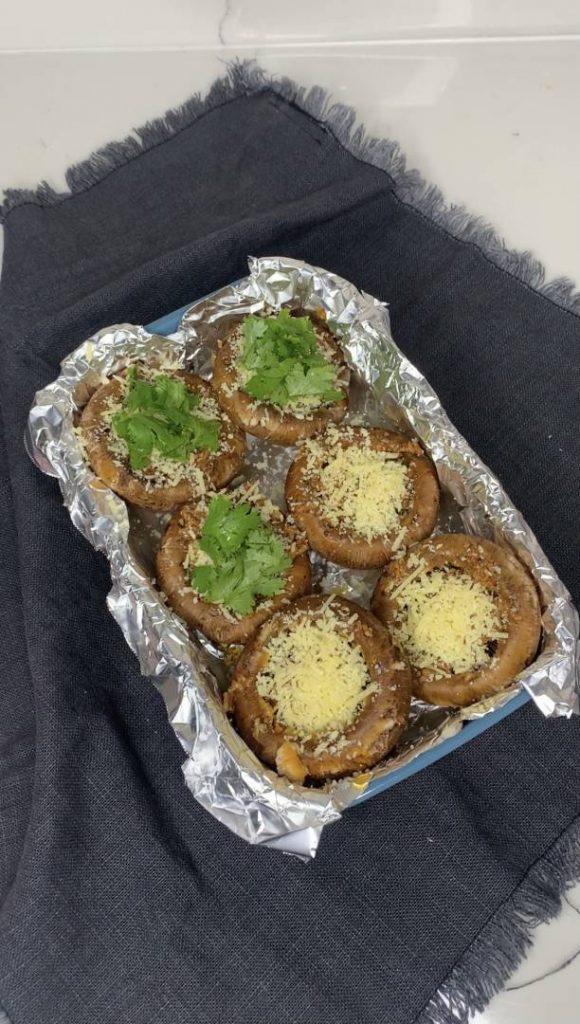 Baked Portobello Mushrooms
Course: Features
Difficulty: Easy
These baked portobello mushrooms are so easy to prepare, it's barely an effort to throw it together. Perfect for a weeknight meal, you can make this with cauliflower or other hardy vegetables of your choice. For a vegan version, replace the melted butter with olive oil.
You'll need;
6 Portobello Minis, stemmed

50g Butter, melted

3 Cloves Garlic, minced

1 Tsp Cayenne Pepper

1 Tsp Cajun Seasoning

1 Tsp Oregano

Grated Parmesan Cheese

1 Tsp Salt
You'll need to;
Preheat the oven to 180°C. Prepare a baking dish or sheet by lining with foil, then place the trimmed mushrooms on it, gill side up.
In a bowl, mix together the butter, garlic, pepper, cajun, oregano and salt. Pour this buttery mixture over the waiting mushrooms. Top them with the cheese, and some cilantro if you're up for it.
Place in the oven and cook for 25 mins. Remove from the oven and serve warm.
Recipe Video
Notes
Add a teaspoon of honey to the marinade to create a sweet char on the mushrooms.
For a vegan version, replace the melted butter with olive oil.
Replace mushrooms with other hardy vegetables of your choice.