The newly opened Marsiling Mall not only has cheap tailoring and an enormous Sheng Siong, but it also has some of the best local food! I could smell the Char Kway Teow from where I stay (which is nowhere near Marsiling, TBH). So of course, I had to investigate.
Background Information
Marsiling Mall just opened its doors to the dwellers of the woodlands neighbourhood this year. Essentially, this mall is the new version of the old woodlands interchange. If you're wondering what I am talking about, its that dilapidated (and now closed) selection of buildings opposite the Singapore immigration. Almost every Singaporean would have at least passed this place by, if not for having stopped over for a drink (before or after a trip to JB).
Due to renovation and development works, the old interchange and bustling hub around has been boarded up to make way for greener pastures. The shops selling homeware and popular hawker stalls from the food centre have been all re-house in Marsiling Mall. I don't mind it, to be honest. Its air-conditioned, and compact.
While you can't find all of the stalls that used to be at the previous Woodlands Interchange, you can find a select few that have decided to weather it out at the new location. These include a couple of tailors, stores selling trinkets for the home, hardware shops and of course, supermarket retailer Sheng Siong.
The Food
As is unusual, I was more interested in the food than anything else. The food from the hawker centre has now been transported into designated stalls in the food court at Marsiling Mall, on the first floor. It even has a 'return your own tray' policy, where there are designated spots for diners to drop off their trays and crockery. I appreciate that this is becoming a real thing here in Singapore, and it is nice to see even uncles and aunties returning their trays.
But back to the food – I had lived in the North of Singapore for a good 18 to 20 years of my life, so my roots are all in the North. I tapped on these roots (I call them friends) to take me to Marsiling Mall and buy me some of the dishes here that they thought was the paragon of the woodlands food culture.
Char Kway Teow
Usually, when I order this dish, it doesn't come with so much of chilli on the side. I am a chilli lover, and I normally try it in all its forms. The chilli paste for this popular local noodle dish was salty, grainy (i think it's the belachan paste) and dry roasted. This was interestingly perfect with the deep dark flat rice noodles! There were plentiful helpings of pork sausage slices, fish cake and NO beansprouts (as I avoid them). The noodles were silky and well coated with the delicious dark soy sauce that's the epitome of a local char kway teow.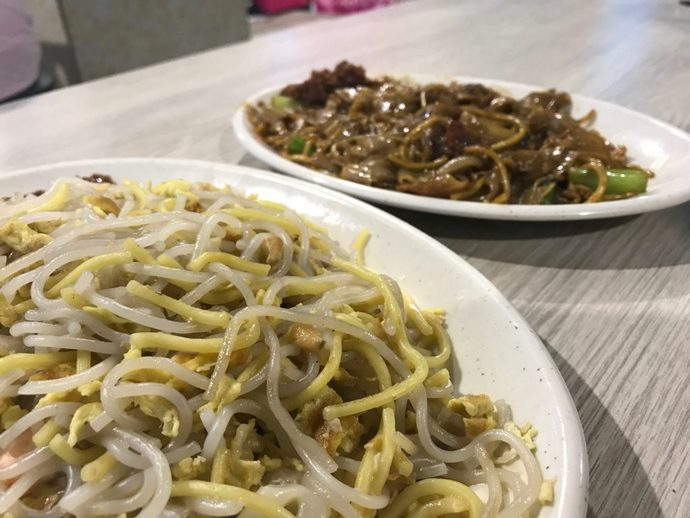 Hokkien Mee
The Hokkien mee here was good, but I have honestly had better. Not to say that this was unpalatable, it was just a tad dry for my taste. However, for $5 there was a quite a number of prawns, and the chilli here was sedap. You can't get the 'no bean sprout' thing at this stall – the aunty just stares at you. My advice is to just pick them out.
Salad You Tiow
I've liked this since I was a child, and I must have it every time I go for local seafood. Naturally, I had to try the one here. It's only best when warm, but it was peeerrrrfect! Crispy, doughy you tiow with a soft and squishy fish-paste filling. Then you drench the whole thing into the cheap mayonnaise (I'm sorry, but that's what it is) and stuff it into your mouth. I don't know what it is about this – it just is so so good!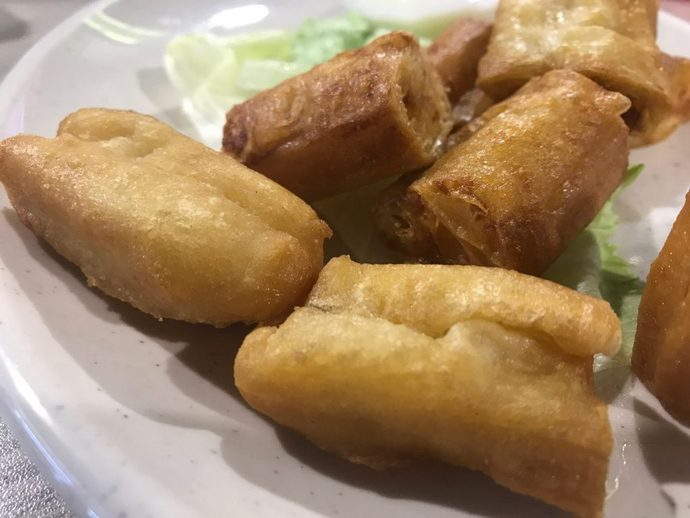 Ikan Bakar
Bakar simply means barbecued fish, and this stall takes their Ikan Bakar seriously. You can find char marks on the banana leaves, and they don't skimp on the sambal that they spread over the succulent fish. I liked that the fish slices were fat and juicy. Plus, they were super fresh – no fishy odour whatsoever and the bits of sambal-covered-flesh came off so easily!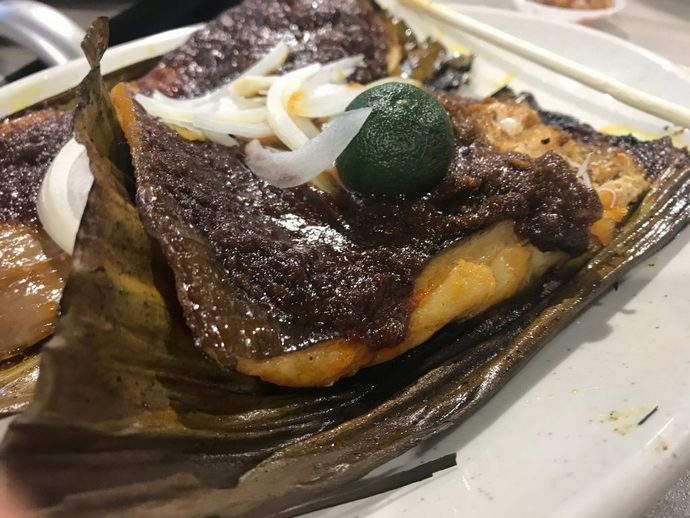 Fried Rice
When I saw this, I was less than impressed. Once again in my life, I was thought to not judge a book by its cover. Cliche, I know. But very true. The fried rice was a little wet but full of flavour. There were bits of char siew (pork) and egg strewn through the rice. We got the $6 portion for 6 people, and it was A LOT. Lesson learnt – go easy with the carbs so there's more space for the Ikan Bakar.
My visit to Marsiling Mall has set things in perspective for me. While I love wining and dining, nothing beats a low-key evening with a bunch of wacky friends and delicious, home-grown food. Got any new neighbourhood malls for me to check out? Let me know!