Going to Chiang Mai has been on the top of my to-do list, so you can imagine my joy last year August when I landed in the verdant soil of this rich and cultural state in Thailand!
I have always dubbed Thailand the land of Tom Yum, because, well, Tom Yum. Also, there really is something about Thailand that gets me all fuzzy. I love the bustling city vibe of Bangkok, the laid-back beach pace in Krabi, the sleepy but vibrant life in Hat Yai, and now, I've discovered the hipster scene at Chaing Mai – and I cannot look away.
Chiang Mai is as rich with the Thai culture as anywhere else in the country, but with a slightly more edgy, tongue-in-cheek perspective that you simply cannot get enough of once you're there. I always catch myself going 'aaahhhhh… Chiang Mai' every time its mentioned. While I can go on and on, let me move on to the details of what I did in Chiang Mai, and what you can too.
Chiang Mai was part of my week long stint in Thailand, so I took an internal flight by Thai Airways to Chiang Mai International airport from Bangkok. After checking in, I discovered immediately that this was a place to relax, and do little else besides hair, nails and spa treatments. Aside from the few tours that I had organised for temple sightseeing, I could not wait to get into the many cafes that were beckoning to me as I drove past,on my way to the hotel.
The Northern part of Thailand holds a very enchanting secret; it's nothing like its busy, central cousin (Bangkok). I stayed in the Nimmanhaemin Area of Chiang Mai, barely 15 minutes from the airport. This area reminded me so much of Bali – peppered with rows of cafes in every street, manicure places and massage parlours. As always, it's best to exercise caution when walking into a massage parlour in Thailand. You never know what you're about to get into, so be careful. I had only one massage during my stay in Chiang Mai as I really wanted to spend time cafe-hopping. Besides, I had gotten my fill of massages and spa treatments in Bangkok. I was ready to have some serious caffeine highs.
Right at the corner of Nimman is the Maya mall (pronounced May-ya by locals) which is pretty much the only luxury mall I had come across. Though I wouldn't call it truly luxurious , it was a far cry from the other street side boutiques which were selling special, handcrafted products.
On one of the days, I did a day trip out to Chiang Rai, to see the spectacular white temple, while stopping by hot springs on my way up. The white temple was extraordinary, and completely overrun with tourists. I would imagine the upkeep of this building to be high, to maintain the luscious white exterior. The temple has very specific teachings, separating the good from the bad inside the main sanctum, where no photography is allowed. But I must say, you can never be truly prepared to see this temple. The first time you set eyes on it, it just takes your breath away. And the Thai fried rice just across the temple is as delicious as can be. If you're travelling from mainland Chiang Mai though, it's a 3 to 4 hour drive up to Chiang Rai. Bring plenty of water with you, as it can get pretty hot and stuffy.
Cafe Culture
Chiang Mai is big on cafe culture. In Nimmanhaemin, you can find pretty much find everything you need. There's a book cafe, a library cafe, smoothie place, cat cafe, ice cream parlours, excellent hotels and the best macaroons that go for a dollar each. I took time and effort to visit as many places as possible, savoring every cup of tea, plate of deep-fried potato wedges and cup of coffee as I went along. As a sucker for walking around on foot, I highly recommend doing so and weaving in and out of the various sois (streets). There's no telling what you might find.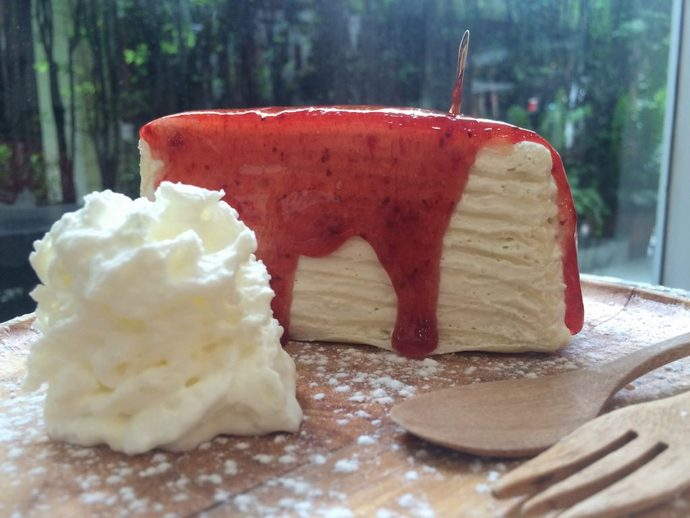 Aside from the Nimman area, another popular area was the Night Bazaar, where all the night-time entertainment awaits travellers, smack in the middle of a large market. I bought almost nothing in the market, except for food and ice cream. Everything that I had wanted I had already purchased from Chatuchak in Bangkok, and I quickly learnt where the shop vendors in Chiang Mai bought their produce and products  from. Also, the prices are slightly hiked up, so there's not that much to rave about. 
My last day in Chiang Mai, and Thailand, was spent on a mani-pedi, and another cafe that had a giant cat figurine outside. As I sat there with my mocha cappuccino, I pondered on my week-long getaway. I had been filled with so many thoughts on how I would probably feel at the end of the trip, quite expecting myself to be super tired of the whole thing and rearing to get on a plane back home. But I was so wrong. All I felt was a deep sense of longing to do the whole trip again, and perhaps explore other parts of Thailand. I could say I won't be back, but I'd be lying. I cannot wait to get on a plane, that's correct, but this time to explore a different part of Thailand.