Novotel on Stevens is a swanky new hotel that just opened last month at (you guessed it) Stevens Road. The rooms are lush and spacious, the food around the area is great and it's a stone's throw away from Orchard Road. Your next staycation spot? Definitely.
Accommodation
Novotel on Stevens is actually two properties in one (total of 772 rooms), with its sister property Mercure less than a stone's throw from Novotel. They are joined in fact and read the Chinese character representing 'people' (ren) when viewed aerially. This character reference can also be found all throughout the hotel, from the reception lobby backdrop to the floor tiles, to even the room's carpets.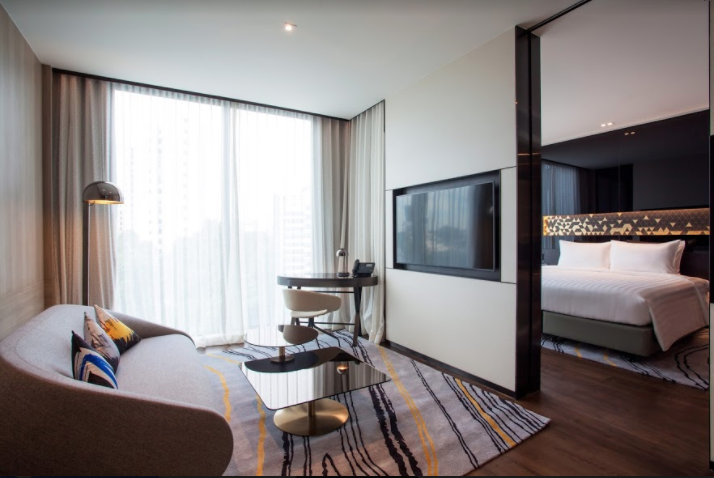 Even though both properties may appear to be conjoined twins (they share a common lift lobby on Level 2), they have distinctive styles. Mercure rooms are smaller and more thematic, while Novotel is a classic business hotel. In a business hotel, the rooms usually look the same. Novotel is no exception, though they have a unique touch or two that differentiates the property from its foreign counterparts.
I was given the opportunity to stay at Novotel on Stevens to experience at the damn of 2018. The hotel is so close to town and yet not smack in the middle of it all. Stevens road is that exit most of us take before getting to orchard road, so you can imagine how easy it is to get there. Novotel provides a free shuttle service every 30 minutes should you want to head into town.
The room was spacious with a beautiful view of the surrounding area. Although I could not look out and see a vast ocean, it's refreshing to see some other part of Singapore besides my neighbour's flat across the road. That is one of the draws of a staycation, I believe. The ability to get away from it all while still being in it.
Novotel on Stevens gets the staycation (and vacation) equation just right. Aside from the full-length windows, the washrooms were roomy and had a full selection of bath amenities. The wardrobe had a safe, a hairdryer, fuzzy slipper and laundry bag – the works. The room also had a study desk, in the event that you want to do some work. I know, I know. Who works during vacations? I do – getting away from it all can be inspiring. It was particularly peaceful to dislodge from everything else, sit in my silent room and type away.
If sitting in the room in stillness isn't your thing though, then get out and eat!
Eat
There are 14 restaurants surrounding both Mercure and Novotel on Stevens. There's great food all around you and you probably won't be able to have it all in 1 night. I had the same problem – there were so many options! After searching, I settled for lunch at Pappa Rich, a homegrown brand. The Chicken Rice was awesome, fat juicy chicken breast and fragrant rice.
Breakfast is served on Level 2, at Food Exchange. When not serving breakfast, food exchange can be found serving up a delightful range of Thai, Indian, European and Singaporean cuisine. This restaurant overlooks the Novotel Infinity pool, where you can enjoy an uplifting cocktail as the sun sets. Just across the check-in counter, you can find the L'Apéritif Tapas Bar, which serves signature cocktails and European and Asian tapas.
Mercure hotel has a little gem called Wine Stone – delicious Mediterranean lunch and dinner meals at affordable prices. They also have a range of exclusive international wines for diners. If you're into healthy, organic food (and let's face it, who isn't?), you can head over to Fudebar. This gourmet cafe by Mercure serves nutritious salads, desserts and artisanal coffee. The coffee here is good, cravers. Believe me, as I have this particular thing about coffee.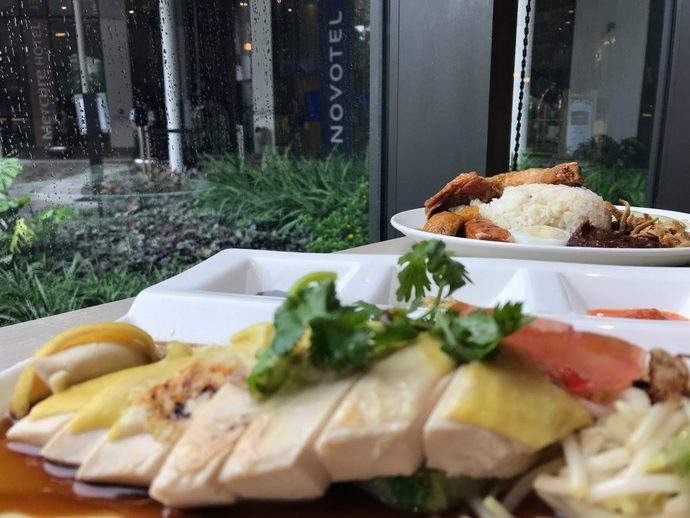 Check out The Craver's Guide 2-Step Chicken Rice Recipe Video now!
Entertainment
If you're planning to head out of the complex for a bit of shopping, there is a free shuttle you can take advantage of. The shuttle (available every half hour) drops you off at DFS on Scotts Road. From there, you can head out to the rest of orchard, as I did that Saturday night.
Going for a swim is a true luxury here, as they have two pools! They do not allow swimming after a certain hour, or if it is raining. As it was constantly raining when I was there, I didn't take a dip in the pool. However, the 35m lap pool is fantastic if you're the sort who likes to start the day with a swim. There is also a 24-hour gym for the fitness freak in you. If you're looking to lounge with a drink in your hand, the fantastic infinity pool is your go-to for sure.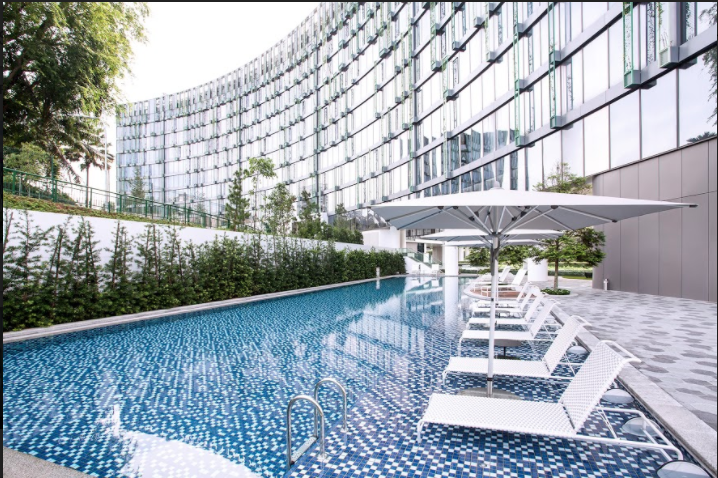 The draw of Novotel on Stevens to me has got to the seclusion of it all. It is smack in the centre of town and yet somehow, the design of the place makes you feel cosy and away from the hustle and bustle of orchard road. As the property is surrounded by private condominiums, you get the feeling that you're at a home away from home. Cliche though that phrase might be, I hadn't quite experienced it fully until my stay here at Novotel on Stevens. I'd recommend this hotel in a heartbeat to any of you hoping to get away from everything life can throw at you, at least for one weekend.