Christmas is here! We all look for places to eat during the festive season, even those who love to cook. Here's a list of wonderful hotels and restaurants in Singapore that have pulled out all their magical tricks for Christmas and New Years. Delightful menus consisting of fresh seafood, turkey, chicken await! And, if you're looking for a pet-friendly dining option – we have that too!
If you're looking for alternative dining options for Christmas, click here for a list of 'other' places that are more local and always delicious!
Goodwood Park Hotel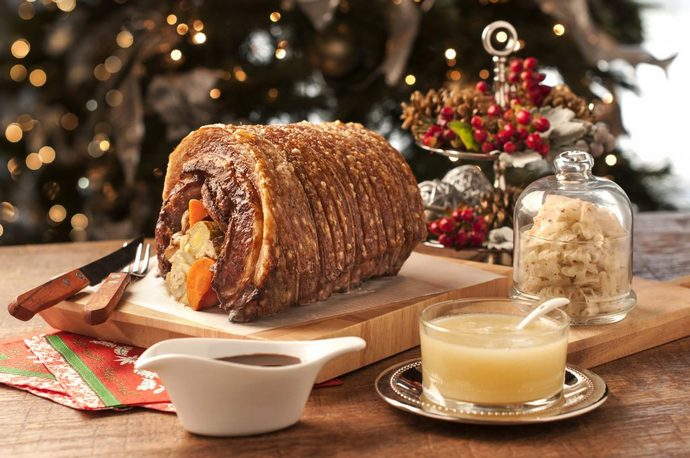 Our favourite heritage hotels have pulled out all the stops this year for the most-loved time of the year! From the classic durian confectionary to a new range of turkey delights (in a dim-sum! Genius and more importantly, extremely delicious!), Goodwood Park surely aims to please and knows just how to do so! The new takeaway from the Goodwood Park Deli, 12 Treasure Turkey, saves all the whole-day kitchen slavery for those who are entertaining! This turkey has been treated with 12 different ingredients that have all added their own special twist to the bird, making the final roasted turkey completely irresistible. Some of the 12 ingredients include roast pork, abalones, lotus seeds, salted egg yolk and potatoes! You can be assured that you're getting your money's worth, at $268 for a turkey big enough to feed 10 people.
Mitzo's Festive Menu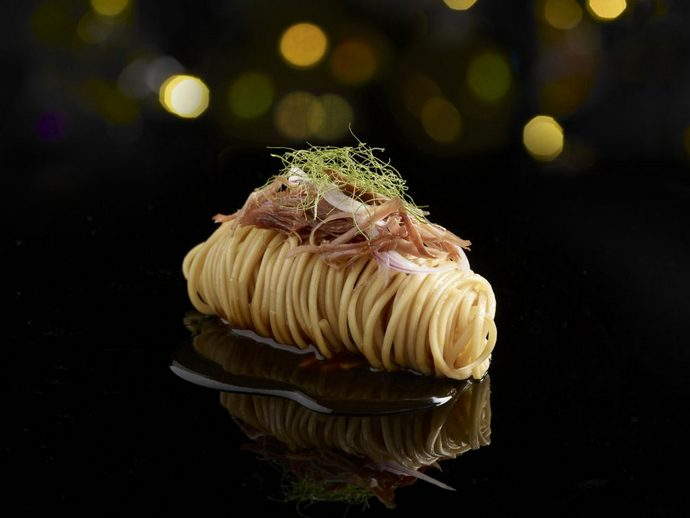 Mitzo's new festive menu is guaranteed to light up your Christmas like never before! The Cantonese restaurant has worked to come up with a menu that combines the best of the festive season with the best of Cantonese cooking! Start with an indulgent starter featuring 3 unique creations: Soya poached foie gras, Roasted crispy pork belly, and Prawn in creamy bonito sauce. Follow this with a double boiled abalone soup with morel mushroom and turkey, deep-fried beef with crispy enoki in cumin sauce, and finish off the scrumptious meal with pulled noodles with shredded lamb shank. And for dessert, feast on Chilled purple potato puree with coconut milk, vanilla ice cream and pineapple puff. No, this is not your usual Christmas menu – but this is what makes this so tempting!
Stellar at 1-Altitude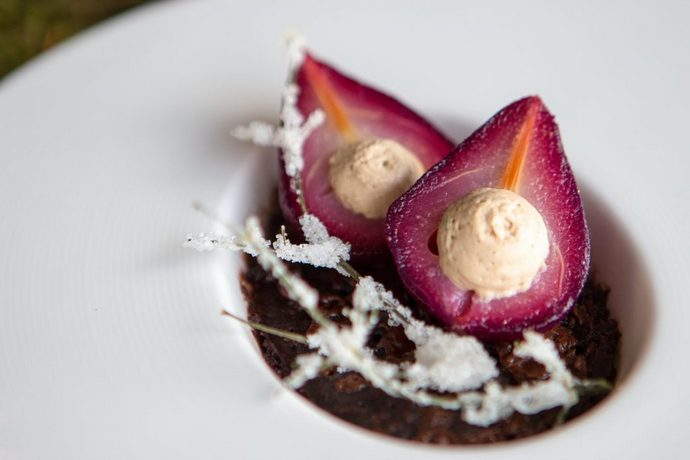 Stellar is offering stellar deals (yes, pun intended) on Christmas Eve and Christmas Day Dinners! Diners can look forward enjoying a mouth-watering 5-course meal while overlooking impressive panoramic views of Singapore, 282 meters above the streets! The chefs have teamed up to serve hand-dived Scallops topped with burnt chilli spheres, lime pearls, and caramelized corn, Red Wine Poached Pear nestled in dark chocolate pudding and pistachios, and there's also a live station serving up an expansive spread of festive meats such as slow roasted smoked ribeye, turkey, and bone-in ham.
Porta Fine Food and Import Company

< Pet-Friendly Cafe >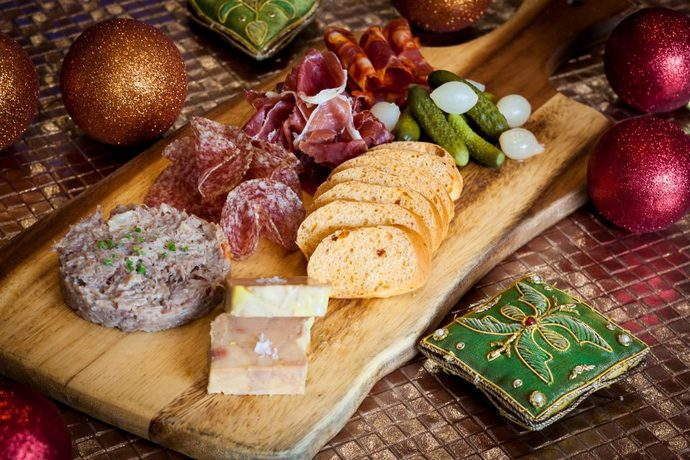 Porta has thrown its enticing culinary hat into the mix, with a festive menu for three delightful weekends, 15-16 (Friday and Saturday), 22-24 (Friday to Sunday), and 29-31 (Friday to Sunday) December 2017. Get ready to feast on delicious starters such as the cognac-scented Lobster Bisque (S$16++), or gravlax of Norwegian Salmon (S$16++) topped with the refreshing crunch of marinated fennel and avruga caviar. If you're a meat lover, your celebration is fortified with the Charcuterie Platter (Serves 2), Suckling Pig (S$40++), or the very juicy Pepper Steak (S$38++) that is perfectly seared. This is served with pepper sauce and thick cut fries. If you're not so much craving meat, how about game? The roasted French Quail (S$34++) with brussels sprout, bacon, and natural jus was created with you in mind!
Christmas at Capella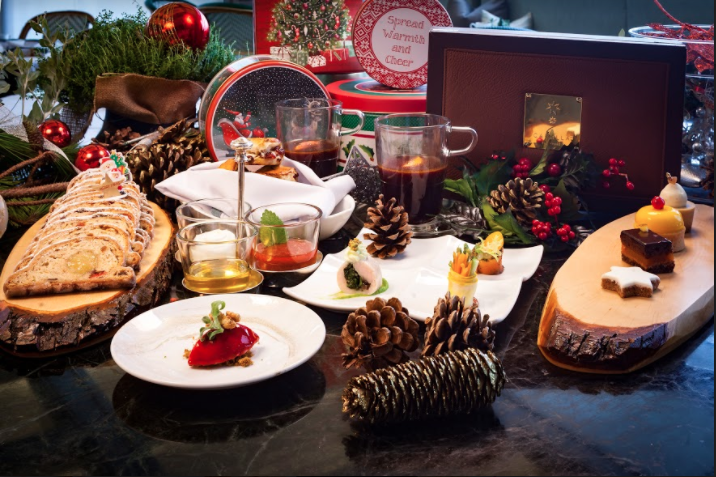 Capella is beautiful any time of the year! During Christmas, however, it gets lit up with the songs of all the scrumptious dishes being prepared! Capella has given its popular Sunday a brunch a festive facelift with 'Private Brunch Affair', where diners can bask in the glory of the food alongside the masterful chefs, who will be walking around and interacting with guests. Highlights include the Baked Capella Christmas Turkey with Cornbread Stuffing, Orzo Risotto with Mushrooms and Pumpkin, Foie Gras Custard with crouton of Gingerbread and Port Wine Reduction, Boston Lobsters, Creamy Pumpkin Soup. 'Private Brunch Affair' is at Chef's Table (min. 10 pax to reserve), at $258++ per adult.
Cake Avenue Singapore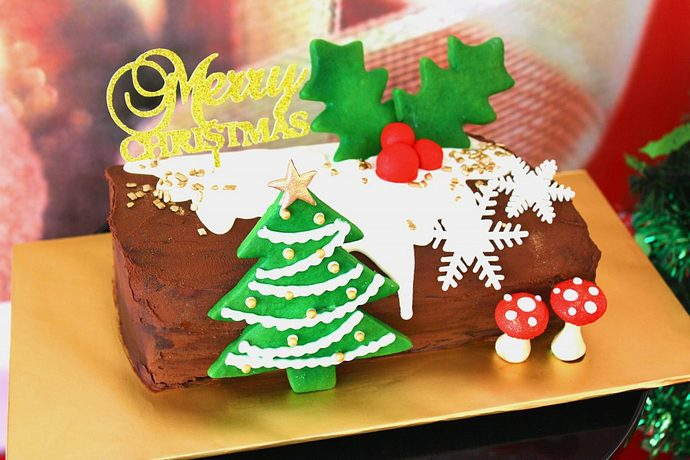 Cake Avenue has all hands on deck for Christmas this year, with a colourful menu of delights for takeaways and dine-ins. Especially perfect if you're attending a Christmas Party or throwing one at your place but just lack the gusto to cook every single dish, Cake Avenue is your perfect call for catering! Multiple sets are on their menu catering to a party of any size and preference, from lamb shanks to chicken lasagne. Desserts are just as splendid, with Reindeer cake that'll make Rudolph blush. A meal set for 4 – 6 pax starts at $172.
The Carvery @ Park Hotel Alexandra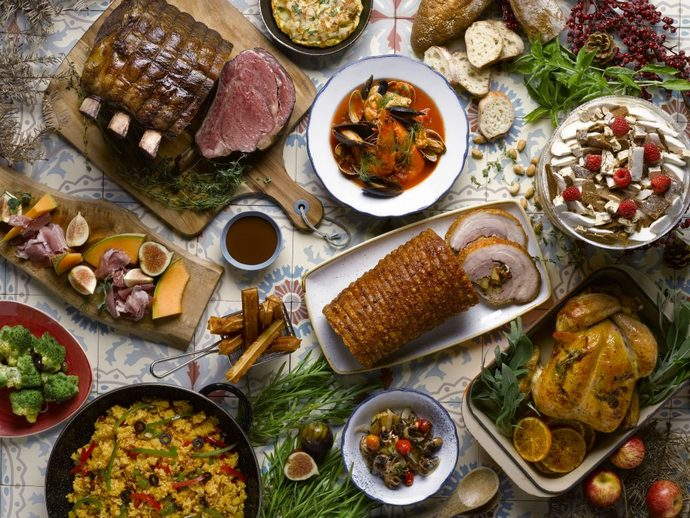 You may have heard of Park Hotel making headlines for their comfy rooms and for being the home of The Carvery – the meat heaven for lovers of cracking Porchetta and sensual honey-glazed ham. The Carvery has put together a delightful Christmas menu, complete with a boozy Christmas Fruit Cake ($28 for 600g, from The Coffee Belt, L1). The Spanish Inspired menu serves up classics such as Paella, and other Spanish-inspired mouth-watering delights such as Iberico Pork Belly Porchetta stuffed with Chorizo and Apple, Spit-roasted Chicken with Orange and Rosemary, 28-Day Dry Aged US Black Angus Prime Rib (weekends only), Roast Turkey, Catalan Seafood Stew, Buttered Brussel Sprouts, Parsnips and Carrots, Red Mullet Fish with Mojo Verde, Squid and Olive Salad, Sukalki Beef Ragu, and a Turron Trifle. Diners can expect to part with the very reasonable amount of $45++ for lunch and $58++ for dinner at the Carvery this festive season.
Christmas at Novotel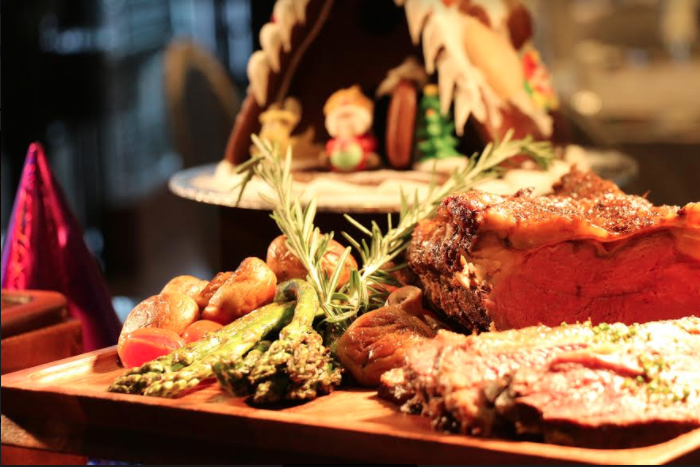 The classic Novotel has a contemporary Christmas feast prepared for festive diners this December. From 1st to 31st December 2017, a large variety of scrumptious dishes such as the Salt Crusted Baked Whole Barramundi, Roasted Beef Strip Loin with Grain Mustard Sauce, Roasted Lamb Leg Pepper Crust with Rosemary Sauce, Roasted Honey Glazed Ham with Pineapple & Orange Herb Sauce are available for dine-in. Novotel also has Christmas Eve, Christmas Day and New Year's Eve Dinners. Aside from the traditional Christmas delights, Novotel also has a range of seafood on ice at the unmissable Christmas Buffet. 
A Hotel Jen Christmas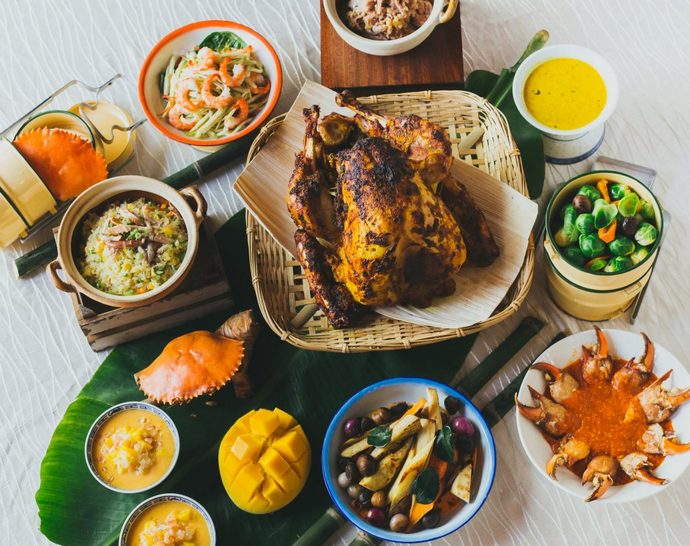 The Festive Seafood Buffet at J65 is something not to be missed, with Snow Crab on ice, Seafood Thermidor, Grilled Baby Lobster infused with Tarragon Butter, Whole Baked Norwegian Salmon and Singapore Chilli Crab. This delicious feast fit for Santa will be served alongside carvings of Turkeys, Honey Glazed Virginia Ham, Roasted Pork Knuckle, Slow Roasted Prime Rib Beef and a tantalising array of festive desserts. Fin de Claire Oysters, Boston Lobsters and Tandoori Turkey will be served on Fridays to Sundays only. Hotel Jen is doing a classic Christmas Turkey Asian style, which we're very excited about. The Percik Turkey package, at $218, comes with a 5 to 6kg Turkey, Prawns, Crab Claws with Chilli Crab Sauce and more delectable delights.
Christmas at Sofitel Singapore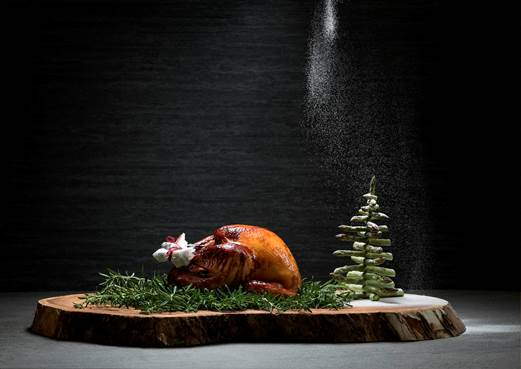 Yuletide carols are flying high in the French-inspired menu at Sofitel Singapore City Centre this year. Racines at Sofitel Singapore City Centre has prepared a classic French Christmas delicacy: A Magnifique French Slow-Roasted Turkey, available at $138++ per order. Lip-smacking gourmet experiences are available for the whole family at Racines on Christmas Eve (from $158++ per person), Christmas Day Brunch (from $158++ per person) and New Year's Eve Dinner (from $148++ per person). 1864's head mixologist Michael Mendoza meanwhile crafted the finest festive concoctions comprising Le Crusta ($25++), a barrel-aged cocktail made up of Remy Martin VSOP Cognac, Cointreau, Lemon Juice and Angostura Bitters as well as 1864's signature cocktail Sofitini ($24++) comprising Belvedere Vodka, Apple Cinnamon Syrup, Passion Fruit Puree, Lime Juice, Ginger and Egg White.
Artemis Singapore's Christmas Menu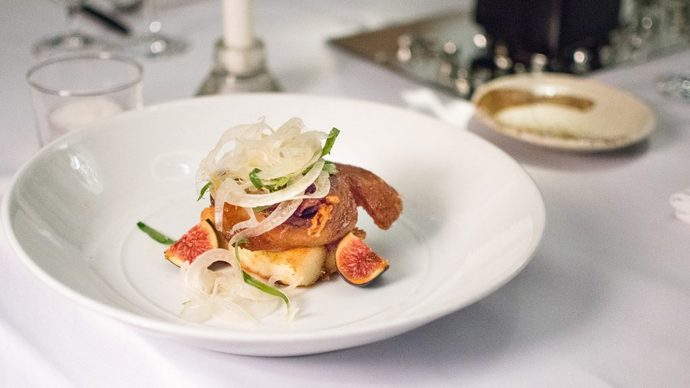 Go Mediterranean this Christmas with Artemis, a sky-high dining establishment (literally) amidst the concrete jungle that is Singapore. They have special menus for both Christmas and New Years, so you can celebrate the festivities in style. During Christmas, Artemis is offering specials such as the Celery Root Tortellini with Black Winter Truffles ($28), Whole Guinea Fowl with Chestnuts and Dried Cranberries ($78), Whole Lamb Shank with Roasted Vegetables and Tzatziki ($72), and a sinfully indulgent Chocolate Orb with Chocolate, Hazelnut, Cognac and Pear Sorbet ($20), which will be available throughout the month of December. If you're thinking of New Year's, you've got to choose from one of Artemis' two seatings, one at 5.30pm and another at 8.30pm. The 5.30pm seating offers guests a four-course set menu at $128++ per person and, while the 8.30pm seating offers a five-course set menu at $158++ per person. Dishes such as the Duck Confit with Polenta Crisps, Fennel, and Tarragon Salad will be available during both seatings. The sides include Charred Seasonal Carrots, Russet Potato Purée, and the Garden Salad, all of which are available for both seatings at additional costs.
Bayswater Kitchen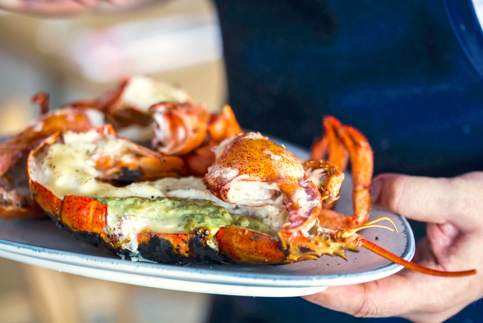 Christmas can be a waterfront delight, and if you're wondering how head down to Bayswater Kitchen at Keppel Bay. They have a delightful festive seafood menu to entice hungry cravers (like you and me) of seafood. On Christmas Eve (only), Enjoy the Festive Seafood Platter consisting of Salmon Gravlax, Prawn Cocktail, Oysters, Cod Cakes and Whipped Cod Roe (S$30 per person, min 2 pax). Meat-lovers can also sink their teeth into a hearty Whole Roast Chicken served with Cabbage, Bacon, Cauliflower Cheese, Roast Potatoes and Honey Roast Parsnips (S$28 per person, min 2 pax). The satisfying and comforting Christmas Pudding Tart paired with Brandy Ice Cream (S$16) is the perfect way to cap the meal and evoke a nostalgic festive feel. They have a spectacular New Year's Eve Menu as well, which starts at $118 per person.
Dusk Restaurant & Bar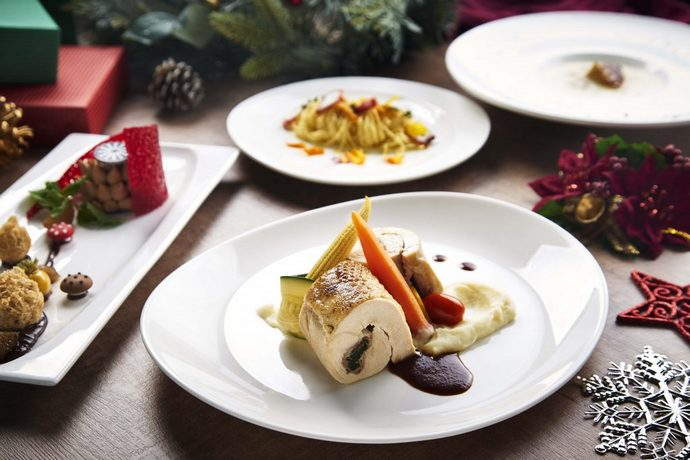 Dusk Restaurant and Bar is as wonderful for its fine wines as it for its killer view of the city! They also offer a range of European Tapas, set on the perfect vantage spot on Mount Faber to dine and enjoy the sunset at the same time. This Christmas, Dusk has a 4-Course Set Menu ($98++, 24/25 Dec) including dishes such as Cold Capellini Pasta with Octopus & Sea Urchin and Pan Seared Coriander Cod Mignon (served with crabmeat fritters and abalone). You can celebrate New Years in style as well, with their 4-Course Wine Pairing Set Menu ($135++, 31 Dec only), where each course is paired with sparkling, white, red and dessert wine! This will be an absolute treat for a group of friends, as not everyone might like the same type of wine.
Dining on Cloud 9
Sky-dining is a unique experience that we all reserve for a special occasion, or for a splurge (usually though, it's both). The festivities at the end of the year seems like a good enough reason for dining on could 9 (forgive the pun)! For Christmas, Dining on Cloud 9 has a 4-Course Festive Set Menu ($298++, available until 30th Dec 2017). Some highlights of the menu include Smoked Duck Breast with
Portobello Mushroom and Pan-Roasted Aromatic Turkey, among others. New Years is not discounted either, with the 4-Course New Year's Eve Special Menu ($328++, 31 Dec only) and the Celebration Cabins ($498++, 31 Dec only, up to six pax). While the festive and New Year's Eve special menu includes house pour wines, the Celebration Cabin includes 2 bottles of Champagne! It is the time of the year to be merry with friends, so why not do it in style with good food, wonderful drinks and a breathtaking view?
Christmas is a time to be merry with family – though that's stating the obvious. You can see that I'm not advocating any kind of diet or mindful eating, simply because this really is the time to unwind and throw that diet out. So enjoy eating at the restaurants listed above with no guilt!