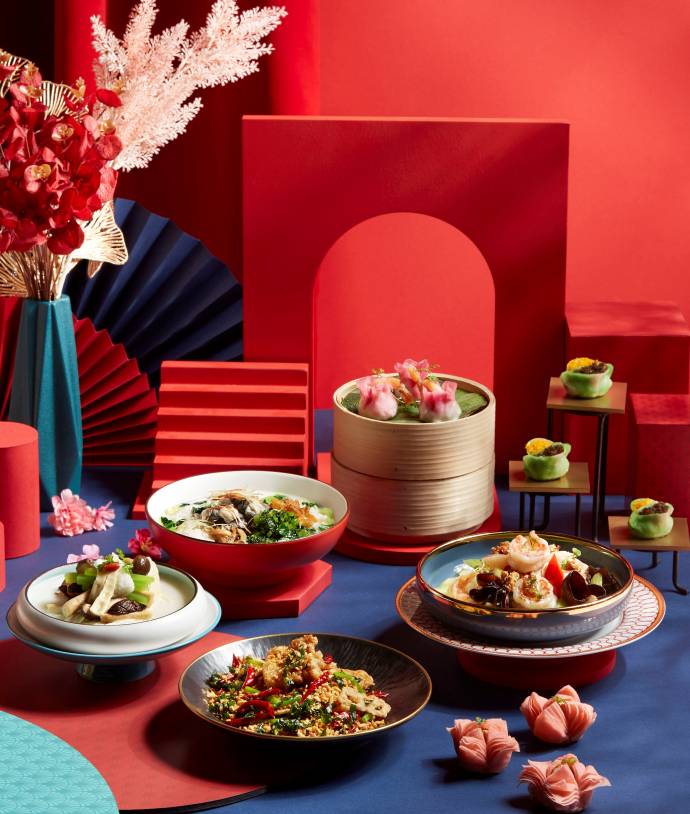 Crystal Jade never fails to impress! This year's CNY Lo Hei menu includes fresh dishes and old favourites prepared with love and exquisite taste.
Crystal Jade Singapore is an integral part of Chinese New Year! Every year, the chef at Crystal Jade develops unique recipes with the freshest (and sometimes very unique or modern) ingredients that give us winning dishes. Here's a sneak peek at what's in-store this year!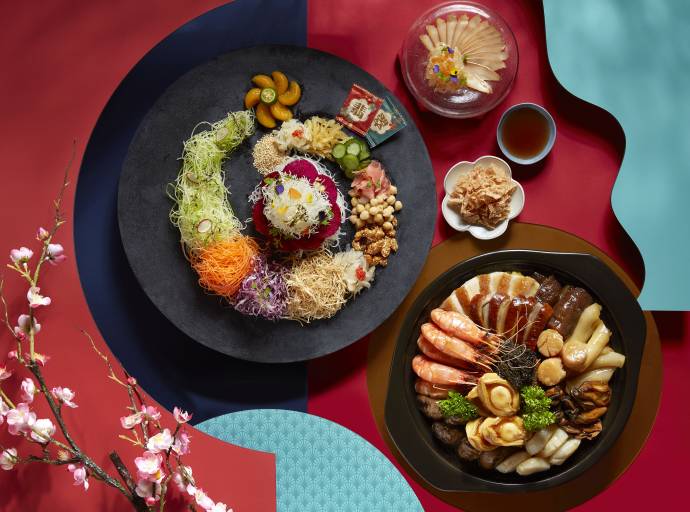 Opulence 3-Head Abalone Yusheng
Every year, Group Executive Chef Foo seeks to create a vibrant and healthful 'yusheng' that will undoubtedly be the highlight of the festive dining table – this year is no different.
Presenting spring on a plate, the Opulence 3-head Abalone Yusheng 威虎迎春鲍你嗨翻天捞起 paints a colourful and appetising picture with choice ingredients such as coins of red dragonfruit, dried yuzu peel, Japanese pickled sweet ginger and homemade pickled cucumbers among others, besides the ubiquitous carrot and white and green radish julienne, as well as deep-fried yam strips and chickpeas, and fine Hsin Chu beehoon for crunch.
Dressed with edible gold leaves and fresh flowers, it is crowned with lightly-torched abalone slices from Australia, jellyfish and ikura or salmon roe, and tossed in uplifting roselle and yuzu-based dressing.
Available at Crystal Jade Palace, Crystal Jade Golden Palace and Crystal Jade Dining IN for dine-in and takeaway from 10 Jan 2022, and for online orders from 6 Dec 2021 – 10 Feb 2022.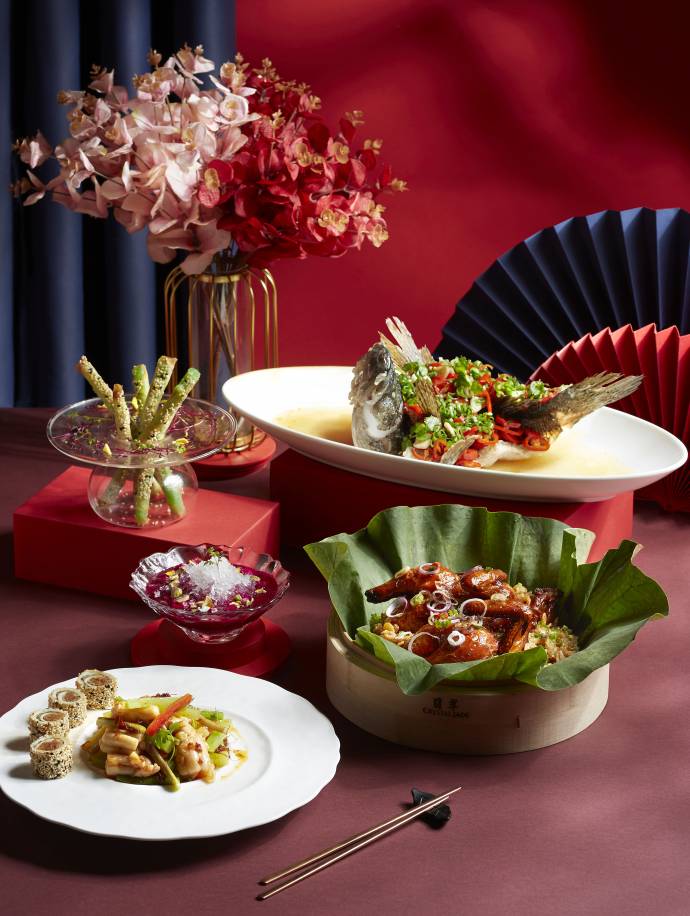 Double-Boiled Kampong Chicken with American Sea Whelk and Tiger Palm Mushroom Soup
$28 per person | Crystal Jade Palace
This soup was so intensely flavoured that I couldn't stop drinking it. I had eventually noticed that everyone at the table had stopped, and then had to politely stop myself too. The Kampong Chicken had no gamey quality. t was so tender and juicy and paired so beautifully with the flavourful broth. The Tiger Palm Mushroom dyed the soup a deep, dark, almost herbal-soup hue but added classic earthy tones that helped to buffer the richness of the chicken meat. I would have this (twice) any day!
Steamed Chilean Cod Fish with Red and Green Chilli In Puning Sauce
$22.80 per person | Crystal Jade Dining IN
This was a surprising dish from Crystal Jade – I haven't experienced the punch of chilli set against the richness of Cod in a while! This steamed fish has all the classic flavours of a traditional Chinese Steamed Fish dish, but then the thick slices of chilli add a special hit of spicy yet vinegary-sour flavour with every mouthful.
Steamed Salted Chicken with Ginger and Scallion Sauce
$20.80 for half, $39.80 for whole | Crystal Jade Hong Kong Kitchen & La Mian Xiao Long Bao
Succulent and juicy chicken steamed to perfection with slices of fresh Ginger and Scallion. Yes, even the chunks of breast meat. The dish arrives at the table drenched in fragrant sauce and dressed with fresh coriander leaves. This will be perfect with rice alone!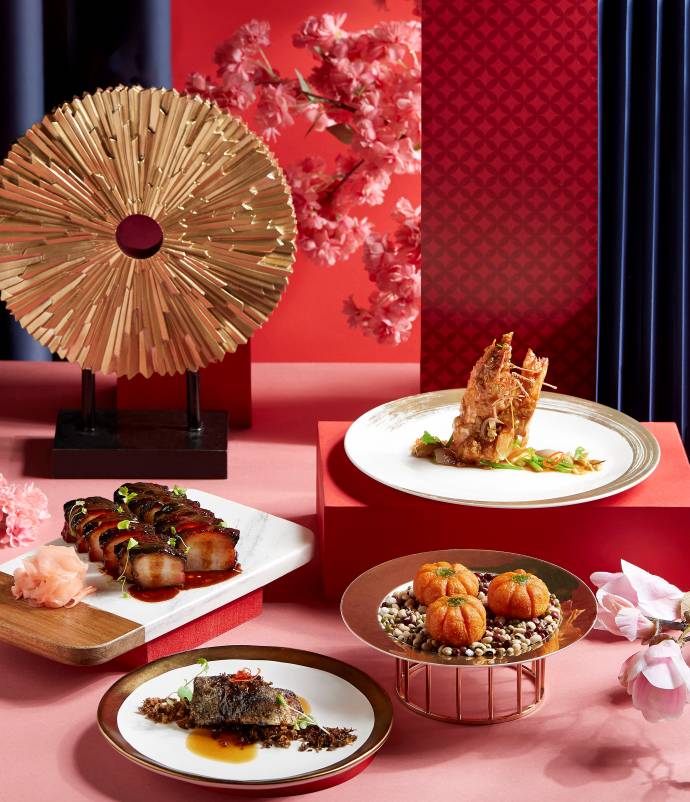 And for something sweet, try the Deep-Fried Pumpkin Ball with Lava Salted Egg Yolk ($9.80 for 3 pcs | Crystal Jade Golden Palace) or Crispy Pandan Glutinous Rice Cake 'Nian Gao' ($12.80 for 6pcs | Crystal Jade Palace). No one will stop you if you got both, to be honest. The pumpkin balls take the concept of 'salted egg yolk bao' to a whole new level! The pumpkin dough is chewy and fragrant, while the lava egg yolk inside was like a mini dream come true (but I say this about most salted egg yolk baos so you've been warned). 
The Nian Gao variation was particularly unique, because of its crispy exterior. This added an interesting texture profile to the usually chewy sweet snack, plus the pandan brought with it all the promise of a lovely bookend to a heart-warming meal.
If you're looking for a place to dine, or to take out thanks to Covid, try the unique menu and Crystal Jade. They have never known to disappoint!