Kung Pao Chicken is a dish known the world over for being 'Chinese' is actually pretty easy to make!
My first introduction to Kung Pao Chicken was through my favourite TV sitcom, 'Friends'. Chinese 'takeout' always involved Chow Mein Noodles, or Kung Pao Chicken. I have no say on how it probably tasted, having never been to the US to try it.
Jump to Recipe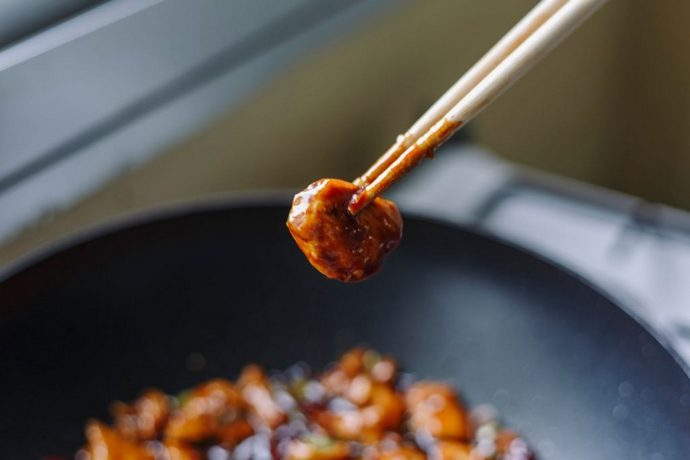 However, the reference to Kung Pao Chicken as Chinese always made me wonder – is it that good? Probably not, as it's typical takeout food. But what if I tried making it at home? So I started, like with other recipes I write, researching on the history of the dish, the ingredients that go in and how to best create it in my own kitchen.
Video:
I will say that (#ownselfsay but it's true) that this is one of the best Chinese dishes to ever come out of my kitchen. I have made Chicken Rice and Chinese Dan Dan Noodles before, but nothing ever impressed my Chinese-food loving friends the way my Kung Pao Chicken did. So I thought it best to debut this dish for Chinese New Year this year, because why not?
An ancient dish
Kung Pao Chicken is actually a very old dish, native to China. It was created by an emperor for his love for Szechuan peppercorns. Those peppercorns were a mainstay ingredient in the original recipe. Although this dish was banned in China at some point, it has found new ways of survival all around the world and is quite popular today.
I know that there are 3 parts to the ingredients, and it may seem complicated. But stick with me – it is a lot easier than it looks! I hardly have recipes that require more than 10 ingredients, so you can trust me when I say this is an easy recipe, cooks well and tastes like a dream.
Kung Pao Chicken
Course: Main
Cuisine: Chinese
Difficulty: Medium
Kung Pao Chicken is a dish known the world over for being 'Chinese' is actually pretty easy to make!
You'll need;
Part A

300g Chicken Breast, sliced into rough 1 inch cubes

1 Tsp Sesame Oil

1 Tsp Rice Flour

1 Tsp Chinese Wine

Salt to taste

Part B

1 Tbsp Light Soy Sauce

1 Tsp Dark Soy Sauce

1 Tbsp Black Vinegar

1 Tsp Sugar

3 Tbsp Water

1 Tsp Rice Flour

Part C

3 Tbsp Oil (regular vegetable oil)

2 Cloves Garlic, peeled and minced


1 Inch Ginger, peeled and minced

3 Dried Red Chillies

½ Tsp Mala Peppercorns

2 Chinese Scallions, thinly sliced
You'll need to;
Combine all ingredients from ingredients Part A, set aside.
Combine all ingredients from Part B, set aside.
In a wok, fry the marinated chicken pieces until golden brown. Remove and set aside.
In the same pan, heat the 3 Tbsp Oil from Part C in a medium-sized wok, then add the minced ginger and garlic. Saute till fragrant, about 30 seconds. Then, add the red chillies (you can cut them into smaller pieces with a pair of scissors if you like) and mala peppercorns. 

Add the golden nuggets of chicken, then the sauce from Part B. Sit together till the sauce thickens and coats the chicken pieces, for about 2 mins. Lastly, add the scallions.
Serve warm with rice.